Jacksonville Farmer's Market Seeks To Expand
September 5, 2012
28 comments
Print Article
The Jacksonville Farmer's Market is considering a massive expansion that would transform it into one of the urban core's major attractions.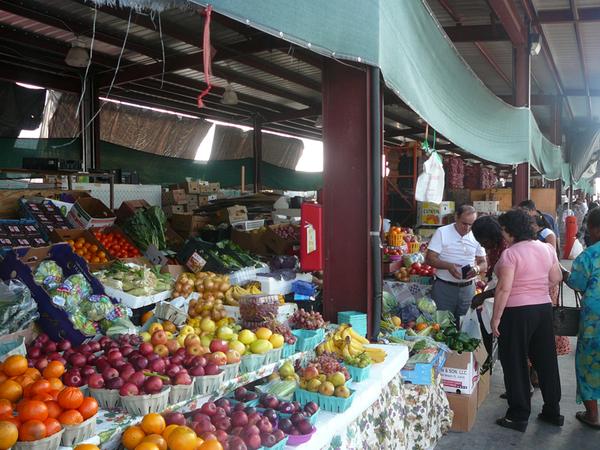 From Metro Jacksonville's "Visiting The Jacksonville Farmer's Market" response section over the weekend:


We are currently in the early phase of exploring with possible "vendor partners" concepts and ideas for developing the undeveloped 6 acres we own (2 acres of gravel to the east and 4 acres including a gutted 28,000 sf closed grocery store to the west). If financially feasible and executed, this could more than double JFM and its current approximate 25,000 visitors a week.

Our thoughts currently range from a variety of meat, bakery, seafood, salads/soups, dairy/cheese/ice cream, candy/sweets, plant/flowers, gourmet/ethnic food, local brewery/beer, winery/wine, coffee/tea, kitchen/restaurant wares/supplies, etc. businesses to a canning/demonstration kitchen, meeting/classroom space, and even an added mid to upscale lunch/dinner restaurant in addition to an event venue/plaza.

(NOTE: Please do not be offended if we do not reply personally to every email should we get a large quantity of suggestions. Rest assured, we will do our best to thoughtfully consider & evaluate all submissions for community interest, appropriateness to our vision for JFM, and financial feasibility.)

If anyone wishes to make suggestions or put such potential partners in contact with us, please email pertinent details to jfmwebsitefeedback@beaverfish.com (also found via our website's "Contact Us" tab at http://www.jaxfarmersmarket.com/contact.asp).

Thanks for everyone's interest and support of the Jacksonville's Farmer's Market.
This former 28,000 square feet grocery store building could possibly be converted into an indoor public market featuring a range of vendors.
About the Farmer's Market
source: Jacksonville Farmer's Market
Jacksonville Produce Market, renamed the Jacksonville Farmers Market, opened in 1938. Earlier roots are believed to date back to the latter 1800's. Today, JFM is Florida's oldest public farmers market.

Note the horse drawn wagon in the picture above from 1938. Downtown Jacksonville is in the background. Preferred Freezer Services and the east portion of the completely rebuilt (in 2007) JFM sit on this site today.

Subsequent to 1938, several additions, notably concrete block structures, were added to the Jacksonville Farmers Market's original wood and sheet metal structures. At one point, JFM was home to produce packing plants, the southeastern produce operations of the A & P grocery chain, a barber shop, and the best steakhouse in Jacksonville, Sandy's Steer Room.

http://www.facebook.com/media/set/?set=a.238486652877989.61466.150020678391254&type=3
If you had it your way, what would you like to see happen with the farmer's market?
Update by Ennis Davis