Mayor Brown's DIA Board Approved, Now What?
October 16, 2012
32 comments
Print Article
On October 15, 2012, Mayor Alvin Brown signed the resolutions leading to the authorization of the nine member Downtown Investment Authority (DIA) to move forward with the task of revitalizing downtown Jacksonville. According to Mayor Brown, "The DIA marks an important step in making Jacksonville the most vibrant and competitive city it can be." Depending on the policies the DIA decide to endorse, the DIA has the potential to either make this statement true or put the final nails in downtown's coffin. Here are four issues the DIA will need to address that will be more important to the future of downtown than the implementation and make up of the agency itself.

Strengthening downtown's connectivity with alternative forms of mobility (transit, cycling, walking, etc.) is an example of an incremental approach to stimulating long term life and living in downtown.



Charlotte is an example of a city that has enhanced growth within its central business district and surrounding urban neighborhoods by strengthening mass transit, bicycle, and pedestrian connectivity. Today, it is possible to live in a neighborhood outside of Uptown Charlotte and still have direct multimodal access its destinations. This connectivity instantly creates market rate residential and commercial activity in downtown and connecting districts.


3. Facilitating the market rate development opportunities



Nearly 2,000 students and faculty members of Florida Coastal School of Law spend considerable time at this secluded office building off Interstate 95 instead of downtown Jacksonville.


In 2004, the Florida Coastal School of Law considered relocating its campus to downtown. However, citing not being able to resolve parking issues, they ultimately ended up purchasing an office building in a Baymeadows office park for their new campus and the opportunity was lost. This summer, popular local brewer Intuition Ale Works expressed interest in developing a downtown brewery. Again, inaction at the public level has caused another innovative infill possibility to shift their expansion efforts to areas outside of downtown.

Both cases represent examples of opportunities that cities such as Charlotte and Oklahoma City have had success in capitalizing on. Both cases also join a laundry list of opportunities where Jacksonville has failed to answer the knock on the door. In the past, the even the former Downtown Development Authority has failed to deliver. Seizing unique opportunities for infill development, both large and small scale, will be instrumental in determining the DIA's impact on downtown's future.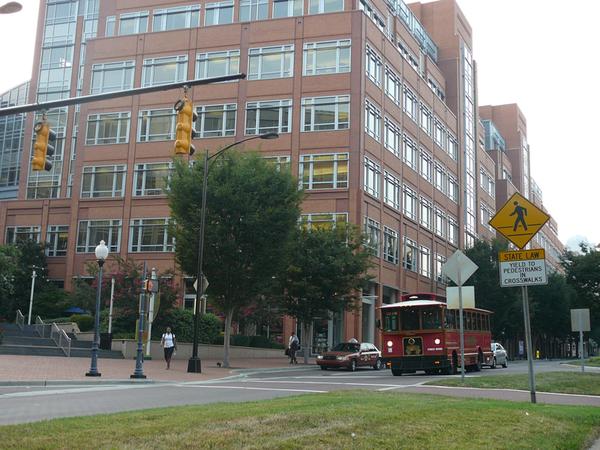 While we failed to close the deal with a school that publicly announced a desire to be downtown, Charlotte is an example of a city that took the extra mile to convince Johnson & Wales University to close campuses in Charleston, SC and Norfolk, VA, and relocate to a new campus in Uptown Charlotte. The 250 employee JWU Charlotte Campus opened in 2004 and now has grown to an enrollment of 2,800 students, many of which live in three Uptown Charlotte residential halls.


4. Recognizing the importance of existing building fabric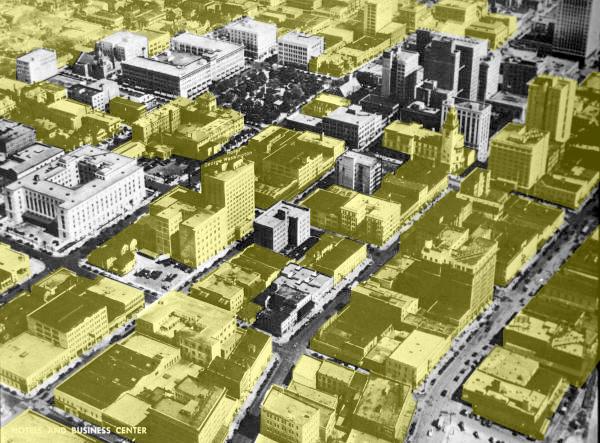 With this 1940's era aerial of downtown Jacksonville, it's easier to point out what's left than to count what has been destroyed (highlighted in yellow).

One of the special characteristics of urban environments around the world is the element of sense-of-place. The authenticity and evolution of existing pedestrian scale building fabric plays a critical role. In addition, the availability of existing building fabric plays a crucial role in attracting market rate adaptive reuse opportunities for small businesses. By undervaluing the importance of existing building stock, many previous redevelopment strategies have harmed downtown at an extreme cost to the Jacksonville taxpayer. At the same time, several commercial districts where building fabric has remained have come back to life with little to no help from public redevelopment agencies.

Riverside/Avondale's King Street, which includes several restaurants, bars, breweries, and art galleries serves as a shining example of new vibrant uses utilizing the type of structures that have been allowed to fall in downtown's never ending game of falling dominoes. As a result, districts like San Marco Square and Five Points have the type of activity envisioned for a successful downtown while downtown enjoys a plethora of parking lots where buildings once stood. The DIA will have the ability to contribute to the deconstruction of downtown Jacksonville or preserve and better utilize what remains of it.



Sprawling Oklahoma City found a way to get creative with historic building fabric by transforming an obsolete warehouse district into a nationwide urban entertainment destination. They didn't have an amenity like a St. Johns River, Hogans Creek, or McCoys Creek. So they took a street and created one.

Editorial by Ennis Davis