Change Coming To MLK Parkway?
November 7, 2012
9 comments
Print Article
Metro Jacksonville highlights the Florida Department of Transportation's plans to modify access to and from the MLK Parkway at Pearl, Main, and Liberty Streets.
In 1945, well before the Interstate Highway System was authorized by the Federal Aid Highway Act of 1956, in collaboration with the Public Roads Administration, the Jacksonville Chamber of Commerce's Highway launched a survey for what would become the Jacksonville Expressway system. By October 1947, eighteen miles of limited access highways, bridges over the St. Johns and Trout Rivers, and fourteen miles of arterial highway connections had been proposed.

Two of the limited access highways proposed were the 20th Street and Haines Street Expressways, which opened for traffic between 1961 and 1962 along with the Mathews Bridge. Combined, they created a bypass around Jacksonville's congested urban streets for residents traveling between the rapidly growing suburbs of Northwest Jacksonville and Arlington.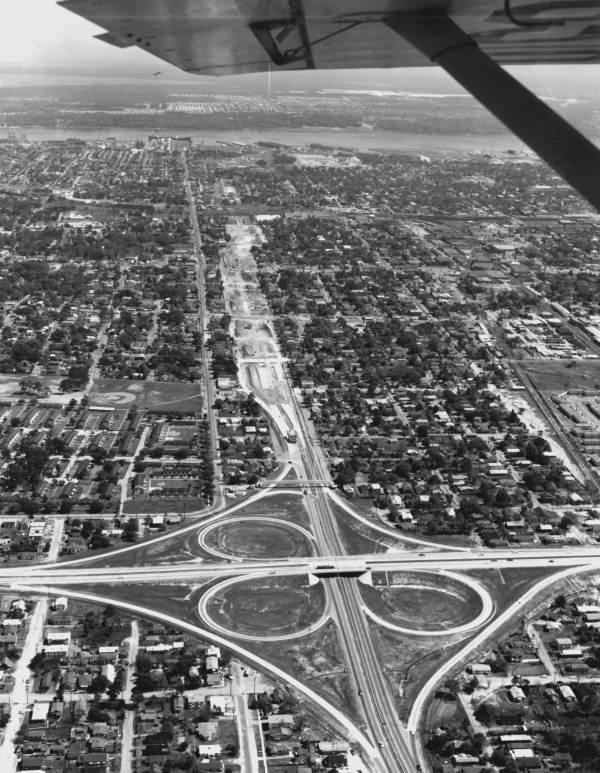 The construction of the 20th Street Expressway (MLK Parkway) east of what eventually became Interstate 95 in 1962. Image courtesy of the Florida State Archives.

At the time of their conception, Jacksonville was a compact 30 square mile urban city, characterized by compact housing aligned along a grid based roadway network. To make room for these highways, blocks of housing between 21st and 19th Streets were acquired and demolished in the neighborhoods of Brentwood and New Springfield. Due to that compact configuration of streets, expressway interchanges were added at Boulevard, Pearl, Main, and Liberty Streets despite the entire stretch being less than 0.75 miles in length.

In January 1999, City Councilman Terry Fields proposed renaming the Haines Street Expressway and 20th Street Expressway in honor of civil rights leader Martin Luther King Jr. The two expressways were selected because they go through a predominantly African-American part of the city and also intersect with some of Jacksonville's most heavily traveled roads: Interstate 95 and downtown streets to the Mathews and Hart bridges. In 2000, they officially became known as the MLK Parkway.

Now 51 years of age, the Florida Department of Transportation is proposing to partially remove the on- and off-ramps at Pearl and Liberty Streets to improve safety as a part of a program to rehabilitate the parkway. In addition to closing on- and off- ramps, the $7.5 million project would include concrete rehabilitation and resurfacing on the ramp system. Work is anticipated to begin in Summer 2013.



Looking east toward the MLK Parkway/Main Street Interchange. The Pearl Street on- ramp to MLK Parkway in this image would be removed.



The project's limits, framed by Boulevard Street and the Springfield rail yard, stretch ten city blocks.



Ramps closed would be targeted around the Main Street interchange.



This graphic illustrates the proposed widening of off ramps at Main Street.




As a result of eliminating on- and off- ramps at Pearl and Liberty Streets, on- and off- ramps at Main Street will be widened. This will transform the remaining ramp infrastructure to serve as frontage roads, still providing vehicular access to Pearl and Liberty Streets from MLK Parkway.


For More Information Contact:

Renee Brinkley, Project Manager
Florida Dept. of Transportation
1109 S. Marion Avenue, MS 2002
Lake City, FL 32025-5874
(386) 961-7392 or (800) 749-2967
Email: renee.brinkley@dot.state.fl.us

Update by Ennis Davis