The S-Line: The Key To Urban Economic Revitalization?
February 22, 2012
68 comments
Print Article
While much of the City of Jacksonville's economic development focus has been centered on downtown and big-ticket items such as the Duval County Courthouse and a new convention center, Metro Jacksonville exposes an amenity that surpasses them all: The S-Line Right-of-Way.
The History of the S-Line

Map of S-Line Greenway



Red = Completed S-Line Greenway
Yellow = Proposed S-Line Greenway Extension
Green = JTA/TPO/COJ Mobility Plan potential North Commuter Rail corridors
Green Circles = Potential north commuter rail station locations

The Atlantic, Gulf and West India Transit Railroad built the Fernandina & Jacksonville (F&J) railroad from Yulee to the downtown Jacksonville waterfront in the summer of 1880.

In 1881, a group of British and Dutch investors under Sir Edward Reed bought the struggling railroad. On March 5, 1884, Sir Edward Reed and company merged the F&J with the Florida Transit, the Peninsular, and the Tropical Florida Railroad to form the Florida Railway and Navigation Company.

Despite having a network of 500+ miles of track, the company still couldn't maneuver a car of freight from East Bay Street to Myrtle Avenue without going through Yulee and Baldwin. To resolve this problem, the company built a three-mile connector between its two Jacksonville terminals in 1886: the Jacksonville Belt Railroad. In 1899, the Florida Railway and Navigation Company was purchased by the Williams/Middleton Group, who christened the Seaboard Air Line Railroad (SAL). Thus, the S-Line was born.

During the early 20th century, several Jacksonville neighborhoods sprung up around industries served by the S-Line corridor. These neighborhoods include Panama Park, Brentwood, Springfield, New Springfield, Durkeeville, New Town, and downtown Jacksonville itself. The S-Line's decline parallels downtown Jacksonville's fall. In the mid-1950s, the SAL's downtown freight terminal and the wharfs it served, were removed for the construction of Sears, which relocated to Regency Square Mall itself in 1981. With the merger of the Seaboard and Atlantic Coast Line railroads, the Jacksonville Belt Railroad, (which roughly duplicated a superior former ACL route directly from the north side to the massive Moncrief Yard in the northwest side) trackage became redundant. Relocation of Jacksonville's Amtrak station to the Northside, and the bankruptcy of Railway Express, and subsequent closure of Myrtle Avenue's Railway Express Terminal (reputed to be the worlds largest)in the early 1970s, the railroad's need for the former Jacksonville belt railroad vanished, and by the early 1980s it was abandoned and donated to the City of Jacksonville.


S-Line Corridor of the Past



Rail service to Winn and Lovett's Beaver Street warehouse. This building is occupied by Load King today.



The Springfield Warehouse District's Swisher International had a day care center for it's employees on the manufacturing plant's roof during the 1940s.



Looking down the S-Line from North Liberty Street.



Springfield's Coca-Cola Bottling plant utilized the S-Line for rail shipments. Below, a look inside the Coca-Cola bottling plant in 1948.



North Main Street in New Springfield from the S-Line.



Inside the Moore Dry Kiln Company in 1965. This company is now known as United States Natural Resources (USNR).



S-Line Corridor of the Present



Remnants of an old USNR rail siding just south of Kings Road.



An old siding to Myrtle Avenue's Flowers Baking Company. The old bakery was demolished in 2003.



Averaging over 5,000 residents per mile, despite continued population decline since 1950, neighborhoods adjacent to the S-Line are still some of the densest in Jacksonville.



Springfield's Warehouse District is an example of an urban commercial district that could benefit economically from bringing the S-Line back to life.



A vision of the Springfield Warehouse District from the City of Jacksonville adopted Urban Core Vision Plan. Established walkable neigborhoods where significant public infrastructure already exists could become the site of new Transit Oriented Developments (TOD), historic preservation and adaptive reuse projects throughout the Northside. You can't encourage TOD without first investing in the "T".



Norwood Plaza is immediately adjacent to the S-Line corridor.


Returning Rail to the S-Line




The fight to utilize the S-Line as a mass transit corridor and economic revitalization stimulant was began by Metro Jacksonville in 2005. At the time, the Jacksonville Transportation Authority (JTA) and its consulting team, were in the midst of planning a dedicated Bus Rapid Transit (BRT) corridor between downtown and Gateway Mall that would utilize the I-95 right-of-way. Knowing that this alignment would further create a barrier between Northside neighborhoods, and inadequately serve or economically benefit the transit users,

Metro Jacksonville suggested the use of the S-Line corridor as an alternative transit route. However, instead of rubber-wheeled transit, fixed transit on the city-owned S-Line property was recommended; this would supposedly be significantly cheaper than building elevated BRT along I-95 and spur needed economic redevelopment and job creation throughout neighborhoods whose populations had declined nearly 50% since 1950. Originally spurned by JTA, Metro Jacksonville launched public crusade to expose the dedicated busway plan for the expensive fallacy that it was, while also promoting the S-Line as a viable alternative for future transit in Jacksonville. The results of this crusade included the modification of JTA's BRT plans, resulting in hundreds of millions of future tax dollars saved and the eliminating of downtown's Adams Street being converted into a bus-only arterial with buses utilizing the corridor every 30 seconds. In addition, the crusade led to JTA and the North Florida Transportation Planning Organization's (TPO) incorporating the S-Line into their future commuter rail plans.



For some unknown reason, the multi-use path, constructed a few years ago, was built in a fashion that consumed a 60-foot-wide corridor instead of leaving space for additional mobility uses. The image below illustrates how Detroit's Dequindre cut multi-use path was constructed to preserve right-of-way for future mass transit.



Image by Andrew Jameson at http://commons.wikimedia.org/wiki/File:Dequindre_Cut_Detroit_a.JPG

While this crusade was taking place, the City of Jacksonville's Parks & Recreations Department was moving forward with the conversion of the S-Line into a rails-to-trails multi-use path.

Unsuccessfully, Metro Jacksonville attempted to work with the department to design the path in a manner to where the 60-foot-wide rail corridor could accommodate both a multi-use path and fixed transit. Nevertheless, the department eventually constructed an isolated, short path that has predictably been seldom used, due to its surrounding physical context and a lack of consideration on how such a corridor would connect to a city-wide bicycle network. If the S-Line's return to service takes place in the future, this multi-use path will have to be replaced with a path that is located on the edge of the right-of-way instead of at the center.


Existing Pedestrian & Employment Generators Along The S-Line Corridor



Looking down Boulevard Street, just south of the S-Line corridor, near Shands Jacksonville.

Planning for the future in an urban core environment means one must understand and acknowledge the history of that environment and how that has played a role on present day conditions. A brief review of Jacksonville's Northside and downtown clearly indicates that their growth and downfall are directly related to the maritime and railroad industries usage of the urban core. Specifically speaking, neighborhoods just north of downtown Jacksonville economically benefited from the S-Line's influence in the development of both the Myrtle Avenue and Springfield Warehouse districts. While these two districts have declined, utilizing the corridor for fixed mass transit provides them the opportunity for rebirth as "market rate", mixed-use loft districts - something that many peer communities have benefited from, due to collaborative planning efforts.

Nevertheless, several economic generators still exist within a quarter-mile walking radius of the S-Line corridor. The following destinations, along with a relatively dense, transit-dependent residential population base, make the S-Line a great option in serving as a transit spine for existing transit services, while also stimulating needed redevelopment in the communities surrounding it.



Gateway Mall




Originally completed in 1959, this mall served as the largest in Jacksonville for several decades. Today, it remains an anchor for commerical development for many neighborhoods that lack services taken for granted, such as grocery stores and pharmacies. Simply restoring fixed transit services to the S-Line immediately makes a destination like Publix or Walgreens one transit stop away for thousands of Northside residents.


Swisher International




Established in 1924, Swisher has grown to become the largest manufacturer of cigars in the world. Occupying over 700,000 square feet along the S-Line, it employees 1,100 Jaxons who produce as many as 8.5 million cigars a day. Simply restoring fixed transit services to the S-Line immediately presents many of these workers with an alternative mobility option to access this facility.


Shands Jacksonville




Employing 3,500, Shands Jacksonville was created in 1999 when Gainesville-based Shands HealthCare purchased two adjacent medical facilities - University Medical Center and Methodist Medical Center. In addition to Shands, the UF Proton Therapy Institute, Duval County Health Department, and VA Clinic all operate large facilities within walking distance of the S-Line corridor. Thus, restoring the S-Line not only provides better mobility for the thousands of employees at these facilities, but places thousands of residents one quick transit stop away from a variety of medical services.


James P. Small Park




Myrtle Avenue's James P. Small Park is a 4.82-acre public space that is a direct link between present day Jacksonville and Negro League baseball of the early 20th century. Originally constructed as Durkee Field in 1936, it was home to the Negro League's Jacksonville Red Caps. Famed names to pass through this site include Henry Aaron, Leroy "Satchel" Paige, Roy Campanella, James "Cool Papa" Bell and William "Judy" Johnson. Renovated in 2006, it includes the historic stadium, green space and a playscape in an area of town where greenspace is limited. Restoring the S-Line makes this asset more accessibile to a large segment of the urban core's residential population base.


Edward Waters College




Edward Waters College is Florida's oldest institution of higher education for African-Americans. It's also Jacksonville's oldest and most urban institution of higher education. Located on Kings Road since 1908, it has over a thousand students, many of whom reside within walking distance of the S-Line. Restoring the S-Line provides an additional means of connectivity between this expanding Northside asset and downtown.


Jacksonville Farmers Market




In operation since 1938, the Jacksonville Farmers Market is Florida's oldest farmers market in operation. It provides a forum in which customers can buy directly from over 200 farmers and vendors seven days a week year round. Covering nine acres, the market now owns a 28,000-square-foot building that will eventually house meat, seafood, and bakery vendors. Although located a half mile from the S-Line, the stretch in between is a former S-Line siding that could easily be converted into additional green space and a connecting multi-use path. Restoring the S-Line, along with a short multi-use path, provides better transit, pedestrian, and bicycle accessibility between the farmers market and the rest of the city.


Jacksonville Terminal (Prime Osborn Convention Center)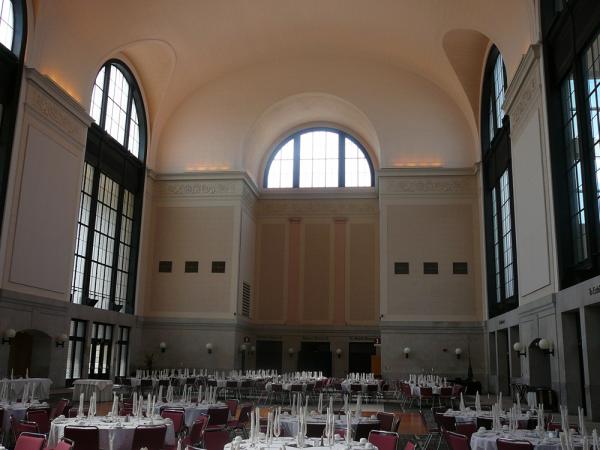 During its early years, the S-Line funneled thousands of rail passengers to this former downtown rail terminal. In fact, it was the largest railroad terminal in the South, recording nearly 10 million passengers on 40,000 trains and employing 2,000 workers in 1944 alone. For comparison's sake, 5.6 million passengers utilized Jacksonville International Airport in 2010. Today, it's the Prime Osborn Convention Center. Future JTA plans call for this terminal to be reopened as an intermodal transportation center. Rail utilizing the S-Line will become one of those modes that will feed thousands of pedestrians into downtown via the skyway. Restoring the S-Line helps funnel thousands of urban core transit riders into the skyway and downtown, thus significantly increasing skyway ridership and market-rate, private-sector investment opportunities in downtown Jacksonville.



Freight Benefits



K&G Box Company is one of many existing manufacturing plants along the S-Line corridor that could benefit from access to direct rail service, removing additional truck traffic from inner-city streets, and generating revenue to the city to help recover annual mass transit operation costs.



Rebuilding the S-Line would provide direct connectivity between FEC's Bowden Yard and this intermodal yard at JAXPORT's Talleyrand Terminal.

It's not a coincidence that the S-Line provides a direct rail connection between JAXPORT's Talleyrand Terminal and the Florida East Coast (FEC) Railroad's Bowden Yard on the Southside. Now that this connection no longer exists, freight bound for FEC is shipped to the Southside by truck, speeding up the destruction of publicly maintained roads such as Emerson Street. The current JAXPORT intermodal railyard proposed for Dames Point will do nothing to improve better connectivity between the port and FEC. However, restoring the S-Line creates a direct link between the railroad and Talleyrand. In addition, there are several companies, such as Load King, USNR, Big D Design Center, Main Metal, and Smurfit-Stone, along the S-Line corridor that could become freight rail clients if fixed rail were restored.



New Town's Load King Manufacturing, a leading provider of food service industry turnkey modular stores, occupies a 300,000-square-foot building along the S-Line. Approximately 13-21% of New Town residents rely on public transportation to journey to work.



United States Natural Resources'(USNR) plant originally started off as the Moore Dry Kiln Company in 1910. The hump in the road was once a S-Line crossing.



A glance inside one of USNR's buildings along West State Street indicates some of these buildings still buzz with economic activity.



Now a part of USNR's complex, Blanche Street's former S-Line rail spur can be seen beneath the pavement.



Main Metal Recycling is a scrap metal recycler near the intersection of West Beaver Street and Myrtle Avenue.



Blessed with significant historic building fabric still remaining, available structures such as this 1922-era May-Cohen appliance and furniture warehouse, would be attractive for adaptive reuse ventures such as lofts, galleries, etc. with the return of the S-Line.

As a publicly owned rail corridor, freight revenue generated by port connectivity and other industries could be used to support annual mass transit operation costs that occur along the S-Line. Such a set up would not be unique. Sunbelt examples of freight services utilizing publicly owned commuter and light rail corridors include San Diego's Trolley, Austin's Capital Metrorail, and Dallas' Trinity commuter rail and DART light rail.



Passing freight cars on while travelling inside of a San Deigo Trolley car. The San Diego Trolley is one of the few LRT systems in the United States to share tracks with freight operations. Owned and operated by RailAmerica, the San Diego and Imperial Valley Railroad (SDIY) serves several industrial clients along 33 miles of the San Diego Trolley line. In 2008, the SDIY hauled 6,500 carloads, in which the main commodities were petroleum, agricultural products, and wood pulp. The issue identifying a revenue source for passenger rail annual O&M costs is something that most public agencies struggle with. The San Diego Trolley is innovative with funding because by sharing tracks with freight service, freight profits can be used to help maintain passenger operations and services. Such a set up allows for a community to provide mass transit without being forced to raise taxes.



2008 Estimated S-Line Capital Costs




In 2008, Metro Jacksonville's Robert "Ocklawaha" Mann worked with rail contractor Balfour Beatty to develop a preliminary cost estimate for the reconstruction of rail along the 4.5-mile S-Line corridor between the convention center and Gateway Mall. The estimated cost at the time was $30.7 million.

Those numbers included:

23,760 feet (4.5 miles) of main line single track

6,000 feet (3 x 2,000 ft) of platform tracks

4,500 feet (3 x 1,500 ft) of passing sidings

14 turnouts

7 stations (9 platforms & canopies)

20 road grade crossings

1 bridge

The numbers exclude permits, design and engineering, property acquisition, and potential environmental remediation.



2030 Mobility Plan & Fee: Funding The S-Line



10 Year CIE Priority Projects by Mobility Zone. A portion of the S-Line is identified as a mobility plan priority project for Mobility Zone 9.

Unlike many of the economic dreams and proposals being tossed around, this one actually comes with its own funding mechanism - a funding mechanism that doesn't call for a raise in taxes for all the fiscal conservatives out there. This mechanism is commonly referred to as the 2030 Mobility Plan and Fee, which was officially adopted by the Jacksonville City Council in September 2011.

What Does The Mobility Fee Money Go Towards?

The money from these fees will be used to support and fund rail, car, pedestrian and bicycle mobility projects. Chief among the planned projects to be funded by this new fee is a streetcar system that will connect Downtown Jacksonville with Riverside.



All of the mass transit based projects in the 2030 Mobility Plan

With that in mind, the mobility fee generates $31.25 million for Jacksonville to utilize the S-Line as a fixed transit corridor for the urban core, as opposed to additional highway construction that has decimated the area over the last 60 years. This $31.25 million is intended to be a local match needed to land federal transit dollars to make the project a reality. A suggestion to speed things up would be to utilize the $31.25 million for the reconstruction of the S-Line, and then utilize the S-Line's value to land federal dollars to pay for extensions north of the Imeson Industrial Park and Jacksonville Zoo.


Comparing Capital Costs




A brief comparison of S-Line capital costs associated with other redevelopment projects considered for investment over the last decade:

$23 million - Mathews Bridge Repainting

$25 million - Jacksonville Equestrian Center

$32 million - S-Line (funded by mobility plan)

$47 million - Atlantic/Kernan Overpass

$63 million - Interstate 95 Pavement Rehabilitation (Atlantic Blvd. to Greenland)

$95 million - Jacksonville Public Library

$130 million - Jacksonville Veterans Memorial Arena

$291 million - First Coast Outer Beltway (first 15-mile segment)

$350 million - Duval County Courthouse

$1.8 billion - First Coast Outer Beltway (entire 45-mile project)


The Problem: A Mobility Fee Moratorium



The image above illustrates a struggling Regency Square Mall. With thousands of homes being foreclosed and high commercial vacancy rates across the city, attempting to artificially spur new construction in an overbuilt market may not be the best economy boosting idea out there?

Shortly after the City Council approved the mobility fee, they approved a moratorium allowing the development community to not pay a fee that had been required the last two decades. Flying in the face of true market demand, the hope was that not collecting this impact fee would encourage the short term construction of more homes and development. While there is no proof that such a plan has ever worked in reality, it does place the financial burden associated with new private-sector construction on the backs of the council's constituents (the individual taxpayer). In addition, it holds Jacksonville back from investments and land-use strategies that could quickly lead to downtown development, distressed neighborhood economic revitalization, private-sector development, job creation, and the enhancing of JAXPORT's freight accessibility. The Mobility Fee moratorium is expected to sunset later this year. It will be up to the public to encourage the council to do the right thing and let this restricting public policy die a quick death.


Conclusion



Could this scene be possible for the Northside's S-Line? The only thing holding the urban core's potential back is ourselves and our ability to make the revitalization process more difficult, time consuming, and expensive than it has to be.

When one openly lays out the benefits associated with the S-Line, its difficult to comprehend why it should not be evaluated by the City of Jacksonville just as much as any other redevelopment scheme concerning downtown, JAXPORT, and the surrounding urban core. Unlike most, the right-of-way is alread owned by the City, the users are in place, building fabric is in place for immediate reutilization, and there's a funding mechanism ready to be put to use to make it a reality. We've done enough planning and we've been producing slick redevelopment marketing schemes for decades. Let's start implementing.



Thousands of jobs and billions in private sector transit oriented developments have taken place around San Diego's (shown above), Charlotte, Salt Lake City's fixed rail corridors, stimulating market rate downtown development in the process. When will Jacksonville abandon sixty years of failed policy decisions and join the party?



Article by Ennis Davis.