Another Streetcar for Portland
December 6, 2012
5 comments
Print Article
While Jacksonville prepares for the opening of State Road 9B, Portland expands its streetcar outside of downtown.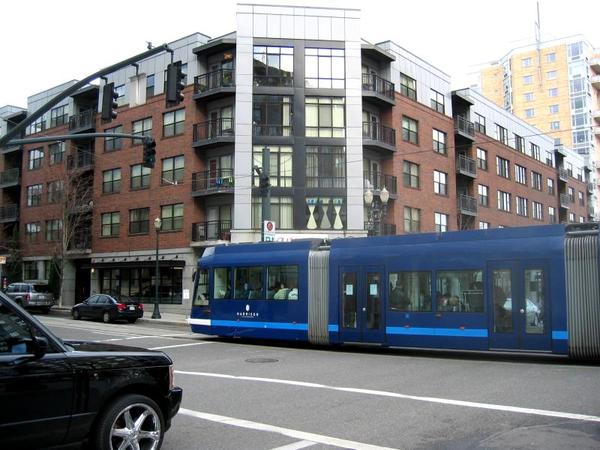 The extension of the Portland Streetcar to the east side connects several inner city neighborhoods, catalyzes commercial and housing development, and provides additional alternative travel options for Portlanders.

Featured in this video: Rep. Earl Blumenauer, Rep. Suzanne Bonamici, Patrick Quinton (PDC), Michael Powell (Powell's Books & Portland Streetcar Board Chair), Chandra Brown (United Streetcar), and Portland Mayor Sam Adams.



Source: http://vimeo.com/50560445




Map of the Portland Streetcar Eastside Loop. Courtesy of http://portlandafoot.org/w/Eastside_Streetcar




Map of future Portland Streetcar corridors: Courtesy of http://www.thetransportpolitic.com/2009/07/03/portland-studies-streetcar-expansion-citywide/



Portland's Eastside Streetcar line, expected to open in October 2012, is a major 3.3-mile expansion of the Portland Streetcar that will run across the Broadway Bridge to Martin Luther King Boulevard and Grand Avenue, then run in a couplet south to OMSI. It's sometimes called the eastside loop because by 2015, it's expected to connect to the South Waterfront over the Willamette River Bridge.

Streetcar fans hope it will speed the transformation of Portland's central eastside into a denser, more walkable and more heavily residential area.
http://portlandafoot.org/w/Eastside_Streetcar
Congratulations to Portland on continuing to strive to be a trendsetter. One day Jacksonville will get there. Even if we have to pull leadership along, kicking and screaming.
Article by Ennis Davis