Florida Bohemian "Tampa Bay"
August 4, 2012
5 comments
Print Article
In a state filled with unique and diverse subcultures the Tampa Bay region mixes elements found across the state and the Great American West. Florida Bohemian explores Tampa Bay's fashion identity, and the direction to where it is headed.
Bohemian (Bo·he·mi·an) --- noun a person (as a writer or artist) living an unconventional life usually in a colony with others (Source: Merriam Webster).

Fashion Definition: Bo-ho Chic or Bohemian styles incorporate layers, looks are often incorporated based on color, texture, length, volume, and pattern. Common styles are prairie skirts, broom skirts, peasant skirts, peasant tops, tunics, and sandals (Source: About.com).


Two weeks ago, I ventured south and visited my hometown Tampa, FL. The Tampa Bay region is home to over 4.2 million people and ranks number one in buying income and retail sales (Source: Tampa Bay Times). Home to an ecletic and diverse population Cuban, and Italian cultures continue to add flamboyant styles in the barrio of (Spanish for neighborhood) West Tampa and throughout the city of Tampa. However, I noticed a "West Coast" inspired style in the posh areas of South Tampa, and Central Avenue along Downtown St. Pete.



One of South Tampa's landmarks Bayshore Boulevard
Photo Credit: goin2travel



Photo Credit: Tampa4u



Central Avenue St. Petersburg, FL
Photo Credit: Inkwatu



Photo Credit: Tampa Bay Business Journal



Free People Tampa Bay



Free People Horoscope Tanks

Free People, a subset of the Urban Outfitters brand opened its first Florida location in April 2012. The store is located at International Plaza a shopping destination for all of West Coast Florida. The Free People brand is targeted for bohemian-edgy twenty-something's and has garnered attention from students from local colleges and universities.



Pictured left Free People Store Manager "Jill Lewis" (Jill is wearing a Free People ensemble) and right Sales Associate "Natalie Jesski". Natalie is wearing Free People's Lima Cardigan which is perfect for Florida's unpredictable weather.



Shadai Jennings Free People Stylist and founder of Monreveandco

I spoke with Free People stylist Shadai Jennings (founder of monreveandco on etsy) to capture Tampa Bay's "style." Jennings described Tampa's LA. Esque style since it differs from Florida's metros. She said "Tampa is not a true beach city" and it tends to have more of an urban/"hipster" styles. Also, Goth and Alternative culture is prevalent in Tampa's Ybor City thanks to nightclubs such as The Castle, and Ybor's GayBor District http://www.gaybor.com/.




The Bohemian trend has received attention due to the popularity of vintage esque styles. Jennings' online store monreveandco (French for my dream) features gently worn, vintage and unique clothing, shoes, handbags, hats and jewelry. Monereveandco mixes Jennings' love for "old mixed with new." Youth in Tampa have finally caught on, and this "mixing" is being captured across the state and country.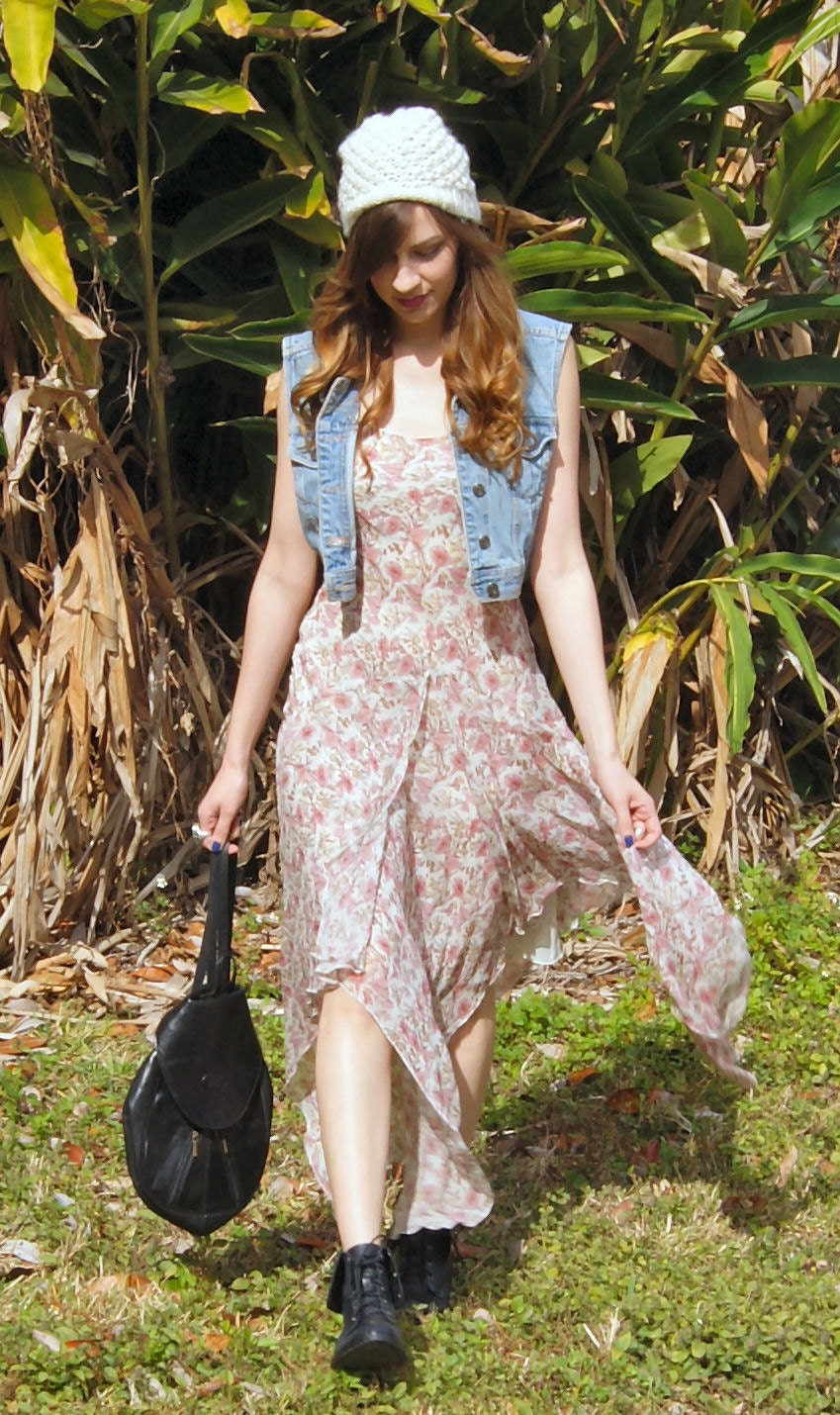 (Photo Credit: monreveandco) You can purchase Jennings "Flowy Bohemian Pink Flowy Dress on Etsy.com"

Florida Bohemian captures light-weight knits, chiffon, and cotton based styles. Throw-in distressed denim and floral for "Old Floridian" looks and styles. From what I saw the Bay Area does have a distinct "look." In Tampa (SoHo, South Tampa, Ybor, Seminole Heights, and Westshore) tend to have either high-fashion or "hipster" styles. Downtown St. Petersburg is becoming a bohemian enclave filled with up-cycled boutiques, and creative styles.



Emily Geier: Her shoes are from American Eagle, and top/shorts are from Forever21.



Alexis Spring: Her top is perfect to pull off "Florida Bohemian" she's wearing a top from a local consignment shop, cami from Hollister, and flip-flops by Rainbow.



Misred Outfitters -- St. Petersburg, FL
Photo Credit: SamanthaGarments



Outfit from Misred Outfitters: Misred Outfitters features vintage clothing in which you can BUY, SELL, or TRADE!
PhotoCredit: keepstpetersburglocal.org

Thrift shopping has finally caught on in the Bay Area. Stores especially in posh area of South Tampa are raising prices due to vintage finds. Students from local High-Schools and colleges (USF and UT) have caught on to the vintage trend, and now owners are catching on. Maybe America's "most vain city" (Men's Health Survey 2012) is becoming one of Florida's emerging fashionable hotspots due to transplants from various metropolitan areas, local students, and growing creative industries.



Model from Clearwater Fashion Week
Photo Credit: Tampa Bay Business Journal

For the past five years Tampa Bay Fashion Week continues to elevate the local fashion industry by connecting local designers, and fashion enthusiasts. TBFW envisions the Tampa Bay region of having a garment district. TBFW has future plans on creating a mini-district by taking over various parts of Tampa during September 15-22nd and will host fashion shows, and pop-up shops in Downtown Tampa. There's an emerging shift in the Tampa Bay region, it is becoming more cosmopolitan and creative, which can translate to a stronger creative class, and forward thinking industries.

MetJax readers feel free to check out the following pages

Misred Outfitters --- http://bemisred.com/

MonReveandCo --- http://www.etsy.com/shop/MonReveandCo

Free People --- http://www.freepeople.com

Fashion Week Tampa Bay --- http://www.fashionweektampabay.com

article by Gerald Joseph
metrojacksonville style editor