Exploring The Ford Motor Company Assembly Plant
October 12, 2011
15 comments
Print Article
In an effort to promote the preservation of Jacksonville's historic Ford Motor Company assembly plant by Hill Street, LLC., DOCOMOMO US/Florida, AIA Jacksonville, and Old Arlington, Inc., the property was open on Saturday, Oct. 8 for public tours.


In 1923, Ford bought ten acres of the former Bentley Shipyards property from the City of Jacksonville for $50,000. Dredging opened the channel, allowing Ford's fleet of oceangoing freighters to dock. Overall construction and equipment cost approximately $2 million. The assembly plant initially contained 115,200 square feet of enclosed space. The adjacent powerhouse contained a 500-horsepower boiler to provide steam to the electric turbo generators. The facility also provided fire protection through an adjacent water generation building that brought river water into a 75,000-gallon tank. The front of the building housed a parts department along with a showroom for finished automobiles. A 1926 addition added some 50,000 additional square feet to the east side of the structure.

The assembly plant is constructed on approximately 8,000 wooden piles. The floor, a reinforced concrete slab, rests on raised concrete piers. The ground plan of the plant is rectangular, and its massing is regular. The exterior walls are curtain wall construction consisting of face brick in a running bond pattern, backed by structural brick. The structural system is steel frame, consisting of H-beams and trusses. Trusses are flat or angled in a butterfly pattern, a signature feature of factories designed by Albert Kahn. The building's central roof monitors (popped-up extensions) are massive and rise noticeably above the roof plane. They are covered with an interlocking ceramic roof tile. The four flanking monitors have a lower profile and area sheathed with metal.

The plant remained operational until 1932 and subsequently was used as a parts warehouse until 1968. With only eight years in operation as an assembly plant, the building was not subject to significant alterations necessary for different processes and different products. The building is a remarkable and durable artifact of Jacksonville's industrial history, and it meets five of seven criteria for designation as a Jacksonville Landmark. The City of Jacksonville's Landmark Designation report for the plant argues it is one of the most significant industrial buildings in Florida, fulfilling five of the city's seven criteria for landmark designation. The report notes, "Its construction between 1924 and 1926 was a major event in the history not only of Jacksonville but the state as well. The arrival of the world's largest autombile manufacturer was a sign of the city and state's growing economic importance."


Plant Offices, Showroom, & Parts Department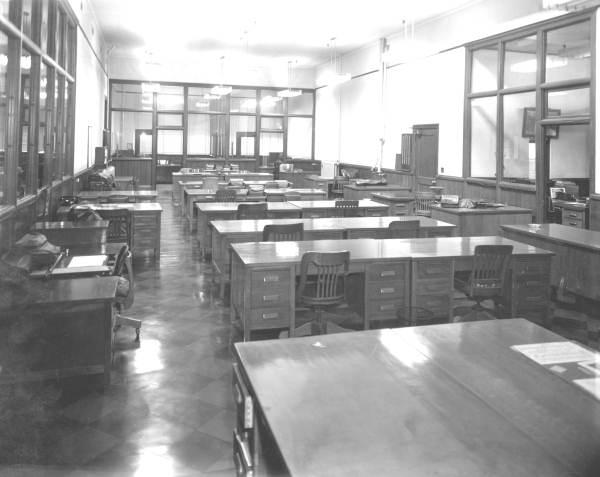 The office complex sparkled in 1948.



The Showroom.



Plant offices.




Assembly plant images on the next page.