May-Cohens: Jacksonville's Big Store
November 21, 2011
36 comments
Print Article
Metro Jacksonville highlights the rise and fall of downtown Jacksonville's Big Store: May-Cohens.

Remains of Cohen Brothers Dry Goods House after the Great Fire of 1901.

Cohen Brothers Dry Goods House was established in 1867 at 41-43 West Bay Street by brothers Samuel and Morris Cohen. Natives of New York and graduates of the University of Berlin, Germany, they began their career in the large importing house of Cohen Brothers, their father's firm at 97 Franklin Street, New York. They relocated to Jacksonville in 1866. Soon two additional brothers would join them. Julius came shortly after they opened but soon died. Their 13-year-old brother Jacob joined them in 1875. By the 1880s, Samuel had returned to New York and Morris had moved on to England, leaving Jacob to operate the Jacksonville dry goods store. Jacob Elias Cohen left an indelible mark on the firm. Sometimes referred to as "The Wannamaker of the South," he is credited with being the first merchant in the South to put a price tag on his merchandise and the first to use pennies in giving change.

Jacob Cohen was in New York on a business trip when the Great Fire of 1901 burned his business to the ground. He found out about this tragic event by coming out of a theater late one evening to be met with newspaper headlines, "Jacksonville Devastated By Fire." However, this event presented Jacob Cohen with an opportunity to do something greater than most in Jacksonville would ever imagine. He envisioned a larger new store being away from downtown's established retail district along Bay Street.



Branch of Cohens Big Store at Camp Joseph E. Johnston in 1918.




However, Cohen claimed that his new store would be an "institution for the people" and commissioned noted Architect Henry John Klutho to design the massive St. James Building. As a part of the building's construction, fourteen modern 3,000-candlepower street lights, said to be the first and finest south of Baltimore were also added. When Cohen Brothers'Big Store opened in 1912, it was claimed that this was the brightest illuminated block in the United States. Soon, the city would install a similar lamp design on Adams Street, a full mile from Main Street to Myrtle Avenue.




Also known as the St. James Building, the Big Store was and still is considered one of the most distinctive buildings in Jacksonville. It was also considered Architect H.J. Klutho's Prairie School masterpiece, combining the design principles of Frank Lloyd Wright and Louis Sullivan into his own personal creation. The 300,000 square foot, four-story building covered an entire city block. The ground floor periphery included specialty retail shops with a massive department store in the center of the first floor and the entire second. The top floors were leased as office space. It was the ninth-largest department store in the United States and third largest building in Jacksonville. The interior featured a huge octagonal glass dome supported by eight colossal statues to flood the interior with natural light.




Hemming Park with Cohens in the background in 19--.



Corner of Laura and Duval Streets on a busy day in 1937.



A plaque for Jacob Elias Cohen in the store during the late 1920s.


Shortly after Jacob Cohen's death in 1927, the growing store would remove this canopy and atrium to create additional floor space. This expansion upset H.J. Klutho so much that he relocated his offices from the building to Springfield in disgust two years later. In 1935, WMBR relocated their radio station from Tampa to the Big Store's Cohen Brother's Radio Theatre. The radio station ceased broadcasting in 1958 but the television side of WMBR lives on as WJXT TV-4. In 1947, the interior was further modified to facilitate more growth. Escalators were installed and the third floor was floored in to create space for a furniture department.



Cohen's display counters showing "Florida fashions" in 1935.



Florida State Marketing Bureau employees busy working at the print shop in 1937. The print shop was above the department store.



Cohens employees pose for a portrait in 1941.


In 1958, St. Louis based May Department Stores acquired the Cohen Brotheres Department Store turning it into the May Cohens chain. The purchase officially made Cohens the 47th store in the May chain. Of interesting note, May's founder David May, financially assisted and advised Jacob Cohen with the development of downtown Jacksonville's big store in 1912. Despite having 47 stores, May saw itself as a "family of stores" instead of chain. To maintain the brand that Cohen Brothers had established after being in business for 91 years, the store was renamed May-Cohens.



May-Cohens in 1961.

Major expansion in the Jacksonville market would come with May's acquisition of Cohen Brothers. In 1959, plans of a joint venture between May and the S.S. Jacobs Company was announced. Called Downtown Center, the development included a seven story, 500 space parking garage and office tower at the intersection of Laura and Church Streets, a six story, 180,000 square foot J.B. Ivey's & Company department store and a 19-story office building. The Ivey's store was the 7th in the Charlotte-based chain and the first major department store to be constructed in a metropolitan United States downtown location in 30 years. In addition, the 19-story Universal-Marion Building included a rotating restaurant on the top floor. 1959 would also begin May-Cohens' push to the suburbs with the opening of a new store at Gateway Mall. By this time, the once isolated Big Store was surrounded by J.B. Ivey's, JCPenney, and Woolworths while Hemming Park had become the cultural epicenter of Jacksonville. May-Cohens would continue its suburban expansion in the 1960s with new stores opening in Roosevelt Mall in 1961 and Regency Square in 1967. Additional stores in Daytona Beach's Volusia Mall and the Orange Park Mall would open in 1974 and 1975, bringing the total number of May-Cohens locations to six.



Vice-Presidential candidate Lyndon Johnson speaking in Hemming Park in 1961 with May-Cohens in the background.



JCPenney and Woolworths eventually followed the Big Store to Hemming Park.

During this period, a gentleman by the name of Alex Phillips would become known as downtown's candy man. Known for his large chocolate covered cream and nut candies, called Annaclairs, Phillips made candy in May-Cohens 4th floor candy kitchen for 34 years. He got his start in 1945, being hired as a 21-year-old bus boy in the store's restaurant. After moving to the candy department, he began making peanut and cashew brittle. As the years passed, he was known for Annaclairs, Turks (pecans covered with caramel and chocolate) and Strawberries in the Snow (berries dipped in white chocolate).

However, while suburban growth was taking over Florida, it had a negative impact on downtown Jacksonville, May-Cohens' massive flagship store and its candy making department. In 1977, the Price Candy Company would cease candy making operations at the Big store and other locations in favor of a centralized operation in Kansas City, MO.



Today the flagship May-Cohens store lives on as Jacksonville City Hall.

In 1982, May-Cohens publicly made it known that the 300,000 square foot downtown store was being considered for closing because it had been operating at the break even point or less for several years. Despite Sears, JCPenney, Furchgott's, Levy-Wolf, Ivey's shutting down their downtown department stores in the early 1980s, the former Big Store waited as long as it could for city leaders to finally live up to the promise of revitalizing downtown Jacksonville. To address changing market conditions and retail trends, May-Cohens reduced the size of the department store, eventually consolidating retail sales operations to the first floor. Unfortunately, time finally ran out in 1987.

One month after the grand opening of the Jacksonville Landing and a day after Barnett Bank announced plans for a new 42-story headquarters, May-Cohens announced that it would permanently close its downtown Jacksonville store. Thomas J. Hogan, May-Cohens president and chief executive officer, said, "The decision to close the downtown store was made due to its declining productivity and the shift of retail patterns towards the river and the suburbs." Despite the flagship store shutting down, May-Cohens plans included leaving the 200 employee headquarters in the building and opening a new store at the Southside's proposed Avenues Mall.




However, a year later May Department Stores would abandon Jacksonville by selling the May-Cohens chain, then known as "May Florida" to Goudchaux/Maison Blanche. May would eventually be purchased by Federated Department Stores and all of its remaining outlets were renamed Macy's in 2005. New Orleans-based Goudchaux/Maison Blanche was founded in 1897 by German immigrant Isidore Newman and they were best known for introducing Mr. Bingle, a Christmans mascot, at its landmark flagship store on Canal Street. However,the rapid expansion coupled with the oil-related recession in Louisiana proved to be too much for the company to manage, and in 1991 Maison Blanche sold eight west and central Florida stores to Dillard's, leaving it with eight Louisiana stores and eight Florida stores.

Maison Blanche was purchased by Mercantile Stores Inc. in February 1992 as a 16-store unit and the Jacksonville stores were renamed Gayfers until Mercantile Stores was acquired by Dillard's in 1998. By this time, Dillard's had already purchased Ivey's, who an established presence in Jacksonville, in 1990. As a result former May-Cohens stores were traded to Belk for Belk stores in Virginia and Tennessee. The swap will allow privately held Belk to enter the Jacksonville market and re-enter the Columbia, S.C., market. It was said that Dillard's possibly chose a deal with Belk rather than Burdines (which is now Macy's) because they saw Belk as being further behind on the development scale than Burdines. Thus, they'd rather see a Belk across the mall than a Burdines, which had more name recognition.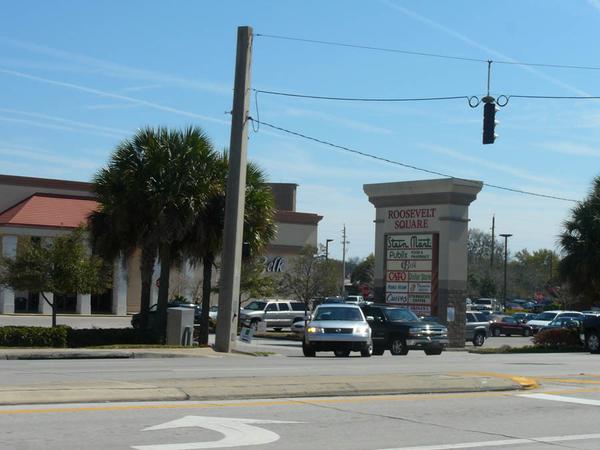 The Belk at Roosevelt Square is the oldest original May-Cohens store still in operation.

While many businesses have opened and closed, May-Cohens wasn't just a store, it was a downtown institution. Cohens spend 122 continuous years in downtown and 75 at Hemming Plaza. Generations of Jaxons grew up with the Big Store being the epicenter of downtown's vibrant retail district.

Before 1987, life in downtown Jacksonville without May Cohens was simply unthinkable.

Article by Ennis Davis

Sources:

Jacksonville Public Library Special Collections

Jacksonville Historic Commission