The Creation of Transform Jax
May 20, 2011
56 comments
Print Article
A common desire between a group of urban core planners to continue the effort to make innovative urban core revitalization concepts discussed throughout the community a reality, has resulted in the creation of "Transform Jax."
Following the first citywide election in March, many urban core advocates were understandably disappointed. First there was talk of giving up or moving out of Jacksonville. That defeatism was quickly replaced by the desire to work harder at moving our city forward. Five guys (not the burger chain) started brainstorming about what could be done, and decided to form an advocacy organization. Over the past two months, they've been talking to lots of folks, researching similar groups in other cities, and filing state and federal paperwork.

Today, we'd like to formally announce the creation of TransForm Jax. Our vision is to improve the vitality and quality of life in Jacksonville's downtown and urban core neighborhoods through creative, innovative, attainable, and sustainable solutions. More specifically, TransForm Jax will advocate and educate the community and decision makers regarding policies and projects that benefit downtown and surrounding in-town neighborhoods, including:

 Improved transportation
 Enhanced parks and public spaces
 Better urban form
 Expanded housing options
 Sustainable design
 Economic diversity

One of our first decisions was defining the area that encompasses the urban core. After much discussion, we decided not to create a specific boundary for the area, leaving it open on an issue by issue basis. That said, we generally see the urban core as the majority of pre-consolidation Jacksonville.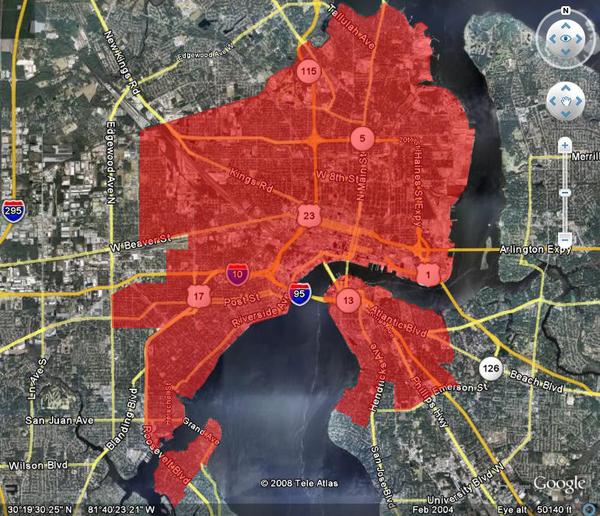 The former municipal limits of preconsolidated Jacksonville.

Did you know that the urban core area of Jacksonville has lost roughly 50% of its population since 1950?
This area has the most potential for rejuvenation that can expand our City's economic base. Furthermore, the urban core neighborhoods have a symbiotic relationship with downtown, and all will benefit from enhancements in the area.

Some of the issues we are already getting involved with include:

 Potential closure of Monroe Street and master planning around the new Courthouse
 Redesign and implementation of the Regional Transportation Center (including Greyhound)
 Identifying short-term and long-term uses for the existing courthouse and Shipyards properties
 Advocating for adoption of the Mobility Plan
 Developing concepts and seeking funds for economic benefit study of initial streetcar line
 Engaging in development of a chain of parks along Hogan's Creek

We look forward to working with the new administration on these issues. Furthermore, we've already been talking with staff from organizations such as DVI, Civic Council, JEDC, Jacksonville Planning & Development Department, JTA, RAP, FDOT, Sierra Club, AIA, ULI, APA, and USGBC.

TransForm Jax is organized exclusively for charitable and educational purposes, including the making of distributions to organizations that qualify as exempt organizations under section 501(c)(3) of the Internal Revenue Code, or the corresponding section of any future federal tax code. TransForm Jax is a non-partisan organization.

As we continue to grow the organization, there will be opportunities to get involved with specific projects and/or subcommittees. For more information, please send us an email at info@transformjax.org