Mobile Food Pods & Downtown Revitalization
March 9, 2011
27 comments
Print Article
Mobile food pods are becoming an important consideration in the growth of street food popularity across America because of their low cost ability revitalize neighborhoods.
What are the benefits of Mobile Food Pods?


The pods become happening places where people gather for a bite. This increase in social gathering gives the neighborhood a sense of community. Pods have become so popular that now property owners advertise for vendors to come and please occupy a space! After all, if an owner owns a vacant lot somewhere, it's not generating any revenue. Vacancy equals $0. By adding vendors, they can now generate rent and get some return on an otherwise fund depleting property. Some owners have become so enthusiastic that they will invest some money to provide picnic tables, awnings for weather protection, porta potties, ATM machines, storage, and electricity hookups. What they get in return is a popular neighborhood hangout for people to go out and dine and socialize.
http://www.munchiemusings.net/2010/10/mobile-food-pods-revitalize.html
A mobile food truck court at Nathan Phillips Square in downtown Toronto.
1. Economic vitality.
The experience of other cities shows that food vendors attract foot traffic to commercial districts - which means increased sales and a more vibrant retail business overall. By offering low-cost, culturally diverse foods for people on the go, they typically complement - rather than compete - with sit-down restaurants and give people more reasons to frequent local shopping districts.
2. Festive, pedestrian-friendly streets.
Food vendors bring positive activity to the street and add a festive, people-oriented feel that improves public safety. In many cities, food vendors provide a window into many diverse cultures, introducing people to new foods and to the pleasures of spending time in the public space of the city.
3. An entry point to owning your own business.
Food vending can be an ideal first business. For a modest investment, it helps an entrepreneur develop a track record and build loyal clientele. For many immigrant and refugee communities, food vending offers a point of entry to the economy and a way to learn the food service industry.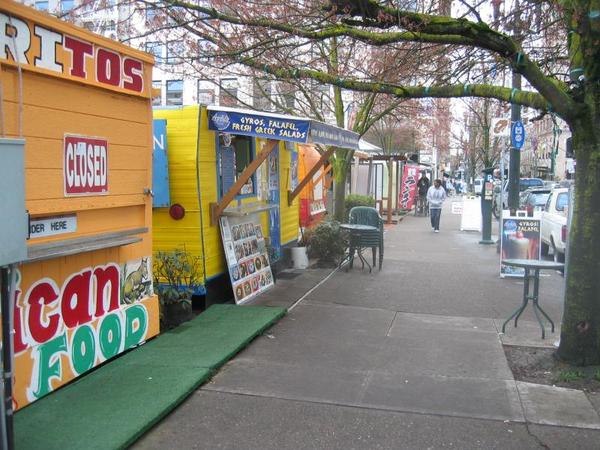 In a recent survey, 58% of business owners in downtown Portland, Oregon-which is known for its vibrant street food scene-found food vendors increased foot traffic, and 66% of business owners citywide had a positive perception of food vendors.
Should brick and mortar businesses be that concerned with mobile food trucks?
Some argue that these vendors have lower overhead and thereby can ?steal? business away by undercutting them. This may be a competitive advantage, but a bricks and mortar restaurant may have a competitive advantage by having bathrooms, indoor dining, table service, air conditioning, or other services. But there do appear to be cases where a consumer may indeed pick a mobile food vendor solely based on price, but that alone may or may not justify restricting mobile food vendors.
While the food vendors and their enthusiastic followers may have been miffed by the harsh realities of zoning, some city planners see it as a broader and potentially city-changing issue. For a city with notoriously sparse streetlife, the food trucks breathe new life into Los Angeles. Otherwise empty, unused, and essentially dead space, the small lot has found new life through these trucks, and helped to revive a small piece of the landscape."
http://www.planetizen.com/node/43198
With a downtown core that's dominated with underutilized surface parking lots, empty streets and sidewalks, introducing new concepts like gourmet food lots in select locations could be an affordable and quick solution to promote revitalization.
What do you see as the pros and cons of modifying public policy to allow for this industry to grow? Would you like to see food trucks in downtown? Do you think they would detract from sit down restaurant business? Tell us your thoughts!
For more information:
Food Cartology - Rethinking Urban Spaces as People Places
http://www.portlandonline.com/shared/cfm/image.cfm?id=200738Article by Ennis Davis