Myrtle Avenue Warehouse District
July 19, 2011
33 comments
Print Article
Metro Jacksonville explores downtown's most overlooked urban district and shares a little history of what took place in its buildings: The Myrtle Avenue Warehouse District.
About The District



The Myrtle Avenue warehouse district is highlighted in yellow in this 1950s-era aerial.

Unlike Bay Street's industrial past, which was centered around wharfs and the maritime industry, the conglomeration of railroads heading into the Jacksonville Terminal resulted in Myrtle Avenue's rise as a district of heavy industry in the early 20th century. Myrtle Avenue would remain an industrial powerhouse until the closure of its two major railroad terminals, the removal of its rail line and changes in industrial building design in the late 20th century.


Exploring Myrtle Avenue



During Myrtle Avenue's industrial heyday, the S-Line weaved its way through the district, serving several factories, warehouses and lumber yards in the process. In 2008, the S-Line Urban Greenway was constructed within the former rail line's 60' Right-Of-Way. In an effort to bring revitalization back to the area and relieve future traffic congestion along I-95, Jacksonville's 2030 Mobility Plan and Fee will generate the capital necessary to implement an urban commuter rail line parallel to this greenway.


The S-Line Urban Greenway is located in the Durkeeville and Springfield communities of Jacksonville. The trail currently consists of a short built section as well as an undeveloped corridor in an urban area that is ready for revitalization. The trail currently serves as a linear park but is not achieving its potential as a catalyst to improve the built environment. When trails are planned and developed, trail developers typically only consider the small 60-foot to 100-foot right-of-way where the trail is physically constructed, not necessarily its relationship with schools, parks, neighborhoods and other community assets surrounding the trail.

RTC will take this planning and analysis to another level by studying the area within a half-mile radius of the Jacksonville S-Line Urban Greenway. By locating community assets and building collaborations with community groups, we seek to increase the neighborhood's connection with the trail, as well as bring awareness to the health benefits of trails, with a focus on area youth.
http://community.railstotrails.org/blogs/trailblog/archive/tags/s-line/default.aspx
The USPS demolished several blocks of the district's residences when it was constructed in 1975.
Now sitting across the street from the USPS's fenced property, this 1909-era building was erected as a small store to serve the neighborhood that once surrounded it.
United States Natural Resources (USNR)
USNR's Jacksonville plant originally started off as the Moore Dry Kiln Company in 1910.
The Moore Dry Kiln Company in 1965.
Inside the Moore Dry Kiln Company in 1965.
USNR's hardwood lumber dry kilns represent an accumulation of knowledge and experience dating back to the 19th century when Lafayette Moore started manufacturing dry kilns in Jacksonville, Florida. Today our high-quality dry kilns can be found the world over, drying just about every species of wood imaginable, and doing it well. Come and see what the package kiln experts have to offer.
http://www.coemfg.com/prod/line.asp?line_id=437
USNR's 1941 era buildings are still in operation.
Inside one of USNR's buildings along West State Street.
When the S-Line (an abandoned railroad) was in operation, street running took place on Wilcox and Blanche Streets to connect warehouses south of Beaver Street with the rail line, near Kings Road. Now a part of USNR's complex, Blanche Street's former rail spur can be seen beneath the pavement.
The Blanche Street rail spur terminated at this loading dock roughly two blocks south of Beaver Street.
Power & Pumps, Inc. started as a division of the nearby Moore Dry Kiln Company (now USNR) in 1938. It now has grown to occupy land that was once the site of a bakery owned by Flowers Baking Company.
Power & Pumps, Inc. is driven by insight and inovation. Since our start in 1938 as an industrial distribution division of Moore Dry Kiln Company in Jacksonville, Florida, we have grown and adapted our business through a series of well-planned product and service expansions. Today, we meet the needs of our customers with synergetic, whole-system solutions that power beyond their expectations time and time again.

Power & Pumps is a leading distributor of power transmission products, pumps, electric motors and drives, and other related equipment from some of the industry's top manufacturers serving both the industrial and municipal water/waste water markets in Florida and Georgia.
http://www.powerandpumps.com/about_us.aspx
The Big D Building Center has anchored the corner of Myrtle Avenue and Beaver Street since 1921.
Building Strong from the Start

Big D Building Center was founded in 1921 by D. C. Dawkins and his wife. The company operated successfully as an architectural specialty supply house for twenty-five years. After World War II, we diversified into general building materials. By that time, three sons in the second generation were beginning to make their mark on the company through a new construction division, and built hundreds of homes in the Jacksonville area. The building supply company was used to supply materials to our own building operation as well as numerous other local builders and developers.

Growing Stronger

We narrowed our focus with the elimination of the home building division in 1970; and Big D Building Center began to steadily grow as a full line building materials supply company. Our success led to the creation of a roof truss and door division in 1972; and, in 1989, we introduced our first commercial and residential window line to the single and multi-family residential, industrial and commercial markets in North Florida and South Georgia.

The Future Looks Clear

Today, under third generation management, Big D Building Center remains committed to delivering quality windows, doors, and siding products to the area's home builders and homeowners. Our success is measured in the satisfaction of many of the largest builders in Northeast Florida, who have chosen Big D as their preferred window, door and siding provider; and by the continued support of countless homeowners who have engaged us to beautify their homes.

Let us show you why Big D Building Center has been a leading supplier to the construction industry in Jacksonville since 1921.
http://bigdbuildingcenter.com/about-us.html
The remains of the Graham-Jones Paper Company. The building shown in this historical image was demolished in 2005.
The Graham-Jones Paper Company during better times.
Looking east down Logan Street from Blanche Street.
The Beaver Street Enterprise Center at Blanche and Beaver Streets.
Now the headquarters of Load King Manufacturing, this building was once a warehouse for the Winn & Lovett Grocery Company.
Load King Manufacturing is the leading provider of turnkey modular stores to the foodservice industry in the United States. Beginning in 1995 with building and installing over 600 food courts for Winn-Dixie supermarkets through being the leading supplier of licensed stores for Starbucks and others, Load King has manufactured and installed more than 5,000 turnkey modular stores throughout the United States.

Load King has been family owned and operated since 1973. Our offices, manufacturing and warehousing facilities are all located in Jacksonville, Florida in several buildings comprising 300 thousand square feet. We have skilled workers and equipment for all fixture manufacturing including laminate and wood finished millwork, stainless steel counters, sinks, etc., steel framed cabinetry, solid surface counters, graphic elements and more. We are certified in the practice of Lean manufacturing assuring high quality and price competitiveness. Additionally, Load King is a cornerstone of the community in the economically troubled New Town section of Jacksonville. The company operates out of renovated circa 1919 buildings in an enterprise zone.
http://loadking.com/about/
Edwards Ornamental Iron is a manufacturer of iron gates and railings.
We are a full service provider of ornamental and architectural metal products. Our 31,000 square foot facility, located in Jacksonville, Florida includes a 5,000 square foot showroom to begin the design process. Here you can view samples of railings, gates, fences, security bars and doors, columns, furniture, garden ornaments and many types of miscellaneous items in steel, galvanized steel, stainless steel, aluminum and bronze. The design process will continue with photo albums, design catalogs, sample components and computer aided design software. Once a design is chosen we can prepare engineered shop drawings and proceed with fabrication. Next, the process moves into blasting, finishing, polishing, painting or powder coating, galvanizing or faux painting. The completed work is then installed in a professional manner. We will also coordinate our work with other trades, such as masonry, electrical and site work contractors.

In addition to all types of metalwork, we also install and service gate operating systems including hydraulic swing and slide gate operators, telephone entry systems, card readers, bar code scanners, keypads, infrared remotes, cameras, barrier arms and associated electronics to provide a complete entry system.

http://www.edwardsornamental.com/about.htm
The former 35,000-square-foot Pittsburgh Plate Glass warehouse on Mrytle Avenue. Now known as PPG Industries, the Pittsburgh-based Fortune 500 company is a global supplier of paints, coatings, optical products, specialty materials, chemicals, glass and fiberglass.
Florida Machine & Foundry Company
Florida Machine & Foundry in 1965.
Constructed in 1953 and located at 1375 West Church Street, the vacant 192,600-square-foot industrial complex was once the home of the Florida Machine & Foundry Company. National Wire Southeast took over the plant in 2001.
Florida Machine & Foundry in 1965.
Florida Machine & Foundry's former machine shop.
Florida Machine & Foundry's former foundry.
Florida Machine & Foundry's former steel fabrication plant.
Inside Florida Machine & Foundry's former steel fabrication plant.
The Boone Terminal Warehouses were constructed in 1914. Now used for trucks, the loading docks in the image were originally designed for rail.
Shiloh Metropolitan Baptist Church.
The former A.L. Lewis Elementary School was constructed in 1925.
Florida C. Dwight Memorial Playground is located in the La Villa section near downtown Jacksonville, just west of Interstate 95. The park comprised a portion of the Town of La Villa, which was subdivided and incorporated after the Civil War and remained independent until annexed by Jacksonville in 1887. After the City purchased the land in 1904, it became a park for the area's white residents known as La Villa Park. In 1929, the City's second playground for African-American children was established there and named La Villa Playground. Florida Dwight (1886-1977), the playground's first recreation director, pioneered organized recreation for the City's African-American community from 1918 (with the opening of Oakland Park) until her retirement in 1950. To honor her years of devoted work, the playground was renamed in 1983, and then designated a local historic landmark in 1995.
http://www.coj.net/Departments/Recreation-and-Community-Services/Recreation-and-Community-Programming/Parks/Florida-C--Dwight-Memorial-Playground.aspx
Playground equipment at the Florida C. Dwight Memorial Playground with the Anointed Church of God in the background. The building was constructed in 1904 as the Zion Hope Baptist Church.
This collection of 1922-era brick buildings between Church and Duval Streets was once the May-Cohen's appliance and furniture warehouses.
West Duval Street is the last street with several residences still left standing in what was once known as LaVilla. In an ironic sense, it could be argued that the construction of Interstate 95 aided in its preservation, considering nearly everything on the downtown Jacksonville side of the highway has been demolished as a part of a failed urban renewal project. The majority of the homes are in the vicinity of 1,000 square feet and were constructed in 1909.
Dignity U Wear was founded in April of 2000 in Jacksonville, Florida, by philanthropist and Holocaust survivor, Henri Landwirth. Henri knows what it means not to have clothes – to be stripped of dignity and to give up all hope. He founded Dignity U Wear to create real change in the lives of children and adults in need. Change you can see. Change that restores broken spirits and restores hope, dignity and self-esteem. That is why we distribute only brand new clothes.

Dignity U Wear creates primary partnerships with key manufacturers, retailers and distributors which provide the new clothing, often overruns, excess inventory or seasonal items. These items are collected and warehoused. It then becomes our responsibility to give the brand new clothing to schools and nonprofit agencies serving those in need. These centers provide their list of needs and Dignity U Wear provides the clothing. Dignity U Wear specializes in soliciting, warehousing and distributing brand new clothing nationally, at no cost to recipients.
http://www.dignityuwear.org/_about_us/
Beneath the poor stucco job is a structure that dates back to 1907.
Railway Express Agency
The Railway Express Agency (REA) was a major anchor and economic generator for the Myrtle Avenue district for several decades. Not surprisingly, Myrtle Avenue's decline as an industrial center parallels the decline of the REA, which closed for good in the early 1970s. Since this time, the REA's buildings have been demolished, tracks removed, and replaced with JTA's offices and bus maintenance operations.
The REA terminal can be seen in the upper center portion of the aerial above.
In 1929 69 railroads created the Railway Express Agency. It was formed from famous companies such as the Wells Fargo Inc, American Express Co., and Southern Express Co. just to name a few. These latter companies were formed into the American Railway Express Co. during WWI while under federal government control. In 1920 its was deemed to split this company back to its original companies. It was then approved by the ICC to continue operation as the American Railway Express but urged the railroads to begin operating their own express business.

Railway Express was much like today's UPS. Virtually everything was shipped by REA as "LCL" (less than car load) or a full carload. Fruit, fish, flowers, bicycles, coffins, zoo animals, pets, racehorse's motion picture film, anything and everything. Most all passenger trains carried same form of Express. Most all-secondary trains were for the purpose of express service while the 1st class trains ran through, and they too may have some express business.

Jacksonville had a big roll with Railway Express. It is believed that Jacksonville's facility was the largest in the country with a capacity for 250 cars. Equipped with a modern covered loading / unloading platform with multiple tracks, office space and loading/ unloading docks for trucks in front. A large storage yard was needed with around the clock terminal crews pulling and spotting express baggage, express box and express reefers.

REA as it later became to be known, was not limited to railroads. Air Service and Trucks also played part in their service. In the early 1960's Southern was the first railroad in our area to discontinue using REA. An attempt was made to replace Southern's system wide traffic by using trucks. In 1962 REA opened its last but modern terminal in Savannah Georgia served by the Atlantic Coast Line and Seaboard Air Line Railroads. REA also attempted using express containerized vans on flat cars. To compete with other modes of transportation REALCO was formed as a trailer leasing pool. Railway traffic had reduced system wide and by the early 1970's terminals were closed, Jacksonville was no exception and by 1975 REA was history.
http://www.jacksonvilleterminal.com/railway_express_agency.htm
The JTA has replaced the REA but the economic benefit has not been as influential for the surrounding district.
Located across from JTA's offices, McGill's Custom Counter Tops, Inc. has produced thousands of counter tops since 1986. The building housing the McGill operation was constructed in 1909.
McGill's Custom Counter Tops Inc furnishes custom laminate counter tops to the USA. We make standard laminate as well as granite look counter tops. Our primary market is builders and contractors. We do sell directly to the DIY remodeler in the local Jacksonville, FL market. Our cabinet tops are constructed in our state of the art factory and shipped nationwide.
http://www.mcgillscustomcountertops.com/
So close, yet so far away, this image captures how I-95 severs this district from the rest of the downtown it was once seamlessly connected with.
This leftover greenspace at Myrtle & Forsyth was once the site of an Armour & Company sausage factory. This industrial facility was demolished to make way for Interstate 95.
Armour & Company's sausage factory (now demolished) can be seen sandwiched between the REA terminal, Myrtle Avenue and the original I-95 viaduct.
A display of Armour & Company's products at a Jacksonville grocery store in 1949.
The Myrtle Avenue Subway was opened in 1909 to pedestrian, automobile and streetcar traffic.
Setting A Course For Future Redevelopment
The first thing we can do as a community is acknowledge that this area actually exists and that redevelopment is a realistic option. With that said, here are three things that could aid in the revitalization of this long overlooked and ignored urban district.
1. Jacksonville Regional Transportation Center TOD Planning
The former 1922-era Harnischfeger Corporation's (machinery manufacturer's) warehouse is within walking distance of the proposed JRTC via West Forsyth Street.
Considering the permanency of I-95, connectivity with downtown via Beaver, Church, Forsyth and Bay Streets, has to be improved. This image was taken in front of a vacant brick warehouse that was constructed in 1922. The other side of the overpass is the site of JTA's proposed Jacksonville Transportation Center (JTC). As JTA re-evaluates their plans for the JTC, extra attention should be paid to how the complex can help stimulate redevelopment in the surrounding area, including what exists on the west side of I-95.
In Columbus, Ohio, "The Cap" is an interesting example of re-connecting two urban neighborhoods together that had been cut off by the construction of an interstate. In 2002, this strip of buildings, containing restaurants and specialty retail, were erected over I-670, providing a seamless pedestrian connection between the city's convention center and the vibrant Short North District.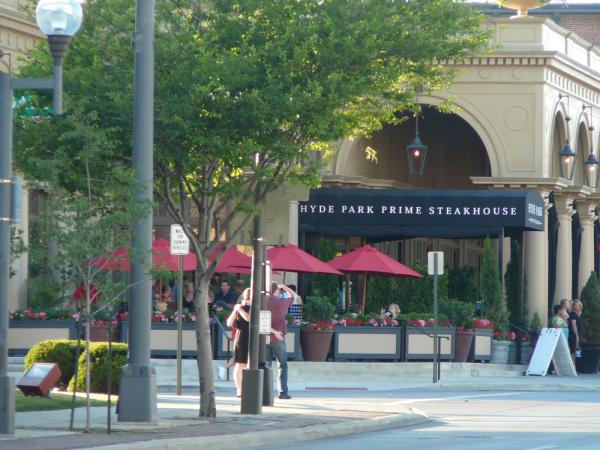 Today, whether walking or driving, few would even realize that this section of roadway is actually a bridge over the interstate. The structures, including this one housing the Hyde Park Prime Steakhouse, are reminiscent of the city's old Union Station, which was demolished during the urban renewal era.
2. North Corridor Commuter Rail
The remains of an S-Line rail spur in the center of Wilcox Street.
The concept of reestablishing passenger rail along the S-Line was first proposed by Metro Jacksonville in response to JTA's former plan to build dedicated busway along I-95, and for its economic potential in distressed neighborhoods like Myrtle Avenue. It's no secret that this district grew up around the S-Line's connectivity and died right along with its removal. Nationally, it's also no secret that local, fixed rail systems can attract as much as $14 in private sector development around their station sites for every $1 invested publicly. If Jacksonville follows with the 2030 Mobility Plan's S-Line rail project, Myrtle Avenue could become one of urban Jacksonville's hottest neighborhoods for redevelopment.
Austin's Saltillo District is enjoying an economic resurgence because of enhanced connectivity from the opening of that city's urban commuter rail line. Image by S-t-e-v-e-n at http://www.flickr.com/photos/s-t-e-v-e-n/4520747538/
3. Modification of Industrial Sanctuary Regulations
This scene on Vega Street illustrates how older industrial properties are becoming obsolete in today's world. In this particular case, the loading dock was designed for smaller trucks from a different era.
In 2007, the Jacksonville City Council passed an Industrial Land Preservation Bill intended to keep industrial land in the city from being rezoned for non-industrial uses. While this bill certainly has merit, it can be damaging for an increasingly obsolete industrial district such as Myrtle Avenue. Many of Myrtle Avenue's warehouses date back to the 1920s and were designed for the industries of that era. Today, many of the warehouses contain loading dock areas not designed for today's trucks as well as lower ceiling heights for manufacturing and distribution.
On the other hand, unique building construction (ex. brick walls, timber beams, large open floor areas, etc.) and cheap leasing rates has made buildings in neighborhoods like this suitable for several forms of adaptive reuse in cities across the country. Combining connectivity and land use modifications may be enough to tilt the redevelopment scales along Myrtle Avenue.
Kansas City's Crossroads District is an example of what Myrtle Avenue could become by strengthening the neighborhood's connectivity with downtown, and relaxing zoning regulations.
The Crossroads Arts District is a historic neighborhood near downtown Kansas City, Missouri, USA, centered at approximately 19th Street and Baltimore Avenue, between Downtown's Central Business District and Crown Center. It is the city's main art gallery district and center for the visual arts. Dozens of galleries are located in its renovated warehouses and industrial buildings. It is also home to numerous restaurants (including one operated by Lidia Bastianich), housewares shops, architects, designers, an advertising agency, and other visual artists. The district also has several live music venues as well.

Numerous buildings in the neighborhood are listed on the National Register of Historic Places, including the TWA Corporate Headquarters' Building and the Western Auto Building.

The Kansas City Star's offices and printing facility are in Crossroads, as are The Pitch's.

360 Architecture and Barkley Inc. have their headquarters in Crossroads.

First Fridays
Art galleries generally open new shows on the first Friday of each month from 6 to 9 pm. This has become one of the region's most popular regular events as thousands of people flock to the Crossroads for gallery "open houses" amidst the Crossroads's unique atmosphere.

There are more than 60 galleries in the Crossroad's district, making it one of the five largest arts districts in the US.

Crossroads Music Festival

First held in late August 2005, the Crossroads Music Festival is an annual event organized by Spice of Life Productions, which features local music artists. The 2005 event was held at Grinder's Sculpture Park, located at 18th Street and Locust Street. In addition to concert performances, offerings include short films by local independent filmmakers and booths offering apparel by local designers, local independent print media, and carnival games.

Tax Abatement

In 2007, one of Kansas City's development agencies began a program to allow property tax abatements for art-related business that would otherwise be priced out of the neighborhood by fast-rising property values. Neighborhood leaders lobbied for the program to prevent the "Soho Effect" of gentrification. Tax abatements had previously been granted to developers to attract new residents to the neighborhood with high-end condominiums and lofts adjacent to the galleries.
http://en.wikipedia.org/wiki/Crossroads,_Kansas_City
Visiting The Myrtle Avenue Warehouse District
Click on image to enlarge.
The Myrtle Avenue Warehouse District is located along Myrtle Avenue between Kings Road and West Forsyth Street, west of downtown Jacksonville.
Historical photos courtesy of Florida State Archives.Article by Ennis Davis.