Jax Chamber Headed to Indianapolis - A Few Pointers
October 11, 2010
32 comments
Print Article
This week, the Chamber of Commerce and city leaders will make their annual pilgrimage to a peer city to seek out innovative ideas and successes that Jacksonville could implement. In years past, without bringing back and implementing tangible results, this trip has come under fire by Jacksonville taxpayers. To help make this trip worthwhile, Metro Jacksonville highlights five Indianapolis projects that Jacksonville representatives should take a close look at.
1. Downtown Connectivity




The crown jewel of urban Indianapolis is the Wholesale District, which is located on the southern fringe of Downtown. It contains most of the core's premier attractions, including the Circle Centre Mall, Monument Circle, the Indiana Convention Center and three professional sports venues. Prior to its designation as a cultural district, this was one of Downtown's most decayed and blighted areas. Since 1995, nearly $700 million has been invested in the immediate area, transforming it into one of the city's premier arts and entertainment districts.

While Downtown development is a key priority, Metro Jacksonville advises the Chamber to take note of something that most will fail to recognize. Once we get past all the glitzy capital projects, retail and dining options in the capital city, take note that this is not possible without the concepts of "connectivity" and "clustering." For downtown Jacksonville to regain its vibrant status, a discussion on connectivity and clustering complementing uses will have to move to the forefront.


2. Canal Walk




While visiting the White River State Park (Session #5 on 10/12/10), take note of the Indianapolis Canal Walk. Canal Walk is a linear public space designed around the old Indiana Central Canal. The path features a mix of old and new architecture, attractions, monuments, and a waterside promenade for jogging, inline skating, biking, and boating. Amenities along canal walk include Pedal boat rentals, bike rentals, murals, a waterside cafe, and waterfalls.

In Jacksonville, we have our own versions of Canal Walk that have been ignored for over a half century. Both McCoys and Hogans Creek can be better utilized to reconnect downtown and the riverfront with adjacent neighborhoods, enhancing residential opportunities in the inner city.

Exposing Hogans Creek


Downtown's Best Kept Secret: McCoys Creek



3. Clarion Health People Mover




Indianapolis has its own version of the Jacksonville Skyway, the Clarion Health People Mover. However, this privately funded people mover was constructed for $45 million/mile less and operates 24 hours/7 days a week with a $1 million annual budget.

In addition, walkable mixed-use development has taken place around its central station offering Indianapolis' healthcare industry the option of urban living, working and playing without the everyday use of the car. Considering that the Skyway is already in place, a look at the Clarion Health People Mover is a must if we want to better utilize this existing mass transit option in the economic recovery of downtown Jacksonville.

The Clarian Health People Mover



4. Indiana World War Memorial Plaza




The World War Memorial Plaza is a great example of a non-waterfront urban green space with pedestrian friendly amenities that is well integrated with its surroundings. The War Memorial and the parks in the plaza are an example of the City Beautiful movement, which supported classical, uniform, and beautiful public architecture. The plaza covers a five-block strip north of Monument Circle between St. Clair, Pennsylvania, New York, and Meridian Streets. In 1989, the plaza was listed on the National Register of Historic Places, and it was named a National Historic Landmark District in 1994.

Downtown Jacksonville will have its own three-block version of this space between the new Duval County Courthouse and Adams Street. Unfortunately, there has been no discussion on how the design of this space could possibly impact this desolate section of the Northbank. A walk through the War Memorial should give Jacksonville's representatives a taste of what could exist in a blighted section of downtown with vision.



5. Fall Creek Place




The future of downtown Jacksonville is directly tied to the economic health of its adjacent neighborhoods. While much focus has been placed on bringing life to downtown Jacksonville, it would not hurt Chamber leaders to consider ways to revitalize surrounding neighborhoods such as LaVilla, Brooklyn, Cathedral District and the Eastside. Located just north of downtown Indianapolis, Fall Creek Place is a great example of what Jacksonville's urban core can become through a combination of historic preservation, investment in public infrastructure and private sector affordable infill mixed use development and housing.


About Fall Creek Place


Fall Creek Place is bounded by Meridian Street on the west, Fall Creek Parkway on the north, just east of College Avenue on the east, and 22nd Street on the south.

The neighborhood consists of narrow, tree lined streets. Victorian homes from the late 19th century are the most prevalent house type as well as new homes built in period design. In the 1980s, the neighborhood fell into serious disrepair; entire city blocks were left abandoned. In 2001, city efforts to redevelop the area into a mixed-income residential community began. In 2003, the U.S. Department of Housing and Urban Development awarded Indianapolis with a Homeownership Zone Award for the way the city used a $4 million HUD grant to stimulate other public and private investment in the Fall Creek Place redevelopment. Also in 2003, the American Planning Association selected Fall Creek Place as the winner of the 2003 Outstanding Planning Award for "Implementing Smart Growth." In 2006, the National League of Cities gave Indianapolis the silver winner Award for Municipal Excellence for cities over 500,000 in population for the Fall Creek Place redevelopment project.

The area was previously nicknamed "Dodge City," referring to the infamous western town of Dodge City, Kansas where there were shootouts in the streets. The area was plagued with frequent drive-bys during the 1980s and 1990s.
http://en.wikipedia.org/wiki/Fall_Creek_Place,_Indianapolis
With vision and coordinated planning, there is no reason an established neighborhood like Brooklyn, LaVilla, Durkeeville or the Eastside can't undergo the same rapid renaissance.
About the 30th Annual Leadership Trip to Indianapolis, IN
The Jacksonville Regional Chamber of Commerce is heading to Indianapolis, IN, for the 30th annual leadership trip October 12-14.
This year, Jacksonville's top business and civic leaders will see first-hand how Indianapolis leaders executed their vision on topics such as Downtown Development, Civic Leadership Structure, Education Reform and Holistic Approaches to Poverty.
This Year's Itinerary
Downtown Indianapolis aerial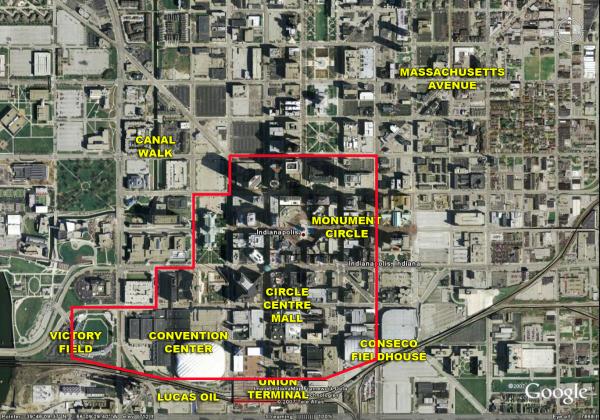 Downtown Jacksonville aerial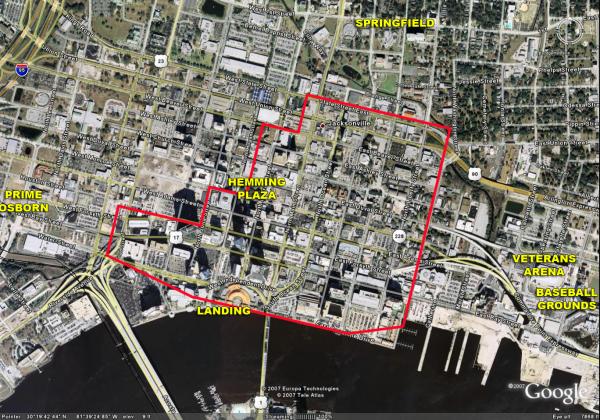 Most of Indianapolis' major destinations, if moved to the Northbank, would fit in an area that stretched East/West from Berkman Plaza to Broad Street and North/South from the riverfront to State Street. When overlaying the Indianapolis footprint over the Jacksonville area, the Prime Osborn and Jacksonville Municipal Stadium are so far outside of that area that they can't be seen on the aerial. This should speak volumes for the importance of connectivity and the clustering of urban development.
Use this trip to gather ideas that will make Jacksonville better through quick and sensible implementation. Also, take photos and be willing to share what you have learned with all of Jacksonville's residents.
Article by Ennis Davis