London Bridge Pub receiving Exterior Upgrades
March 19, 2010
10 comments
Print Article
The London Bridge Pub will soon be the recipient of a renovation project that will involve installing new store fronts and doorways to the historic United Cigar Store building.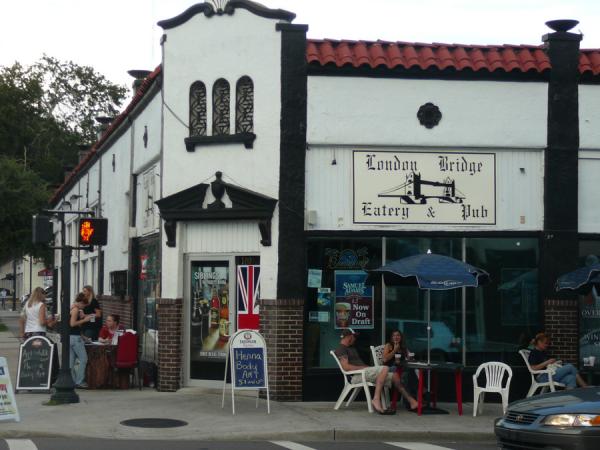 Building History


In 1925, after proclaiming that Jacksonville was destined to become the major metropolis of the South, the United Cigar Stores Company purchased twenty-six corner lots throughout the city for $1,500,000. Eight other structures similar to this one were built by Baeder Properties, a subsidiary of the cigar company, in 1926. Each building contained nine retail storefronts, with the corner space reserved for a United Cigar Store. Decorative features of the Mediterranean Revival style of architecture highlighted the exteriors including wrought-iron grills in the arched windows, a clay-tile brow roof, and cast-stone ornaments. The unusual orientation of the facade toward the corner is the hallmark of these buildings. A wooden Indian was usually prominently displayed by the entrance. Of the nine original United Cigar buildings, most have been demolished or severely altered, leaving this as the best example of these old cigar shops.
Jacksonville's Architectural Heritage, page 30
Today, this Chris Hionides owned building is the home of the London Bridge Pub and Poppy Loves Smoke, anchoring downtown's rapidly growing nightlife scene.
London Bridge Pub
Poppy Love Smoke
Development Update by Ennis Davis