Chick-Fil-A and Public Improvements Coming to Southbank
June 23, 2010
67 comments
Print Article
Projects associated with the proposed $200 million Wolfson Children's Hospital/Adult Tower will significantly change the area around Baptist Medical's Southbank campus.
About the Wolfson Children's Hospital/Adult Tower

The proposed project consists of an approximately 350,000 square foot facility comprised of six floors for a children's hospital, five floors for an adult hospital, and a penthouse above to house the elevator and mechanical services, for a total of twelve stories. The building will house 237 beds and 15,750 square feet of office uses. The development is replacing the aging multi-story East Wing, single story Southeast Annex Building and single story MRI addition.
1. Palm Avenue Streetscaping
Palm Avenue, between Prudential Drive and Gary Street, will be streetscaped and landscaped to enhance street level pedestrian use and interaction. The estimated capital cost of the streetscape improvements are $100,000.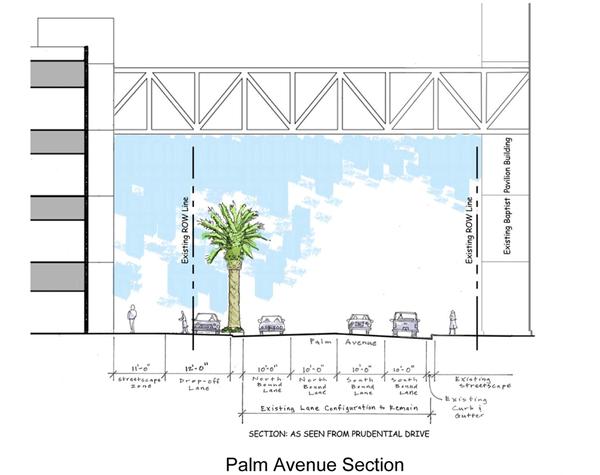 2. Off-site employee parking with dedicated shuttle service
To alleviate traffic congestion around the medical campus, an off-site 200 space employee parking lot will be located at the existing Kings Avenue Parking Garage. Baptist Medical will provide shuttle service at its expense to transport employees from the Kings Avenue garage to the medical center. Estimated annual operating cost for the parking lot is $69,600 and for the provision of the shuttle service is $25,000.
3. Variable employee shift time offset from normal peak periods
To alleviate traffic congestion at peak hours, hospital employee shift times will be off-set from the normal peak period by requiring a shift start of 7am and a shift stop of 3pm.
4. Prudential Drive widening
Prudential Drive will be converted to four travel lanes from the St. Johns River to Palm Avenue. Existing Drop off delivery areas will be relocated to accommodate the additional travel lanes. Estimated capital costs are $15,000.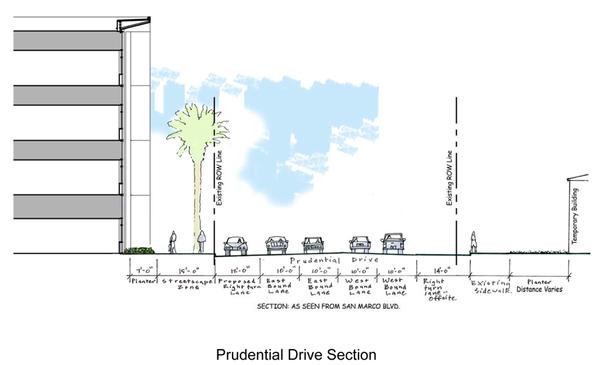 In addition to the proposed Palm Avenue and Prudential Drive projects, a pedestrian friendly Chick-Fil-A restaurant will soon open at the medical campus. The new restaurant will be on Prudential Drive, just west of Palm Avenue.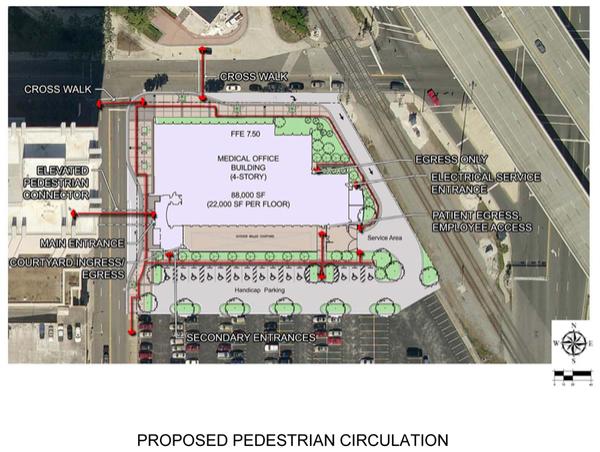 Eventually the parking lot on the corner of Palm and Prudential will become the site of a new four story medical office building.
Building renderings here: http://www.metrojacksonville.com/article/2008-dec-baptist-medical-office-building-renderings
5. Palm Avenue parking garage modification
Access to the Palm Avenue parking garage will be modified to eliminate the existing entrance, thereby eliminating one curb cut on Palm Avenue. The new entrance will be a combined entrance/exit at the center of the garage known as Parking Garage A. Estimated capital costs are $3 million.
http://www.metrojacksonville.com/article/2008-dec-baptist-medical-office-building-renderings
No public funds will be used for the public realm projects described above.
Article by Ennis Davis