Former Passenger Rail Station to Reopen
July 14, 2010
45 comments
Print Article
After much consideration, the City of St. Augustine has selected the former FEC rail station, north of downtown, as its official preferred station site for passenger rail's return to the city.


Although the San Marco Avenue (existing FEC) location wasn't the city's top choice, the 4,000-sqaure-foot station was selected after it was revealed that the preferred downtown site wouldn't be ready in time for the system's anticipated late 2013 opening.


Plans for the Carrera Street train station ran into a snag when the location appeared to present environmental and construction issues that included laying additional track and possible widening of the bridge over the San Sebastian River — all of which could delay or jeopardize the entire 351 mile project.
http://www.historiccity.com/2010/staugustine/news/florida/existing-fec-station-may-speed-rail-travel-return-3613
Downtown's Carrera Street at US 1 site was St. Augustine's original preferred location for the Amtrak Station.
About the San Marco Station
Looking north at St. Augustine's San Marco Avenue station around 1960.
it is in fact the 1960's prototype for all of the stations on the FEC. Sadly the strike hit just a couple of years after it was complete and the railroad built by the passenger train went FREIGHT ONLY. The Florida Public Utilities Commission stuck Ed Ball's feet in the fire and told him, if he wanted to keep the charter, he WOULD run passenger trains. Ball might have been the meanest SOB on the planet, but he could also be a class act. He restarted the passenger trains which typically were a single engine, coach and a FIRST CLASS, round end Tavern Lounge Observation Car. Trains #1 and #2 ran for another 4 years or so until the case went to the higher courts and the train came back off. Almost overnight the whole railroad did a house cleaning and EVERY depot was torn down except for an isolated few that could be leased.
Quote by Ocklawaha at http://www.metrojacksonville.com/forum/index.php/topic,5223.msg81689.html#msg81689
A Look at the San Marco Station Today
In addition, added construction costs can be avoided through the reuse of the existing San Marco Avenue station.
TOD Potential Comes to St. Augustine
Given the large site, complementing transit oriented development (TOD) could become a possibility for station, which could also serve as an additional commuter rail stop when that system becomes a reality.
Is It Really TOD? (Patrick Siegman, in Tumlin and Millard-Ball, 2003)

What's the difference between a true transit-oriented development, which will deliver promised social and economic benefits, and a transit-adjacent development? A true TOD will include most of the following:

• The transit-oriented development lies within a five-minute walk of the transit stop, or about a quarter-mile from stop to edge. For major stations offering access to frequent high-speed service this catchment area may be extended to the measure of a 10-minute walk.

• A balanced mix of uses generates 24-hour ridership. There are places to work, to live, to learn, to relax and to shop for daily needs.

• A place-based zoning code generates buildings that shape and define memorable streets, squares, and plazas, while allowing uses to change easily over time.

• The average block perimeter is limited to no more than 1,350 feet. This generates a fine-grained network of streets, dispersing traffic and allowing for the creation of quiet and intimate thoroughfares.

• Minimum parking requirements are abolished.

• Maximum parking requirements are instituted: For every 1,000 workers, no more than 500 spaces and as few as 10 spaces are provided.

• Parking costs are "unbundled," and full market rates are charged for all parking spaces. The exception may be validated parking for shoppers.

• Major stops provide BikeStations, offering free attended bicycle parking, repairs, and rentals. At minor stops, secure and fully enclosed bicycle parking is provided.

• Transit service is fast, frequent, reliable, and comfortable, with a headway of 15 minutes or less.

• Roadway space is allocated and traffic signals timed primarily for the convenience of walkers and cyclists.

• Automobile level-of-service standards are met through congestion pricing measures, or disregarded entirely.

• Traffic is calmed, with roads designed to limit speed to 30 mph on major streets and 20 mph on lesser streets.
www.nelsonnygaard.com/articles/TOD.pdf
With proper planning, transit oriented development could be incorporated at the St. Augustine train station site, creating additions jobs, economic development and enhancing the northern gateway for the city.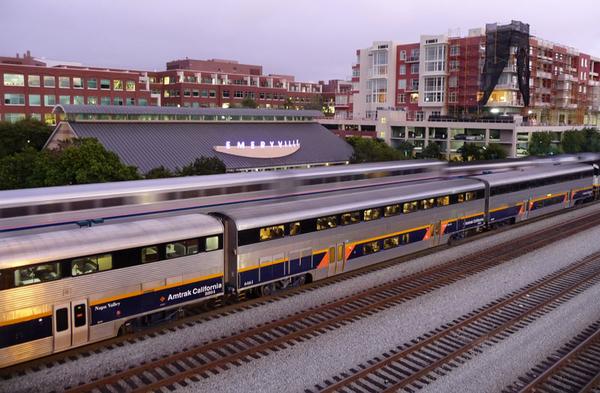 Image by ingridtaylar at www.flickr.com
For more information:
http://staugustine.com/news/local-news/2010-06-17/san-marco-amtrak-stop-favored
http://staugustine.com/news/local-news/2010-06-29/city-commission-picks-san-marco-site-proposed-amtrak-station
Article and Images by Ennis Davis