Why Jacksonville Should Immediately Invest In Rail
February 3, 2010
69 comments
Print Article
Here are 11 reasons why passenger rail should become a critical element of Jacksonville's immediate future.
1. Reduces Traffic Congestion

Any typical urban or suburban road has a maximum passenger per direction, per hour capacity (automobile only) of 2,400 persons per lane. In one hour A single track Light Rail line can move the equivalent of 8 lanes of Expressway. A double tracked Light rail system has the passenger per hour capacity of 16 expressway lanes, (excluding buses). In order to move 20,000 people per direction, per hour, a highway would need 18 lanes.

Buses as a substitute fail miserably in a apples to apples comparison. Even with exclusive busways, it would take 30 articulated buses, each carrying 120 passengers an hour to move 7,500 passengers. The bus system will require a driver for every vehicle, the Light Rail uses railroad technology to and can operate entrain with one operator for several vehicles.


2. Positive Economic Impact

A report commissioned by the Federal Transit Administration to understand the economic impact of public transportation found that there was a significant positive economic impact on jobs and business revenues. The study found that in the year following the transit investment, 314 jobs are created for each $10 million invested in transit capital funding. In addition, transit operations spending provides for a direct infusion to the local economy with more than 570 jobs created for each $10 million invested in the short term.






3. Business Attractor

Almost half of the nation's Fortune 500 companies, representing over $2 trillion in annual revenues, are headquartered in America's transit-intensive metropolitan areas.


4. Business Sales Gains

Businesses would realize a gain in sales of three times the public sector investment in transit capital - a $10 million investment results in a $30 million gain in sales. Regarding transit operations spending, businesses would see a $32 million increase in business sales for each $10 million in transit operations spending.


5. Economic Development Generator

Rail lines are fixed, high-value assets. Developers are more comfortable investing capital into a system that will continue. Since 1977, when the first Metrorail station opened in Virginia, Metrorail has generated substantial economic benefits for the Commonwealth. By 2010, Metrorail will generate: $2.1 billion in additional Commonwealth revenues and net revenues of $1.2 billion (in excess of the Commonwealth contributions to Metrorail).

Every taxpayer dollar invested in public transportation generates about $4 to $9 in economic returns, according to the American Public Transportation Association.


6. Cheaper than Roadways

New urban highways cost as much as $100 million per mile, whereas the Norfolk light rail line costs about $31 million a mile.





7. Saves You Money on Gas

Public transportation saves more than 855 million gallons of gasoline, or 45 million barrels of oil, a year – enough to heat and cool one-fourth of American homes annually, according to the Center of Transportation Excellence.


8. Better for the Environment

Public transportation generates, per passenger mile, 95 percent less carbon monoxide and 92 percent less volatile organic compounds than passenger vehicles – and about half as much caron dioxide and nitrogen oxide.


9. Traffic Congestion Costs Money, Transit Saves Money

Without transit, the nation's $40 billion in annual traffic congestion losses would be $15 billion higher. In fact, if all the Americans who take transit to work decided to drive, their cars would circle the Earth with a line of traffic 23,000 miles long. Americans lose more than 1.6 million hours a day stuck in traffic.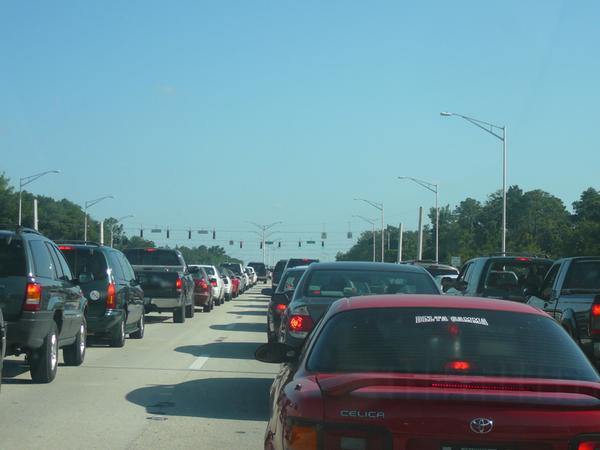 10. Transit Reduces Family Spending Budget

Transportation accounts for approximately 17 percent of our Gross Domestic Product, which means transportation is critical to business and personal economic security. For American families, transportation represents 18 percent of household spending, the second largest expenditure after housing. Americans living in transit intensive metropolitan areas save $22 billion per year in transportation related expenses.

The annual cost of driving a single-occupant vehicle is $4,800 to $9,700, depending on mileage. The annual average cost for public transportation for one adult is $200 to $2,000, depending on services used, according to the Center for Transportation Excellence.






11. Increases Property Value

Properties located within a quarter-mile radius of a light rail station increase in value by up to 25 percent more than other properties, according to studies conducted by the Urban Land Institute. There are some exceptions, the studies show, such as properties next to Park and Ride lots.




http://www.ridethetide.com/about_the_tide/benefits_of_light_rail.shtml