What To Do With The Shipyards?
August 27, 2010
212 comments
Print Article
The City of Jacksonville will soon be the owner of 44-acres of prime riverfront property. With limited money set aside for capital improvements and a depressed economy, a Columbus, OH project serves as one example of how to move forward with the Shipyards.
Columbus Commons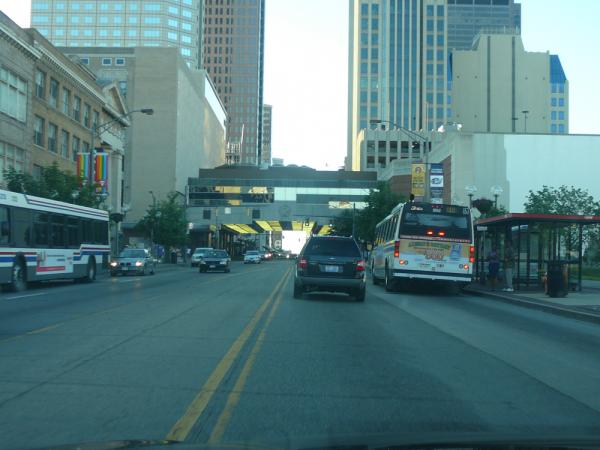 A Downtown gem when it opened in 1989, City Center will be torn down by summer. The city wants to develop the land as a park, ringed by housing, restaurants, shops and offices -- all to be completed in five to 10 years.


The Project:
The Columbus Commons takes 1.2 million square feet of dead urban space and turns it into 9 live acres of inviting green space with trees, flowers, grass and walking paths.
That's the future for the central parcel of property upon which City Center once stood. This Capitol South property will continue in its proud tradition of creating a space that draws people inside. This time, instead of concrete walls, the community will be drawn inside the beautiful natural surroundings of the Columbus Commons.

Capitol South surgically dismantled the entire mall from September 2009 into mid 2010, at which time construction began on the creation of a community park with one-third of the entire site reserved for market-driven development. By late fall 2010 park construction will be complete and the park will open in spring of 2011.
Over time, the spot will help support the development of walkable neighborhoods that integrate residential living with retail, office and entertainment space.
http://www.downtowncolumbus.com/progress/columbus-commons
The Commons site will initially be developed as green space (left). As the market allows, portions of the site will be developed into a mix of complementing uses that are well integrated with the central green space and surrounding downtown context (right). This process is anticipated to occur over a period of ten years.
Renderings of Interim Green Space
In February 2009, Capitol South announced that they would demolish the building and create a nine-acre park in its stead, with three of those acres open for future, private development along the perimeter as opportunities arise over the next five to ten years.
http://buildipedia.com/channels/in-studio/item/1204-columbus-commons-aims-to-revitalize-downtown
"We're taking a greyfield and making it a green field in the heart of downtown," says Taylor. "We're going to actively, aggressively program it and draw people to the urban core."

A linear, "classically designed" park with plenty of trees, wide green and crushed gravel spaces, Columbus Commons has several permanent public features. An outdoor stage behind the historic Ohio Theatre will host intimate to large-scale concerts by day and night, in partnership with the Columbus Association for the Performing Arts (CAPA), which manages and programs all of Downtown's theaters. An outdoor "reading room" nods to Manhattan's Bryant Park with its canopy of trees, and a classic carousel will provide charm and an inviting space for children.

Recreational activities like yoga in the park, urban boot camp, and kickball are also planned next year. The programming that will take place is meant to complement other downtown efforts, such as the Scioto Mile riverfront park.

"Downtown is everybody's neighborhood: that means we have to draw people down here for more than work," says Taylor. "We are creating downtown as a place to live, work, and play.
http://buildipedia.com/channels/in-studio/item/1204-columbus-commons-aims-to-revitalize-downtown
Translating to the Shipyards

LandMar's defunct master plan for the Shipyards site.


When legislation to take back the property was introduced May 25, Barton told the Daily Record that there was no reason to rush to develop it.

"It's about the right time, the right concept and the right partner," he said. "There's no need to rush the discussion. Land-banking the site is not a bad decision."
http://www.jaxdailyrecord.com/showstory.php?Story_id=531697
The Columbus Commons model serves as an example of moving forward by identifying the desired amount of long term public space and using potential future building sites as interim greenspaces. Despite limited funds to improve the Shipyards site in the short term, it is possible to use the site for recreation and open space purposes while establishing the framework for future development without specifying exactly what that development may ultimately end up being.
Article by Ennis DavisStory lead by Metro Jacksonville Forum Member Fallen BuckeyeRendering credits: CDDC/Capital South and LandMar Group, LLC.