Revitalizing the Urban Core: Road Diets
August 2, 2010
15 comments
Print Article
Metro Jacksonville looks at a successful revitalization concept that could make Jacksonville's urban core a better place to live.
What is a Road Diet?

A road diet is a technique in transportation planning whereby a road is reduced in number of travel lanes and/or effective width in order to achieve systemic improvements.

A typical road diet technique is to reduce the number of lanes on a roadway cross-section. One of the most common applications of a road diet is to improve safety in the context of two-way streets with 4-lane sections. In this case, two travel lanes in each direction are converted into a 3-lane section with one travel lane in each direction, optional bicycle lanes, and a two-way turn lane in the middle. The two-way turn lane can be transitioned into dedicated left turn lanes (in countries that drive on the right-hand side of the road) at intersections. The additional space that is freed up by removing a vehicular travel lane can be converted into a bicycle lanes on either side of the roadway.

If properly designed, traffic does not divert to other streets road after a road diet. Road diets are usually successful on roads carrying fewer than 19,000 vehicles per day. Road diets can succeed at volumes up to about 23,000 vehicles per day. However, more extensive reconstruction is needed. Examples include replacing signals with roundabouts, traffic calming on parallel streets to discourage traffic from diverting away from the main road, and other means to keep traffic moving smoothly and uniformly.

Lane Diet

In a lane diet, the width of a lane is decreased to reduce vehicle speeds and yield space for other use. Typically vehicular travel lane widths are narrowed to no more than ten feet, and left turn (in countries where drivers use the right-hand side of the road) storage lanes to nine or ten feet. Resulting space can be applied to pedestrian refuges, medians, sidewalks, shoulders, parking, or bike lanes. National lane width guidelines are offered as a range (within the United States), and lane diets fall within this range.

http://en.wikipedia.org/wiki/Road_diet



Popularity

There are perhaps over 20,000 road diets in the United States, with another 500-1,000 being conducted each year.

The city in North America with the greatest number of road diets (30) is San Francisco. The city with the greatest number of road diets, per capita, is Hartford, Connecticut (12). One or two new road diets are added to each of these cities annually. Retail merchants in Seattle are now some of the strongest proponents for these projects, since reduced travel speeds allow for easier and safer parking, improve store access and boost overall walking and livability conditions in neighborhoods ... all of which leads to improved commerce.



A Florida Example: Edgewater Drive - Orlando, FL




A 2001/02 roadway resurfacing project converted this narrow undivided four-lane facility to a three lane roadway with bike lanes and parallel parking in Orlando's College Park neighborhood. This complete streets road diet involved a transfer of jurisdiction and maintenance from the Florida Department of Transportation (FDOT) to the City of Orlando. As a result of the road diet, Edgewater Drive has seen a 23% increase in pedestrian traffic (2,632 trips after verses 2,136 trips before), a 30% increase in bicycle traffic (486 trips after verses 375 trips before), and automobile travel delays increased by only 10 seconds during the morning peak hours. Furthermore, the automobile Daily Traffic Volume for this roadway has decreased 12%, from 20,501 trips before improvements to 18,131 trips four months after the project's completion.

http://www.cityoforlando.net/transportation/TransportationPlanningDiv/pdf/Edgewater.pdf

The images below illustrate the present day environment of Edgewater Drive. Despite being a couple of miles outside of downtown Orlando, residents of College Park can also enjoy the benefit of walking and biking within their neighborhood for various retail, entertainment and recreational needs.






10 Jacksonville Streets where a Road Diet Could Enhance Revitalization Efforts




Considering the surrounding existing context along these random corridors, a lane diet strategy could become a major catalyst in the revitalization of the neighborhoods they impact.


1. Kings Road (Old Kings Road (South) to I-95) - 15,100 AADT (Annual Average Daily Traffic 2009)




With Edward Waters College as the central anchor, Kings Road divides one of Jacksonville's densest and transit dependent neighborhoods. A lane diet would enhance pedestrian safety around the campus and the addition of on-street parallel parking would be an asset to commercial properties along the strip. Bicycle lanes could also be included to help connect cyclist and residents to the future commuter rail line along the S-Line.


2. Park Street (I-95 to Water Street) - 3,947 AADT




Park Street bisects Brooklyn while making its path between the Jacksonville Terminal (Prime Osborn) and Five Points. With several abandoned warehouses and retail storefronts lining the street, a lane diet could accommodate a streetcar line, parallel parking and bicycle lanes. The combination of these elements with Brooklyn's centralized location could lead to development of a continuous walkable commercial corridor between downtown and Five Points.


3. Edgewood Avenue (Cassat Avenue to Mayflower Street) - 10,535 AADT




Murray Hill's Edgewood Avenue was designed to accommodate the right-of-way for a streetcar line that was never developed. Already blessed with a working class centralized commercial corridor, a lane diet that includes landscaping could visually enhance the heart of this historic community.


4. San Juan Avenue (Herschel Street to Cedar River) - 17,250 AADT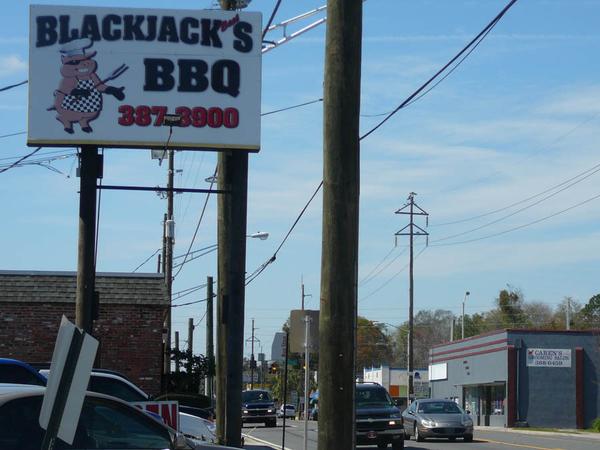 A lane diet on San Juan Avenue could lead to the revitalization of Lakeshore's business district and link the neighborhood's residents with a commuter rail project along the CSX A-line.


5. St. Augustine Road (Emerson Street to San Jose Blvd) - 14,605 AADT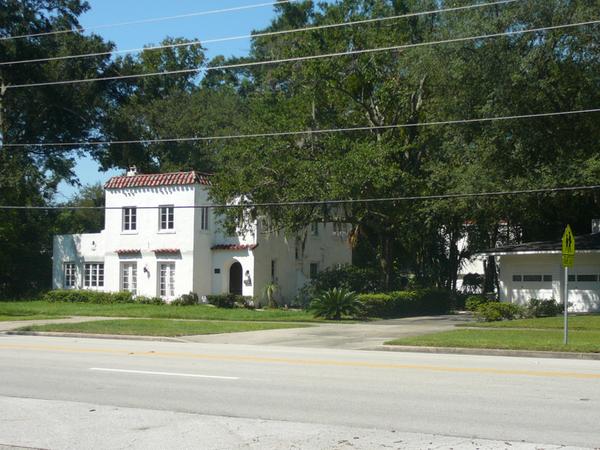 With San Jose Boulevard, Philips Highway and I-95 catering to heavy automobile traffic, a lane diet on this street would allow for better connectivity between several established Southside communities.


6. Arlington Road (University Blvd. to Rogero Road) - 5,390 AADT




Serving as the central roadway facility of Arlington's historic town center area, a lane diet here could be an opportunity in revitalizing Arlington as a walkable community.


7. Newnan Street ( Water Street to State Street) - 2,455 AADT




This wide rarely traveled street could be the perfect corridor for a streetcar route, running on its own right-of-way, to connect downtown with Springfield.


8. Water Street (Park Street to Hogan Street) - 9,433 AADT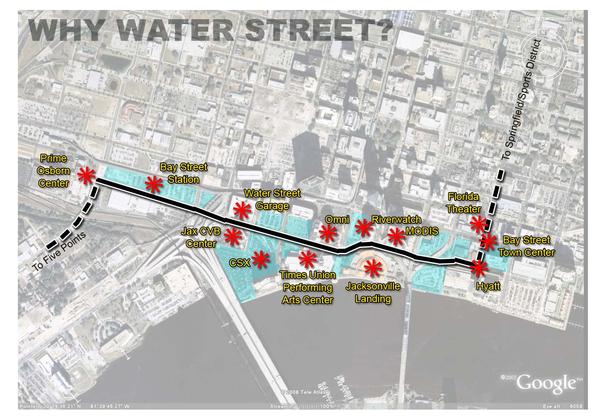 A rail line down the mile long street would directly connect a majority of popular Northbank destinations with each other and open acres of surface parking lots up for infill development. The route also is ideal for future expansion of a larger system that could connect the downtown core with Five Points, Springfield, and the Sports District.

As wide as six lanes in spots, this corridor could also accommodate a streetcar on its own right-of-way, tying downtown with Riverside and Springfield.


9. Emerson Street (Hendricks Avenue to Philips Highway) - 17,700 AADT




A lane diet could add green space to an area with limited parks and also better connect residents with future commuter rail and BRT projects along the Philips Highway corridor.


10. Beaver Street (McDuff Avenue to I-95) - 17,467 AADT




Anchored by the Jacksonville Farmer's Market, a lane diet could help transform this blighted urban commercial and industrial strip into a "market" district.


Article by Ennis Davis