Federal Stimulus for Jacksonville to St. Augustine Rail?
March 20, 2009
20 comments
Print Article
While Jacksonville's leaders continue to claim there are no local ?shovel ready? rail projects, the other end of the state believes otherwise. South Florida intends to request $100 million in federal stimulus relief money to implement passenger rail service between Jacksonville and Miami.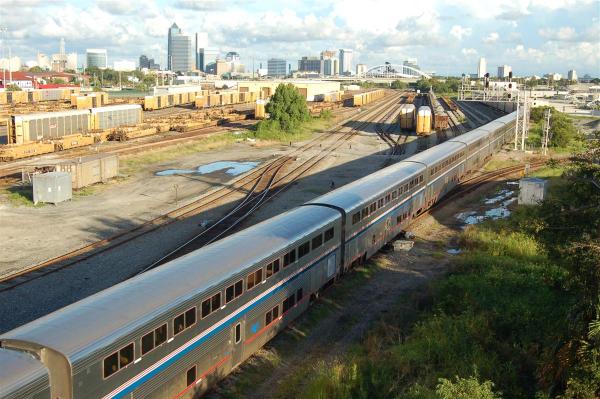 Treasure Coast leaders hope to get passenger train service back on the Florida East Coast rails with federal economic stimulus money.

The Treasure Coast Regional Planning Council intends to ask Gov. Charlie Crist and Secretary of Transportation Stephanie Kopelousos, along with the area's Legislative and Congressional delegations, to support efforts to use about $100 million in federal relief money for Amtrak to bring passenger service back to the FEC tracks between Jacksonville and Miami.

"It's not a new idea, but it's still a good one," said Mike Busha, executive director of the planning council. "We're trying to expand people's options for getting around without having to spend so much money or energy."
Full article:
http://www.tcpalm.com/news/2009/mar/17/treasure-coast-regional-planning-council-request-s/
An Amtrak Acela train blast through Kingston, RI at 135mph.  Bringing passenger rail back to the FEC could open the door for federal dollars to bring high speed rail to Jacksonville.
The current Amtrak/FEC plan (blue corridor) will connect Jacksonville with several East Coast cities.  Stations proposed include St. Augustine, Daytona Beach, Titusville, Cocoa/Port Canaveral, Melbourne, Vero Beach, Fort Pierce, Stuart and West Palm Beach.
Why it works for Jacksonville?
It has become clear that it could take a decade or more before JTA's $171.7 million commuter rail plan between Downtown and St. Augustine come online.  Although it would not provide the same service, bringing Amtrak to the FEC corridor, with federal stimulus money, will directly connect Jacksonville and St. Augustine by rail.  This could be used for commuting purposes between downtown Jacksonville and St. Augustine. 
In addition, money from the current federal stimulus program would be used to fund rail capacity enhancements along the FEC corridor that will also be needed for Jacksonville's commuter rail plan.  The net result could be a reduction in the capital cost of providing local commuter rail service between Downtown, Southside, Northern St. Johns County and St. Augustine's Historic District.
It may be feasible for JTA to piggyback South Florida's request to use Amtrak federal stimulus dollars to fund rail improvements at the proposed Jacksonville Transportation Center.

Its time to jump on board
JTA and Jacksonville should jump on board and publicly support the Treasure Coast Regional Planning Council's plan.  This may be an opportunity to use federal stimulus money associated with this route to bring train service back to downtown's Jacksonville Terminal (current Prime Osborn Convention Center and proposed Jacksonville Transportation Center). 
Considering the population and distance of the area between downtown and St. Augustine, it may also be possible to successfully lobby for an additional station or two in the Southside (Avenues Walk area) or Northern St. Johns County (Nocatee/Palencia).  The incorporation of a stop on a project already underway would lead to increased rail commuting activities in the most rapidly growing region of the Jacksonville metropolitan area.
Lobbying for an additional stop or two (ex. Avenues, Nocatee, etc.) would allow local residents to use this line for commuting purposes between Dowtown, the Southside, Northern St. Johns County and St. Augustine.
Article by Ennis Davis