JTA Skyway Riverside Extension
July 20, 2009
297 comments
Print Article
No one knows when or if it will ever happen, but the land has been set aside for a possible extension of the Skyway to serve Blue Cross Blue Shield, Fidelity, and Everbank.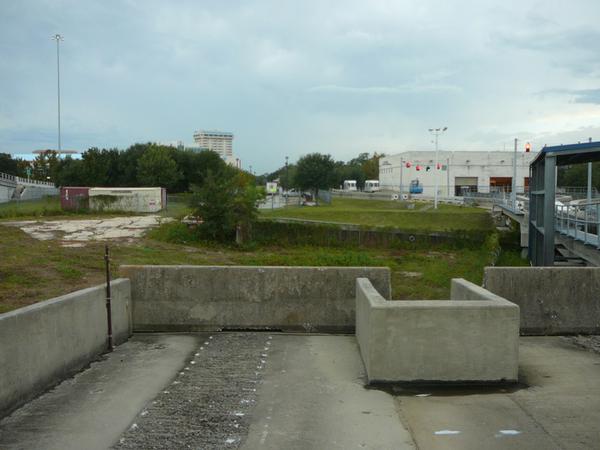 The Riverside extension would start near the Acosta Bridge ramps (image above) and terminate near Blue Cross Blue Shield, behind Johnny's Deli (image below).


Land available to expand Skyway to Riverside Avenue State DOT offers surplus to city

David Bauerlein, Times-Union staff writer

The Jacksonville Transportation Authority hasn't given up on the possibility of someday extending the Skyway monorail down Riverside Avenue.

The $184 million Skyway , which runs on elevated tracks through downtown Jacksonville, has fallen far short of the ridership projections that were used to justify its construction.

But the JTA says extension of the Skyway is one potential use for a strip of land that the state Department of Transportation will turn over as surplus property after the state widens part of Riverside Avenue by early 2005.

The land along Riverside Avenue is available because the state transportation department demolished a row of old buildings to make room for widening the road into downtown. Because of the size of the buildings, the state had to buy more property than it needs for the road-widening.

The demolition has turned what was a dense patch of concrete and asphalt into an open field of dirt, big enough to plant a crop. The state will use some of the land for road-widening and construction of drainage ponds.

On a cost-per-mile basis, widening Riverside Avenue is the state's most expensive road-widening project in Jacksonville history. The state expects the total cost for buying the property, demolishing the buildings and relocating businesses will reach $30 million. The JTA paid $8 million of the cost, which came from a 1997 bond issuance.

The state will turn over the surplus land to either the JTA or the city, said Mike Goldman, spokesman for the transportation department.

"First in line for it is the JTA," Goldman said.

The amount of surplus land is 1.7 acres...
Full article:
http://www.jacksonville.com/tu-online/stories/050103/met_12427336.shtml
The Florida Times-Union Archives
This graphic illustrates the potential path of the Riverside extension. The dual track Riverside link would extend 1/2 mile and include two elevated station platforms.
Full presentation
Article by Ennis Davis