Jacksonville to Miami Passenger Rail Returning?
July 23, 2009
121 comments
Print Article
After receiving significant support from local governments along the East Coast, FDOT recently submitted a request to use federal dollars to bring high-speed passenger rail to the FEC corridor.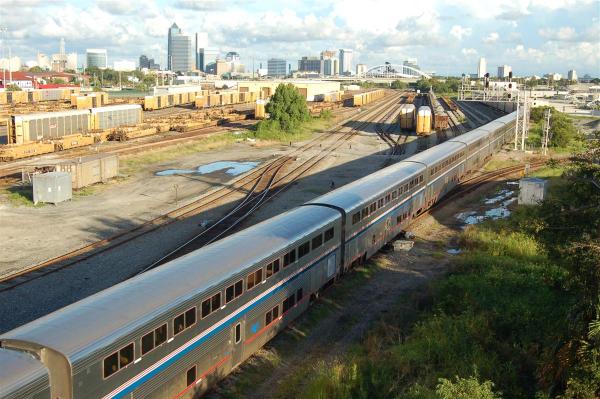 Official Pre-application for the High-Speed Intercity Passenger Rail (HSIPR) Program

Summary by Metro Jacksonville.




Summary: FDOT's application states that the rail line is intended to be a partnership between Amtrak and the Florida Department of Transportation.





Summary: The Florida East Coast Amtrak Service will be the first passenger rail system to utilize the FEC corridor since 1968. It will connect Florida's east coast with Amtrak's national system.

The line will be the beginning of a corridor service development plan that will be jointly developed by FDOT, Amtrak, FEC and Tri-Rail. Eight new stations will be constructed between Jacksonville and Miami. Capital investments contemplated include new track construction, rolling stock acquisition, communications, signaling and controls.





Summary: Construction is anticipated to begin in April 2010 with a completion goal of October 2012. Initial service will begin with an average of two daily round trips, with a top speed of 90 mph.





Summary: Total anticipated project/program capital costs are listed as $70 million, plus additional equipment costs to be determined. Matching funds by FDOT are expected. Initial operating costs will be provided by annual congressional appropriations for long distance service. Long term corridor operating costs have not been identified.





Summary: Studies are underway on a Service/Operating Plan, Prioritized Capital Plan, Ridership/Revenue Forecast, Operating Cost Forecasts, Assessment of Benefits and Capital Cost Estimates. Additional funds are being requested for Preliminary Engineering, an Environmental Assessment, Project Management Plan and Financing Plan.





Summary: Partners in this project have been identified as the Florida East Coast Railway, State of Florida - South Florida Rail Corridor, and Amtrak. The application's anticipated filing date has been listed as "2009 - first round".





Summary: To ultimately bring passenger service back to the FEC, FDOT will need the full engagement of both Amtrak and Florida East Coast Railway in refining project specifics, ridership estimates, environmental assessment, feasibility study, service development plan, P/L analysis, and operating finance plan. Most of this work was complete in 2002, but will need to be updated due to age of studies and change of host railroad ownership.

METRO JACKSONVILLE NOTE: The City of Jacksonville, JTA and the North Florida TPO should take advantage of this and lobby to include bringing Amtrak back to downtown under this plan, as well as a satellite station between Downtown and St. Augustine. Having Amtrak downtown could benefit revised ridership estimates and a satellite stop could set the system up as mobility alternative to I-95, once the Overland Bridge and JTB Interchange projects get underway.

Project costs include: $34.5 million - track capacity improvements, $11 million - ROW acquisition, $20 million - new station development, and $4.5 million in contingency. An additional $72.8 million has been set aside by FDOT in state Strategic Intermodal System funds for projects on the FEC line. In anticipation of this corridor service, FDOT has spent $10.9 million of the $72.8 million since 2005.






BROAD SUPPORT



The old St. Augustine station has not hosted a passenger train since 1968. The City of St. Augustine has officially voiced their support in the Amtrak/FEC Corridor Project.


Florida may be an asphalt loving state but the Amtrak/FEC Corridor Project has generated a ton of support by impacted cities. Sixty-six adopted resolutions & letters of support have been submitted as of July 1, 2009. An additional 13 are scheduled for consideration.

Locally, the North Florida TPO, JTA, City of St. Augustine, City of Palm Coast, Enterprise Flagler, Flagler County Chamber of Commerce, Flagler County Government and the Flagler County Palm Coast Homebuilders have been identified on this list.

METRO JACKSONVILLE NOTE: Notably absent is the Cities of Jacksonville and Miami, the two that stand to benefit the most. Perhaps this is why current plans call for upgrades to the existing Amtrak station instead of using that money to help bring Amtrak back downtown





Article by Ennis Davis