Elements of Urbanism: Indianapolis 2009
July 15, 2009
33 comments
Print Article
For much of its history, Indianapolis oriented itself around government and industry, particularly manufacturing. Today, Indianapolis has a much more diversified economy, contributing to the fields of education, health care, and finance. Tourism is also a vital part of the economy of Indianapolis, and the city plays host to numerous conventions and sporting events.
Tale of the Tape:

Indianapolis Pop. 2007: 795,458 (City); 1,715,459 (Metro-2008) - (incorporated in 1821)

Jacksonville Pop. 2007: 805,605 (City); 1,313,228 (Metro-2008) - (incorporated in 1832)

City population 1950: Jacksonville (204,517); Indianapolis (427,123)



Consolidated with County:

Indianapolis: 1970

Jacksonville: 1968



Metropolitan Area Growth rate (2000-2008)

Indianapolis: +12.48%
Jacksonville: +16.97%



Urban Area Population (2000 census)

Indianapolis: 1,218,919 (ranked 33 nationwide)
Jacksonville: 882,295 (ranked 43 nationwide)



Urban Area Population Density (2000 census)

Indianapolis: 2,204.5
Jacksonville: 2,149.2



City Population Growth from 2000 to 2007

Indianapolis: +13,588
Jacksonville: +69,988



Convention Center Exhibition Space:




Indianapolis: Indiana Convention Center (1972) - 566,600 square feet after current expansion project is complete
Jacksonville: Prime F. Osborn III Convention Center (1986) - 78,500 square feet



Attached to Convention Center:

Indianapolis: physically connected via skywalks to 12 hotels – 4,700 hotel rooms system.
Jacksonville: N/A



Tallest Building:




Indianapolis: Chase Tower - 830 feet
Jacksonville: Bank of America Tower - 617 feet



Downtown Fortune 500 companies:

Indianapolis: Well Point (32), Eli Lilly (122), Macy's (96), Brightpoint (496)
Jacksonville: CSX (240)



Urban infill obstacles:

Indianapolis: Separated from the city's urban neighborhoods by surface parking lots.
Jacksonville: State & Union Streets cut off Downtown Jacksonville from Springfield.



Downtown Nightlife:

Indianapolis: The streets around Circle Centre Mall
Jacksonville: East Bay Street, located between Main Street and Liberty Street. This four block stretch is home to four bars and clubs.



Common Downtown Albatross:

A large number of surface parking lots and underutilized property that cuts downtown off from vibrant inner city neighborhoods.


Who's Downtown is more walkable?

Indianapolis: 100 out of 100 (Downtown Indianapolis as keyword)
Jacksonville: 95 out of 100, according to walkscore.com (Downtown Jacksonville as keyword)


Indianapolis - Jacksonville Scaled Comparison



Jacksonville municipal borders: present (red), pre-consolidated city limits (green)




Jacksonville present (red line) and pre-consolidated city limits (green line) over Indianapolis city limits (red shaded area)


Clarion Health People Mover





Indianapolis Canal Walk

Canal Walk is a linear public space designed around the old Indiana Central Canal. The path features a mix of old and new architecture, attractions, monuments, and a waterside promenade for jogging, inline skating, biking, and boating. Amenities along canal walk include Pedal boat rentals, bike rentals, murals, a waterside cafe, and waterfalls.

Attractions constructed along Canal Walk include the USS Indianapolis Memorial, Congressional Medal of Honor Memorial, Historic Landmarks Foundation, Indiana Government Center, Military Park, Eiteljorg Museum, Indiana State Museum/IMAX and NCAA Hall of Champions.




A directory illustrating the Canal District



Exhibits on the history of the city have been installed under bridges along the Canal Walk






Downtown Indianapolis

Indianapolis was founded in 1820, as the site for Indiana's new state capital. The railroad was extended to the city in 1847 and soon Indianapolis became the home of the first Union Station in the country. As the Midwest boomed during the early 20th century, Indianapolis grew into an auto manufacturing center. By the 1970s and 1980s, the city suffered from urban decay and white flight. During the 1990s, leaders focused on restoring the city's image by concentrating on diversifying the economy and downtown revitalization. Today, the Indianapolis metropolitan area is among the fastest growing in the Midwest.



The headquarters of the Simon Group




The Indianapolis Union Station was the first union station in the world, opening on September 20, 1853. In 1979 the facility was converted from railroad station to festival marketplace by Woollen Molzan & Partners, opening in 1986. The mall closed in 1997, once Circle Centre took all of its customers. Today, it serves as the home to a mix of establishments including a hotel, charter school and an African American museum. Amtrak also still uses the Romanesque Revival structure.





Lucus oil stadium






Monument Circle

Alexander Ralston, an apprentice to French architect Pierre L'Enfant was commissioned to design the new capital city. Ralston's design featured a large circular commons in the center of the city. In 1857 a 284-foot neoclassical monument was constructed in it. Today, this area is known as Monument Circle.



Capitol Building







Circle Centre Mall

Developed by Simon Property Group, which is also headquartered in Downtown Indianapolis, Circle Centre Mall opened to the public on September 8, 1995. The mall has been the centerpiece of the redevelopment of downtown into the vibrant scene witnessed today.

The design itself is a mix of old and new. The 786,000 square foot mall features 100 stores on four levels, Nordstrom, Carson Pirie Scott, GameWorks and a nine-screen United Artists movie theater.
www.simon.com/mall/default.aspx?ID=163



Old & New




Learning from Indianapolis

Despite the vibrancy of Downtown Indianapolis, it is still separated from the city's urban neighborhoods by surface parking lots. As this city continues to strive for urban revitalization, the next piece to the Indianapolis puzzle will be attracting infill development to replace the large surface parking lots.

An important aspect of Indianapolis to take away: Notice what is possible when major urban destinations are located adjacent to each other, with existing historic building fabric left in place, allowing specialty retail and restaurants to open and survive off the traffic that the destinations generate.

The scaled aerials below show it all.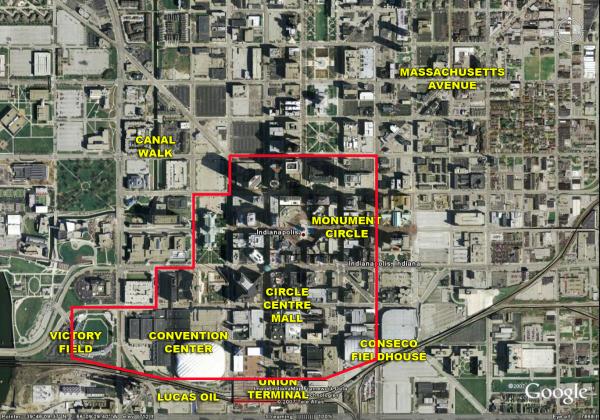 Downtown Indianapolis aerial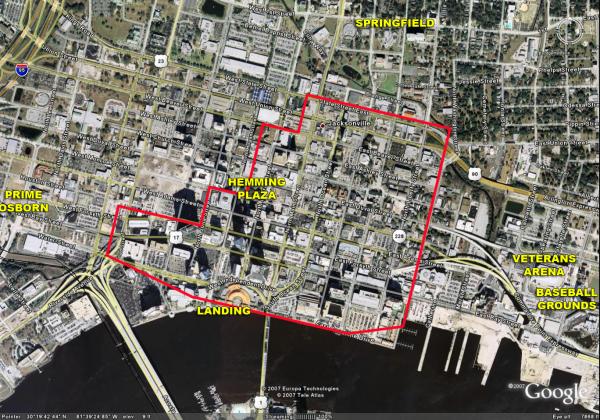 Downtown Jacksonville aerial

Most of Indianapolis' major destinations, if moved to the Northbank, would fit in an area that stretched East/West from Berkman Plaza to Broad Street and North/South from the riverfront to State Street. When overlaying the Indianapolis footprint over the Jacksonville area, the Prime Osborn and Jacksonville Municipal Stadium are so far outside of that area that they can't be seen on the aerial. This should speak volumes for the importance of connectivity and the clustering of urban development.

Related Article:

Roadtrip: Indianapolis

Article by Ennis Davis