METRO Light Rail: Rail Comes to Phoenix
January 6, 2009
32 comments
Print Article
Sixty years after Phoenix's old trolley system was shut down, the city rejoins the growing list of American metropolitan areas investing in rail based mass transit.
Phoenix had been the largest U.S. city without a public rail transit system. As the fifth-most populous U.S. city, with about 1.6 million people, and more than 4 million in the Phoenix-Tempe-Mesa area.  The new 20 mile light rail line cost taxpayers $1.4 billion.  However, city leaders believe that investing in light rail is still cheaper than expanding highways and that rail can help reduce auto emissions in the metropolitan area.  Metro officials expect 26,000 boardings a day in 2009.

Phoenix opens $1.4 billion light-rail system (12/27/08)
http://uk.reuters.com/article/usTopNews/idUKTRE4BQ1W420081227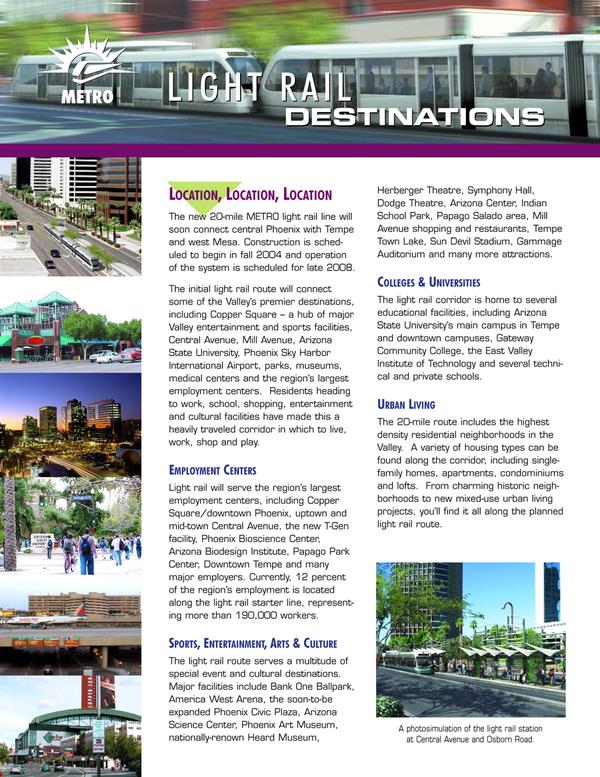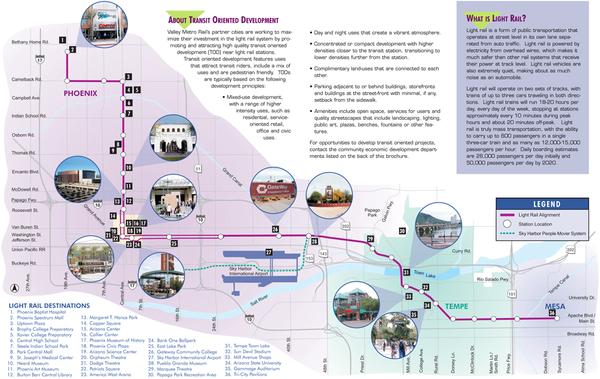 METRO Light Rail trains operate daily roughly between the hours of 5 a.m. and midnight.  For the most part, trains arrive at stations every 10 minutes on weekdays and every 15 minutes during weekends.
http://www.valleymetro.org/schedules_and_maps/how_to_ride/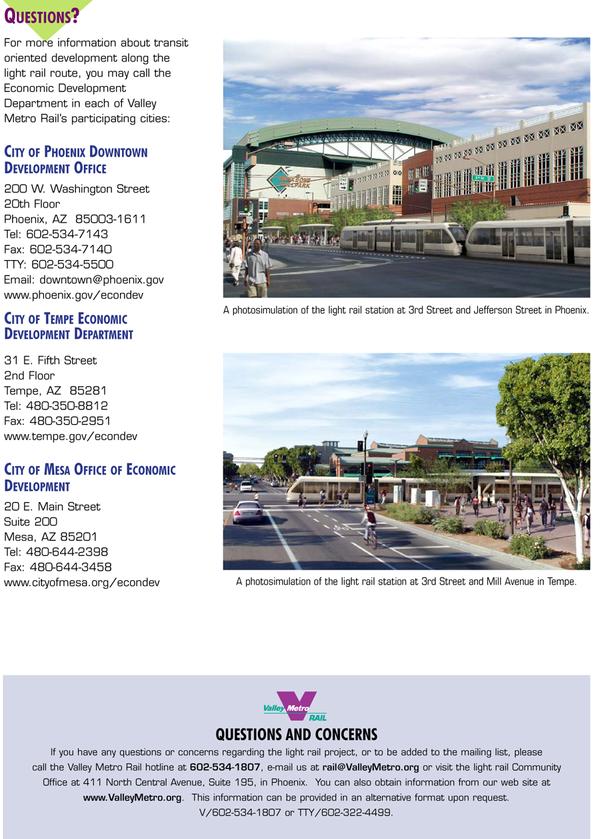 Plans for the system were first envisioned in the 1980s, but voters rejected several ballot measures before finally approving a sales tax to help finance light rail. Federal funds paid roughly half the cost.
Image by Gerry at www.Picasaweb.google.com
Image by kansei-sensei at
www.flickr.com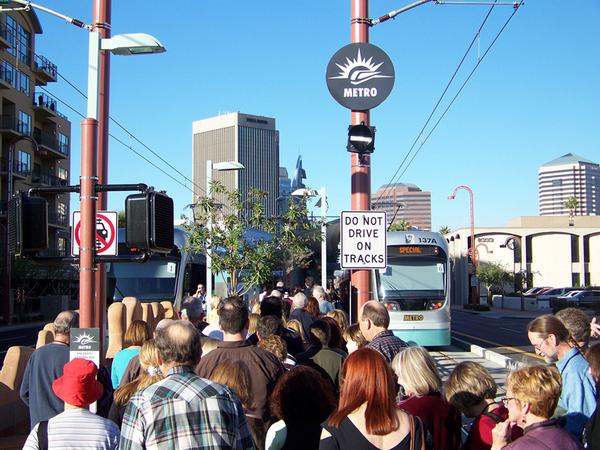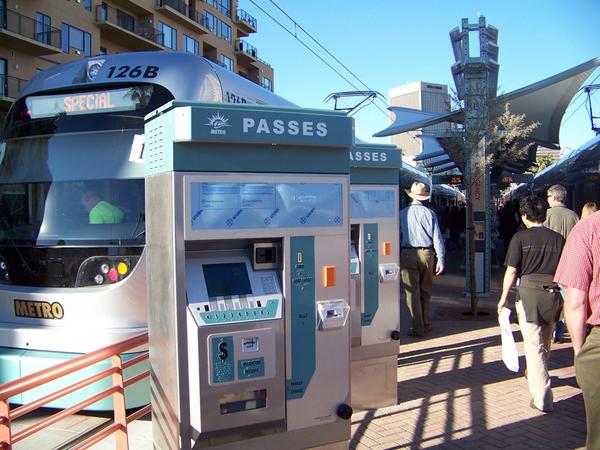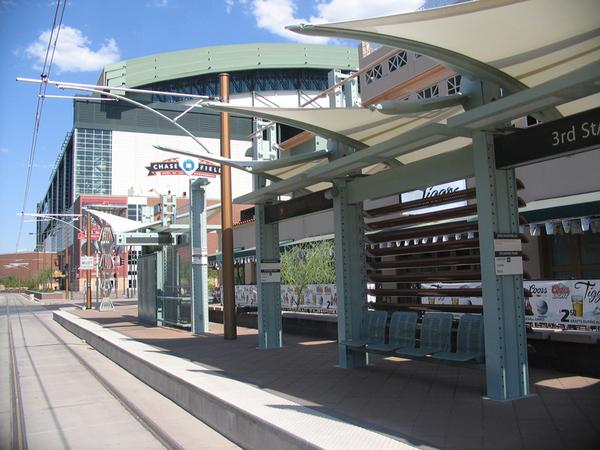 Images above by --- at www.flickr.com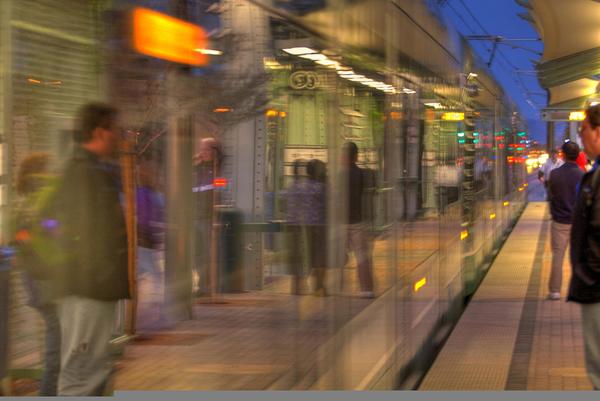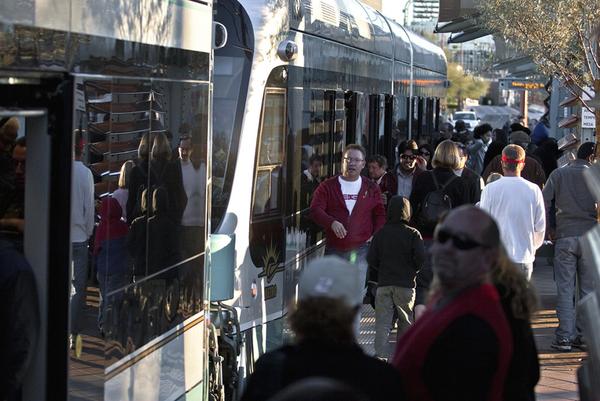 Three images above by Rejuvsite at
www.flickr.com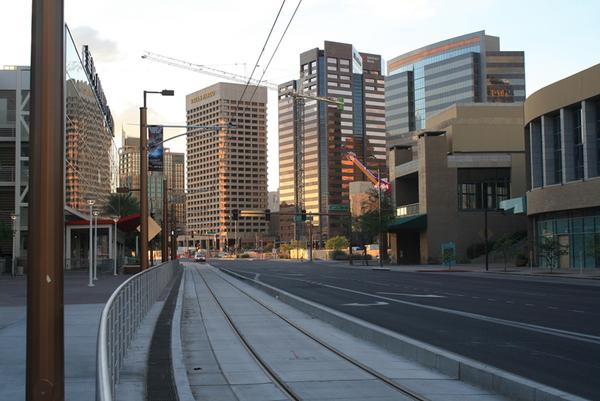 Two images above by simax105 at www.flickr.com.  Remaining photograghs by Steve Vance at www.flickr.com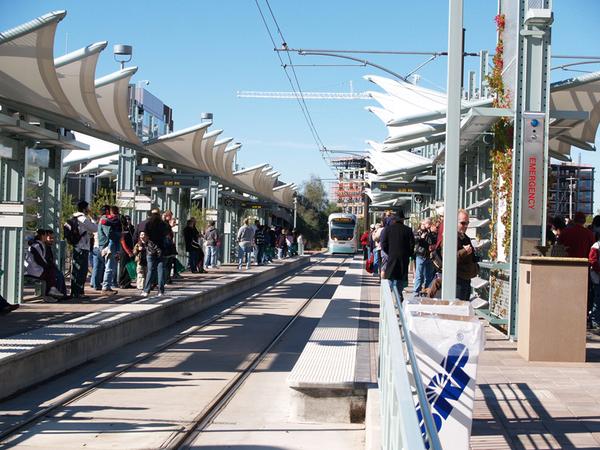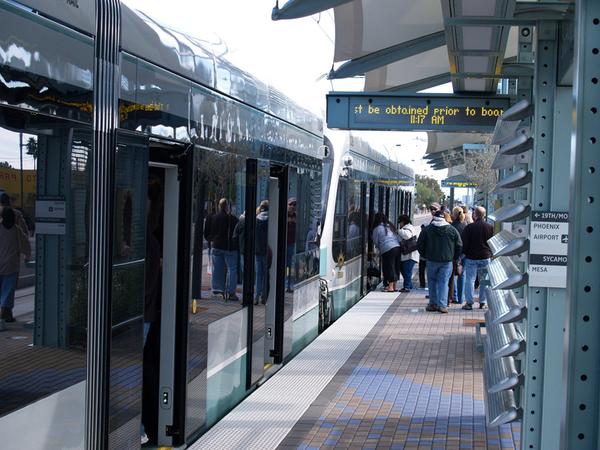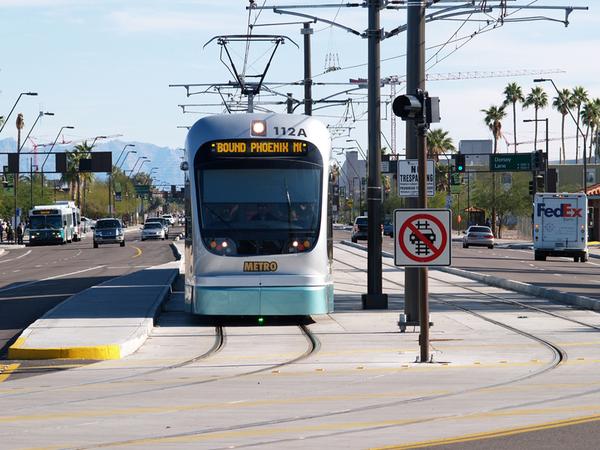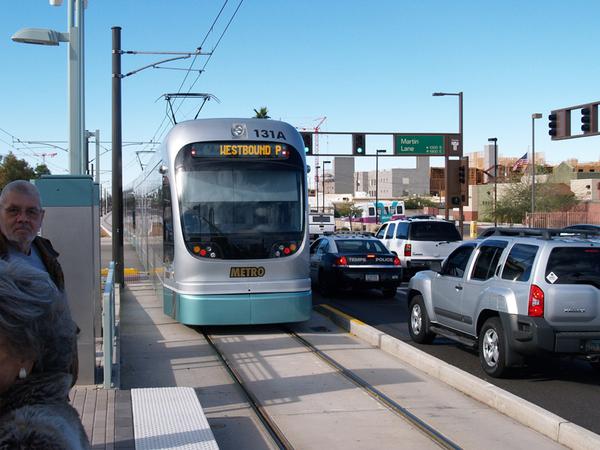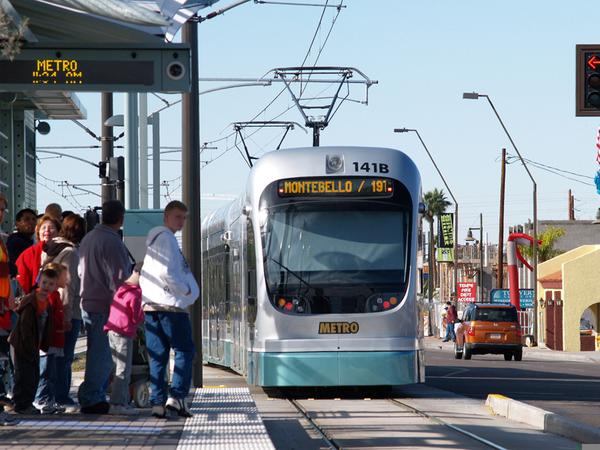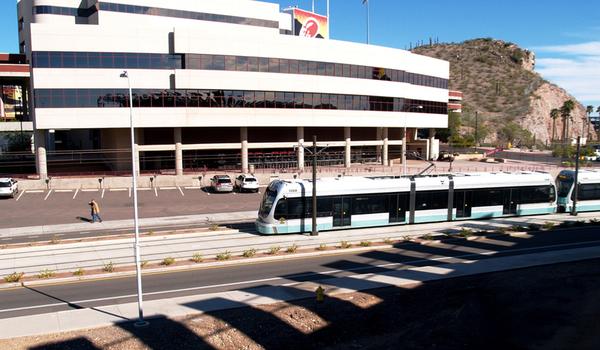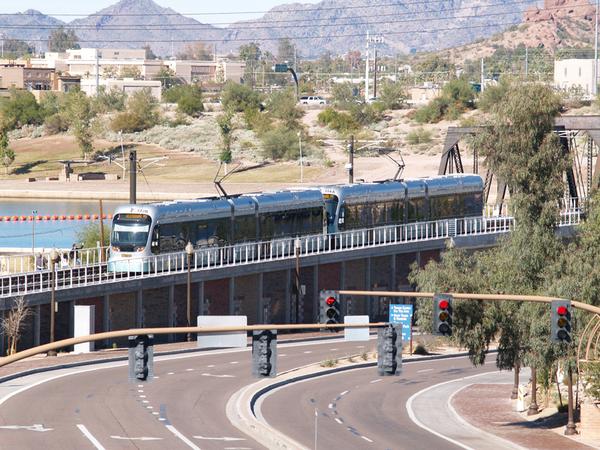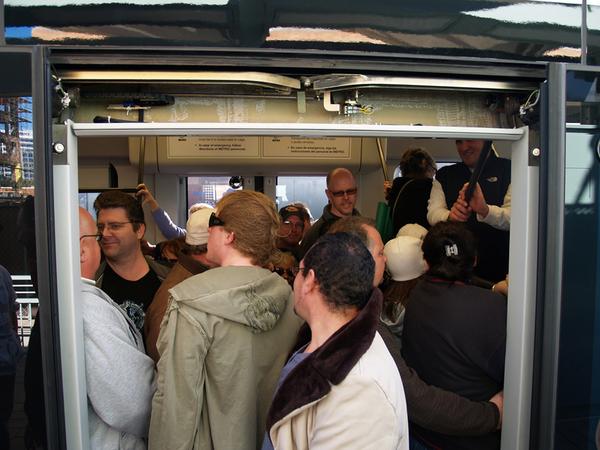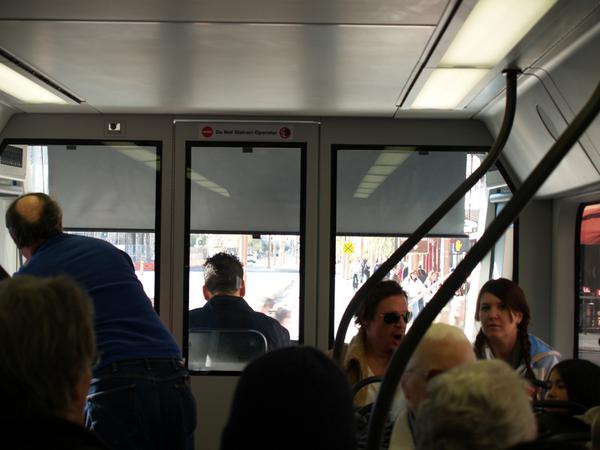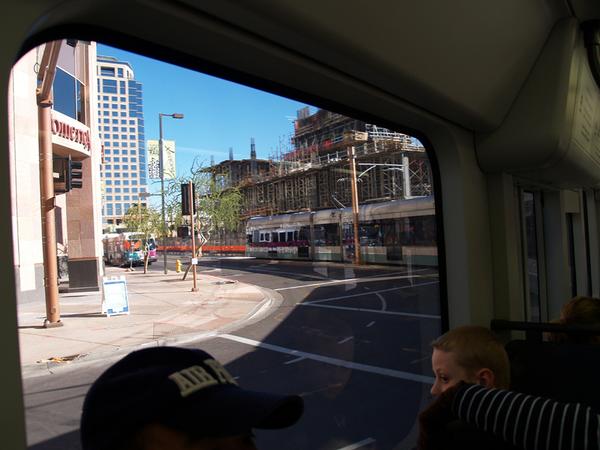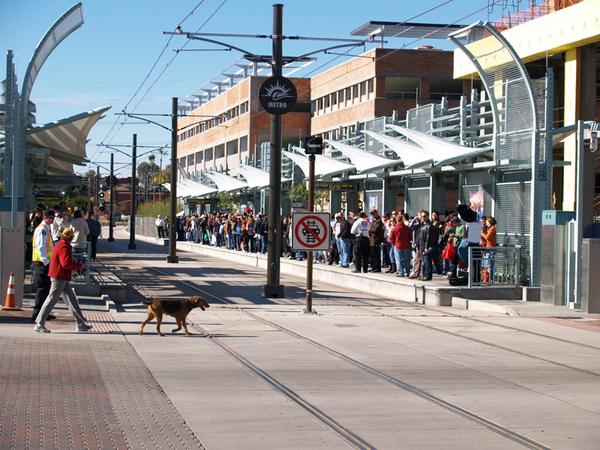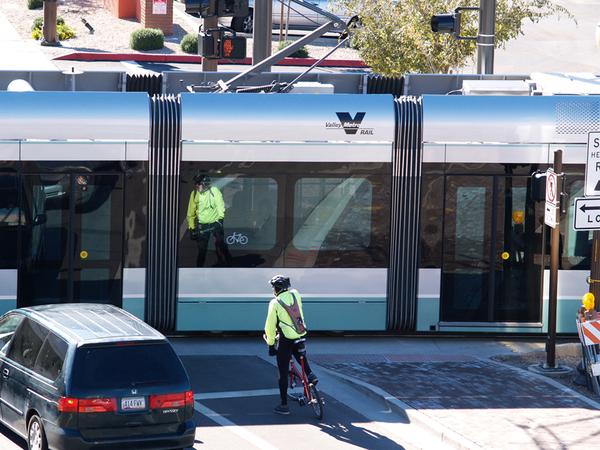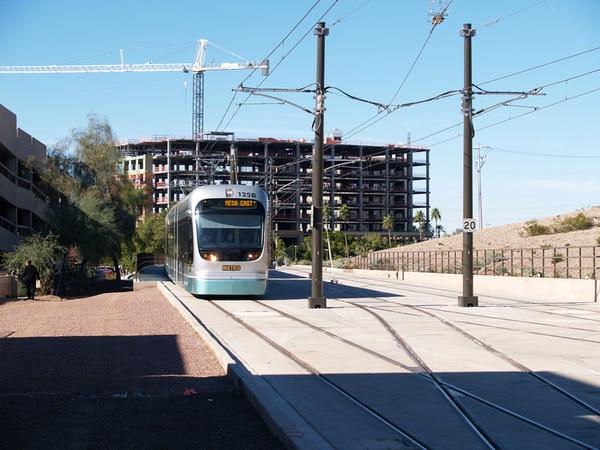 Phoenix Sky Harbor International Airport People Mover
Although the new light rail line does not directly serve airport terminals, a people mover connection is now under construction.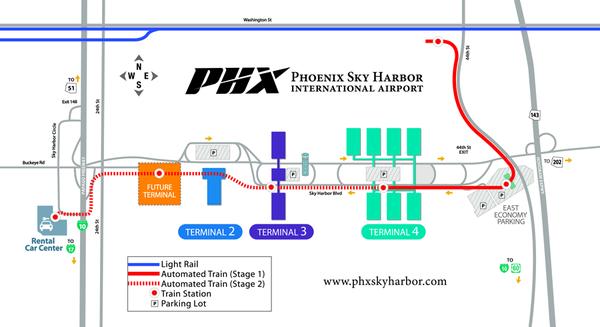 In early April, workers will start building a $1.1 billion, 4.8-mile automated train system that will whisk passengers around Phoenix Sky Harbor International Airport. The first, $440 million leg of the project will take five years to build, city officials say. It will link to the 44th Street light-rail station, East Economy Parking and Terminal 4. The final stretch, which is projected to open in 2020, would extend the line to the airport's rental-car center and Terminal 2 and Terminal 3.

The train will help ease rising traffic congestion around Sky Harbor, which serves 42 million passengers a year, city officials say. Plus, future light-rail riders may be able to check luggage and get a boarding pass before they set foot in the airport, city leaders say. Many major airports around the world have similar systems, including U.S. airports such as Atlanta, Dallas and Denver. "The automated train project is a forward-thinking plan in all aspects," said Phoenix Deputy City Manager David Krietor,whose duties include aviation issues. "It addresses passenger needs, it alleviates roadway traffic and it links Sky Harbor to users of light rail."

Trainweb.org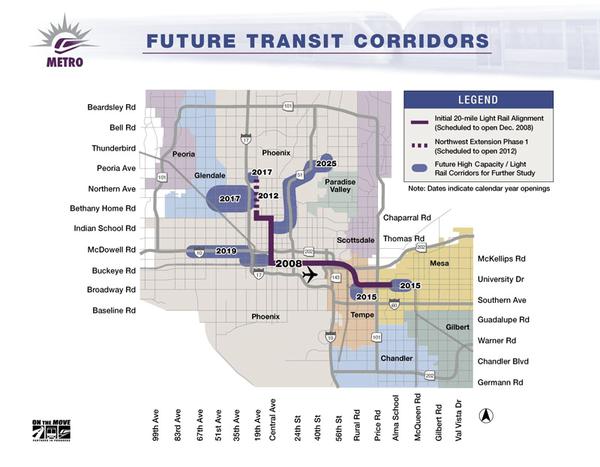 By 2025, planners estimate that Phoenix's light rail will expand by 30 additional miles.  Phoenix's new state-of-the-art light rail line is additional proof that many believe rail transit can be viable in sprawling spread out Jacksonville-like communities as well.
Article by Ennis Davis