Sunrail bill passes: What it means for Jacksonville
December 17, 2009
42 comments
Print Article
A look at how the passing of the Sunrail bill (House Bill 1B) impacts the future of Jacksonville.
BENEFITING JAX

1. CSX A Line Capacity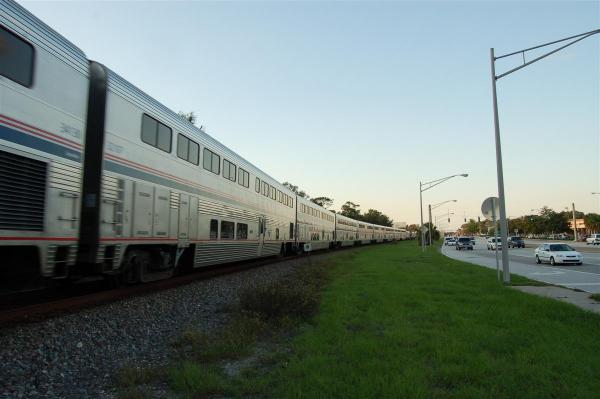 Amtrak's Auto Train heads north through Jacksonville.


CSX Transportation plans to move more than one-third of its freight traffic from a railway that could one day help unsnarl rush-hour gridlock between Orange Park and Jacksonville.

As part of a $491 million state contract signed last week, CSX will relocate seven to eight freight trains daily from the A line, which runs along U.S. 17, said company spokesman Gary Sease.

CSX agreed to shift the freight traffic to bypass a 61-mile commuter rail system expected to begin running in Central Florida in 2010.

Transportation planners here see the move as a potential catalyst to building a commuter rail system in Jacksonville.
CSX shifts its freight traffic for growth - http://www.jacksonville.com/tu-online/stories/120407/bus_222530777.shtml

The CSX A line is the railroad track the runs parallel to Roosevelt Boulevard beween I-10 and Orange Park/Clay County. With limited connections to Jacksonville, Clay currently suffers from the longest commute times in the State of Florida. As a part of the Sunrail deal, CSX will relocate a significant portion of their existing freight rail traffic to the "S"-Line into Central Florida. The additional rail capacity created enhances the opportunity to use this corridor for commuter rail purposes between Downtown Jacksonville and Clay County.
2. JaxPort/North Jacksonville Rail Improvements
CSX Corp. plans to spend $40 million to connect its Northeast Jacksonville rail spur to its main line along U.S. 1 so that trains going to and from new container terminals being built or planned don't have to travel through town to its Westside rail yard.

The bypass initiative is linked to the Jacksonville Port Authority's plans to develop an intermodal container transfer facility on the Northside to receive containers from the soon-to-open TraPac Inc. terminal at Dames Point and a proposed Hanjin Shipping Co. Ltd. terminal nearby. Combined, the two terminals are projected to have a capacity of 1.8 million 20-foot-equivalent units of containerized cargo a year.

CSX (NYSE: CSX) would expect to generate at least two trains a day of about 280 containers each to make a North Main Street bypass economically viable, said Chief Financial Officer Clarence Gooden, who announced the initiative Monday during a news conference at the authority's Blount Island Marine Terminal.
Besides an ICTF, CSX's plan depends to some degree on the Florida Legislature approving a plan to buy 61 miles of CSX track in Central Florida for a commuter rail system. CSX plans to use some of the money from selling that line to fund the bypass line, Gooden said.

If the Legislature approves the deal, the sale could close in the fall and the company could have the project going within 18 months, Gooden said. If the sale doesn't go through, CSX's plans would be slowed.
http://www.firstcoastnews.com/news/topstories/news-article.aspx?storyid=107471
CSX Corp. announced a $40 million plan Monday that it hopes will untangle truck congestion along Jacksonville's Heckscher Drive as the region braces for a shipping boom.

The Jacksonville-based railroad company plans to upgrade tracks and build a link through Nassau County to connect the rails along U.S. 17 to the main line running north toward Waycross, Ga. The idea is to divert cargo containers from the road while also avoiding rail congestion downtown.
The $40 million will come from the state, which is planning to pay CSX $150 million to acquire rights to 61 miles of track in Central Florida for a commuter rail service.
http://www.jacksonville.com/tu-online/stories/042208/met_270742216.shtml
CSX plans to invest the money from the State's acquisition of the "A"-Line in Orlando in the improvement of their statewide rail network. $40 million will fund the construction of a new intermodal railyard to serve increasing JaxPort congestion and a new rail line in Nassau County. This rail line will allow for daily JaxPort trains to bypass Jacksonville's urban core, thus increasing the opportunity to use existing Northside rail corridors for passenger rail possibilities. In addition, the freight rail network enhancements also increase the attractiveness of JaxPort, North Jacksonville and Nassau County for logistics, industrial, and port related private sector investment.
3. Amtrak/FEC Corridor Project
St. Augustine was home to the first railroad depot outside Jacksonville more than a century ago; however, if given the go-ahead, this will be the first-time passengers have ridden on FEC rails since 1968.

Initially, two trains would be running northbound and southbound; however, this could grow to 4 - 6 trains daily. Early forecasts indicate the new passenger rail service would experience up to 250,000 annual riders. The trip between Jacksonville and Miami should take roughly 6 hours.

Amtrak and the Florida Department of Transportation (FDOT) plan to apply for stimulus funding to restore intercity passenger service affecting 326 miles of Florida's east coast on the FEC Corridor from Jacksonville to Miami. The Florida Department of Transportation project is Florida's only ARRA transit application in partnership with a national entity (Amtrak).
http://historiccity.com/2009/staugustine/news/florida/amtrak-fec-corridor-project-on-track-1797
So much attention has been placed on the possibility of high speed rail coming to Central Florida that many have overlooked another important project that was included in Florida's High Speed Rail application. The Amtrak/FEC corridor calls for direct Jacksonville to Miami passenger rail service to return after a 40 year absence, with trains traveling at speeds of up to 90 miles per hour. Florida's refusal to make rail investments a priority in the past had the state on the verge of falling out of favor with the federal government for its high speed rail projects. The passing of the Sunrail deal and identifying a funding source for South Florida's Tri-Rail brings projects like the Amtrak/FEC, a step closer to reality.
4. Statewide Rail Commission
Florida Statewide Rail Commission and Florida Rail Enterprise – The legislation creates the Florida Statewide Rail Commission to advise the FDOT and the Legislature on the development and operation of Florida's passenger rail systems. In addition, it creates the Florida Rail Enterprise within FDOT to oversee all state-owned passenger rail systems. The legislation addresses liability risks associated with state-owned passenger rail corridors and requires FDOT to work with communities affected by increased freight rail traffic resulting from routing modifications.
http://thegovmonitor.com/world_news/united_states/florida-expands-passenger-rail-system-throughout-the-sunshine-state-18868.html
Central Florida Commuter Rail Deal may help Jacksonville
CSX JAXPORT plan opens the door for Commuter Rail
Article by Ennis Davis