Evergreen Cemetery
October 23, 2008
39 comments
Print Article
Evergreen Cemetery is the oldest fully operating cemetery in Jacksonville, with the first burial occurring in 1881. The Evergreen Cemetery Association was organized in 1910 as a non-profit corporation by a number of people who had family or friends buried there.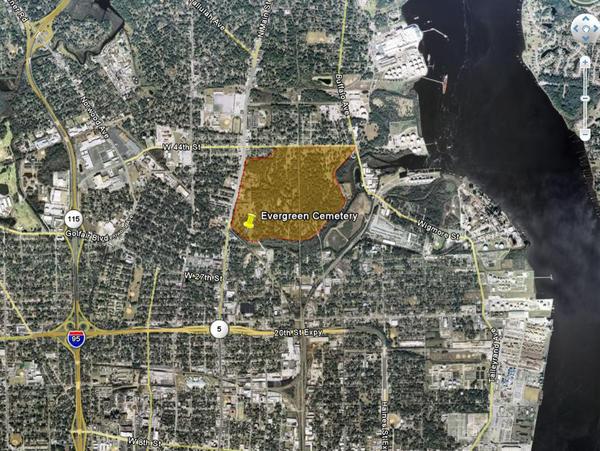 The cemetery is comprised of 170 acres and over 70,000 burials. When the cemetery opened, remains were moved there from a downtown area near State Street and from the Old City Cemetery. At one time there was a train depot at Evergreen for visitors from the city and holding vaults nearby awaiting bodies for burial.
The tag on this tree identifies its type.
Over the years, as families brought plants and trees to plant graveside, a large assortment of non-native plants have accumulated throughout the cemetery. The University of Florida has tagged all of the different species of plants and the cemetery had plans to also become an arboretum, but it was discovered that an arboretum and a cemetery do not have the same tax status, so the idea was dropped. Despite not having an official designation, the wide assortment of plants remain and every tree on the property has a numbered marker. 
 Notable Graves
Cora Crane 1868 - 1910
Proprietress of a Jacksonville resort, Crane was the wife of American novelist, poet and journalist Stephen Crane. Arriving in Jacksonville in 1895, she bought a dilapidated buidling in LaVilla called Hotel de Dreme, converting it from a boarding house to an elegant nightclub. (Featured in: Houston Street, Jacksonville's Red Light District). 
Arthur G. Cummer (1894-1943)
Cummer was a prominent member of Jacksonville, active in the Jacksonville Chamber of Commerce and as a director of the Children's Home Society of St. Luke's Hospital. The Cummer family was known for its community spirit, and the family's art collection and gardens laid the foundation for the Cummer Museum of Art and Gardens.
John Jackson Dickison  b. March 27, 1816  d. August 23, 1902
Civil War Confederate Army Officer. Known as the "Swamp Fox", in 1862, he personally raised Company H of the 2nd Florida Cavalry, and was named its Captain and commander. In May 1864, he and 50 of his cavalrymen captured the Union steamer "Columbine", a maneuver which resulted in not a single loss to the Confederates. Days later, at Palatka, Florida, he and 30 troops pushed an invading 280-man Union battalion six miles back to the St. John's River, with casualties amounting to 72.
 
Ossian Bingley Hart    b. January 17, 1821  d. March 18, 1874
Tenth governor of Florida, from January 7, 1873, to March 18, 1874. The first of Florida's governors to be born in the state, he was the son of a founder of Jacksonville. Although raised amid slaves on his father's St. Johns River plantation, Hart openly opposed secession and as a result endured many hardships during the Civil War. Hart took an active part in the reconstruction of both Jacksonville's and the state's government. Cause of death: pneumonia
 
 Henry J. Klutho 1873 - 1964
Henry Klutho was a nationally recognized architect for his incorpation and promotion of the Prairie School style of Architecture first promulgated by Frank Loyde Wright. He arrived in Jacksonville just after the 1901 fire because he saw a wonderful opportunity to rebuild a city. His "prarie style" buildings still attest to the longevity of the architecture, for some have been restored and are still occupied today; the St. James Building, which houses City Hall, and the Morocco Temple are two. 
Bessie Wicker Klutho - 1887 - 1966
Wife of Henry J. Klutho.
John Elie Mathews  1892 - 1955
 His legal and civic career in Jacksonville lead to Chief Justice of the Supreme Court of Florida. His office was located in the Guaranty Trust and Savings Bank building at 101 East Bay Street (This building is on Metro Jacksonville's list of Most Endangered Historic Buildings). He promoted a bridge to Arlington from Jacksonville, which was named the Mathews Bridge. Built between 1951 and 1953, it was dedicated to Judge Mathews who had advocated for it since the 1930's. Before the bridge, the connection from Jacksonville to Arlington was accomplished by ferry.
 Sarah L. Talley - 1907 - 1919
Daughter of prominent architect W.B. Talley, Sarah was killed by an unseen train when her mother drove the automobile they were riding in into its path. The accident occurred on Old Orange Park Road, now Roosevelt Blvd, near Fishweir Creek. There were 5 children between the ages of 12 and 14 years old in the car, plus Mrs. Talley. All were killed instantly except Sarah, who died in the hospital the next day. Closed storm curtains on the automobile was determined to be the reason Mrs. Talley did not see the oncoming train. 
Notables not Pictured
 Isaiah D. Hart
Hart is credited with founding Jacksonville in 1822 as a small town – originally named Cowford – on the north bank of the St. Johns River. His son, Ossian B. Hart, became the first Florida-born governor of the state.

Governor Napoleon Bonaparte Broward (1857-1910)
Raised in Jacksonville, Broward was the 19th governor of Florida, serving from 1905 to 1909. He also served as Duval County sheriff and in the Florida House of Representatives.
James McNair Baker  b. July 20, 1821  d. June 20, 1892
CSA Senator. He was elected during the Civil War as a Senator from Florida to the Confederate States Senate, serving from 1862 until the Confederacy's demise in 1865. From 1865 to 1868 he served as an Associate Justice of the Florida State Supreme Court.

Napoleon Bonaparte Broward   b. April 19, 1857  d. October 1, 1910
19th Florida Governor. He served as Governor of Florida from January 3, 1905 to January 5, 1909.
 
Nathan Philemon Bryan   b. April 23, 1872  d. August 8, 1935
US Senator. He was elected as a Senator from Florida to the United States Senate, serving from 1911 to 1917.
 
William James Bryan   b. October 10, 1876  d. March 22, 1908
US Senator. He was elected as a Senator from Florida to the United States Senate, serving from 1907 to 1908.
 
Walter Marion Chandler   b. December 8, 1867  d. March 16, 1935
US Congressman. He was elected to represent New York's 19th District in the United States House of Representatives, serving from 1913 to 1919. amd 1921 to 1923. He was defeated in 1922 and 1924. 

Charles 'Boobie' Clark  b. November 8, 1950  d. October 25, 1988
Professional Football Player. He played in the National Football League as a running back for the Cincinnati Bengals from 1973 to 1978, and the Houston Oilers from 1979 to 1980. In his first year with the Bengals he played in 14 games, rushing for 988 yards and scoring 8 touchdowns on 254 carries, a performance that garnered him the 1973 Rookie of the Year award.
 Joe Dobson  b. January 20, 1917  d. June 23, 1994
Major League Baseball Player. A right-handed pitcher, he made his Major League debut with the Cleveland Indians in 1939 and spent 14 years in the Majors with a 137-103 record and 3.62 earned run average. His big break came when the Indians traded him to the Boston Red Sox along with Frank Pytlak and Odell Hale on December 12, 1940 for Gee Walker, Jim Bagby Jr. and Gene Desautels. He spent two years in the military in 1944 and 1945.

George Franklin Drew   b. August 6, 1827  d. September 26, 1900
12th Florida Govenoer. Served as Governor of Florida from 1877 to 1881. His election as governor coincided with the end of the Reconstruction era in Florida. He drastically cut taxes and expenditures during his term of office and established the convict lease system as an economy measure. Later, he returned to the lumber business and at one time had eleven mills in operation. Drew was prominent in the business affairs of Jacksonville and served as first president of the city's board of trade.

Duncan Upshaw Fletcher   b. January 6, 1859  d. June 17, 1936
US Senator for Florida, Years of Service 1909-1936, Democrat.
 William Allen Bryan (1876-1908) and Nathan P. Bryan (1872-1935)
Both politicians, the Bryan brothers were U.S. senators from Florida who served as Democrats from 1907-1908 and 1911-1917, respectively. After Nathan Bryan's term in the Senate, he returned to practicing law and became a judge in the U.S. Circuit Court of Appeals.
 Noble Andrew Hull  b. March 11, 1827  d. January 28, 1907
US Congressman. Served in the Confederate Army during the Civil War (1861-1865). Elected to represent Florida's 2nd District in the United States House of Representatives, serving from 1879 to 1881. Also served as Lieutenant Governor of Florida from 1877 to 1879, and as a Member of the Florida State House of Representatives in 1860.
William Sherman Jennings   b. March 24, 1863  d. February 28, 1920
Florida Governor. Served as Governor of Florida from 1901 to 1905.
 
John Wellborn Martin   b. June 21, 1884  d. February 22, 1958
Twenty-fourth governor of Florida from January 6, 1925, to January 8, 1929. He was mayor of Jacksonville for three terms (1917-24), and returned to that city after serving as governor. As governor during a land boom that attracted national attention, Martin encouraged a variety of progressive endeavors that outlasted the speculation. These included the building of highways throughout the state, financing public schools by direct state appropriations, and furnishing free textbooks to all pupils.

 James Piper Taliaferro b. September 30, 1847  d. October 6, 1934
US Senator. Served as a United States Senator from Florida from 1899 to 1911. He was defeated in 1910. During the Civil War (1861-1865), he served in the Confederate Army.
William Harold 'Bill' Terry   b. October 30, 1898  d. January 9, 1989
Hall of Fame Major League Baseball Player.
 
Adrian Zabala Sr.  b. August 26, 1916  d. January 4, 2002
Major League Baseball Player. Born Adrian (Rodriguez) Zabala. He was a pitcher for the 1945 and 1949 New York Giants. He made his major league debut on August 11, 1945 defeating the St. Louis Cardinals ten to one. He appeared in 26 games during his brief two year major league career, winning four games and losing seven. Prior to joining the Giants he pitched in the Mexican League where he led the league with a 2.74 earned run average. He was inducted into the Cuban Baseball Hall of Fame in 1984.
 Photo Tour
Photos by Daniel Herbin