Elements of Urbanism: Rochester
October 1, 2008
15 comments
Print Article
Once known as the Young Lion of the West , America's first boomtown faces many of the same issues taking place locally, in regards to urban revitalization.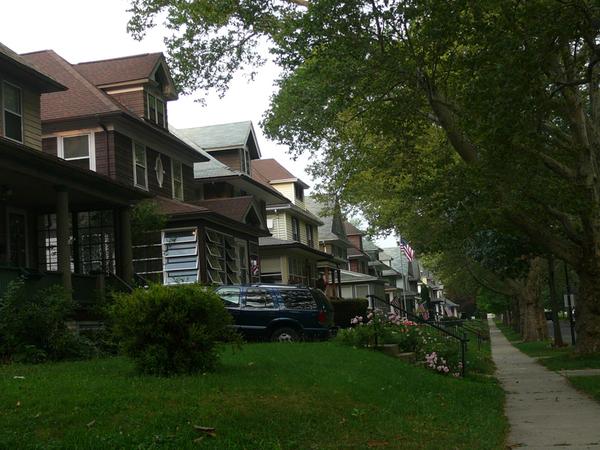 Tale of the Tape:
Rochester Population 2007: 206,759 (City); 1,030,495 (Metro) - (incorporated in 1817)
Jacksonville Pop. 2007: 805,605 (City); 1,300,823 (Metro) - (incorporated in 1832)
City population 1950: Jacksonville (204,517); Rochester (332,488)

Metropolitan Area Growth rate (2000-2007)
Rochester: -0.71%
Jacksonville: +15.86%
Urban Area Population (2000 census)
Rochester: 694,396 (ranked 53 nationwide)
Jacksonville: 882,295 (ranked 43 nationwide)
Urban Area Population Density (2000 census)
Rochester: 2,352.7
Jacksonville: 2,149.2
City Population Growth from 2000 to 2007
Rochester: -13,014
Jacksonville: +69,988
Convention Center Exhibition Space:
Rochester: Rochester Riverside Convention Center (1980) - 49,275 square feet
Jacksonville: Prime F. Osborn III Convention Center (1986) - 78,500 square feet
Tallest Building:

Rochester: Xerox Center - 443 feet
Jacksonville: Bank of America Tower - 617 feet
Home based Grocer:
Rochester: Wegmans ($4.5 billion - 2007 revenue)
Jacksonville: Winn-Dixie ($7.5 billion - 2007 revenue)
Downtown-Based Fortune 500 companies:
Rochester: Eastman Kodak (238)
Jacksonville: CSX (261), Fidelity National Financial (435), Fidelity National Information Services (481)
Urban infill obstacles:
Rochester: The Inner Loop (I-490) circles downtown completely cutting it off from all nearby neighborhoods.
Jacksonville: State & Union Streets cut off Downtown Jacksonville from Springfield.
Common Downtown Albatross:
Surface Parking Lots - Both city's downtown's have too many.
City Walkability Ranking (According to Walkscore.com)
Rochester: (not ranked because population was not large enough to make the top 40 list)
Jacksonville: 40 out of 40 - dead last)

Who's Downtown is more walkable?
Rochester: 77 out of 100, according to walkscore.com
Jacksonville: 88 out of 100, according to walkscore.com
DOWNTOWN ROCHESTER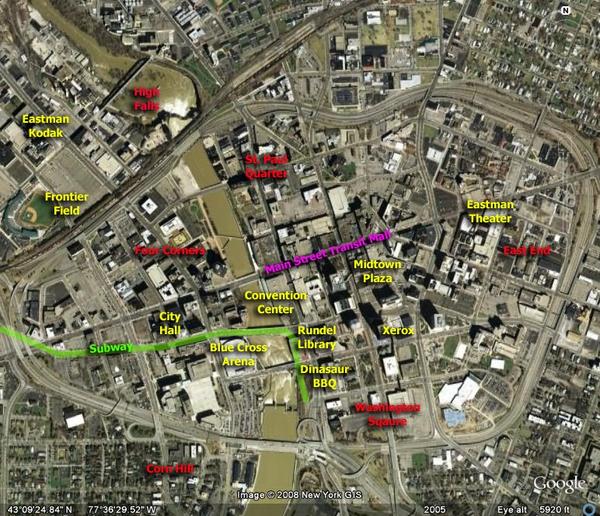 THE WEST BANK OF THE GENESEE RIVER
Branded as "The Four Corners" the west side of downtown represents the center for much of Rochester's legal and governmental activity.  The large number of public offices combined with the Blue Cross Arena and the riverfront, form a strong foundation for vibrancy along the Genesee River's westbank.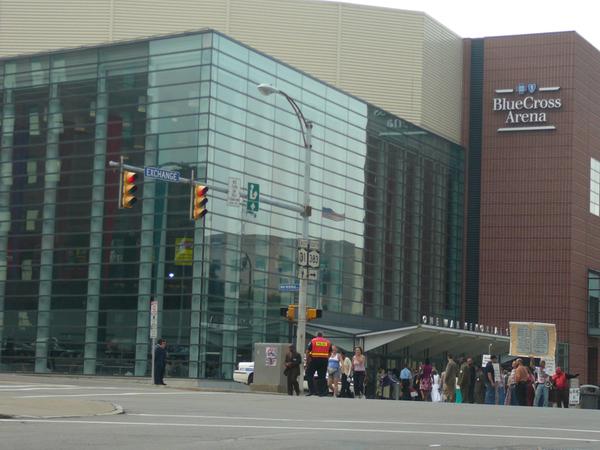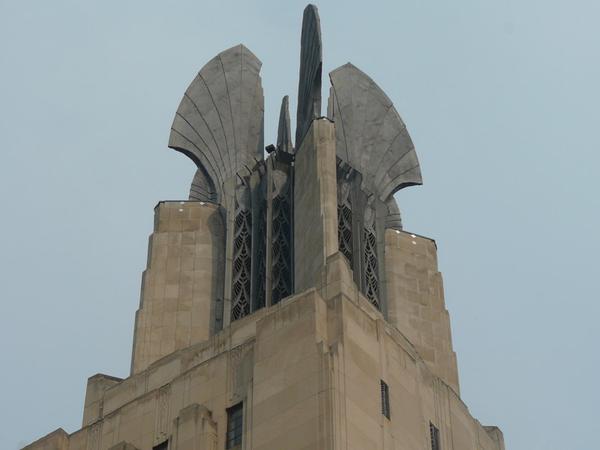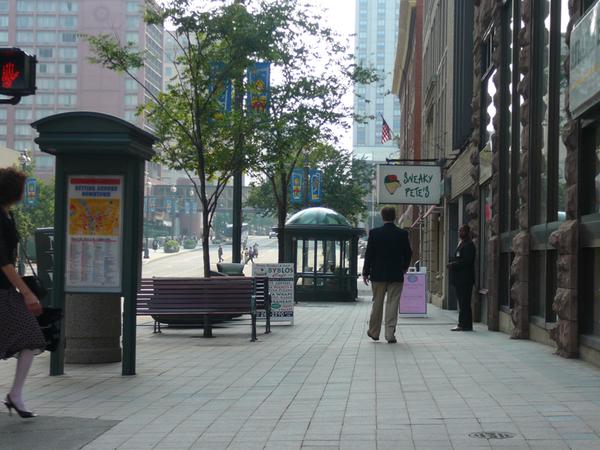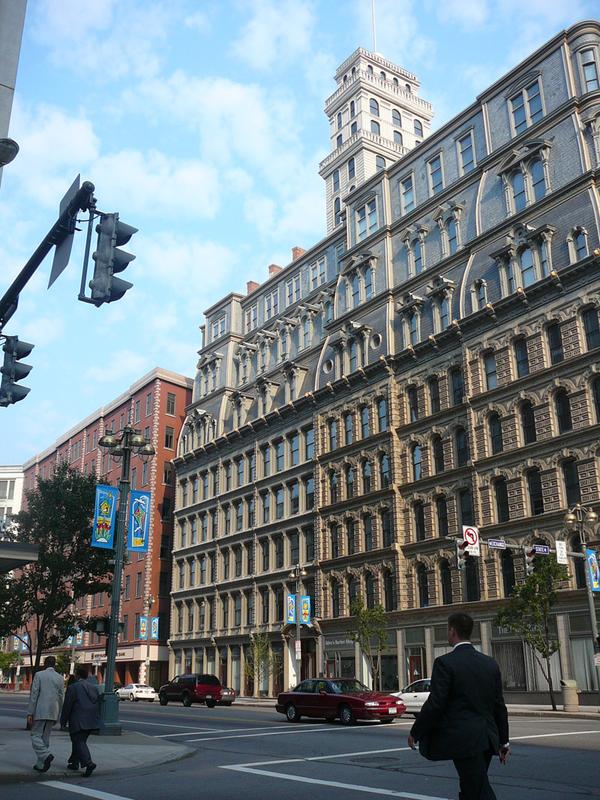 THE EASTBANK OF THE GENESEE RIVER

 The east side of the Genesee River contains several small distinct areas within the downtown district.  St. Paul Quarter is an area where turn of the century warehouses have been converted into lofts.  Washington Square is an area where modern office towers surround a Frederick Law Olmsted park.
At the center of it all is Main Street.  Main Street is the type of transit mall that JTA proposed for our downtown a few years ago.  It serves as a perfect example of why Metro Jacksonville fought so hard to keep bus rapid transit out of our downtown core.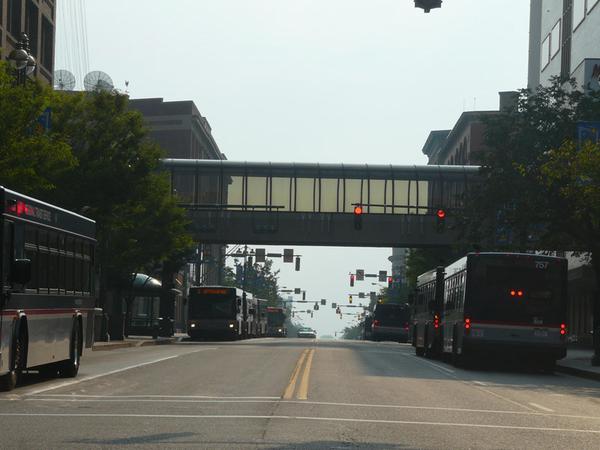 What Rochester's Leaders Won't Say     
Between the Genesee River and the Liberty Pole is a stretch of East Main Street that should thrive.  It is arguably the center of downtown (some would call it "uptown" because it is east of the river), and intersects such major thoroughfares as Clinton Avenue, St. Paul, and East Avenue.  Yet it is a commercial and retail disaster.  Why?  How much time do you have?  I'll assume your time is limited, so I'll focus mostly on the 'Irondequoit Mall Factor'. 
Through no fault of those who frequent buses, and partially by happenstance, East Main Street is a transportation hub.  RTS buses dominate this corridor, and for good reason:  Besides the fact that East Main is a major downtown thoroughfare, this stretch is also littered with bus stops and bus shelters.  Not only in Rochester, but throughout America, municipal bus ridership is typically made up of those occupying lower middle class strata.  Again, and undeniably, racism and classism relegate this stretch of East Main Street to retail and commercial scorched earth.
Full East Main Street to Nowhere: Rochester's Downtown ReDevelopment Naivete:  www.smugtownbeacon.com/news.php?viewStory=86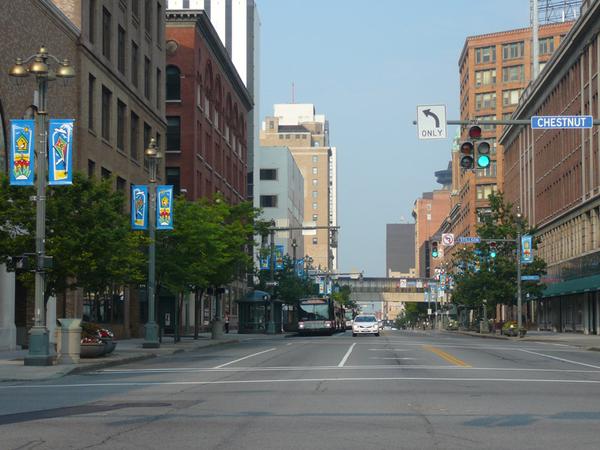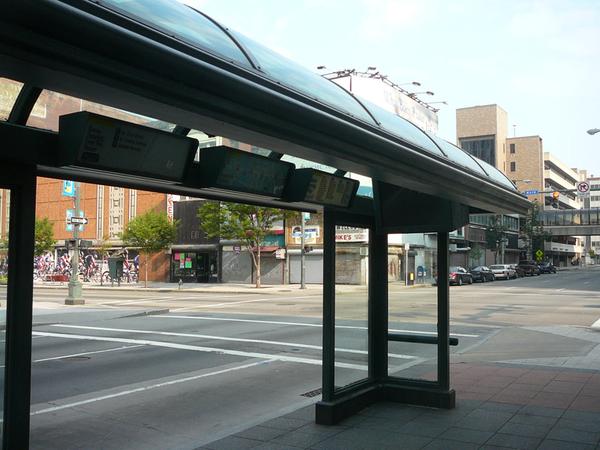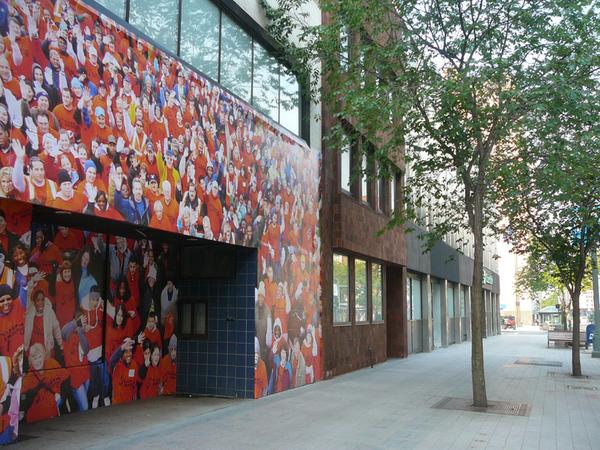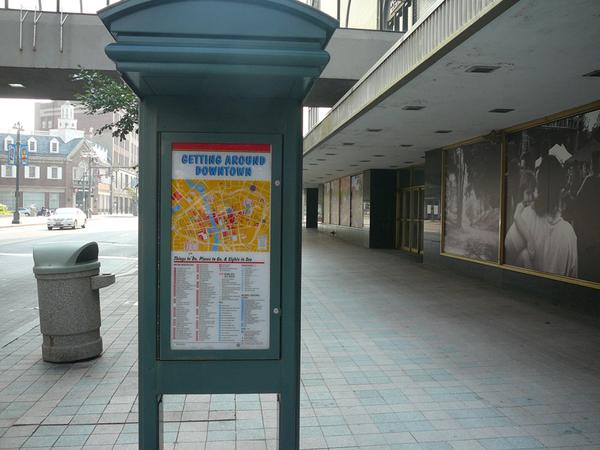 Designed by Victor Gruen, Midtown Plaza was dedicated on April 10, 1962 as the first downtown indoor mall in the United States. The first enclosed shopping center had been Southdale Center in suburban Minneapolis in 1956, also designed by Gruen. The idea for this mall started with discussions between Gilbert J.C. McCurdy, owner of the McCurdy's department stores and Maurice F. Forman, owner of the B. Forman Co. department stores. At that time strip plazas were growing in popularity. Though both owners had opened branch stores they were concerned about Downtown Rochester's viability and came up with the idea of an indoor shopping center.
Gruen was at the height of his influence when Midtown was completed and the project attracted international attention, including a nationally televised feature report on NBC-TV's Huntley-Brinkley newscast the night of its opening in April of 1962. City officials and planners from around the globe came to see Gruen's solution to the mid-century urban crisis. Midtown won several design awards.
Gruen described the aerial view of Rochester as a giant parking lot with a few buildings to inconvenience traffic flow. His intention was to create a pedestrian friendly town square for Rochester, NY, a medium sized city near the mouth of the Genesee River. He incorporated art, benches, fountains, a four hundred seat auditorium and a sidewalk cafe into his plans hoping to encourage the sort of social intermingling that he saw as the enriching essence of urban life.
Later in life Gruen dismissed the strictly commercial suburban malls as "those bastard developments" but continued to hold Midtown in high regard. It is probably the project that most closely followed his plan and shared his civic vision. In addition to the shopping center, the Plaza also includes a skyscraper office building, which at one time held an upscale hotel and restaurant on its top four floors.

Full summary: http://en.wikipedia.org/wiki/Midtown_Plaza_(Rochester)
Midtown would eventually begin to struggle in the 1980s as a number of suburban malls opened around the city.  On July 29, 2008, Midtown Plaza closed its doors to the public for the last time.  The shopping center will be demolished and replaced with the corporate headquarters for a telecommunications company called PAETEC.  When complete in late 2011, the PAETEC tower will be the tallest building in Downtown Rochester.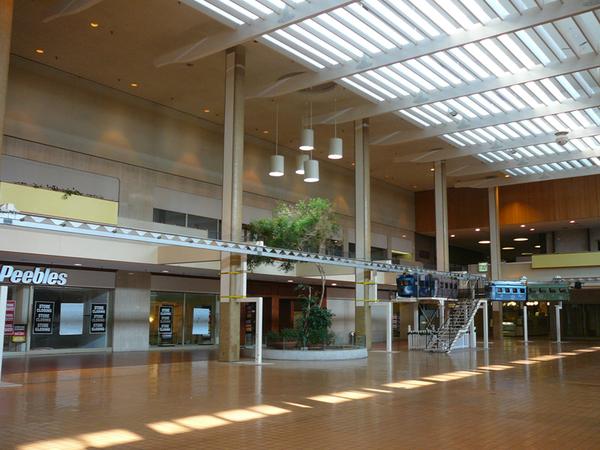 The Rochester Riverside Convention Center opened in 1980.  Although located on the Genesee River, the center is smaller than Jacksonville's Prime Osborn.  However, despite the size, it is within one block walking distance of the Rochester Crowne Plaza, Clarion and Hyatt Regency Rochester hotels.  Combined they put 1,165 first class hotel rooms within a block of the convention center.  By comparison, the closest hotel, Omni Jacksonville (354 rooms), is seven blocks east of the Prime Osborn Convention Center.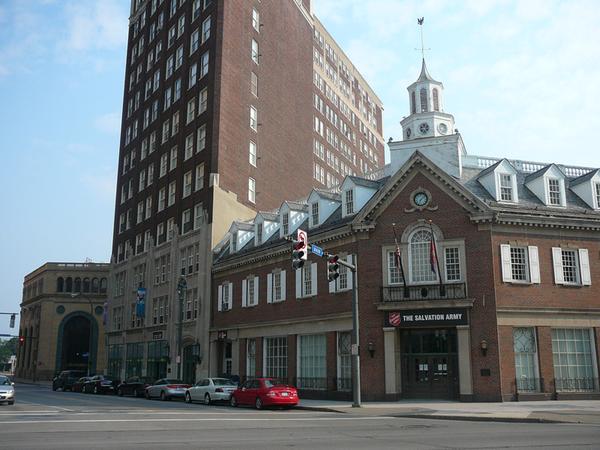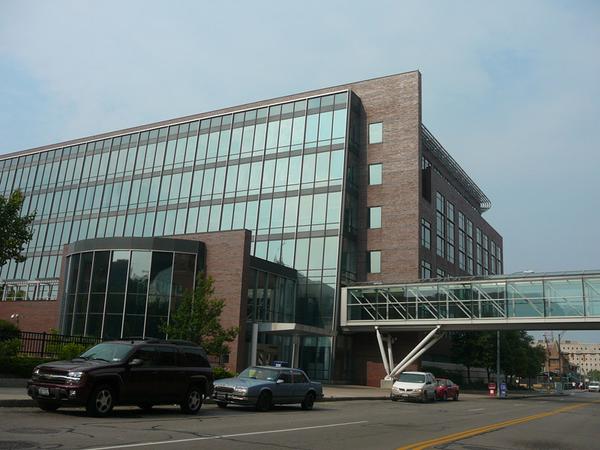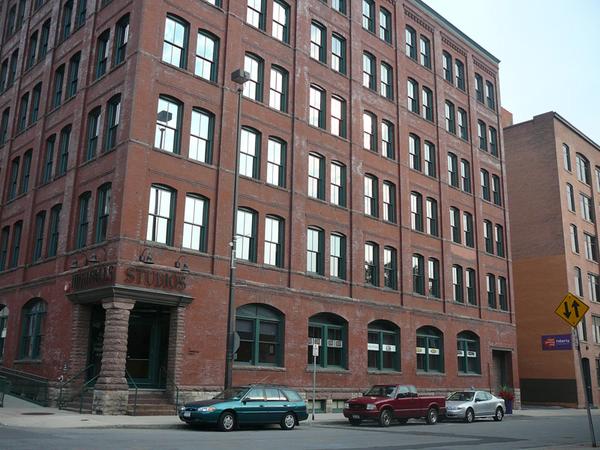 During the late 1800s, the St. Paul Quarter was the home of several garment manufacturers and tool and die shops.  Today, many of the old brick warehouse buildings have been converted into residential lofts above street level retail.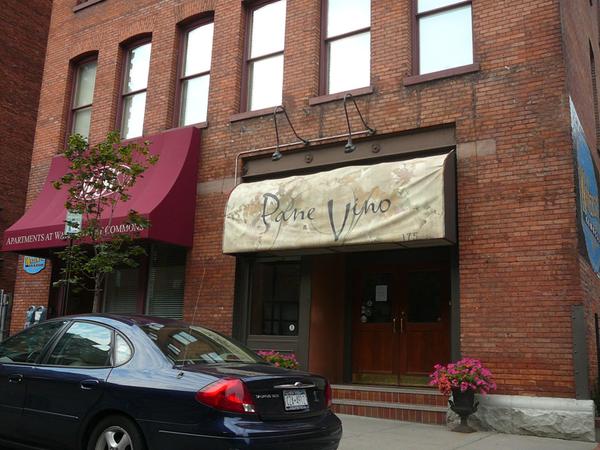 Downtown Nightlife:
Rochester: The East End is home to the Eastman School of Music, two theaters, clubs, bars and high-end restaurants.

Jacksonville: East Bay Street, located between Main Street and Liberty Street.  This four block stretch is home to four bars and clubs.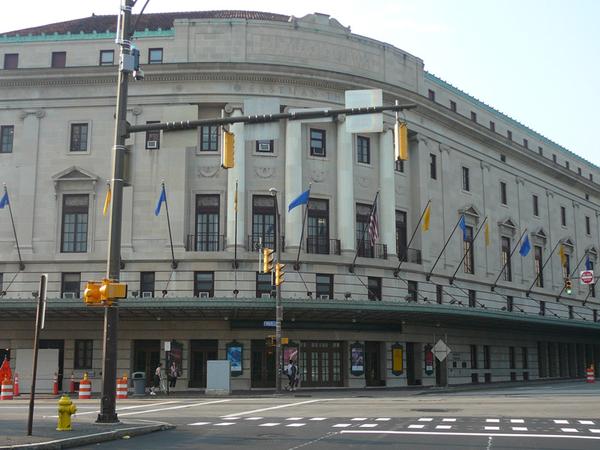 The Eastman Theater anchors the East End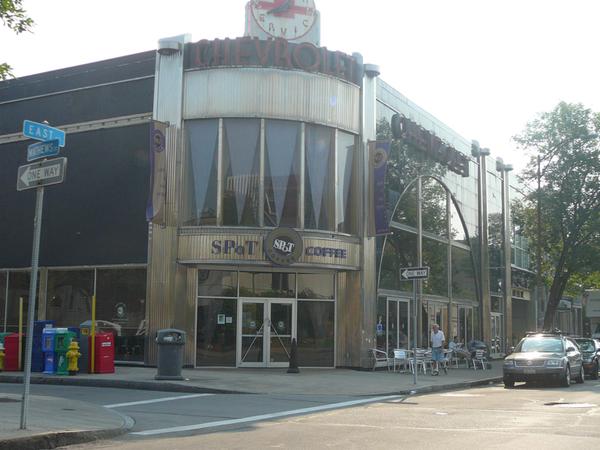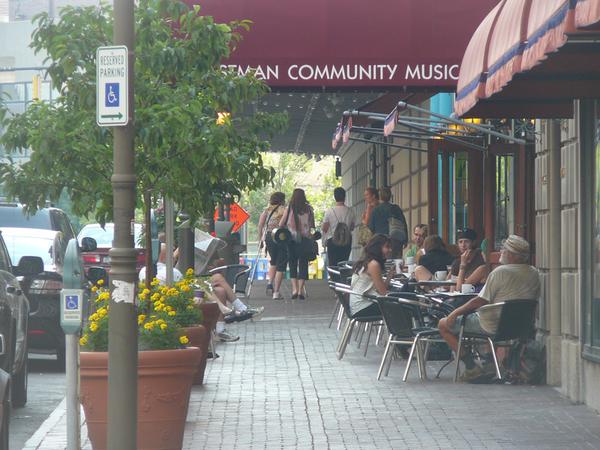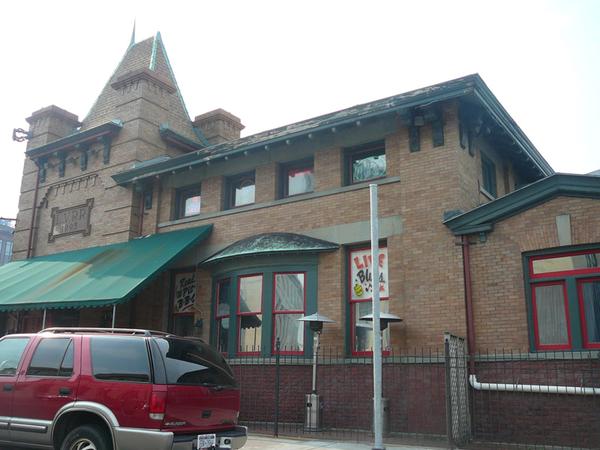 ROCHESTER SUBWAY
From 1927 to 1957, Rochester had a light rail underground transit system called the Rochester Subway. It was the smallest city in the world to have one. There are proposals to put in a new system, possibly using some of the old tunnels. One includes converting the Broad Street bridge tunnel—the former canal aqueduct—into an underground pedestrian walkway, which would also include a Rochester Transportation Museum, and a tram system.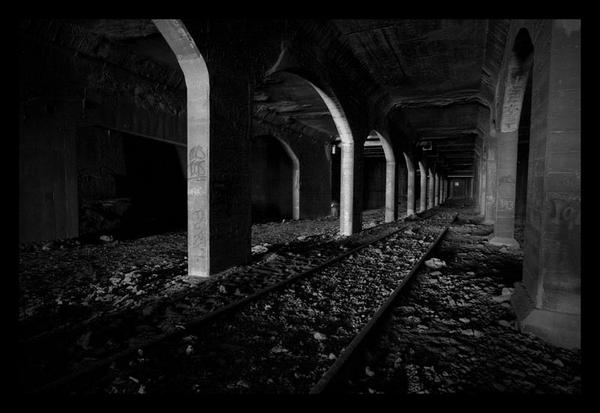 The Broad Street Aqueduct was used as a subway tunnel.  The former canal and subway tunnels have become a source of controversy. Many of the city's homeless use the tunnels for shelter, and a few areas near tunnel entrances have gained the reputation as being dangerous. The city has considered multiple solutions for the space including recreating a canal way, putting the subway system back in or filling the tunnels entirely. The plan to fill the tunnels in has generated criticism as the cost of filling would be comparable to restoring the subway.
http://en.wikipedia.org/wiki/Rochester,_New_York

UNIQUE ROCHESTER
- By 1838, Rochester was the largest flour-producing city in the United States.
- The Ragú brand of pasta sauce was originally produced in Rochester.
- Victorian era Mt. Hope Cemetery is the final resting place of Susan B. Anthony, Frederick Douglass, and George Baldwin Selden.
- Buffalo's median household income of $27,850 is third-lowest among large cities, behind only Miami and Cleveland
ROCHESTER CUISINE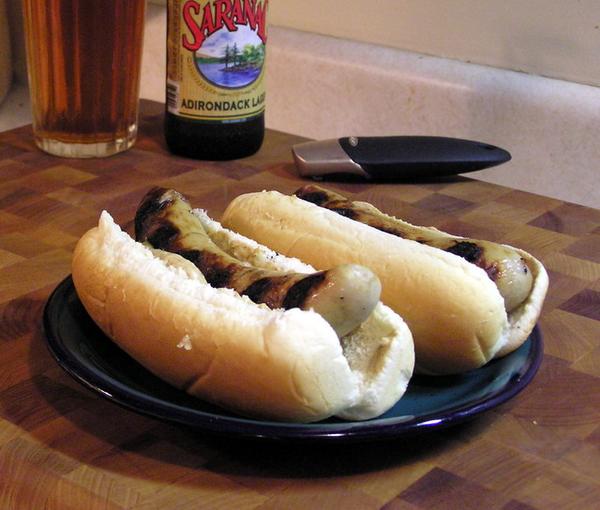 The "White Hot"
One food product that Rochester calls its own is the "white hot," a variant of the hot dog made by the local Zweigle's company. Another local specialty is the "garbage plate," first served at Nick Tahou Hots. Rochester was home to French's Mustard, whose address was 1 Mustard Street.
A TASTE OF ROCHESTER'S URBAN NEIGHBORHOODS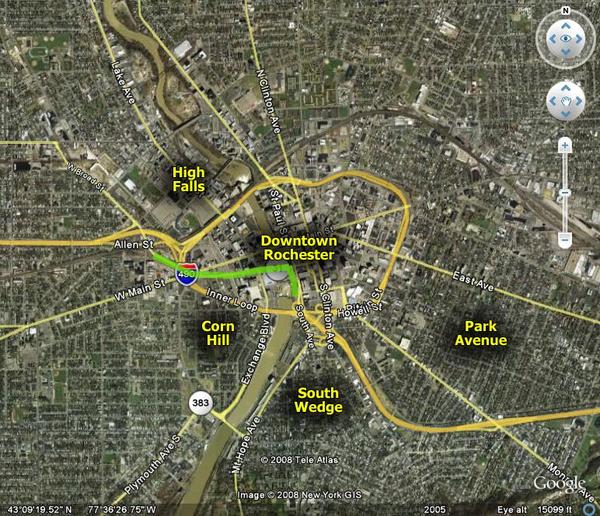 Like Jacksonville, Rochester is blessed with an abundance of well maintained urban residential districts.  Like Jacksonville, they are all disconnected from the heart of the downtown core and the downtown suffers as a result.

Park Avenue

The area around Park Avenue in southeast Rochester is considered the Greenwich Village of Rochester.  It is a popular area, especially for students and young people. Lining the streets are cafes, shops, pubs and restaurants. In a broader view, the total area surrounding University Avenue is one of the most culture and art-rich sections of the city. Located here are the Village Gate, Memorial Art Gallery, Rochester Museum and Science Center, Rochester Public Market, ArtWalk, George Eastman House and high-end residential streets such as Granger Drive, East Boulevard, Douglas Road, and Berkeley Street.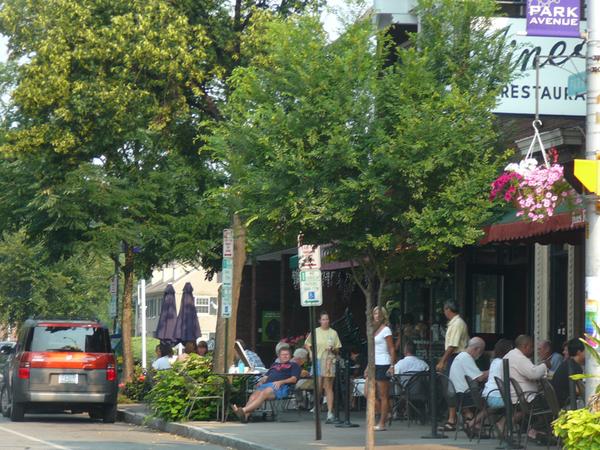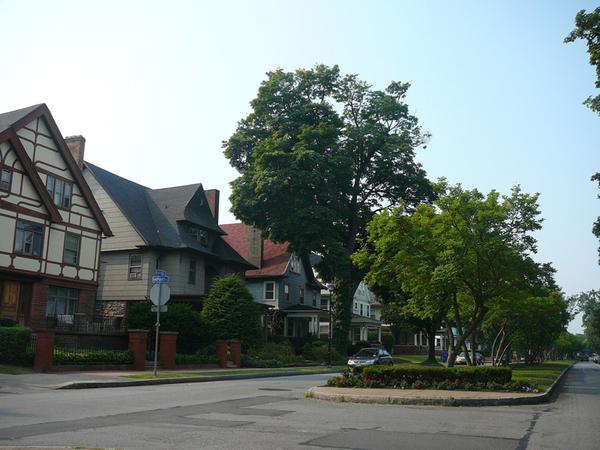 South Wedge

The South Wedge neighborhood dates back to 1827, prior to the incorporation of Rochester Village. The area is bordered by Marshall and Main streets in the north, Goodman St. and the town of Brighton on its east and south sides, and St. Paul St. on the west. This economically distressed area is one of the neighborhoods in Rochester that is currently undergoing the process of gentrification, partially due to a recent increase in homeownership in the area.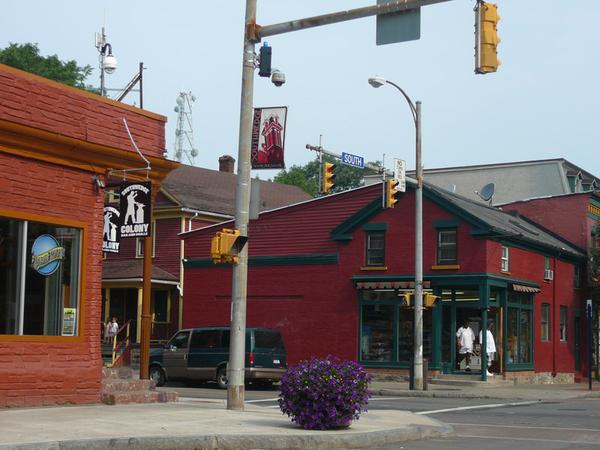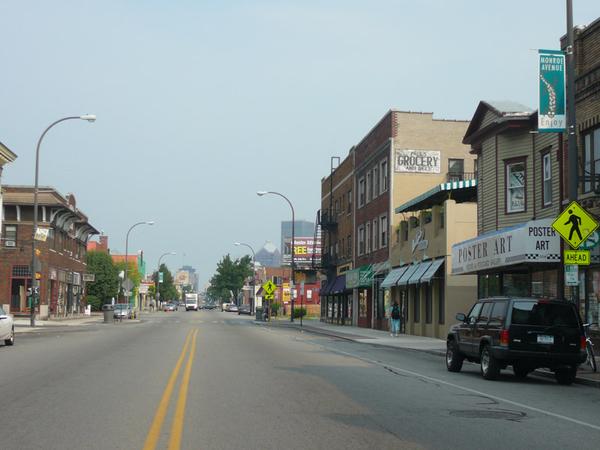 Corn Hill

The Corn Hill neighborhood near downtown is one of the nation's best preserved Victorian neighborhoods and a center for art. It is undergoing renovation and construction for residential buildings along the Genesee River, and the Corn Hill Art Festival is one of the city's most popular gatherings for art display.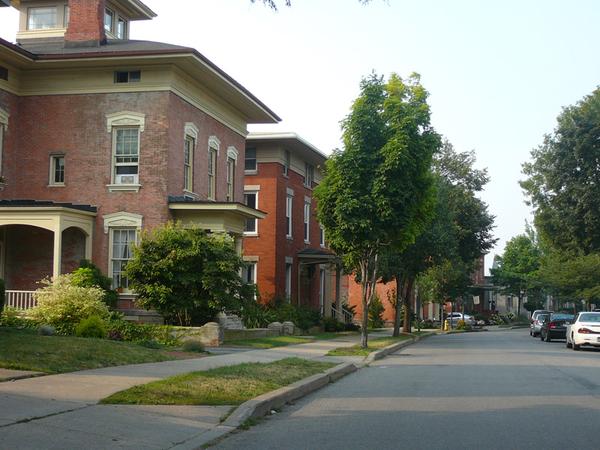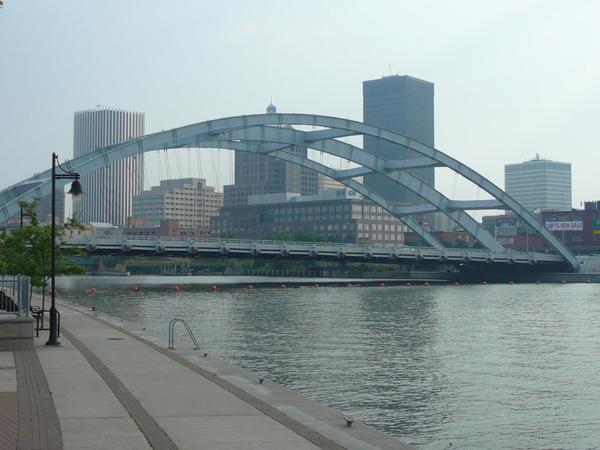 High Falls

The 'Highfalls' is a waterfall in the Genesee River that is located right in downtown Rochester. Because of the falls, that section of town has come to be known as the High Falls District.
This area was once the center of Rochester's economic engine, due to scores of factories and businesses on both sides of the gorge using waterwheels to drive their workshops.
In recent years the City of Rochester has spent a good chunk of money trying to turn that section of the city into an entertainment district, with no significant success.
http://rocwiki.org/High%20Falls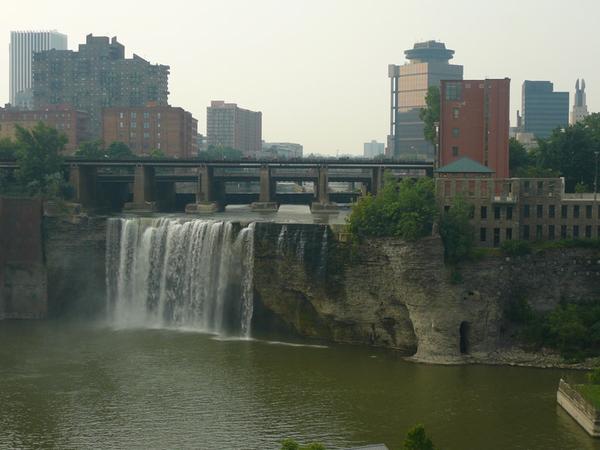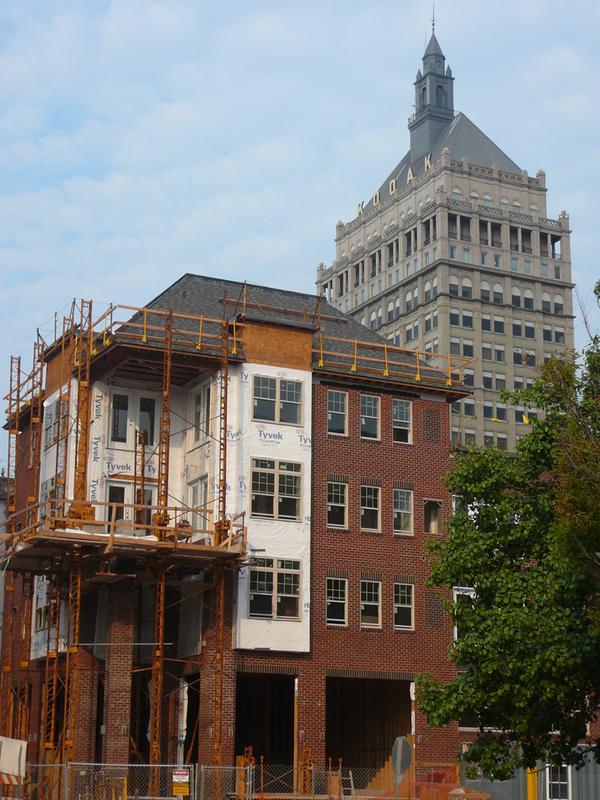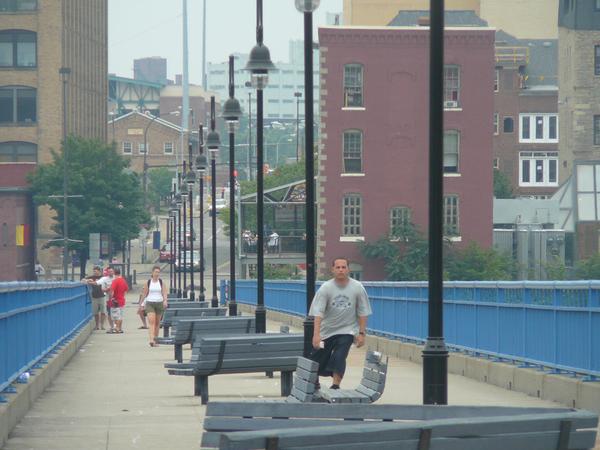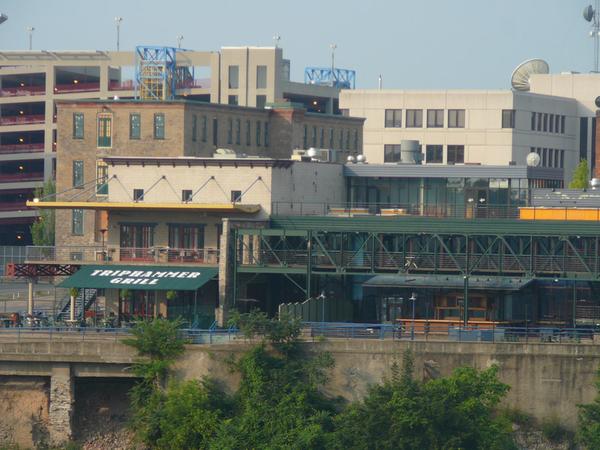 Article by Ennis Davis