Elements of Urbanism: New Haven, CT
October 16, 2008
9 comments
Print Article
A brief tour around the downtown of Connecticut's second largest city: New Haven.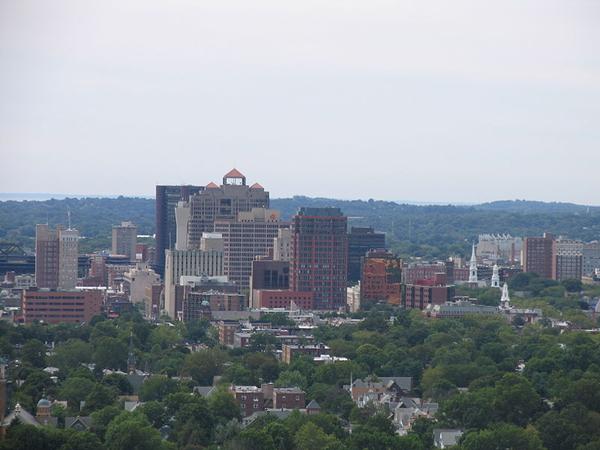 Tale of the Tape:
New Haven Population 2007: 123,932 (City); 845,494 (Metro) - (incorporated in 1784)
Jacksonville Pop. 2007: 805,605 (City); 1,300,823 (Metro) - (incorporated in 1832)
City population 1950: Jacksonville (204,517); New Haven (164,443)

Metropolitan Area Growth rate (2000-2007)
New Haven: +2.61%
Jacksonville: +15.86%
Urban Area Population (2000 census)
New Haven: 531,314 (ranked 69 nationwide)
Jacksonville: 882,295 (ranked 43 nationwide)
Urban Area Population Density (2000 census)
New Haven: 1,862.2
Jacksonville: 2,149.2
City Population Growth from 2000 to 2007
New Haven: +306
Jacksonville: +69,988
Convention Center Exhibition Space:
New Haven: Does not have a convention center
Jacksonville: Prime F. Osborn III Convention Center (1986) - 78,500 square feet
Tallest Building:
New Haven: Connecticut Financial Center - 383 feet
Jacksonville: Bank of America Tower - 617 feet
Downtown Residential Population:
New Haven: 7,000
Jacksonville: 2,500
Downtown-Based Fortune 500 companies:
New Haven: zero (0)
Jacksonville: CSX (261), Fidelity National Financial (435), Fidelity National Information Services (481)
Urban infill obstacles: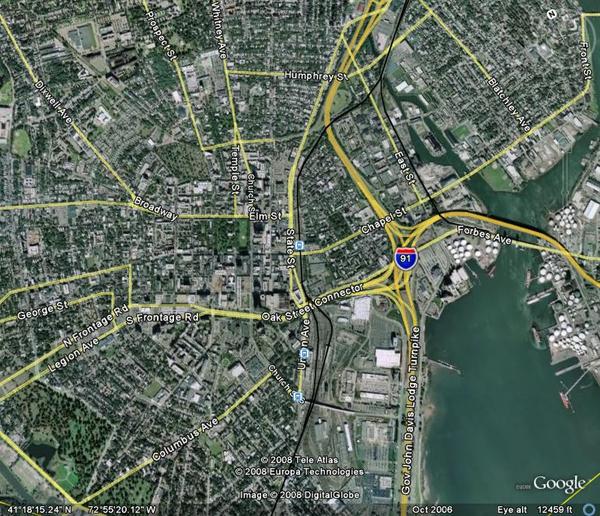 New Haven: Interstates 95 and 91 block downtown from the waterfront.
Jacksonville: State & Union Streets cut off Downtown Jacksonville from Springfield.
Downtown Nightlife:
New Haven: Crown Street, between Church and High Streets.  This stretch is said to be one of the most well-known night hot spots in Connecticut.
Jacksonville: East Bay Street, located between Main Street and Liberty Street.  This four block stretch is home to four bars and clubs.
Common Downtown Albatross:
Under utilized urban waterfronts
City Walkability Ranking (According to Walkscore.com)
New Haven: (not ranked because population was not large enough to make the top 40 list)
Jacksonville: 40 out of 40 - dead last)

Who's Downtown is more walkable?
New Haven: 88 out of 100, according to walkscore.com
Jacksonville: 88 out of 100, according to walkscore.com
Downtown New Haven Map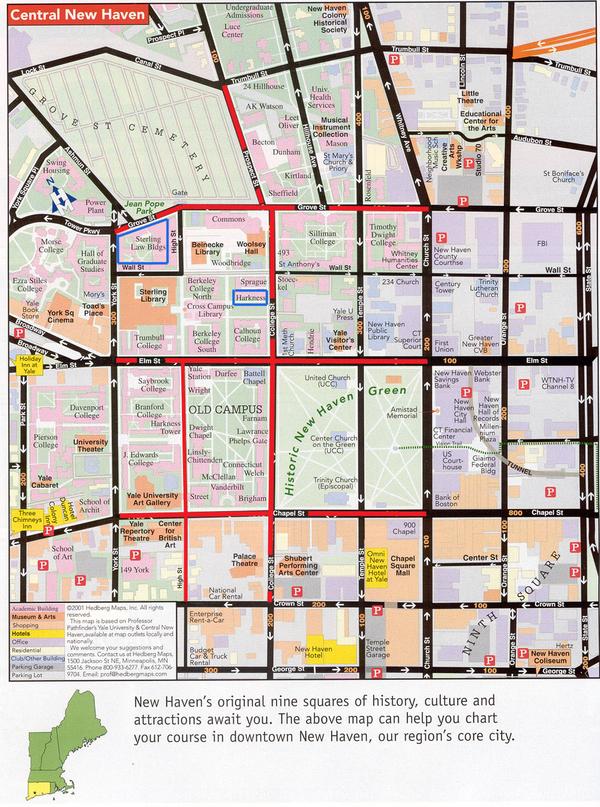 Unique New Haven
New Haven had the first public tree planting program in America
New Haven resident Eli Whitney developed the cotton gin and a gun-manufacturing factory here.  The factory is now the Eli Whitney Museum
The Slaveship Amistad trial was held there in 1839.
New Haven is the birthplace of U.S. President George W. Bush.
The city is recognized as one of the oldest planned cities in North America.
In 1892, local confectioner George C. Smith of the Bradley Smith Candy Co. invented the first lollipops.
Downtown New Haven provides 50% of the city's jobs and tax base.
The New Haven Green is a 16-acre privately owned park and recreation area located in the downtown district of the city of New Haven, Connecticut. It comprises the central square of the nine square settlement plan of the original Puritan colonists and was designed and surveyed by colonist John Brockett.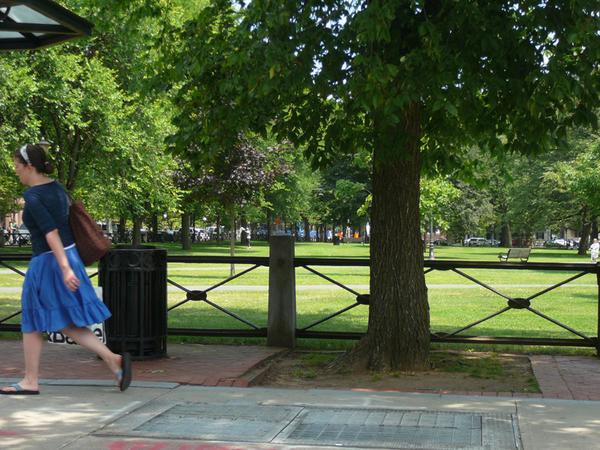 Crown Street
New Haven has arguably the best nightlife in the state, and Crown Street is the hub. In comparison to larger east coast cities, it's like Philadelphia's Delaware Avenue and Boston's Lansdowne Street, only with better lighting and not located behind a ballpark.
Crown Street is a convenient walk from Yale University, the train station and several restaurants open late to satisfy your post-bar hunger.
With so many great bars and clubs in one stretch, it can be hard making a decision about where to go.
http://connecticut.metromix.com/bars-and-clubs/article/bar-guide-crown-street/235453/content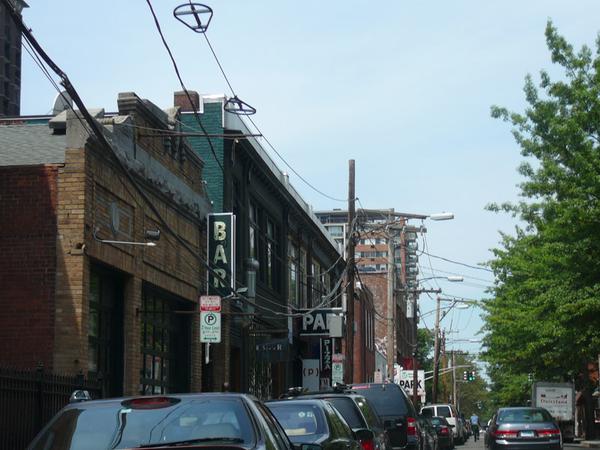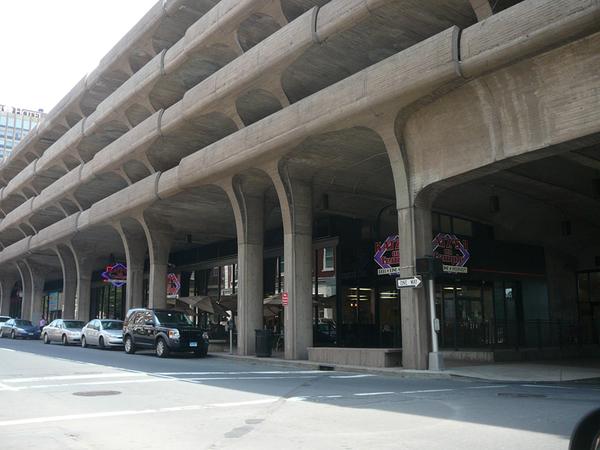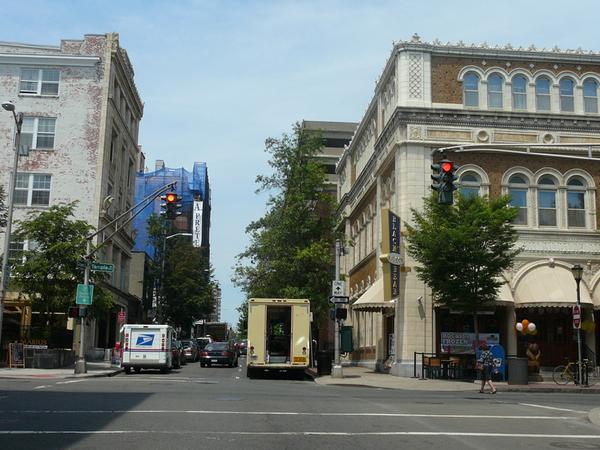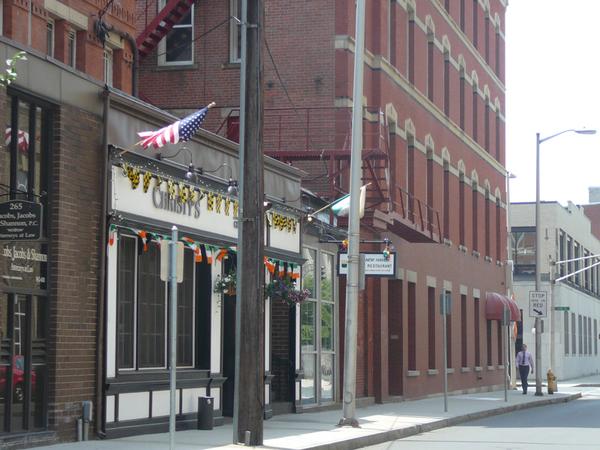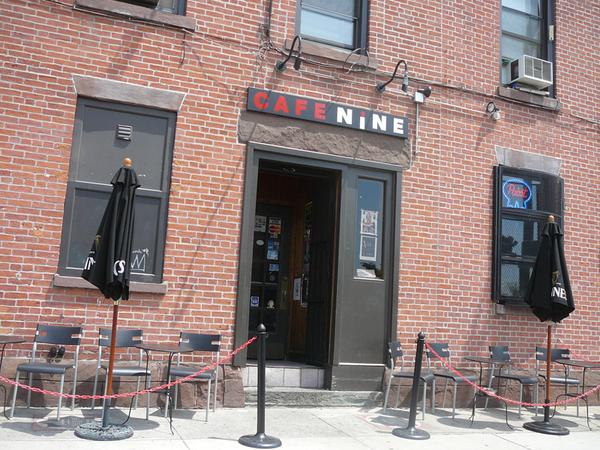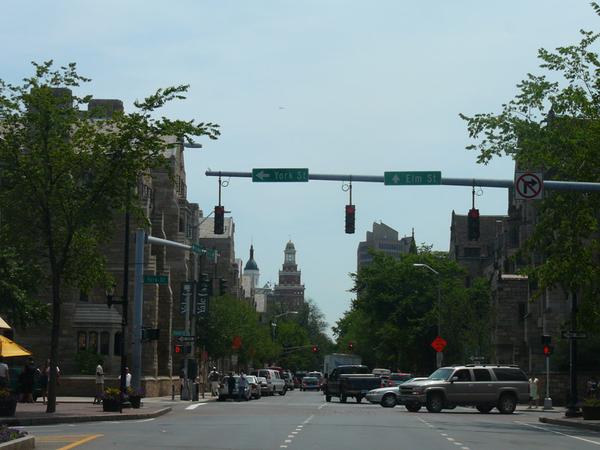 Founded in 1701, Yale University is one of the city's best known features and its largest employer.  Today the downtown campus has 3,000 faculty members, 5,300 undergraduate students and 6,000 graduate students.
New Haven Cuisine: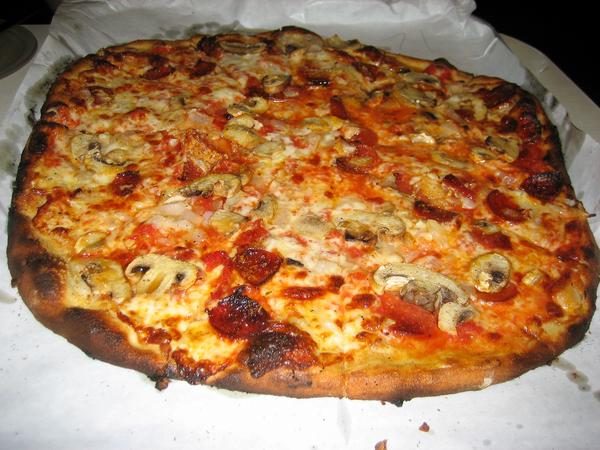 New-Haven-style pizza, called apizza (pronounced ah-BEETS in the local Italian dialect), made its debut here in 1925. It is baked in coal- or wood-fired brick ovens, and is notable for its thin crust. Apizza may be Red (with a tomato-based sauce) or White (garlic and olive oil), and pies ordered "plain" are made without the otherwise customary mozzarella cheese (pronounced sca-MOTZ, as it was originally smoked mozzarella, known as "scamorza" in Italian). A white clam pie is a well known specialty of the restaurants on Wooster Street in the Little Italy section of New Haven.
http://en.wikipedia.org/wiki/New_Haven,_Connecticut
New Haven is connected to New York City by both intercity and commuter rail, provided by Amtrak and Metro-North Railroad respectively, and some New Haven residents commute to work in New York City (just under two hours away by train). The city's main railroad station is Union Station, which serves Metro-North trains to New York, Shore Line East commuter trains to New London, and Amtrak trains to New York, Hartford, Boston, and Springfield, Massachusetts. An additional station at State Street provides Shore Line East and a few peak-hour Metro-North passengers easier access to and from Downtown.
The start of the New Haven Railroad began in a small area of New Haven called Cedar Hill Area. It has long been forgotten since its days of grandeur, but still has all the elements in place from the great railroad days.
A commuter rail line to run along the existing Amtrak line from New Haven through Hartford to Springfield, MA has been proposed by the Connecticut Department of Transportation (ConnDOT) and is currently in the planning phase.
The City of New Haven is in the very early stages of considering restoring light-rail (streetcar) service, which has been absent since the immediate postwar period.
http://en.wikipedia.org/wiki/New_Haven,_Connecticut

Nonmotorized transportation:
As a very dense, compact and relatively flat city with a significant downtown employment base, New Haven boasts one of the highest percentages of bicycling and walking (as a percentage of commute to work) of any major city in the United States. Neighborhoods close to downtown, in particular, have large numbers of nonmotorized commuters. The City has created a Bicycle Master Plan and in 2008, received Honorable Mention from the Bicycle Friendly Community awards program administered by the League of American Bicyclists, becoming the first town or city in Connecticut to be recognized through that program.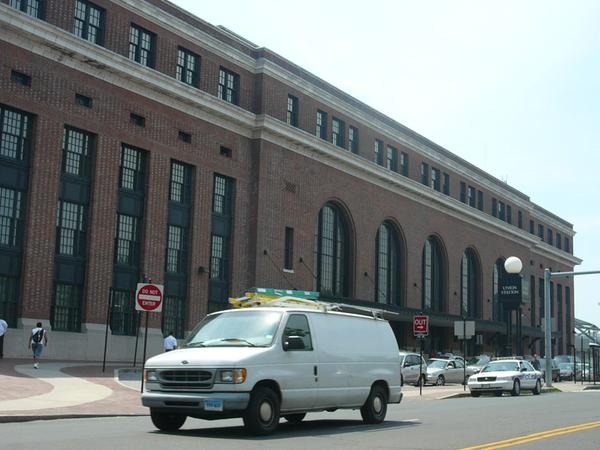 Union Station is the main railroad passenger station in New Haven, Connecticut. Designed by noted architect Cass Gilbert, the beaux-arts Union Station opened in 1918 after the previous Union Station was destroyed by fire.  It was shuttered in 1972 and almost demolished until the Northeast Corridor Improvement Project came to the rescue in 1979. Reopened after extensive renovations in early 1985, it is now the premier gateway to the city.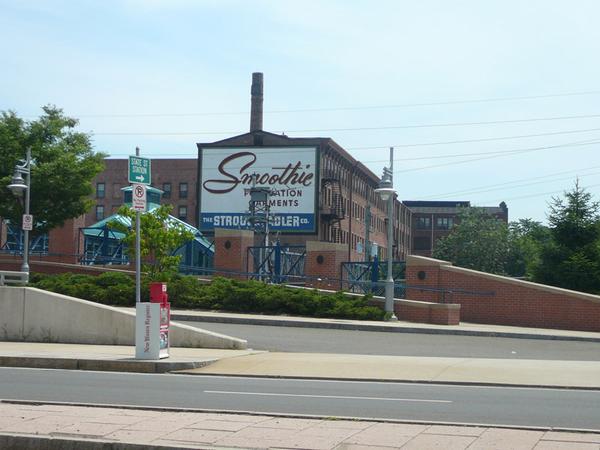 State Street Station (also known as New Haven-State Street) is the secondary railroad passenger station in New Haven located 1.8 miles northeast of the primary station in the city, Union Station. The station, which opened circa 2002, is the penultimate westbound stop for the majority of Shore Line East runs and is the terminal of Metro-North Railroad's New Haven Line for a limited number of peak-hour runs.

Article by Ennis Davis