Atlantic Coast Line #1504
October 13, 2008
38 comments
Print Article
Atlantic Coast Line Steam Locomotive #1504 sits quietly behind the original Jacksonville Union Terminal, now the Prime Osborne Convention Center, in Downtown Jacksonville.
ACL 1504 is the only remaining original USRA locomotive in essentially as-built condition. The only major items which differ from the original are the headlight, tender trucks and pilot truck wheels. The remainder of the locomotive is in original or in as designed condition, including most of the piping arrangements, tender, cab, domes, driving wheels, coal pusher, non-lifting injectors, trailing truck, running boards and pilot.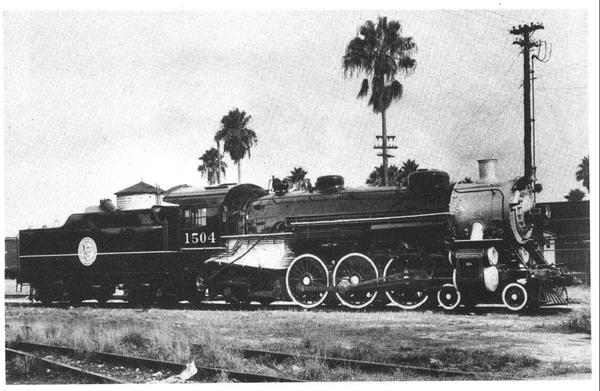 The 1504 was classed by the ACL as a P-5-A Pacific passenger engine. It was one of the original 81 USRA 4-6-2As produced, of which the ACL owned 70. The 1504 spent the first twenty years of its long life in passenger service hauling 10 to 12 car trains at speeds of 70 to 80 mph. Some of these famous name trains hauled by the 1504 and the other P-5-A engines were the Miamian, the Florida Special, the Palmetto Limited, the Southland, the South Wind, and the Dixie Flyer. After the advent of diesels on the ACL after World War II, the P-5-A engines were used in fast freight service. 1504 spent its last years in freight service in the Tampa area, and was retired in 1952.

The 1504 was selected for preservation by ACL president Champion Davis and John W. Hawthorne, head of the ACL Mechanical Department. In 1960, after some years in storage, the engine was given a thorough mechanical overhaul and placed on display in front of the then new ACL General Office Building in Jacksonville. The 1504 has since been cosmetically restored and moved to the nearby Prime Osborn Convention Center. The restoration has not altered the engine mechanically in any way, and because the engine has seen no service since its last overhaul, restoration to service at a future date is possible. The Prime Osborn Convention Center was originally the Jacksonville Terminal Co. Depot built in 1919, the same year as the 1504. The 1504 spent much of its life pulling passenger trains in and out of this depot. 


1504 Today




Atlantic Coast Line (ACL) engine 1504 is the most original in appearance of the few remaining USRA engines in existence today, while the Baltimore and Ohio (B&O) 4500 was the first USRA locomotive constructed. Both of these engines are excellent examples of the USRA family of locomotive designs. These engines, in common with other USRA locomotive designs, shared many common parts, such as trailing trucks, tenders, domes, boilers and fireboxes.