Learning from Fort Wayne, IN
May 8, 2008
0 comments
Print Article
Indiana's second largest city is one that is routinely overlooked in the Midwest. However, unlike most Rustbelt manufacturing cities, Fort Wayne has seen steady growth as it has diversified its economy.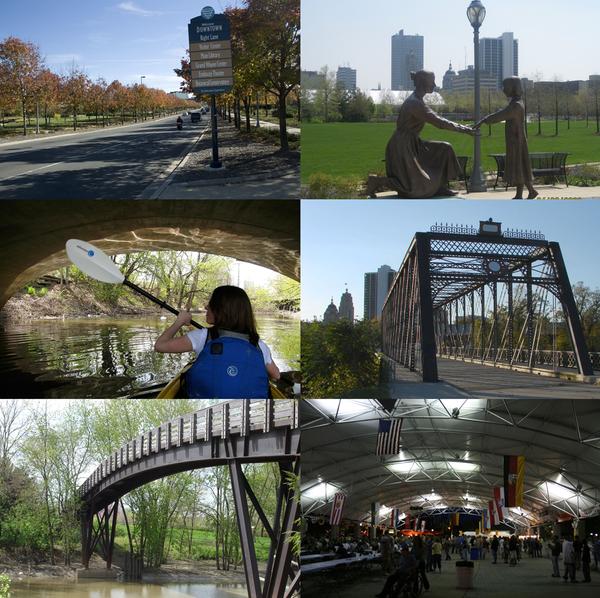 STATISTICS:
Fort Wayne Population 2006: 252,121 (City); 521,718 (Metro) - (incorporated in 1840)
Jacksonville Pop. 2006: 794,555 (City); 1,300,823 (Metro) - (incorporated in 1832)
City population 1950: Jacksonville (204,517); Fort Wayne (133,607)

ABOUT FT. WAYNE:
- Ft. Wayne is within a day's drive of half of the nation's population
- Ft. Wayne sits equidistant from Chicago, Cincinnati, Columbus, Detroit and Indianapolis.
- Ft. Wayne is known as "The Summit City" due to the city's placing at the zenith of the locks on the Wabash and Erie Canal.
- Ft. Wayne's largest population boom occurred in the 19th century with heavy immigration from Germany and Ireland.
- Standing 442 feet tall, One Summit Square has been the city's tallest building since 1982.
- The city is the hometown and burial place of John Chapman (Johnny Appleseed).
DOWNTOWN PHOTO TOUR: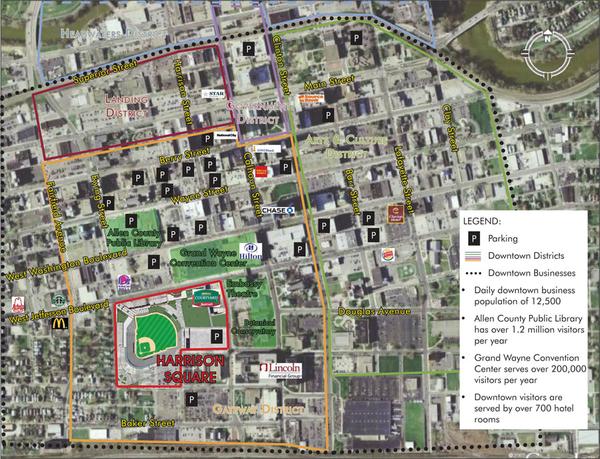 Gateway District
The Gateway District is the Southwest section of downtown and is the first area of the core that visitors enter when approaching from Interstate 69, which runs on the outskirts of town instead of through it.  The Gateway District's Calhoun Street is the street with the least amount of surface parking lots downtown.  Calhoun would be comparable to Jacksonville's Laura Street.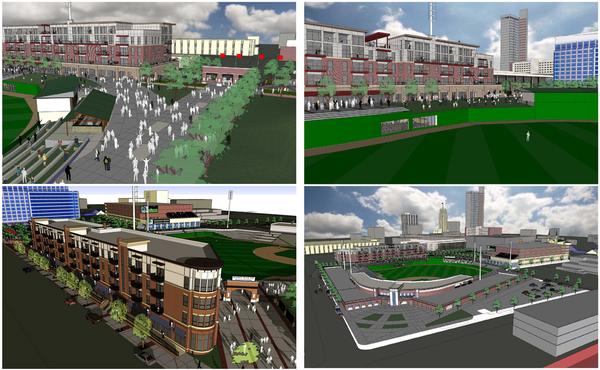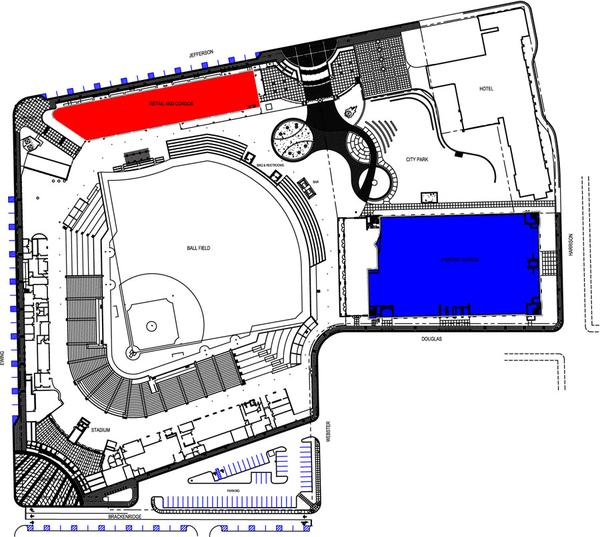 Over the last eight years, there has been a heavy focus on downtown revitalization.  With this goal in mind the city has recently renovated and expanded the main public library and the Grand Wayne Convention Center. It has also announced plans for Harrison Square, a $160 million development containing a new baseball stadium, parking garage, condominiums, shops and a Courtyard by Marriott hotel.

The city recently approved a 10 year tax abatement program to attract retailers to the Harrison Square.  The development will replace replace four blocks of surface parking, cleverly avoiding the demolition of urban oriented building fabric.
"The retail portion of the mixed-use development, Harrison Square, consists of 24,000 square feet positioned on heavily traveled West Jefferson Boulevard with courtyard access and visibility into the new Fort Wayne Wizards baseball park.
This new construction project is located next to the Grand Wayne Convention Center, Allen County Public Library, Embassy Theatre and other downtown attractions that bring in over 2 million visitors to the Harrison Square area.  Additionally, the retail portion is located on the first floor of a mixed-use building to include three total floors of 1, 2 and 3 bedroom condominiums.
Additional features of the downtown mixed-use development are a new downtown ball park for the Wizards, a two-acre public park that will include a small amphitheater for outdoor concerts and a water park, and a 900 space parking garage complete with a 7,000 square foot conference center overlooking the right field wall. Above the conference center, there will be a party deck with approximately 500 stadium seats reminiscent of the Wrigley rooftops in Chicago."
http://www.cbre.com/USA/US/IN/FortWayne/property/harrisonsquare.htm?pageid=0

The 228,000 square feet Grand Wayne Convention Center was recently expanded in 2005 to accommodate a 50,000-square-foot convention hall. The convention center covers three blocks with one block being used as the site of a multi-level parking deck.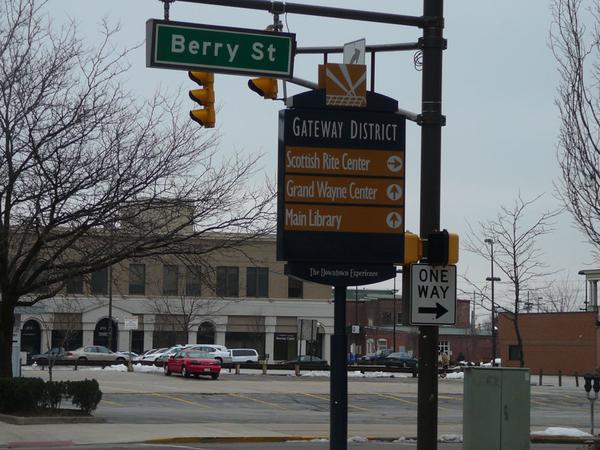 The city recently invested $160,000 in the creation and installation of +40 new wayfaring signs.  According to Mayor Graham Richard, the new wayfaring signs are a key element to building a better downtown.
Landing District
This small two block historic and nightlife district represents one of the few remaining clusters of 19th century era commercial building clusters that still retain their original integrity.  Adams Street, between Main and Ocean Street would rival Fort Wayne's Columbia Street, in terms of a two block stretch with most of its historic urban building fabric still in place and in use.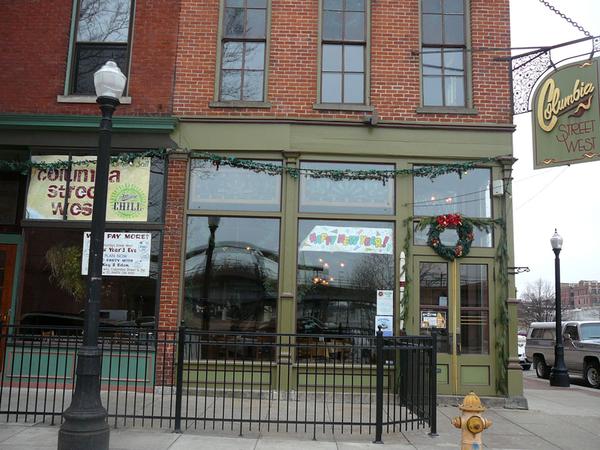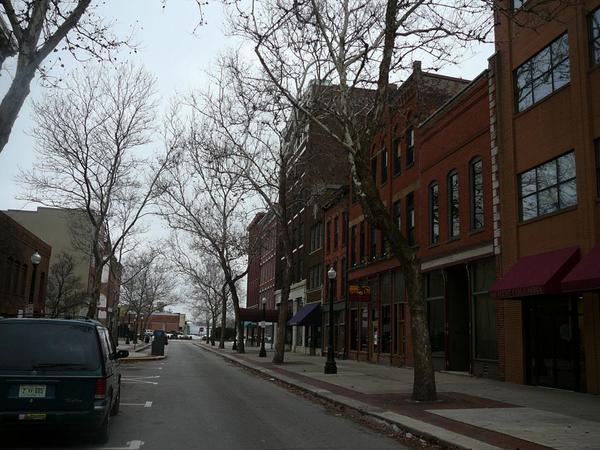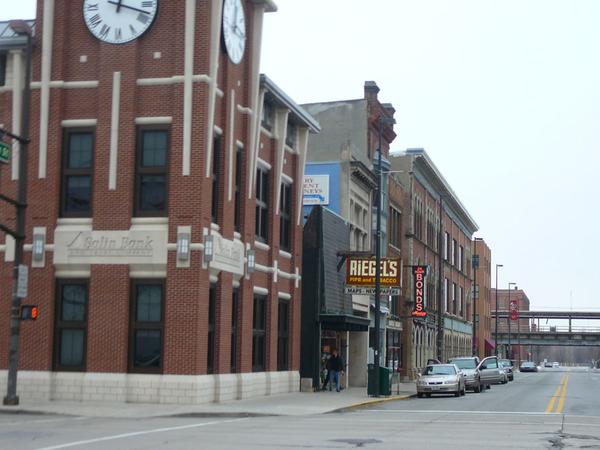 Government District
This one block by four block area is the home to most the city's main government facilities.  The Government District an example of what may become of Hemming Plaza.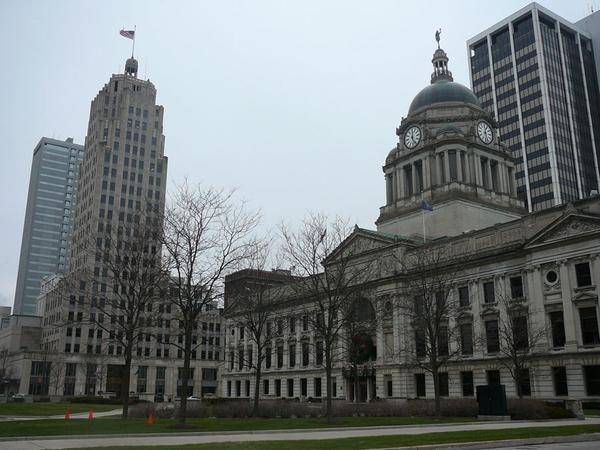 Arts & Culture District
The Arts & Culture District contains downtown's Performing Arts Center, the Museum of Art, the Historical museum, and the Lincoln Museum.  This district suffers from a lack of connectivity between the majority of its structures due to numerous surface parking lots, similar to Jacksonville's LaVilla.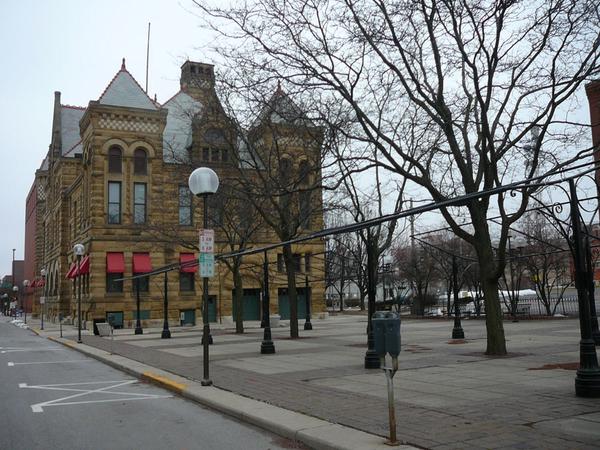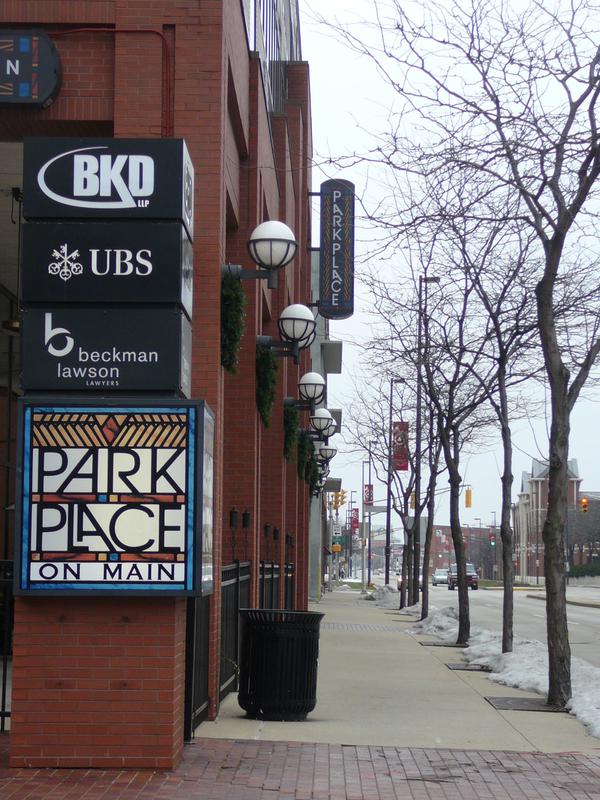 Headwaters District
The Headwaters District is dominated by Headwaters Park, a legacy lasting public space created as a result of the Headwaters Flood Control and Park project. The park serves as a central destination point bordered by established inner city neighborhoods to the north and the downtown core to the south. 
The park is also a destination along the River Greenway. Running along the banks of the St. Mary's, St. Joseph and Maumee Rivers, the 19.5 mile Fort Wayne River Greenway links a majority of Fort Wayne's urban neighborhoods with Downtown's Headwater District.  Needless to say, the River Greenway is a popular attraction for recreation, fitness, and conservation that links virtually ever inner city neighborhood with another.
This area serves as a good example of what Springfield's Parks and Hogans Creek once were and what that area could once again be with more dedicated focus from the City.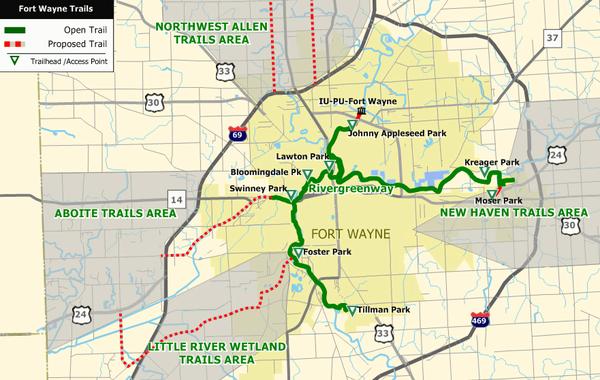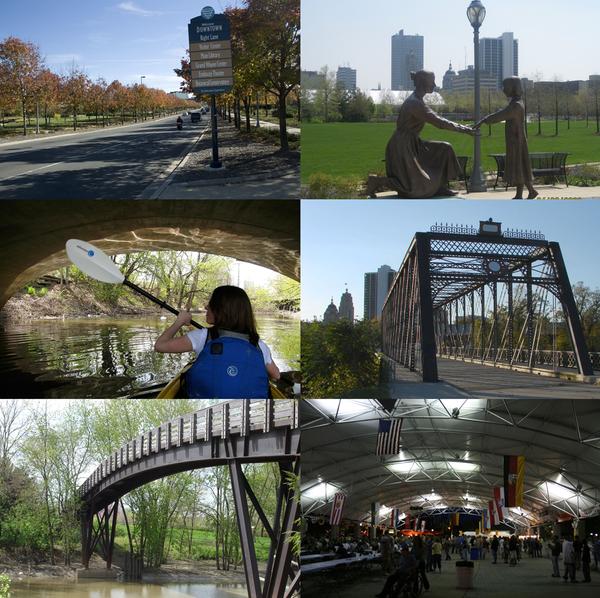 LEARNING FROM FT. WAYNE:
Although significantly smaller than Jacksonville and still struggling to fill their downtown's streets with pedestrians due to similar issues, Fort Wayne serves as a great example of using public improvement projects as a way to "horizontally extend development" in a fashion that creates seamless connectivity between various downtown and various urban neighborhoods.  In Jacksonville, we currently have the opportunity to do the same with Hogans Creek and the courthouse grounds as a way to better horizontally connect downtown back with Springfield and LaVilla.
Article by Ennis Davis