Springfield vs. Savannah: Can you tell the difference?
June 20, 2008
17 comments
Print Article
Savannah's Victorian District and Thomas Square Streetcar Districts have a lot in common with Jacksonville's Springfield Historic District. Can you tell the difference between Springfield and Savannah?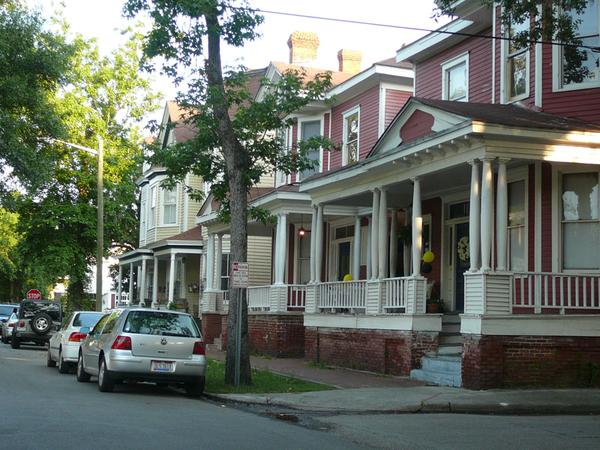 Inner City Savannah Map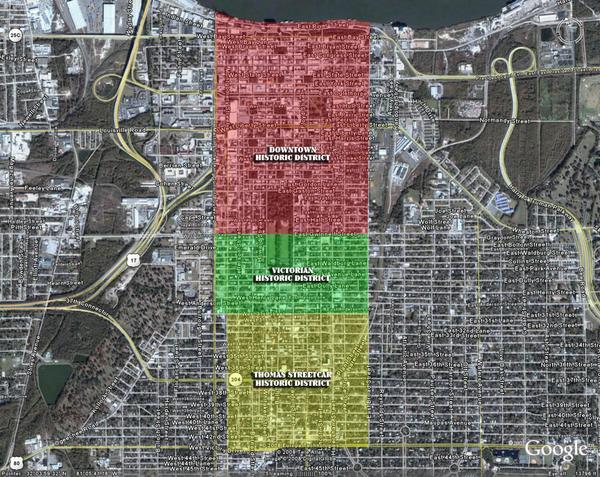 Savannah Victorian Historic District
Originally a parade ground and the extension of street railways in the late 19th century, the Savannah Victorian Historic District is the city's first suburb.

It is bordered by Gwinnett Street on the north, Anderson on the south, MLK on the west and Broad Street on the east.
Thomas Square Streetcar Historic District
Thomas Square Streetcar Historic District is named for Thomas Square Park, which lies near the center of the district, and the streetcar lines that made this neighborhood feasible in the late 1800's.  The Starland Design area at Bull Street and Victory have quickly become a haven for artists, mainly by the influence of Savannah College of Art and Design.
With over 1,100 historic residential, commercial, and community buildings it is one of the largest historic districts in Savannah.  It is bounded by Anderson Lane on the north, Broad Street on the east, Victory Drive on the south and Montgomery Street on the west.
Savannah or Jacksonville? Can you tell the difference?
1.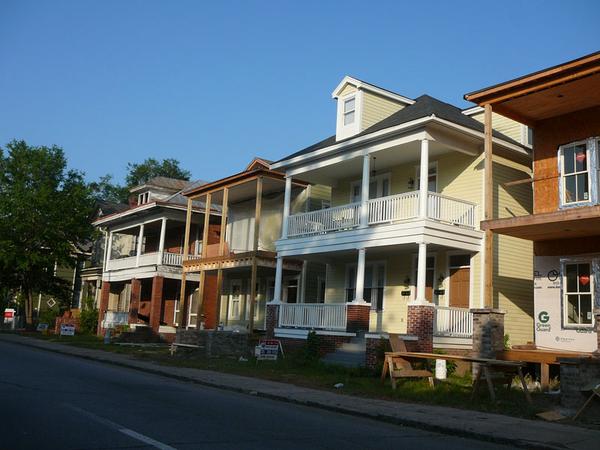 2.
3.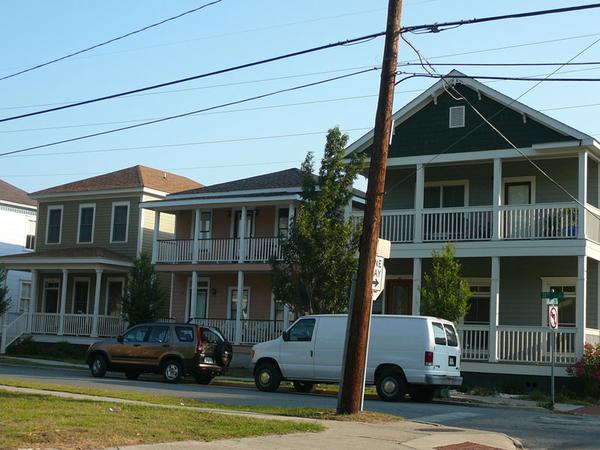 6.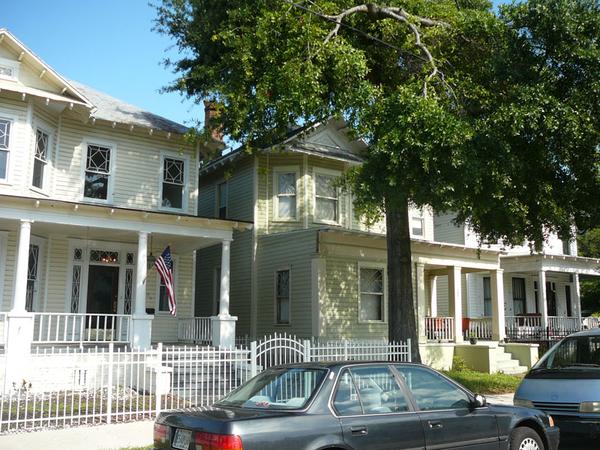 8.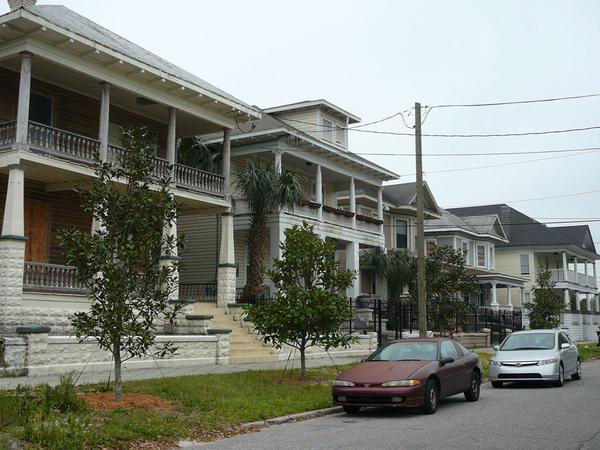 10.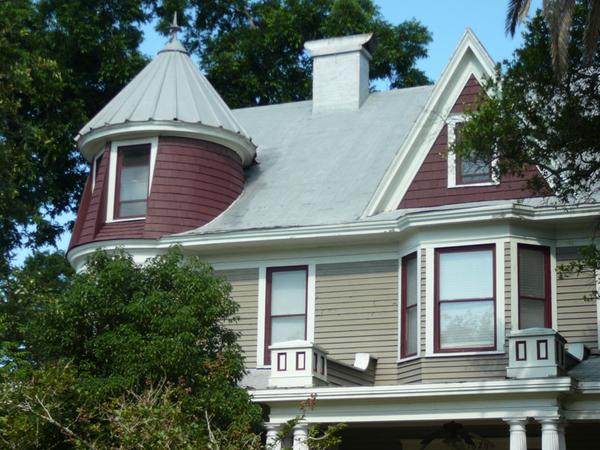 18.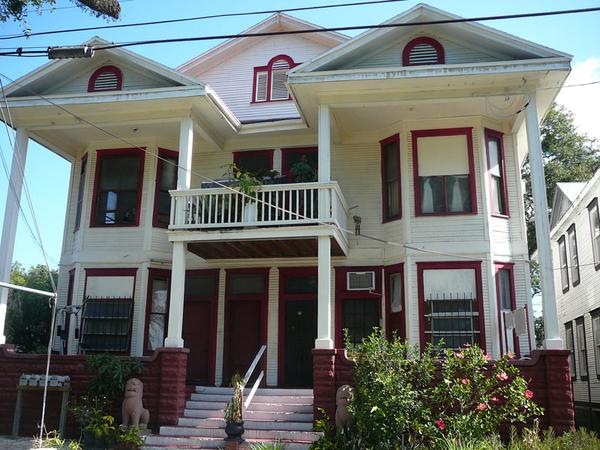 20.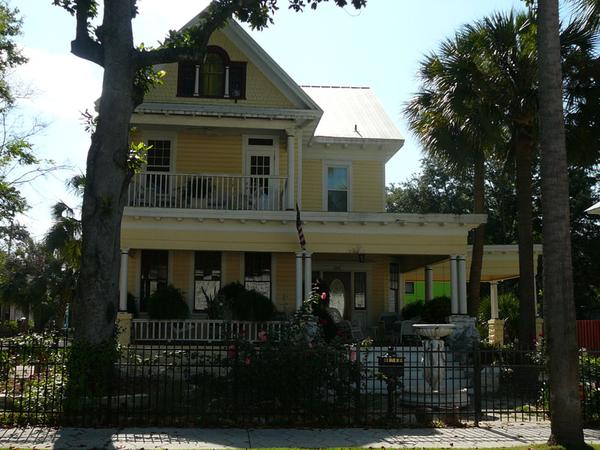 Commonalities:
1. Both were developed around the Turn of the Century.
2. Both have gridded streets and are located within walking distance of their respective city's downtown core.
3. Both have wide streets that offer parallel parking and mature vegetation.
Savannah
4. Both are located adjacent to large urban parks that were developed to serve as a central public gathering space between them and the downtown core.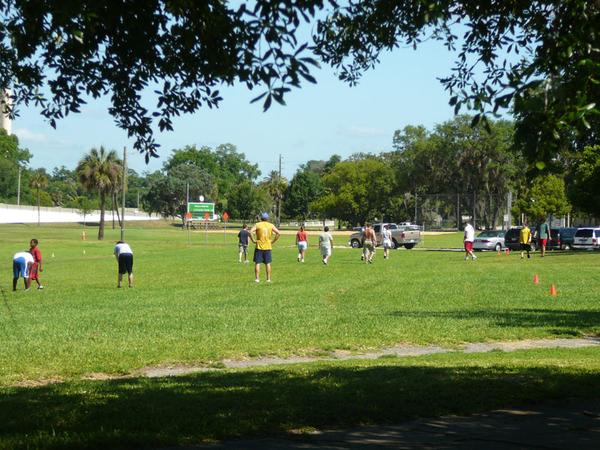 5. Both have compact historic housing stock with minimal front yard setbacks.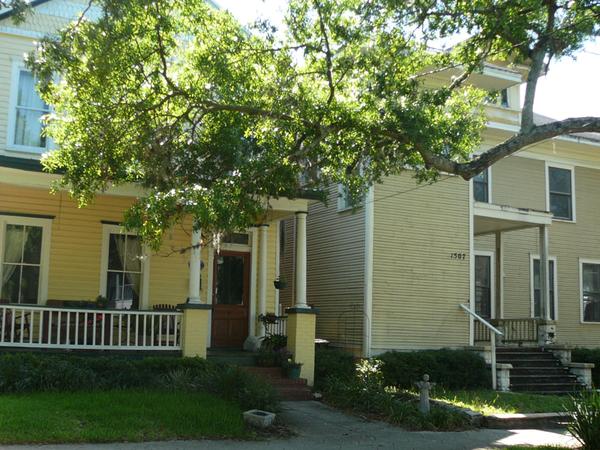 6. Both contain historic building fabric that exhibit similar architectural styles and building materials.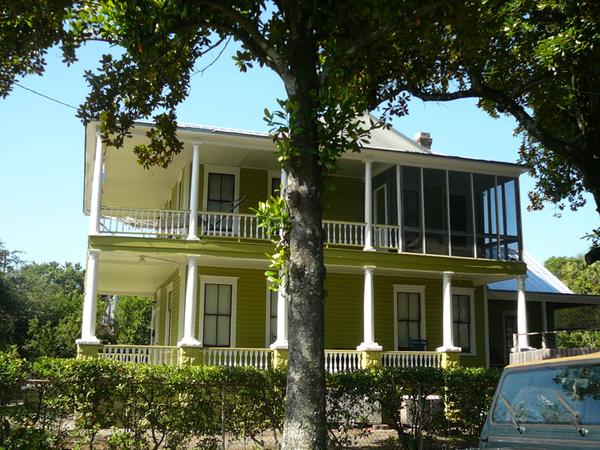 Jacksonville's Springfield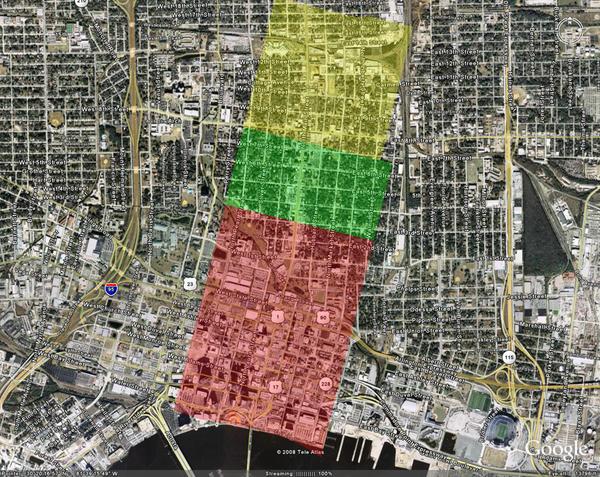 Savannah's historic districts are nearly equal in size to the combined land area of Jacksonville's Northbank and Springfield.

Differences:
1. One contains a network of bike lanes that provide direct access between them and their downtown.  The other does not.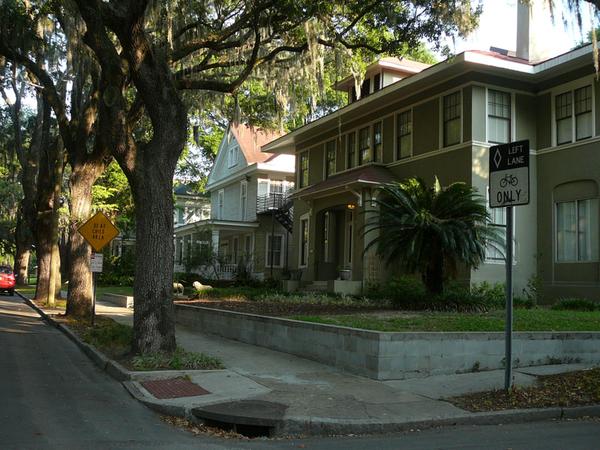 Savannah's Thomas Square Streetcar District
2. One contains a vibrant urban park that remains the centerpiece of its urban community.  The other's park system has taken a back seat to the river, thus the downtown has now turned its back to its southern border.
3. One is fully integrated with the downtown core to the north.  The other has seen high levels of demolition that now creates a dead no-man's zone between it and downtown.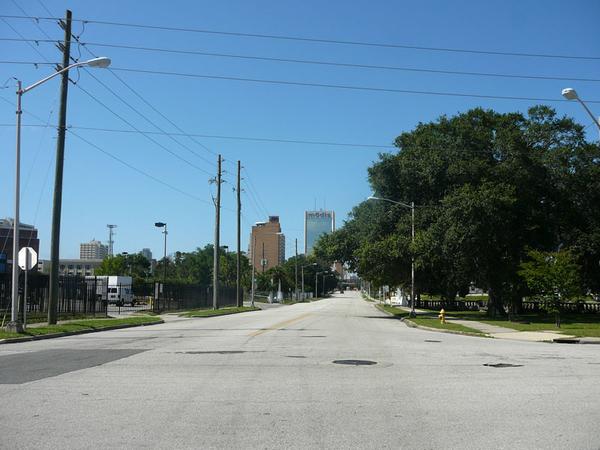 Jacksonville: Laura Street between 1st Street and State Street serves as a part of "no-man's" land between Springfield and Downtown.
4. One has a street grid that has been maintained allowing multiple ways to move between multiple urban districts.  The other was cut off from its downtown, with street closings and one way conversions making it difficult to move between districts.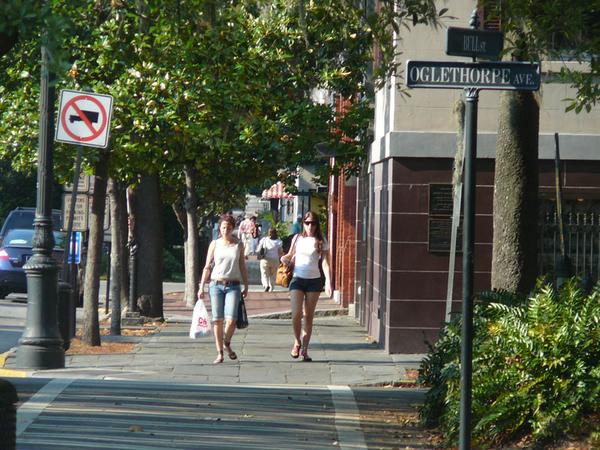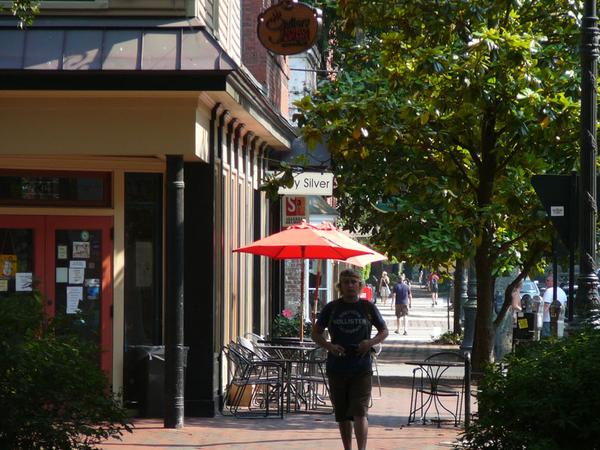 Savannah: Streets connecting the urban districts offer several ways to move between the communities.
5. One city respects the pedestrian.  The other still favors the automobile.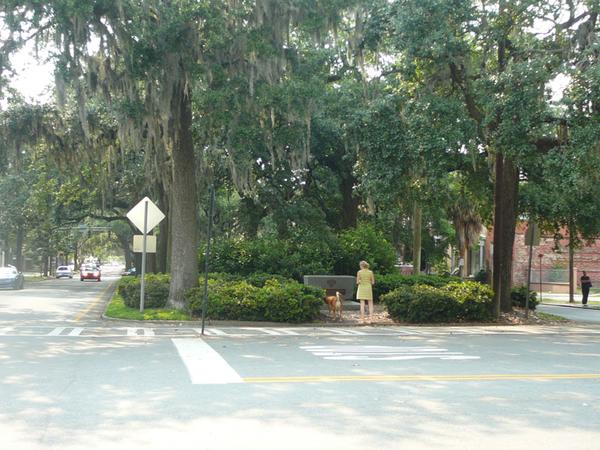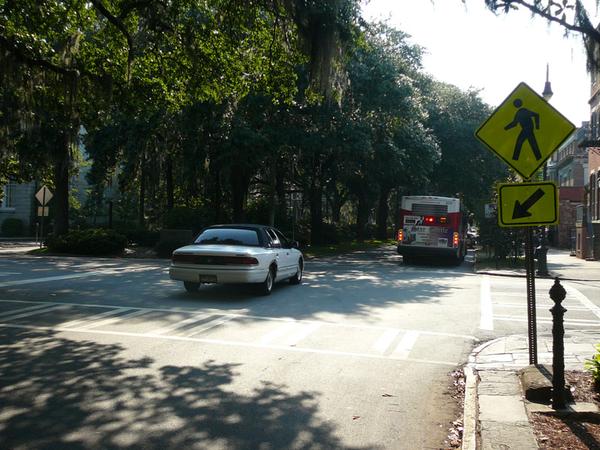 Savannah: Pedestrian crossing signs help warn drivers that there are pedestrians in the area.
Savannah images: 1, 3, 5, 7, 9, 11, 13, 14, 16, 17 & 19
Springfield images: 2, 4, 6, 8, 10, 12, 15, 18 & 20
Article by Ennis Davis