JTA Commuter Rail Study Begins
February 4, 2008
11 comments
Print Article
Last Thursday, JTA's commuter rail citizens advisory panel held its first meeting. While nothing shocking was highlighted that hasn't been already covered on Metro Jacksonville, consultants did discuss several considerations that will have an impact on Jacksonville's ability to win federal funding from the Federal Transit Administration.
Condition of existing rail lines

Unlike new start up commuter rail systems in Austin, Nashville, and Oceanside (San Diego), our local rail lines are in excellent condition. This means that if a deal were to be worked out with local railroads, we would not have to invest as much in track and signal improvements as our peer cities had to do with their systems.
Unfortunately, the rail lines are in excellent condition for a reason: They carry heavy freight rail traffic. The railroads are not likely to allow commuter trains without capacity improvements to their infrastructure. Furthermore, if the railroads are unwilling to entertain the idea of commuter rail, there is nothing local or state authorities can do to strong-arm them into a deal. So far, CSX and FEC have been amenable to preliminary discussions.
Every rail system is different

For months Metro Jacksonville has publicly battled JTA representatives that commuter rail should not be viewed as a system where stations must be spaced on an average of five miles apart.  At the beginning of the meeting, JTA's new rail consultants stated that no two systems are alike and pointed out that Philadelphia's SEPTA commuter rail system has stations as close as three blocks away from each other.  Unfortunately, Mike Miller and Ed Castallani, along with the crowds they have mislead in previous meetings were not present to hear this fact stated.
Dwindling Downtown

Consultants pointed out that one of the challenges commuter rail would have in Jacksonville is that our downtown is clearly a weak one with an over supply of parking spaces and a shrinking employment base.  Rail consultants believe the city needs to offer some type of incentive program to keep and attract major companies downtown, as opposed to letting them flee and set up in the Southside.
Spread out workforce

One of the challenges Jacksonville faces is that Downtown is no longer the centralized core of business that it once was.  However, as studies go on, we believe it will be proven that a majority of our major office parks are directly adjacent too or located within close proximity to existing rail lines.  This creates the opportunity for rail to serve as the trunk line of a transit system and for feeder bus routes to serve nearby office complexes.
 To see how Jacksonville can overcome the repeated questions about density, consultants should look no further than Charlotte, whose downtown has more parking lots than ours, and whose urban area is smaller and more spread out than ours.  For comparison's sake, Charlotte's planned commuter rail line will stretch 30 miles with 12 stations on Norfolk Southern right-of-way and is estimated to cost $260 million, or $8.7 million per mile.  If Charlotte can find a way to overcome these issues and develop a light rail, streetcar, and soon commuter rail system, there's no reason Jacksonville can't.
Not sold on the S-Line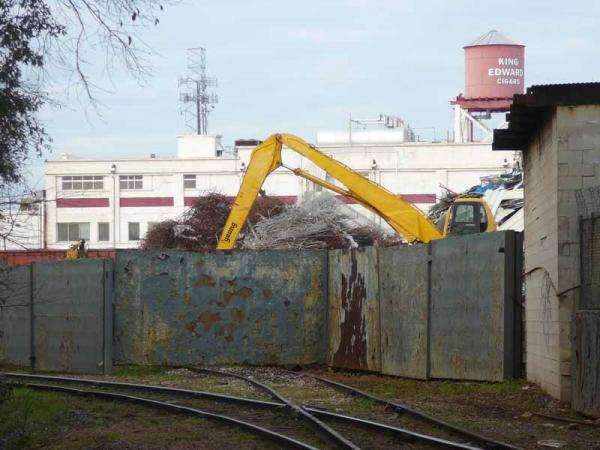 Consultants also are not immediately sold on the S-Line.  It was mentioned that the only major employer along the S-Line corridor was Shands (which is still one more than what is along I-95 through the Northside).  As time goes on, we'll prove in these meetings that this is not so.  The S-Line is one of Jacksonville's most valuable assets and a major piece in a solution to solve more issues affecting our community than just using mass transit to get from point A to B. 
As for places of employment along the S-Line, Swisher employs 1,000, Edward Waters has 1,000 students and faculty members, and Gateway is a 600,000 square foot shopping center.  Add in additional industries and destinations with a 1/4 mile from the S-Line, such as the Farmer's Market, Load King, JTA, Berman Brothers, Norwood Shopping center, and USNR. The S-Line weaves through Jacksonville's most transit dependent population.

If used as a connection between the Jacksonville Terminal and the CSX S line, the second least used major rail line in town, then we can add the airport, River City Marketplace, Anheuser-Busch Brewery, Imeson Industrial Park, and the Jacksonville Zoo to the mix.
Railroads privately owned

Consultants believe it will be difficult to negotiate with local railroad companies to run passenger traffic on their rails.  However, this study has consultants looking at every single major rail line in Jacksonville.  At the end of the day, Metro Jacksonville believes the most viable line for commuter rail is the CSX A, which will see a reduction in freight traffic due to Orlando's commuter rail deal. 
If we are talking about the CSX A and avoiding CSX's main corridors and railyards, we believe those discussions go from being difficult to realistic.  While capacity issues will have to be overcome regarding the FEC line, they are at least willing to sit at the table, which is something JTA representatives have stated in the past that they would not do.
Bus Rapid Transit

Rail consultants were not aware that $100 million has already been set aside for rapid transit right-of-way as a part of the Better Jacksonville Plan.  Consultants agree that BRT may not be the answer in certain corridors if it costs just as much or more than various forms of rail.  We hope that JTA is listening because it would be a travesty for them to go out and spend that money for expensive property that may not be needed at the end of the day.
Metro Jacksonville's opinion

While we applaud JTA's decision to go out and hire qualified professionals to study the feasibility of commuter rail, we still question where this will take us in the end, since it appears each study is completely separate from others and JTA is not considering doing this without the help of the FTA. 
For example, what happens if it is proven that the CSX A line is viable for commuter rail service between Clay County and Downtown?  Is JTA willing to abandon that entire BRT corridor, since commuter rail is a cheaper and cleaner option that uses existing infrastructure and spurs economic development?  If so, we believe the $100 million set aside for rapid transit should be frozen until the commuter rail and streetcar studies are completed.  If not, we could be looking at the failure of multiple systems due to wasteful duplication.
 VIEW THE PRESENTATION GIVEN AT THE JTA CITIZENS ADVISORY COUNCIL MEETING HERE: Click to View