Historic NYC Subway Car Found in Springfield
February 26, 2008
55 comments
Print Article
Metro Jacksonville has confirmed that a historic New York City subway car has been discovered in the Springfield neighborhood.
The subway car, #983, was built by the American Car & Foundry Co. in 1935. At just over 60 feet long and weighing in at 83,963 pounds, it represents a significant piece of New York City and transit history.
Originally operating on New York City's IND line, this photo from NYCSubway.org shows the cars operating on their home turf.
New York City has restored several cars very similiar to the R6 to operating condition for historical purposes. This 'Nostalgia Train' usually operates in regular passenger service during the holidays.
 Back in Jacksonville, our R6 is far from restored.


 Unless the bogies are buried in the ground, it appears that only the car body remains.


 




Currently the interior is being used for storage, but many of the seats, handrails, ceiling fans, and  advertisements remain.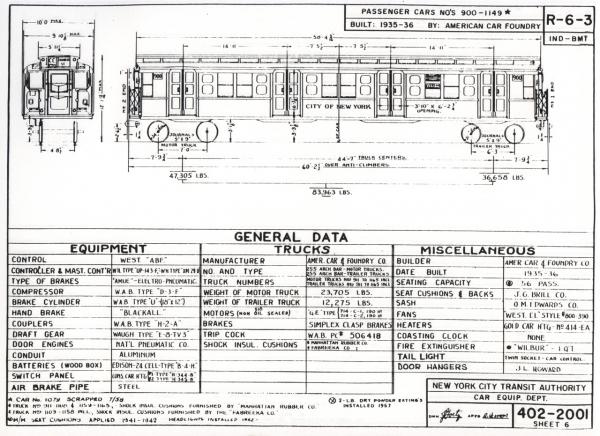 The original builder specifications from NYCSubway.org
An advertisement for an antiques show at Madison Square Garden remains in the car. Unfortunately the date of the show does not include a year. Admission is $3.
At this point, when and how this subway car arrived in Jacksonville remains unknown.
This significant piece of transit history is just the latest addition to a growing collection of historic railcars scattered throughout the Jacksonville metropolitan area. If these relics could be collected in one location, a respectable railroad and transit museum could be assembled.