Redefining the Mall in the name of Urbanism
April 30, 2008
21 comments
Print Article
Metro Jacksonville attempts to clear up the local media's misconceptions about the characteristics of malls, lifestyle centers, the concept of new urbanism and their impact on the First Coast.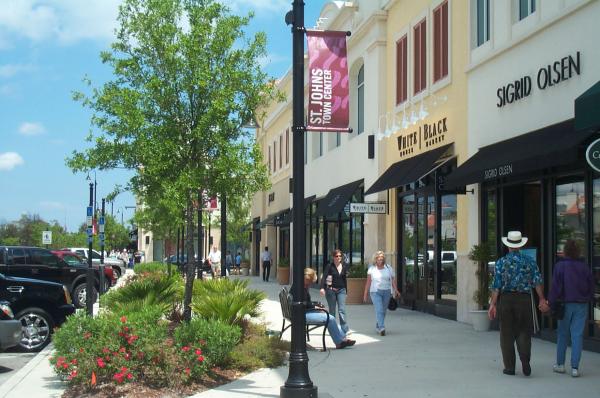 "The location is Jacksonville's example of 'new urbanism,' where shopping, restaurants, offices and homes converge for a walkable community." - A description of the St. Johns Town Center in a recent Times-Union article.
What is a Lifestyle Center?
A lifestyle center is a shopping center or mixed-used commercial development that combines the traditional retail functions of a shopping mall but with leisure amenities oriented towards upscale consumers. Lifestyle centers, which were first labeled as such by Memphis developers Poag and McEwen in the late 1980's and emerged as a retailing trend in the late 1990's, are sometimes labeled "boutique malls". They are often located in affluent suburban areas.

Lifestyle centers vs. traditional malls
The proliferation of lifestyle centers in the United States accelerated in the 2000's, with numbers going from 30 in 2002 to 120 at the end of 2004. Lifestyle centers are sometimes depicted as occupying the upscale end of the spectrum of commercial development, at the opposite end of the outlet mall, which typically caters to a wider range of income with bargain prices.
The growth of lifestyle centers had occurred at the same time as an acceleration of the closing of traditional shopping malls, which typically require large sites over 70 acres (283,000 m²) at a time when land prices were escalating. Lifestyle centers usually require less land and generate higher revenue margins, often generating close to $500 per square foot, compared to an average of $330 per square foot for a traditional mall, according to the president of Poag and McEwen.
Other advantages lifestyle centers have over traditional enclosed malls are savings on heating and cooling and quicker access for busy customers. Typical amenities at lifestyle centers include plush chairs instead of traditional plastic seating in common areas.
USA Today's list of lifestyle centers, constructed in 2006 or before, in the United States:
http://www.usatoday.com/money/industries/retail/

The Mall Goes Undercover
"Like insecure teenagers, malls keep changing their style. They are ripping away their roofs and drywalled corridors; adding open-air plazas, sidewalks, and street-side parking; and rechristening themselves "lifestyle centers." This new look may remind you of something: a vibrant urban street. Yet, while these new malls may appear to be public space, they're not public at all—at least if you want to do anything but shop. They represent a bait-and-switch routine on the part of developers, one that exchanges the public realm for the commercial one. They're also enormously successful—by the most recent count, there are about 130 lifestyle centers scattered around the country."
Andrew Blum - Metropolis - 4/6/08
Full article: http://www.slate.com/id/2116246/
In short, the traditional mall's enclosed common area has been replaced with an an outdoor main street theme.
Examples of traditional malls
The history of shopping malls date as far back as the 10th century A.D., however the concept of fully enclosed shopping malls in the United States did not appear until the 1950's.
Gateway Mall - Jacksonville, FL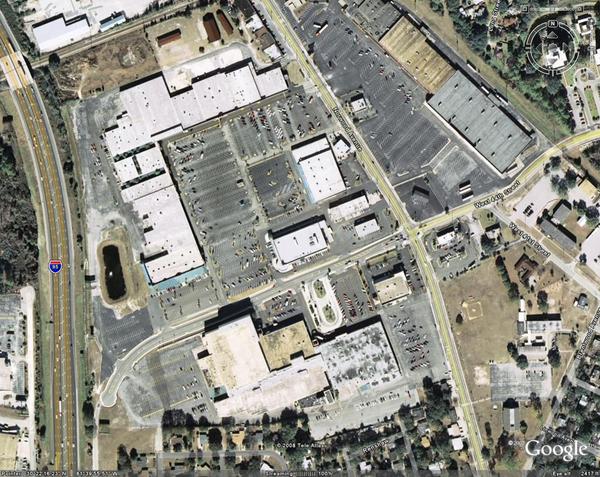 Gateway Town Center is a combination of an outdoor strip center and traditional enclosed mall.
Millenia Mall - Orlando, FL

Select examples of Lifestyle Centers Across the Country
Bell Tower Shops (1982) - Fort Myers, FL
Lakeside Village (2005) - Lakeland, FL

Desert Ridge Marketplace (2001) - Scottsdale, AR
Promenade Shops - Scottsdale, AR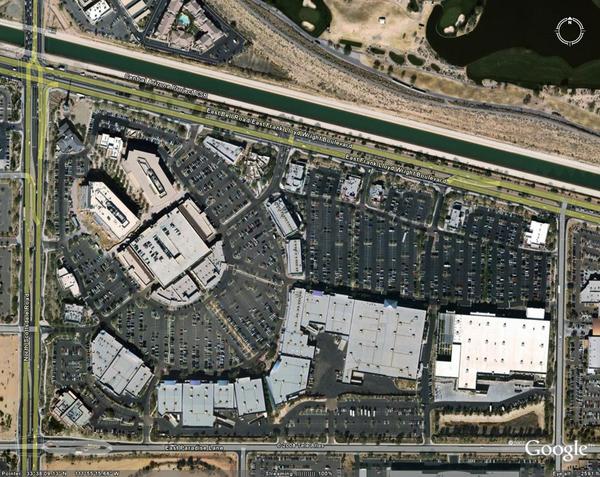 Winter Park Village - Winter Park, FL

The Avenue Viera (2004) - Viera (Brevard County), FL

Take note of the large parking lots that tend to surround these lifestyle centers and traditional malls from their neighbors. One thing most of these centers have in common with traditional malls is that despite the "Main Street" feel on the interior, they still turn their backs to their surroundings and concentrate activity in and on themselves.

New Urbanism
New Urbanism (also called Smart Growth, New Community Design, Neotraditional Design, Traditional Neighborhood Development, Location Efficient Development and Transit Oriented Development) is a set of development practices to create more attractive, efficient and livable communities. These can significantly improve Accessibility and reduce per-capita automobile travel. Specific design features are listed below. Of course, not all of these features are included in all New Urban developments.
TDM Encyclopedia - Victoria Transport Policy Institute
Characteristics of New Urbanist Developments:

The block, the street, and the building
1. A primary task of all urban architecture and landscape design is the physical definition of streets and public spaces as places of shared use.
2. Individual architectural projects should be seamlessly linked to their surroundings. This issue transcends style.
3. The revitalization of urban places depends on safety and security. The design of streets and buildings should reinforce safe environments, but not at the expense of accessibility and openness.
4. In the contemporary metropolis, development must adequately accommodate automobiles. It should do so in ways that respect the pedestrian and the form of public space.
5. Streets and squares should be safe, comfortable, and interesting to the pedestrian. Properly configured, they encourage walking and enable neighbors to know each other and protect their communities.
6. Architecture and landscape design should grow from local climate, topography, history, and building practice.
7. Civic buildings and public gathering places require important sites to reinforce community identity and the culture of democracy. They deserve distinctive form, because their role is different from that of other buildings and places that constitute the fabric of the city.
8. All buildings should provide their inhabitants with a clear sense of location, weather and time. Natural methods of heating and cooling can be more resource-efficient than mechanical systems.
9. Preservation and renewal of historic buildings, districts, and landscapes affirm the continuity and evolution of urban society.
From the Congress for the New Urbanism
http://architecture.about.com/od/communitydesign/a/urbanismcharter.htm

Examples of Lifestyle Centers designed with New Urbanist principles.
Surrounded by massive surface parking lots, like the traditional enclosed malls they replaced, the lifestyle centers above do not conform with these characteristics promoted by The Congress for the New Urbanism. The lifestyle centers below are examples of what these projects tend to resemble when they are designed with New Urbanist principles.
Atlantic Station - Atlanta, GA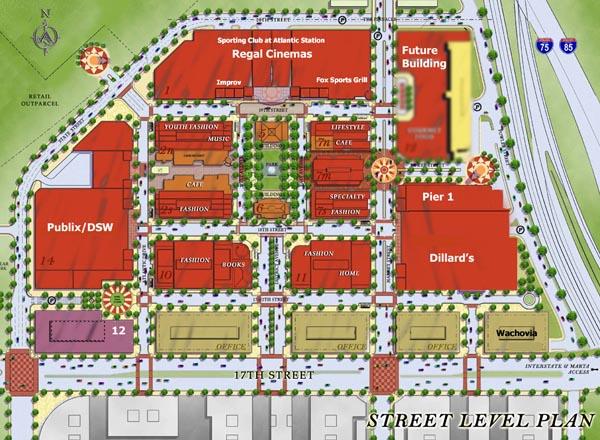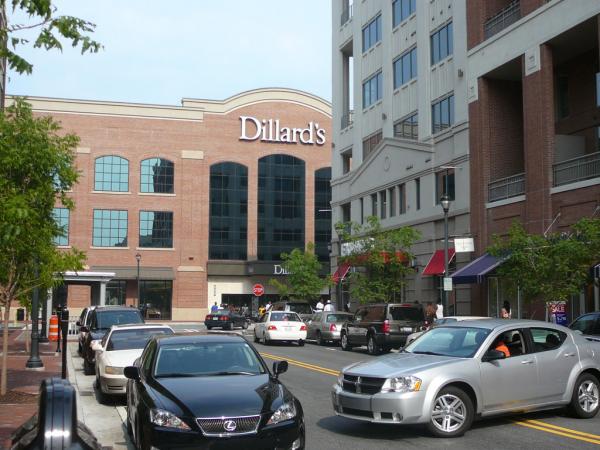 Crocker Park - Cleveland, OH
Country Club Plaza (1923) - Kansas City, MO
The Shops at Sunset Place (1999) - South Miami
http://www.simon.com/mall/default.aspx?ID=143
City Place (2000) - West Palm Beach, FL
The Boulevard (2007) - St. Louis, MO
Where does the St. Johns Town Center fit?
"Having said that, there is one minor bright spot not far from Southside Blvd. The St. John's Town Center, a large shopping mall, appears at first glance to be a conventional strip center, with a high-speed road and lots of parking in front. But if you go deep into this complex, you will find something faintly resembling a miniature San Marco: a few blocks where the shops are next to the sidewalk and people actually stroll around. And behind this area, there is a hotel and some condos, and undeveloped land that could be used to make more condos. Today, a pitiful imitation of a walkable neighborhood...."
Car-Free in Jacksonville by Michael Lewyn - Assistant professor at Florida Coastal School of Law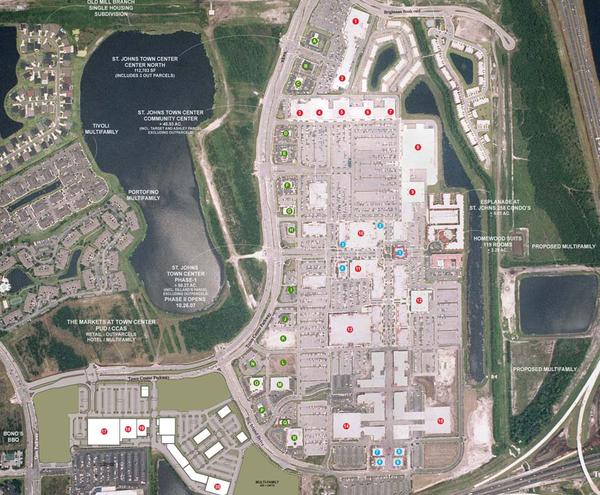 http://www.simon.com/mall/default.aspx?ID=857
The St. Johns Town Center, which opened in 2005, resembles a lifestyle center that does not fully follow the principles of New Urbanism, listed above. Although all contain retail stores that make them an asset to their respective communities, the major difference between the Town Center and those, such as Cleveland's Crocker Park, revolves around building setbacks. By placing massive parking lots between the street and the shopping center, the important New Urbanist characteristic of minimum building setbacks to form the urban sense of spatial definition at a pedestrian level along with the goal of having seamless connectivity with adjacent properties is lost.

Virginia Beach Town Center (2002)
The Virginia Beach Town Center is a great example of how a lifestyle center, that incorporates New Urbanism can begin to transform redevelopment in its suburban surroundings.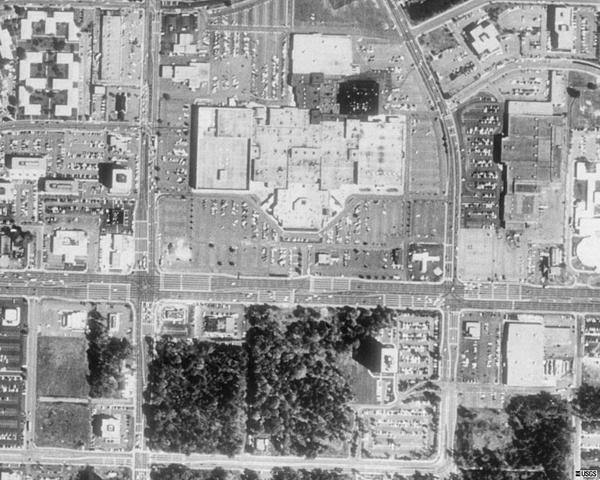 An aerial of Virginia Beach Boulevard in 1990, shows the general area engulfed in a sea of sprawl and asphalt parking lots.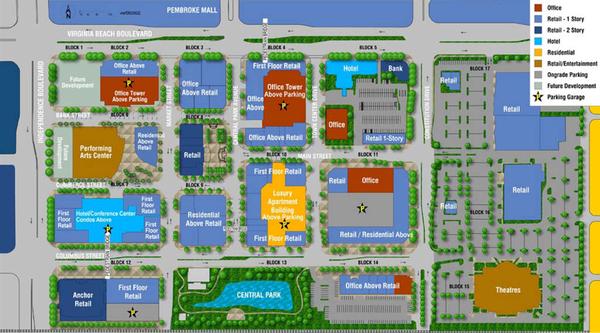 The Virginia Beach Town Center master plan calls for the development of a lifestyle center that creates a pedestrian friendly street grid and multiple buildings in an area where most would believe this type of development is not possible.
Over the next few years, this development has formed an urban core in a spread out suburb that never had a true downtown.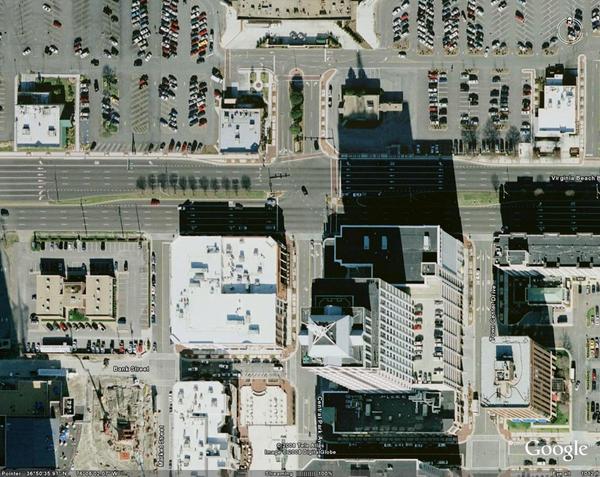 In this image, notice the infill development that has started to take place in the mall's parking lot across the street from the Virginia Beach Town Center. Suburban outparcels have been rebuilt to front the sidewalk in a similar fashion to the Town Center's new structures.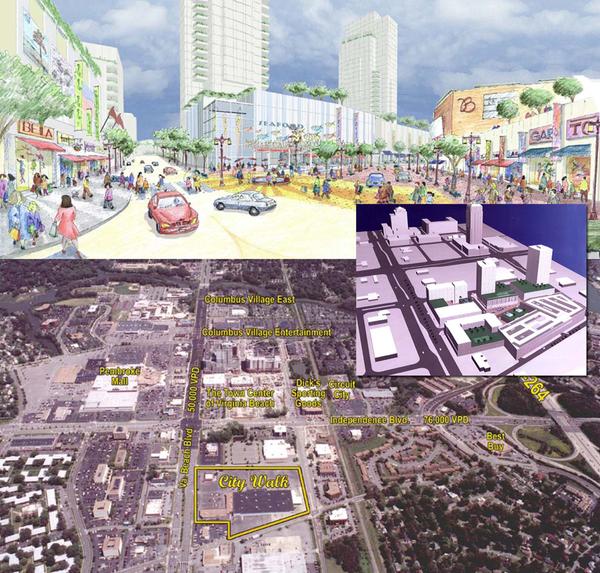 The success of the Virginia Beach Town Center has led to the potential redevelopment of a strip mall nearby. When complete, City Walk will offer 380,000 square feet of retail/restaurant space, 461 town homes and condominiums and a 192 room hotel.
This type of transformation is not possible with developments that are still primarily designed for the automobile and place huge parking lots between their particular use and the adjacent properties.

Why Does it Matter?
Understanding the difference between development styles does not matter if the goal is to bring retail into an area that had previously been void of such shopping options. The problem arises when local media and city planners begin to believe and preach to citizens that this type of development serves as the ideal form of New Urbanism in the suburbs. With this belief we do our city a great disservice by missing out on the true benefit of New Urbansim's ability to limit sprawl and redefine development trends in our low density suburban areas.
Brooklyn Park - Jacksonville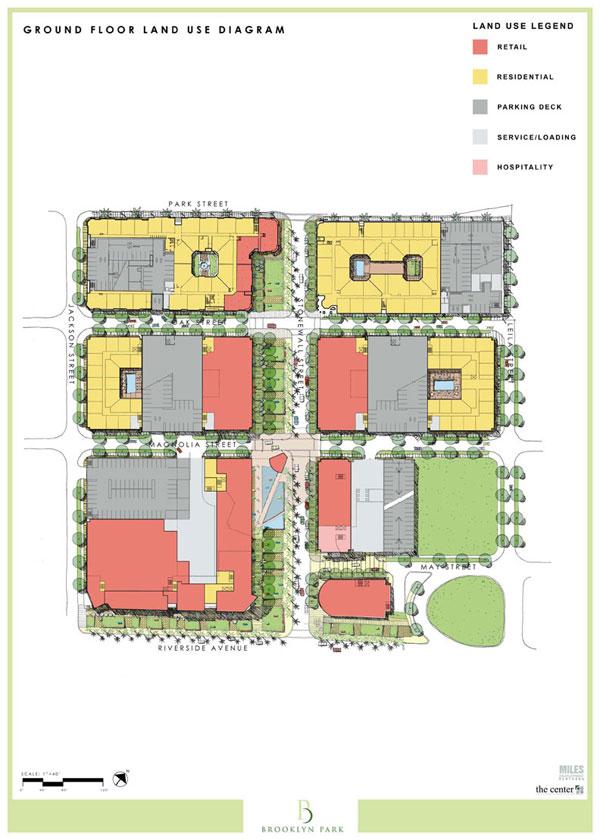 If Brooklyn Park becomes reality it will be the first major retail center in Jacksonville to be designed with New Urbanist principles that will serve as a catalyst to stimulate similar styled development along Riverside Avenue and Park Street.
Article written by Ennis Davis