Rail on a Budget: Austin's MetroRail
September 25, 2007
20 comments
Print Article
Austin's MetroRail is one of the most financially efficient systems in the country because it's already paid and it runs on existing track. Other cities that build from scratch pay much more, which is generally done with bonds or taxes. - Misty Whited, Capital Metro spokesman. This is a plan Jacksonville should seriously consider locally as an alternative to the current BRT proposal.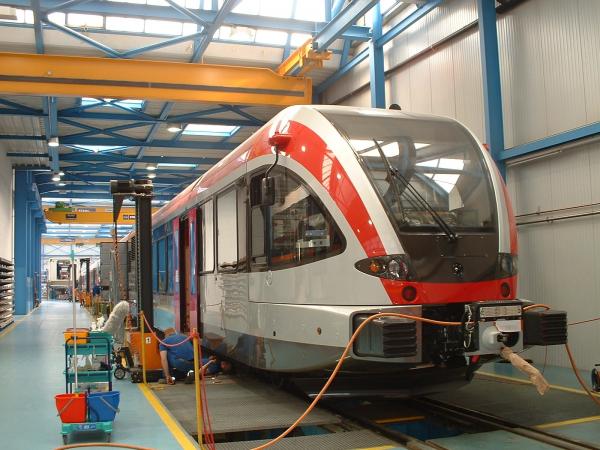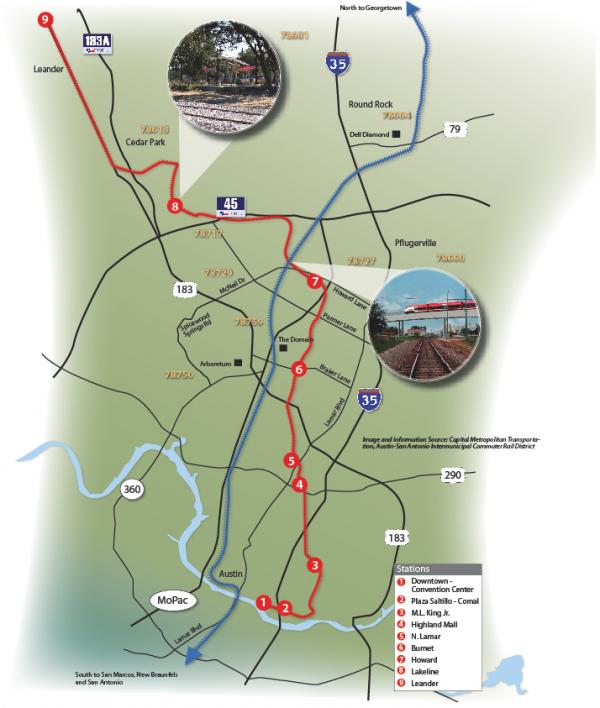 Capital MetroRail is a planned 32 mile regional rail transit option for Austin, Texas under the authority of Capital Metropolitan Transportation Authority. The project is underway and scheduled for completion in 2008. The system — which will be built on pre-existing freight rail lines — will serve Downtown Austin, East Austin, Northwest Austin and Leander in the first phase.  Capital MetroRail's DMU "urban commuter rail" system is an affordable alternative for a traditional light rail plan that was rejected by Austin voters back in 2000.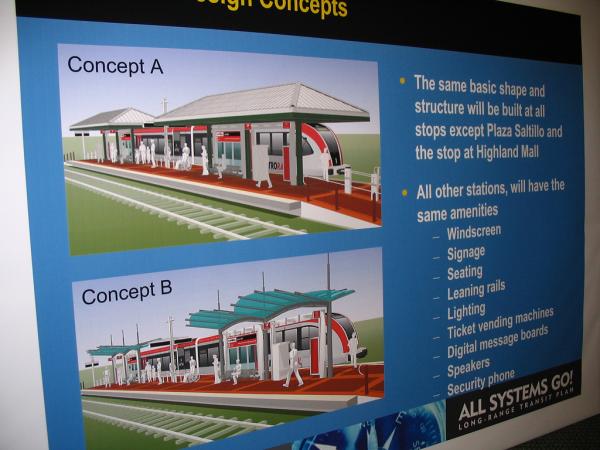 Estimated to cost $112 million or $3.5 million / mile, the entire project is funded from an existing one cent sales tax that Capital Metro reaps from the region it serves, government grants and rider fares.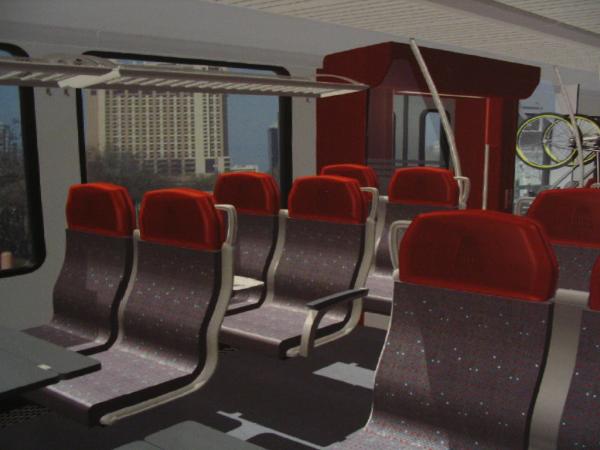 Also included in the price is $32.3 million for six self-propelled diesel-electric rail cars from Swiss rail manufacturer Stadler.  Each car will have room for more than 200 passengers (with 108 seated) and will feature bicycle and luggage racks, high-back seats, and free WiFi. The cars exceed both U.S. and European safety standards.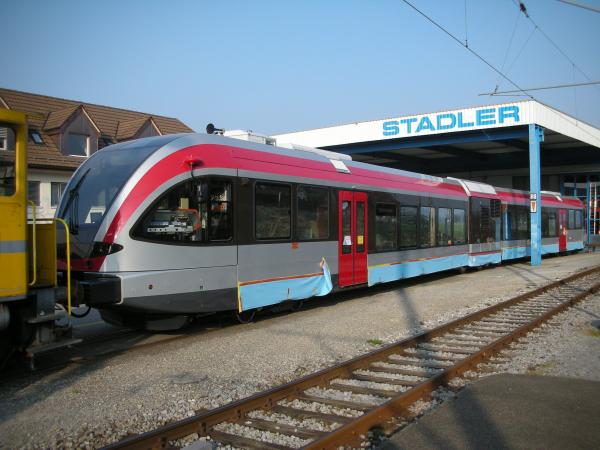 Although the cars are described as "low floor", they could more accurately be described as "medium-floor", since floor height is about about 2 feet, or more than 200 mm, higher than the standard 350 mm (about 14 inches) for lowfloor light rail cars, but lower than the high-platform systems used in heavier rapid transit systems.
Each car will provide level boarding at medium-high platforms, similar to those used on New Jersey Transit's River Line between Camden and Trenton, and on Ottawa's O-Train. In effect, Capital MetroRail will quite resemble a Schnellbahn ("fast-train") service widespread in Europe, connecting exurbs and suburbs to central cities.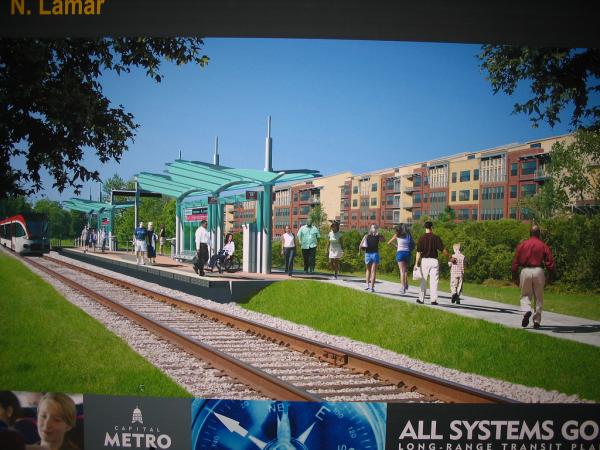 MetroRail would qualify as a "no-frills" rail system.  Station platforms are being developed at grade and the majority of the line is single tracked.  Simple at-grade stations eliminate the need for elevators and reduce the amount of concrete and steel needed for their construction.  Also, unlike traditional light rail, the diesel-electric articulated cars eliminate the need to electrify the route, thus reducing the overall costs of the system as well.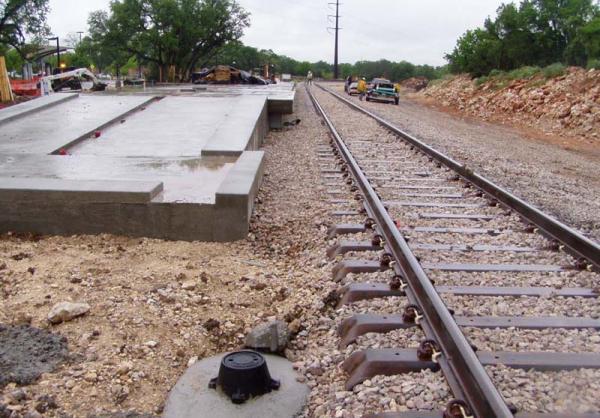 MetroRail already spurring Transit Oriented Development 
Like Charlotte's light rail line, Austin's affordable commuter rail system is spurring the construction of several transit oriented developments a year before it becomes operational.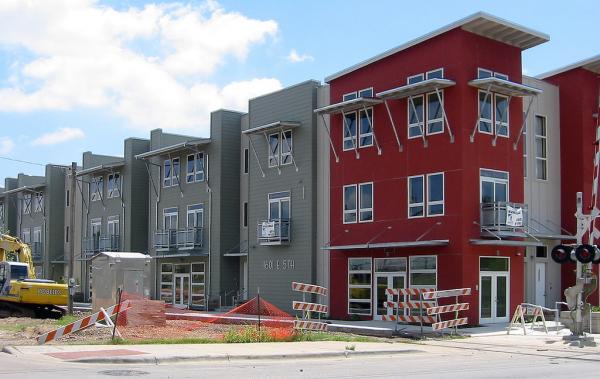 Saltillo Lofts is a mixed-income development within walking distance to commercial corridors, major employment centers, and urban neighborhoods. The transit oriented and pedestrian-friendly nature of the project reduces automobile use/air pollution and creates a vibrant metropolitan atmosphere. Eleven of the development's 29 units are priced for residents making 80% of Austin's median family income.
This development resuscitated an area of town that was previously considered undesirable, and created housing for an often overlooked group of homebuyers who don't want to live in a suburban area yet can't quite afford central city prices.  This mixed-use development is the first of 675 units to rise around a MetroRail stop that was once the location of a railyard and warehouse district.
For more information on the Saltillo TOD District: http://www.austinenergy.com/
Crestview Station is another TOD under development along the MetroRail line.  This $100 million, 73 acre development will include 150,000 square feet of retail/office space, 600 apartments/condominiums and 500 "row-house" style homes.  Currently, the developers (Trammell Crow) are in the process of environmental remediation, since the site was the home of Huntsman Chemical's processing manufacturing facility.
For more information on Crestview Station:

http://my.quickspace.com/pdf_assets/3623980K.pdf

http://www.austinchronicle.com/gyrobase/Issue/story?oid=oid%3A408210
Additional Transit Oriented Development Projects
Even the suburbs are getting in on the TOD action.  Leander, the community located at the terminus point, is in the process of approving a mix of TOD's that will house a population of 30,000, potentially creating a tax base of $2 billion.

http://www.impactnewspaper.com/www/docs/214.1541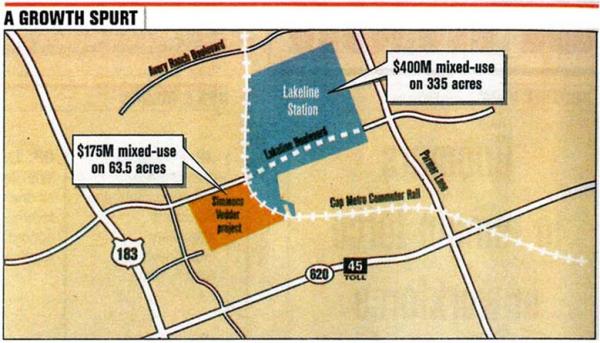 New projects for Lakeline rail stop - 7/7/2007
(Leander) - Capital Metro has selected Pacific Summit Partners to develop the rail stop at Lakeline, the second on the line heading south from Leander. Pacific Summit will develop the 20-acre station in addition to its plans for a mixed-use development on 326 acres near U.S. 183 and RM 620. The $400 million project, called Lakeline Station, was announced last year and is expected to include up to 2,700 homes of 12 different types, 150,000 square feet of retail, parks and a proposed school site. In addition, Pacific Summit Partners will develop another 178 acres adjacent to Lakeline Station called Northwood at Lakeline. Northwood will have 1,000 residential units, including condominiums and single-family homes and about five acres of retail. Also being developed is Direct Development's nearby The Shops at Walden Park, which will include 650,000 square feet of retail on 60 acres near RM 620 and U.S. 183. The project will include the redevelopment of the old North Fork center along the frontage of U.S. 183. Other plans for the Lakeline area include a Simmons Vedder project, The Crossing at Lakeline, which will include about 800 apartments, ranging from moderately priced to luxury units and two three-story office buildings. The 1.5 million-square-foot project is on 63 acres adjacent to the rail stop. Simmons Vedder broke ground last week on the office portion of the Lakeline project, which is expected to open in July 2008. The company will break ground on the apartments early next year.

Leander rail stop attracts big-time development - 7/4/2007
(Leander) - Developers are beginning to announce significant transit-oriented projects near the proposed rail stop in Leander. Bob Wunsch, chief executive officer of Waterstone Development, said that he plans to turn two tracts totaling 240 acres into mixed-use projects that will include single-family homes, multifamily units, a hotel, retail and restaurants. The site is where U.S. 183 and the 183-A toll road converge. Wunsch's projects are two of several in the works for a 2,300-acre transit-oriented site in Leander. They also represent a substantial bet that the new rail line will be a powerful magnet for residential and commercial development. In a related project, the Leander Transit Development LLC recently landed a Capital Metro contract to develop the 14 acres surrounding the first rail stop on the line and secured another contiguous 150 acres for a mixed-use development, the Leander Transit Village. Also in the works is the nearby Villages of Messina. The W.Y. Atlantis project, a 342-acre mixed-use development, will have 750 homes priced from the mid-$200,000s to the upper $600,000s. The project will also have 90 acres of retail and office space, as well as multifamily units. In the new Wunsch project, ground will be broken in September on 150 single-family homes to be built by the Joseph Rutledge Co. Inc., with prices expected to be from $180,000 to $260,000. The plans also include up to 1,200 apartments, 500,000 square feet of retail and a 22-acre church site. Up to 400,000 square feet of office space also is designated for the project.
http://recenter.tamu.edu/mnews/mnsearch.asp?AID=3&TID=16
To learn more about the planning of TODs in Austin (PDF)
Transit Adjacent Development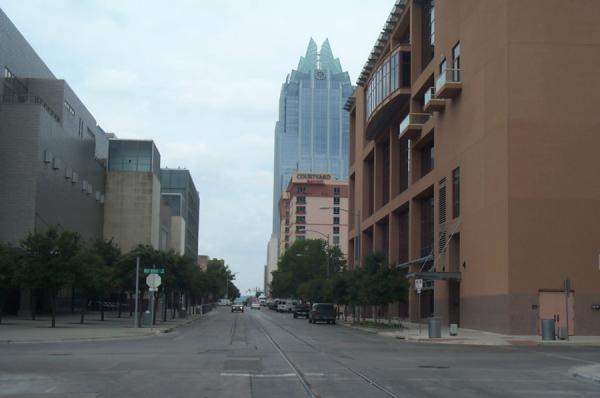 Downtown line in Summer 2006.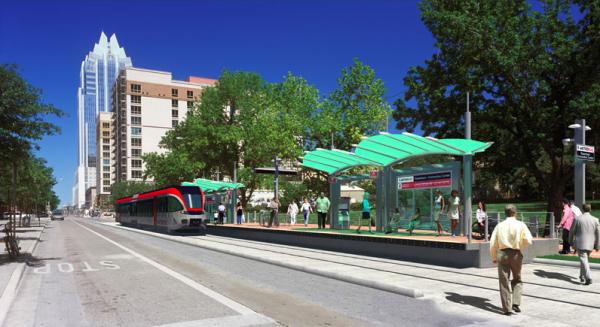 Downtown line in 2008.
The Downtown line will terminate at the Austin Convention Center and adjacent Marriott hotel.  From this point, riders will be able to transfer over to a network of express buses and free trolleys to access the entire downtown corridor.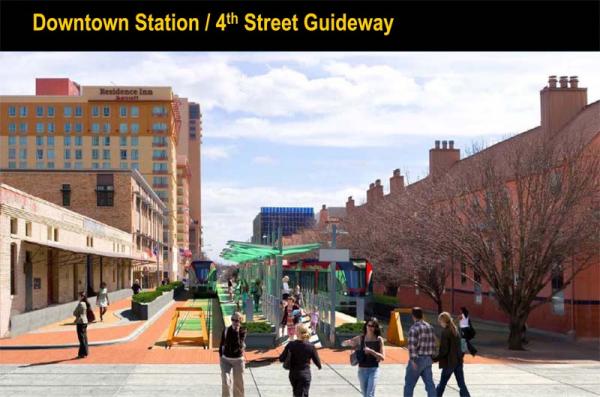 What can Jacksonville take from this? 
The planning of Capital MetroRail provides Jacksonville with a real life example of a "no-frills" start up rail system that serves as a hybrid between traditional commuter and light rail systems for a fraction of the costs.