I'm Smaller than Jax and I have Rail: Charlotte
September 4, 2007
25 comments
Print Article
Despite being more spread out, sprawled, and less dense than Jacksonville, Charlotte is already reaping the benefits of constructing its first light rail line, after a successful ten years of operating a downtown streetcar service.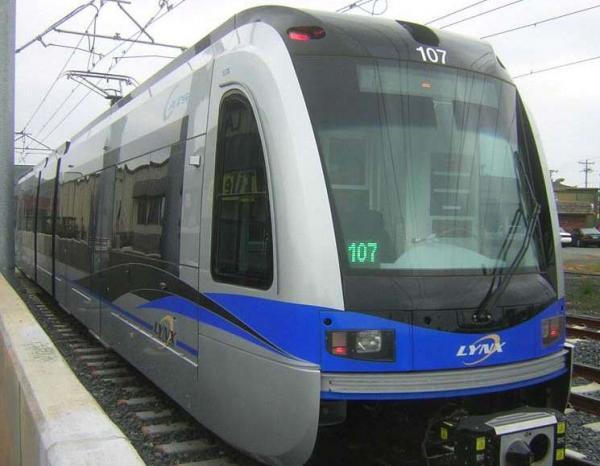 What is an urbanized area?

The US Census Bureau defines an urban area as: "Core census block groups or blocks that have a population density of at least 1,000 people per square mile (386 per square kilometer) and surrounding census blocks that have an overall density of at least 500 people per square mile (193 per square kilometer)."
The concept of Urbanized Areas as defined by the US Census Bureau are often used as a more accurate gauge of the size of a city, since in different cities and states the lines between city borders and the urbanized area of that city are often not the same. For example, the city of Greenville, South Carolina has a city population under 60,000 but an urbanized area over 300,000, while Greensboro, North Carolina has a city population over 200,000 but an urbanized area population of around 270,000--meaning that Greenville is actually "larger" for some intents and purposes, but not for others, such as taxation, local elections, etc.
2000 Jacksonville Urban Area: 882,295
2000 Charlotte Urban Area: 758,927
Difference: Jacksonville +123,368
2000 Jacksonville Urban Area Density: 2,149.2 residents/mile
2000 Charlotte Urban Area Density: 1,745 residents/mile
Difference: Jacksonville +404.2 residents/mile
Charlotte Trolley
The Charlotte Trolley is a heritage streetcar which operates in Charlotte, North Carolina. The line, which opened in 1996, runs along the former Norfolk Southern right of way between Tremont Avenue in the Historic South End in a northerly direction to its terminus at 9th Street Uptown.
With service temporarily stopped to allow for the construction of the LYNX Blue Line light rail, the streetcars are slated to resume in late 2007. Upon its reopening, it will share the same right of way with the Blue line between 6th Street and Atherton Mill.
During the system's ten years of service, over one billion dollars in development as been invested along the route.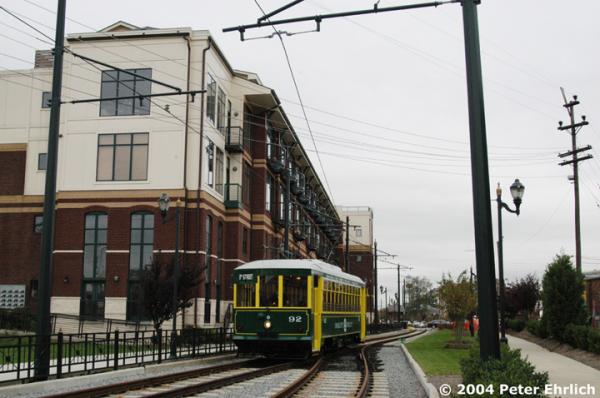 Condos along the streetcar line in 2004.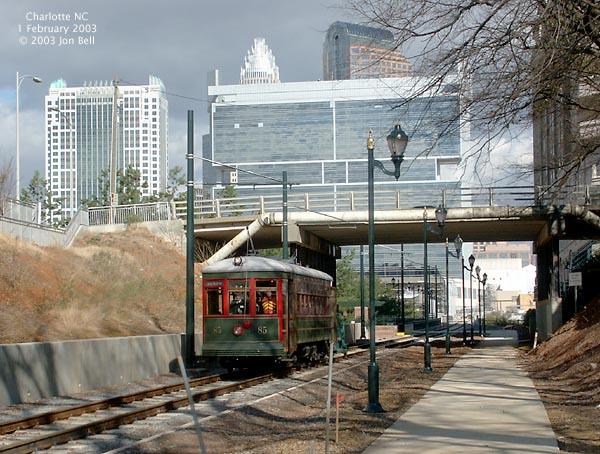 Since this line replaced an abandoned freight rail corridor, infrastructure such as the bridge above, was already in place.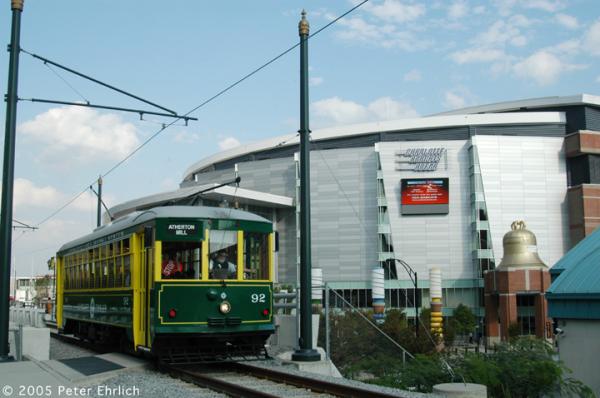 Unlike the skyway, the Charlotte Trolley became a popular mode of transit because it drops off riders at a number of quality destinations, including the NBA Charlotte Bobcat's arena.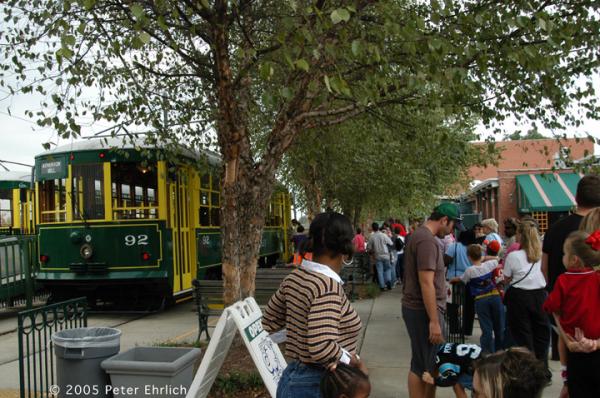 The Trolley has become a popular mode of transit with tourist in a downtown that lacks the size, history or waterfront setting as Jacksonville's.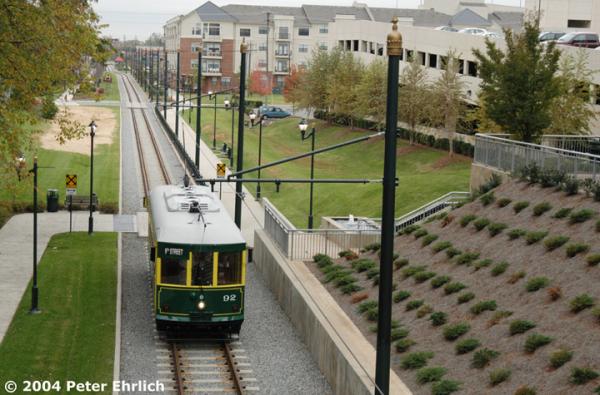 Unlike busways, rail lines fit well with urban neighborhoods because they don't take up a lot of space, leaving areas for linear public space along their routes.  This scene is similar to what the S-Line could resemble in Durkeeville and Springfield.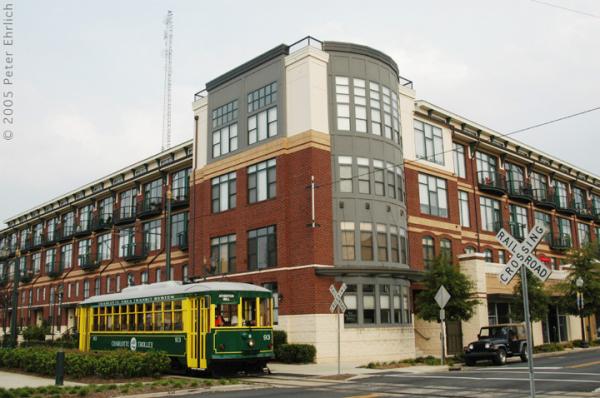 Another transit oriented development along side the trolley.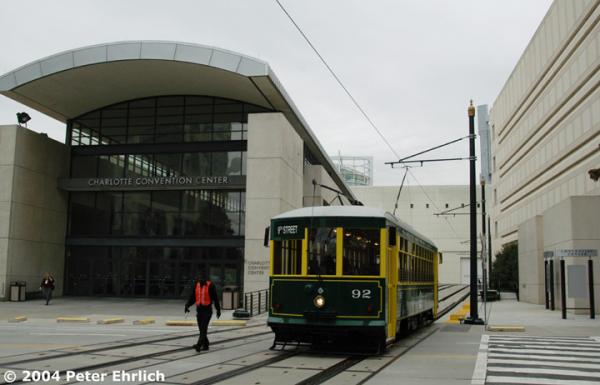 The trolley also directly connects tourists with the Charlotte Convention Center.
LYNX is the light rail service in Charlotte, North Carolina that is set to begin service on November 26, 2007. It will become the first major light rail service in North Carolina. It will begin operating seventy years after a previous streetcar system was disbanded in 1938, in favor of motorized bus transit.  It is projected to have a daily ridership of 9,100 in 2008, but continue to increase ridership to 18,300 by 2025.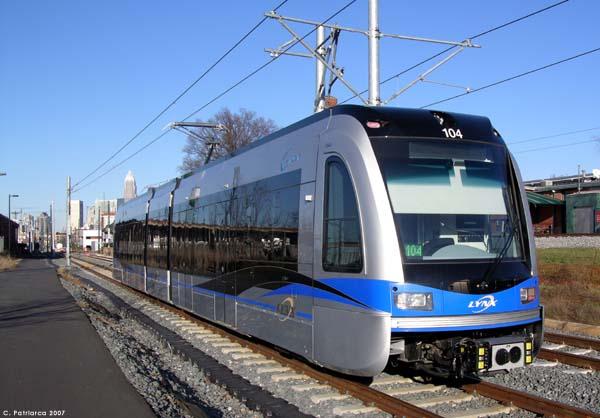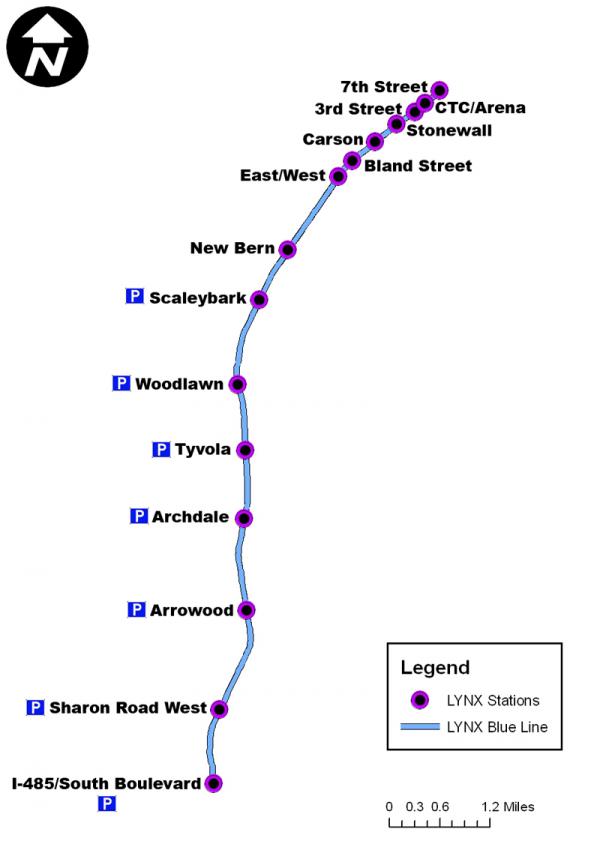 LYNX will be operated by the Charlotte Area Transit System, or CATS for short. The under construction Blue Line will run 9.6 miles (15.45 km) through Uptown and South End, before paralleling South Boulevard to its southern terminus just north of Interstate 485 at the Pineville city limits. Trains will run at 7.5 minute intervals during rush hours and at half hour intervals during non-peak times between the hours of 5:00 a.m. and 1:00 a.m.
Between the 7th Street and Bland Street stations, the Blue Line shares the right-of-way with the Charlotte Trolley.
LYNX already spurring transit oriented development
The name was chosen in fitting in with the city's cat theme (NFL team is Carolina Panthers; NBA team is Charlotte Bobcats), as well as symbolizing the "connectivity" or "links" the system will create within the community.  With that said, the LYNX light rail is already spurring billions of dollars in transit oriented economic redevelopment, along its path.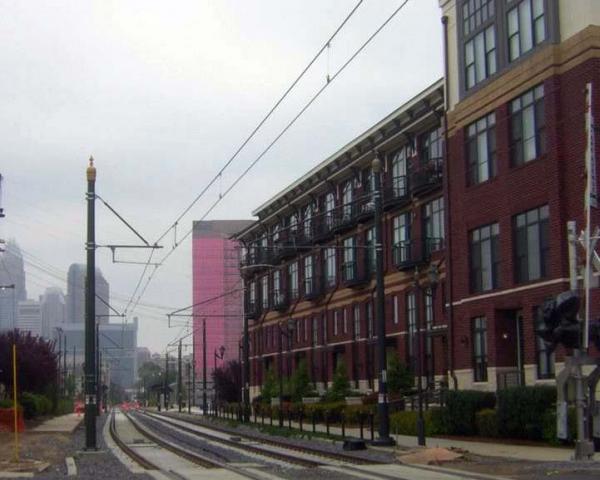 Charlotte's bold experiment to reshape its growth along transit corridors is already making a difference. This high-density residential development along the tracks in the city's South End area is a big departure from the suburban sprawl that's characterized Charlotte over the past few decades.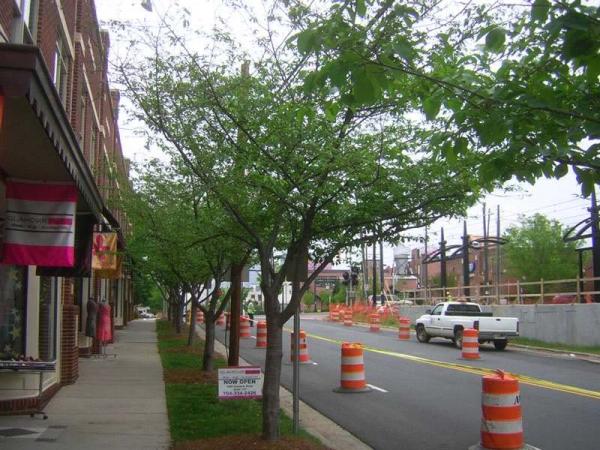 This new building, just steps from a future rail station, has retail on the first floor and offices above. Such mixed-use development that's oriented to the sidewalk is a new venture for the city of Charlotte.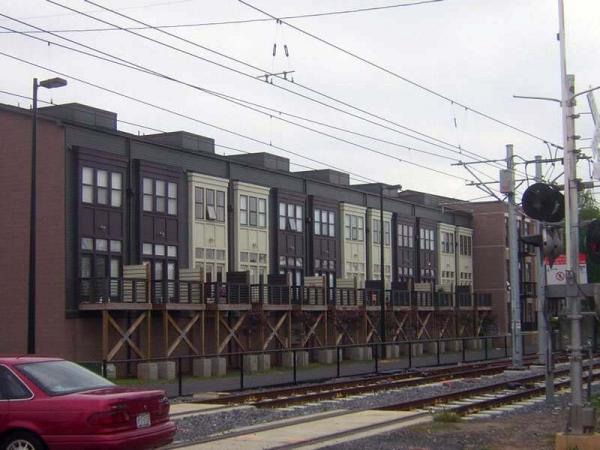 High-density housing like this, which opened a couple years ago in anticipation of the new train, was a first for Charlotte. But it's already being eclipsed by plans for denser developments with a mix of uses.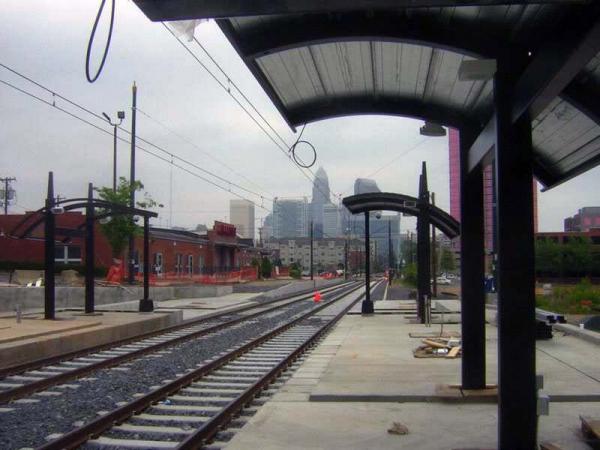 The stations along the light-rail line will have shelters, benches, special lighting and electronic signs announcing when the next train will arrive.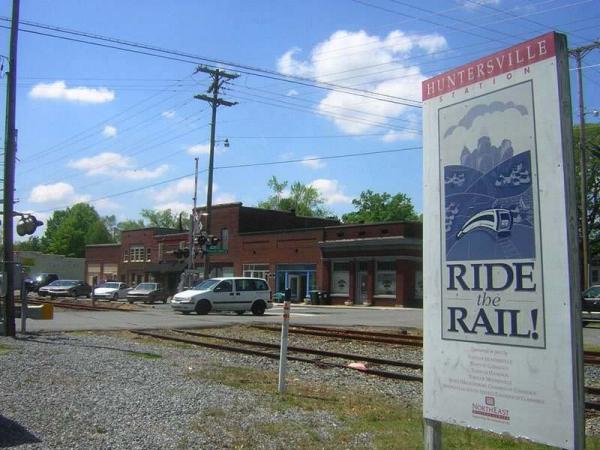 In Huntersville, a suburb 15 miles north of Charlotte, local planners and developers are excited about the prospect of commuter rail and the transit-oriented development it would bring. But an organized effort to pull funding for transit in Charlotte threatens to scrap the rest of the project before it's begun.
All Charlotte TOD images and captions by Zack Patton of Governing Magazine.
Sprawling Sun Belt cities discover a new way to grow:
http://governing.com/articles/6transit.htm
Look familiar?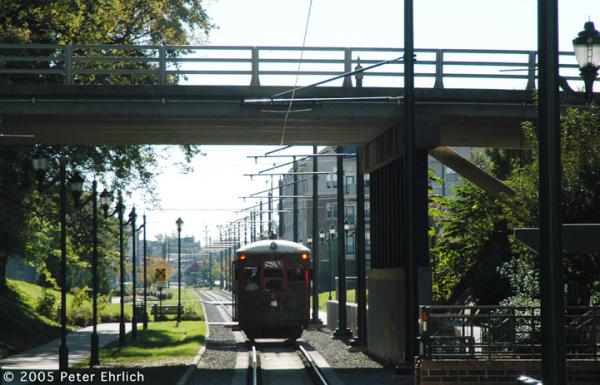 The Charlotte Trolley system was constructed along an abandoned freight rail corridor.  In certain areas, existing infrastructure was already in place.
By the same token, this area of the S-Line, under I-95 near Shands Jacksonville, can easily mimic the scenery captured in the Charlotte image above.
Once again the idea that Jacksonville is too small or sprawled for rail is proven to be one that is highly incorrect. 
Next in series: Tacoma, Washington