The Ottawa Transitway: North America's largest busway system
October 29, 2007
17 comments
Print Article
You can't sell BRT to a community without showing residents what North America's largest BRT system, using dedicated bus lanes, looks like. Metro Jacksonville introduces you to the Ottawa Transitway.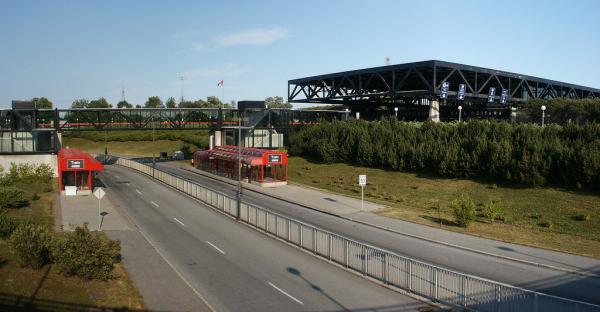 Ottawa Transitway
"North America's largest dedicated busway system and JTA role model"
Ottawa, Ontario operates one of the largest BRT systems in North America, with over 200,000 daily riders on the Ottawa Transitway, achieving peak capacities of 10,000 passengers per hour per direction. This has been cited as an example of the efficiency of BRT systems.  However, while this has been looked at as a success for busway backers, it also comes with downfalls.
As of early 2007, the Ottawa Transitway was operating over capacity with nearly 200 diesel buses per hour per direction traveling on its downtown section.  Like similar situations occurring in Minneapolis (Nicollet Mall) and Berkeley, this has stimulated numerous complaints from residents and businesses about traffic disruption, noise, and air pollution from diesel engines.
Unfortunately, no solution is in sight because even though the system was designed for conversion to light rail, the downtown portion is not, due to the fact that it is one bus-only lane per direction on public roads, and even if it were converted, many other bus routes use the transitway, and building an underground busway through downtown Ottawa would be prohibitively expensive.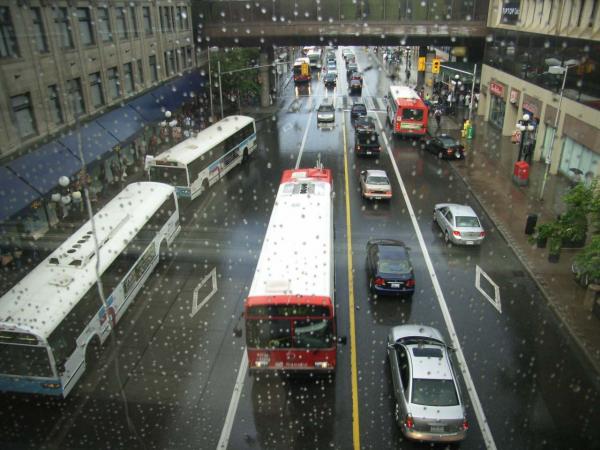 In downtown, the bus rapid transit system runs on the same streets as cars and trucks, eliminating parallel parking.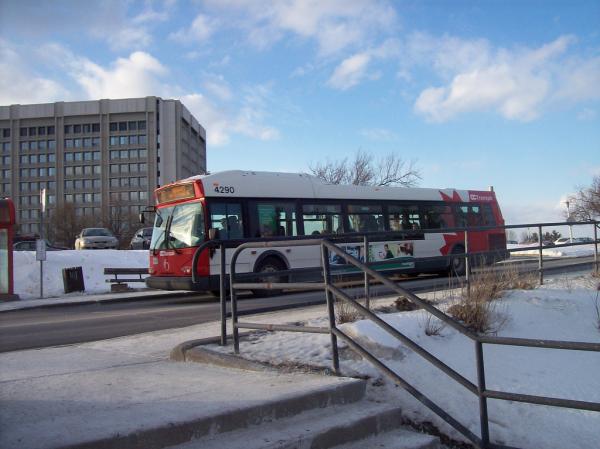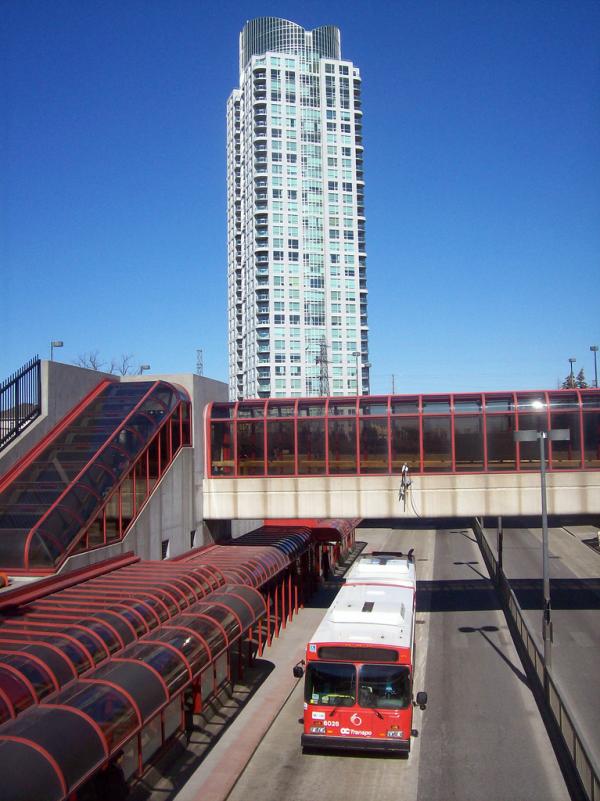 Because walkbility and buses don't mix well, dedicated busway stations are typically large and difficult to integrate into urban pedestrian friendly neighborhoods. 
There are many forms of bus rapid transit.  However, a dedicated busway serving as a mass transit trunk line is essentially an expressway for buses.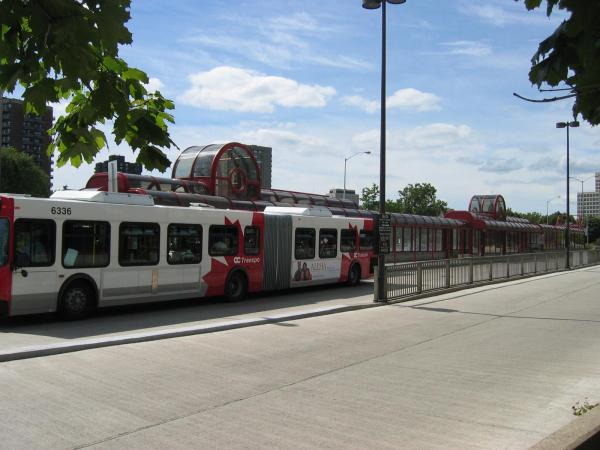 The cost savings of BRT have proven to be somewhat illusionary in Ottawa. The Transitway was estimated to cost $97 million when it was first proposed in 1976. However it experienced severe cost overruns and eventually escalated to $440 million. This is almost as much as it cost to build the Calgary C-Train, which is about the same size. Ottawa's costs were about $14 million/km for BRT, while Calgary spent about $15 million/km for LRT. The Transitway was not significantly cheaper because the majority of it was cut in rock 9 metres below grade with the stations below grade, whereas most of the C-Train system was built at grade with stations at grade. Planners also assumed that BRT stations would be as cheap as LRT stations, but discovered that they needed additional passing lanes for the large number of buses, and overhead walkways for passenger safety.
However, it should be noted that the busway significantly offers more flexibility in moving buses, then a rail system would.  Because of its popularity and affordability, as of today, Ottawa is the only major Canadian city trying to handle such a large number of riders on a BRT system.  Maybe one day the other Canadian cities will pull their expanding rail systems and follow Ottawa's progressive path.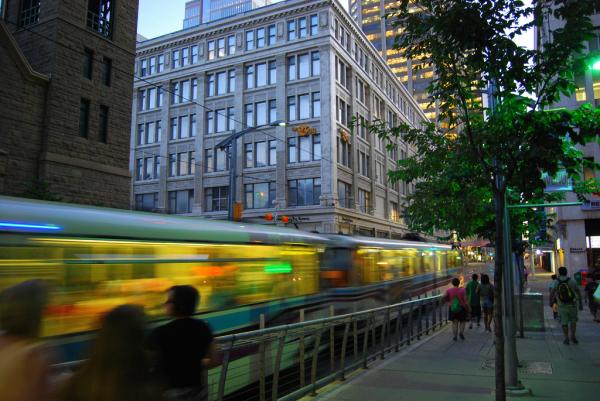 Calgary's C-Train was built at the same time as Ottawa's Transitway for roughly the same price.
Ottawa Transitway Route Map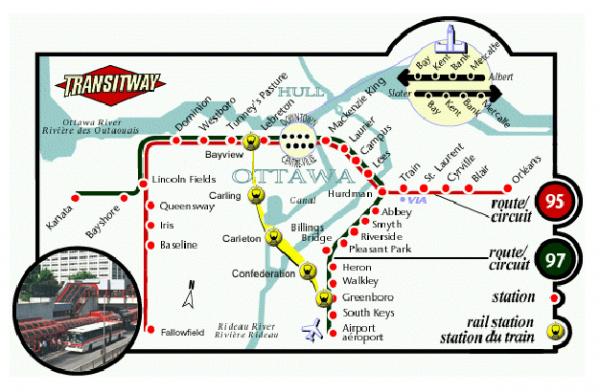 Believe it or not, although Ottawa's trunk lines are busways, the city is also experimenting with rail.
Ottawa O-Train (yellow line)
As a pilot project, the 5 mile/5 station O-Train system was built at the cost of $21 million, relatively little compared with the hundreds of millions of dollars usually required to build a new transit line. It runs on a pre-existing Canadian Pacific Railway track, so the only construction work necessary was to build the stations themselves and the passing tracks necessary to allow trains to operate in both directions.  The present system uses three diesel-powered Bombardier Talent BR643 low-floor diesel multiple unit trains. It is legally considered a mainline railway despite being used for local public transport purposes, and the service it provides at present is, in terms of its route and service frequency, more like that of an urban railway than a metro or tramway
The current service frequency of a train every fifteen minutes makes it possible to run the line with a fleet of only three trains (of which only two are in service at any given time) and a single track apart from passing sidings at Carleton station; if service is to be increased significantly in the future, double tracks and more trains will be needed.  As of early 2006, the O-Train carried an average of approximately 10,000 riders each weekday.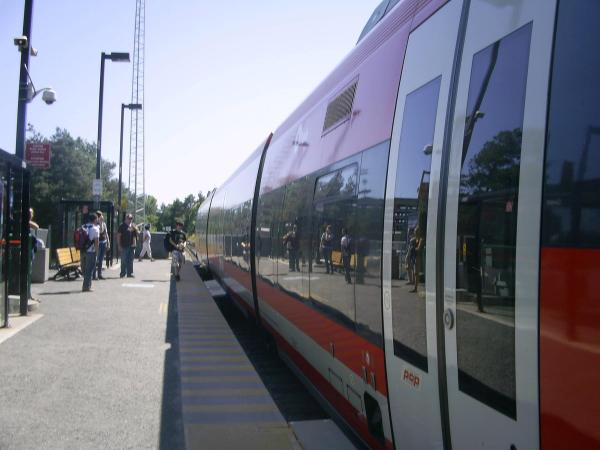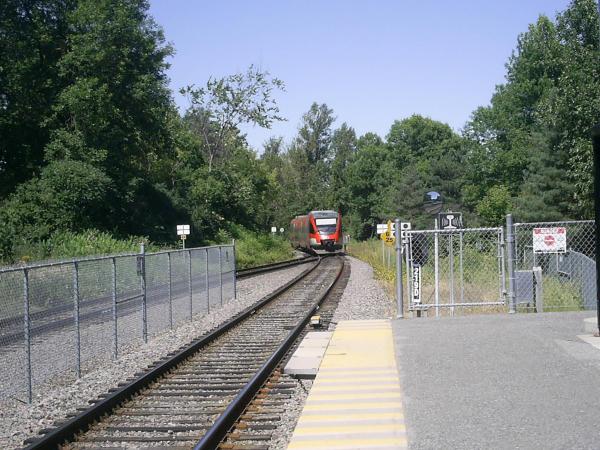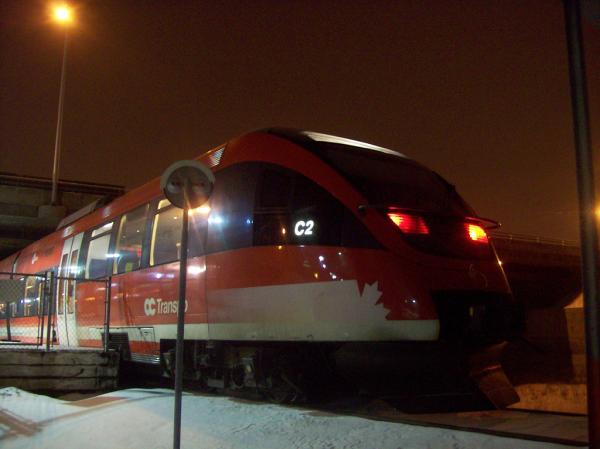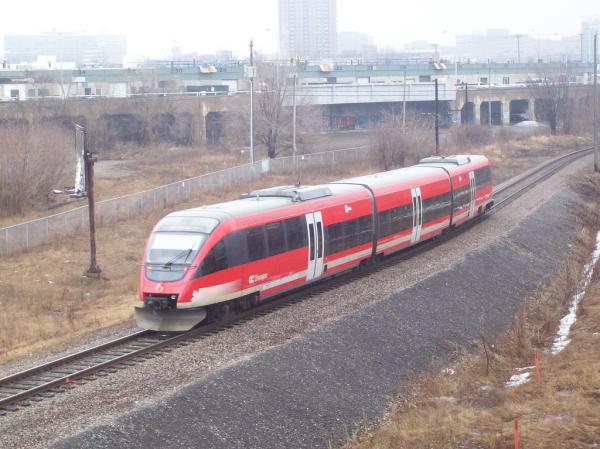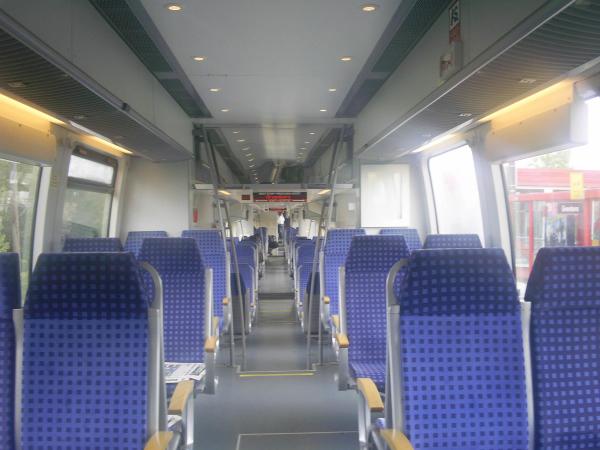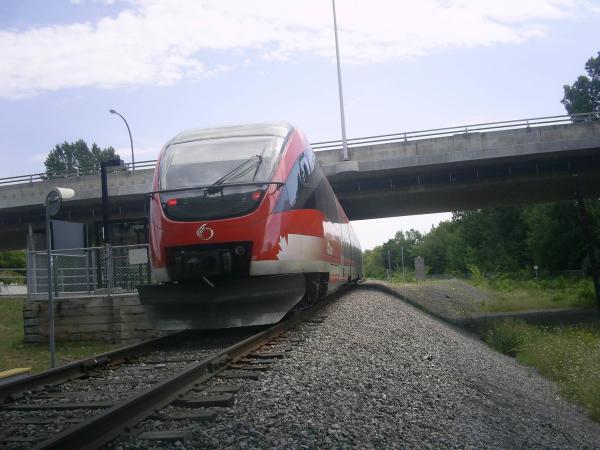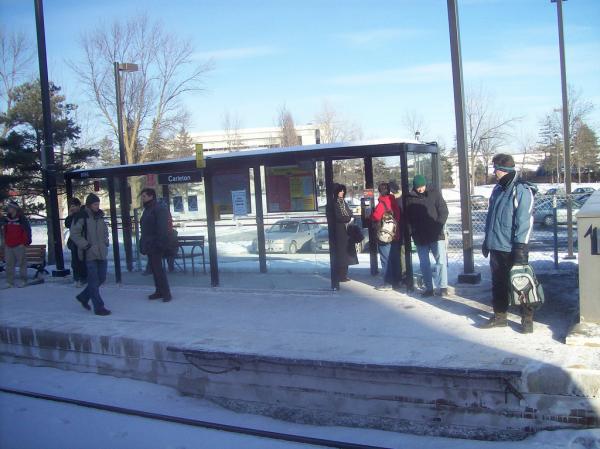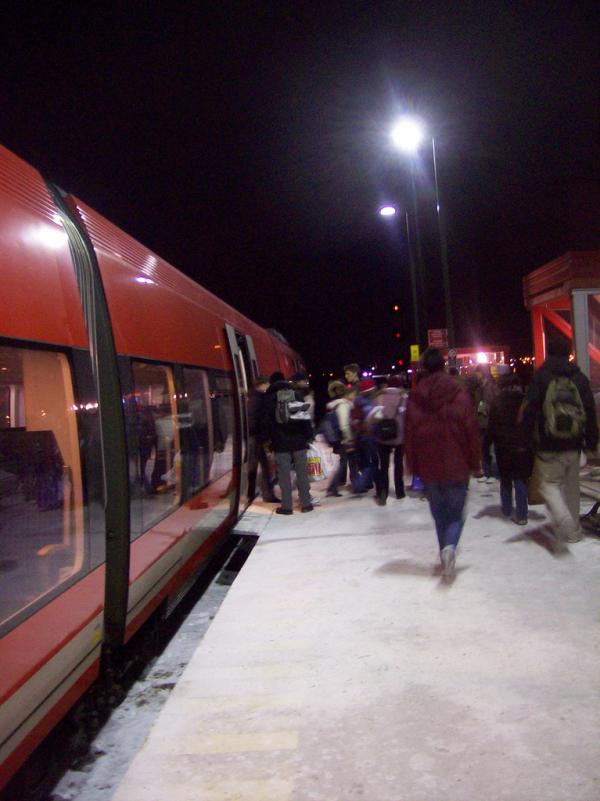 Rail On A Budget 
1. It uses existing tracks, eliminating the need to build new rail infrastructure.
2. Double tracking is an exception, not the rule.  The less you have, the less it costs.
3. DMU railcars run on existing tracks.  The cost of electrifying the lines are eliminated.
4. Stations are "no-frills" and at-grade.  At best, they're glorified bus shelters.
So which will it be?
A dedicated busway at +$26 million per mile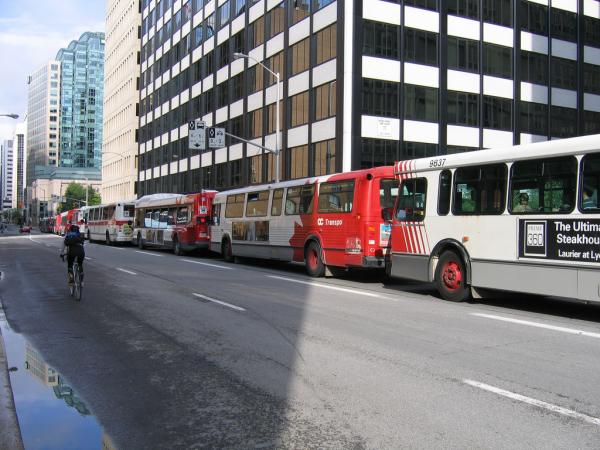 or....
Rail, possibly as low as $5 million per mile?