I'm smaller than Jax and I have Rail: Albuquerque
October 3, 2007
8 comments
Print Article
The New Mexico Rail Runner Express is a commuter rail system serving the metropolitan area of Albuquerque, New Mexico. It is administered by the New Mexico Department of Transportation (NMDOT) and the Mid Region Council of Governments (MRCOG), a regional government planning association.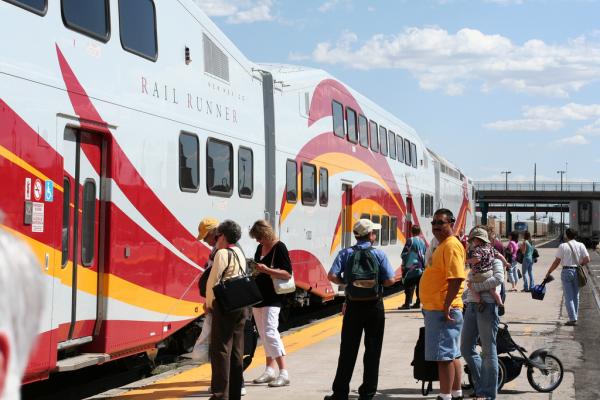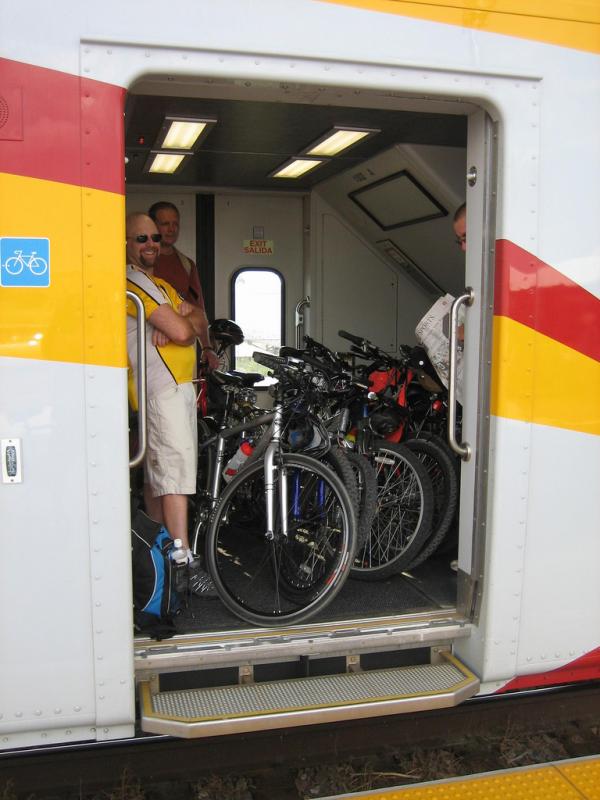 2006 Population Comparison
Jacksonville Metropolitan Area: 1,277,997
Albuquerque Metropolitan Area: 816,811
Difference: Jacksonville +461,186

City of Jacksonville: 794,555
City of Albuquerque: 504,919
Difference: Jacksonville +289,636
CONCEPT TO REALITY IN FOUR YEARS
In 2003, the concept of passenger rail serving the Central New Mexico corridor had been discussed for decades, but it wasn't until August of that year when New Mexico governor Bill Richardson announced that his administration was going to pursue the implementation of commuter rail service. Later that same year, grants were given to NMDOT and MRCOG to begin the effort, and the New Mexico State Legislature passed Governor Richardson's Investment Partnership (GRIP), a transportation improvement package. The Rail Runner was one of the projects in that bill.
Over the next few years, NMDOT and MRCOG developed a strategy for implementing rail service. In 2005, the name "Rail Runner", a play on the name of New Mexico's state bird, the roadrunner, and a branding scheme was chosen. The cars and locomotives were received throughout the year of 2005 and groundbreaking for the first Rail Runner station took place on October 31, 2005.
During this time the state also made negotiations with BNSF for usage of the railroad track. After assessing the needs of the track, the State of New Mexico purchased the railroad corridor from Belen to the New Mexico-Colorado border from BNSF, to ensure that commuter trains would always get the right-of-way and have priority over freight trains in the corridor.
The Rail Runner officially went into service on July 14, 2006.
ROUTE MAP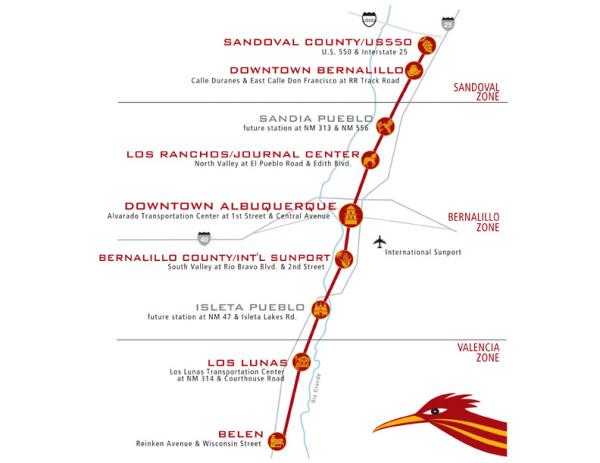 The Rail Runner is approximately 47 miles long and includes nine stations on an existing BNSF Railway right of way from Belen to Bernalillo. MRCOG is also planning to construct a new station on Montano Road, between the downtown and Los Ranchos/Journal Center stations.  The current travel time from endpoint to endpoint is about 45 minutes.
ROLLING STOCK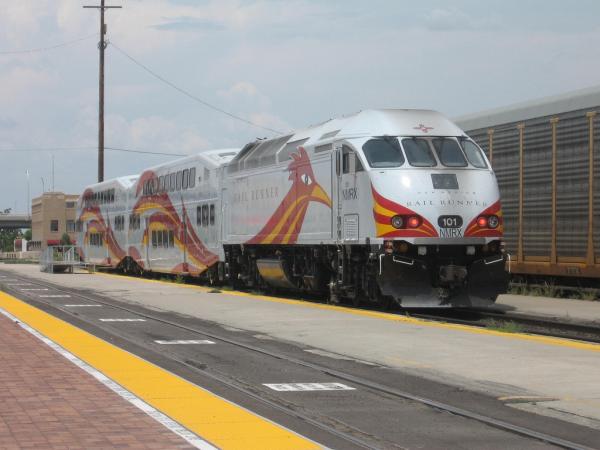 The Rail Runner power includes five Motive Power MPI MP36PH-3C diesel-electric locomotives that operate on biodiesel fuel. Passenger cars include four Bombardier BiLevel Coaches and six Bombardier BiLevel Cab cars. Each car has a seating capacity of 140 passengers, with standing room for an additional 60. Rail Runner trains operate in a push-pull configuration, with the locomotive always facing south.
RAIL ON A BUDGET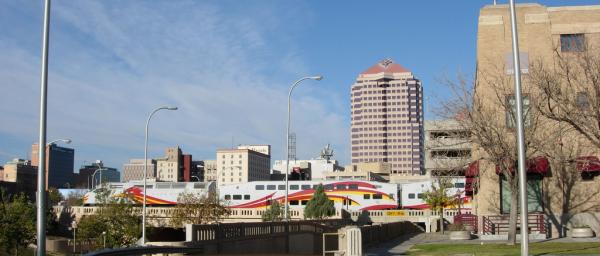 Total costs for Phase I of the project (Belen to Bernalillo) are $135 million. This includes $75 million in state money for the purchase of train cars and locomotives, the design and construction of stations, and track and signal improvements. $50 million in state money is allocated for purchase of the track and rights-of-way from Belen to Bernalillo. Sandoval County contributed $10 million for the purchase of an additional train set, and for station development in Sandoval County.
The estimated cost for both phases is $393 million.  At 117 miles, that breaks down to $3.5 million a mile, which seems like a bargain basement price for a rail transit system that can start to interconnect the region with a mobility alternative to Interstate 25.
INTEGRATED TRANSIT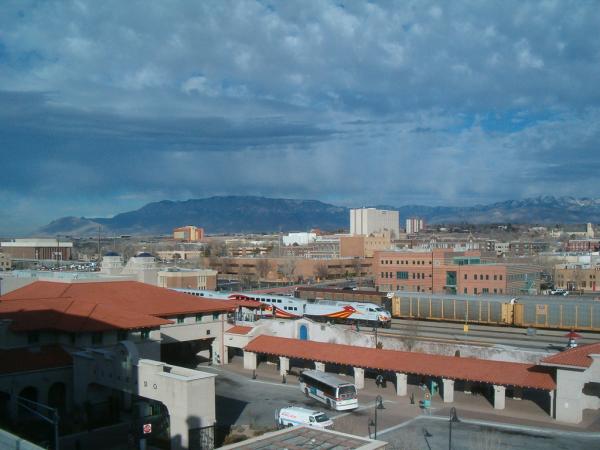 A shuttle service (Rapid Ride) is coordinated with the rail system to connect riders to the Albuquerque International Sunport at the Bernalillo County/International Airport station.  The University of New Mexico also has a dedicated shuttle connecting its main campus to the Downtown Albuquerque station and Santa Ana Pueblo operates a shuttle between its casino and the Sandoval County/US 550 station.  All Rail Runner riders can transfer to the connecting bus services for free.
A "NO FRILLS" SYSTEM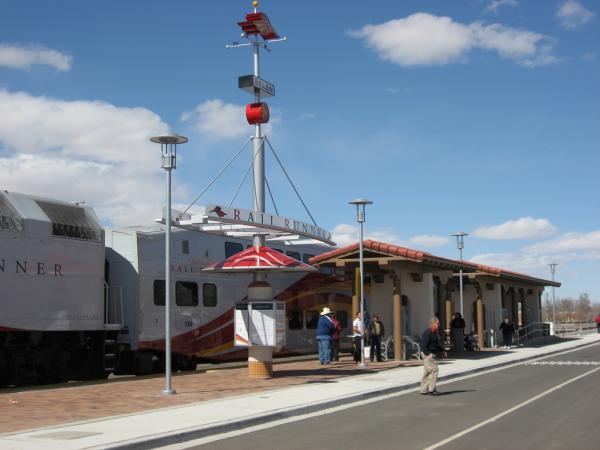 Rail Runner stations are not elaborate.  However, they are designed for riders to enjoy their commutes.  Each station includes a simple covered platform designed to reflect the community's character, seating areas, lighting, free parking and bicycle racks.  Each station also has a "kiss and ride" area, where you can be dropped off by car directly at the platform.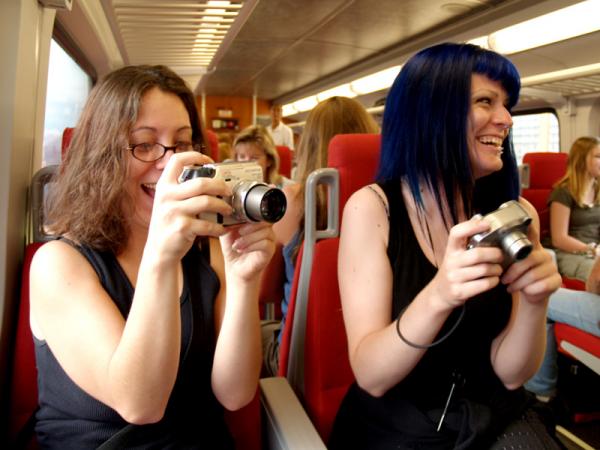 As of April 2007, regular one-way fares are $1.00 per zone.  Fifty cents for Seniors, students and the disabled, and free for children under the age of 10.
RAIL RUNNER: PHASE II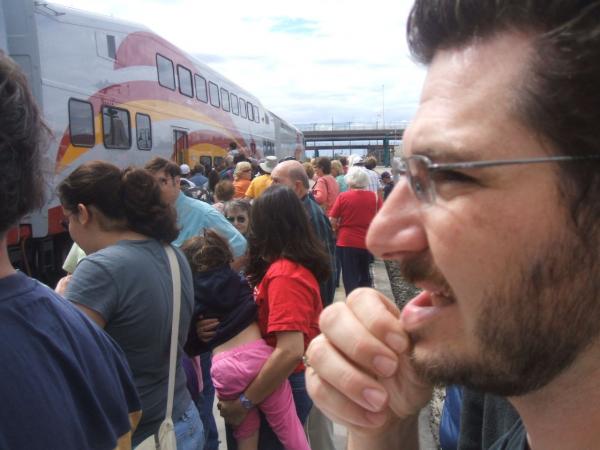 Phase II is the 47 mile extension of the line to Santa Fe. Using the existing BNSF track, which is filled with sharp curves, would require the train to slow to 15 miles per hour in some places, so new tracks will need to be laid to produce travel times comparable to the automobile. The new route will use existing track from Bernalillo to the base of La Bajada hill, south of Santa Fe. It will then run on new track in the I-25 median into Santa Fe. The line is scheduled to be completed by the end of 2008.

The total cost for Phase II is estimated to come in between $240 and $255 million.  This number includes the purchase of existing track, construction of 18 miles of new track, design and construction of stations and the acquisition of more cars and locomotives.
TRANSIT ORIENTED DEVELOPMENT
Like many other US cities, the Albuquerque region is enjoying the benefits transit oriented and adjacent development.  Below are a few developments springing up around Rail Runner stations:
Century Theatres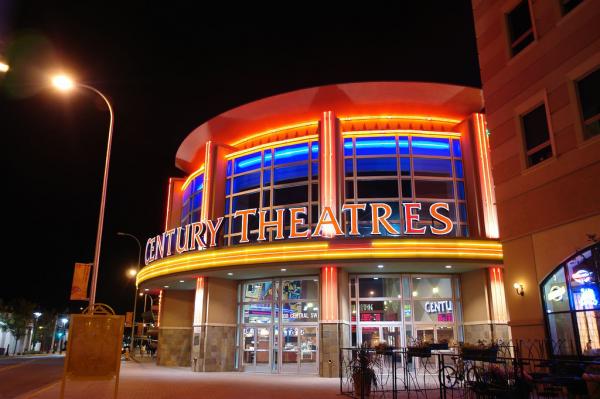 Century Theatres' state-of-the-art 14 screen cinema with stadium seating anchors the Theatre Block, while Tucanos Brazilian Grill, Thai Crystal, Coldstone Creamery and Sushi King provide a variety of dining experiences. The Theatre Block is also home to Albuquerque's newest and finest day spa and salon, Chez d'Or. The Greater Albuquerque Chamber of Commerce, the New Mexico Business Weekly and Vaughn Wedeen Creative all office at this prestigious address. Only limited ground floor retail space and 2nd floor office space remain as the Theatre Block is presently 94% leased.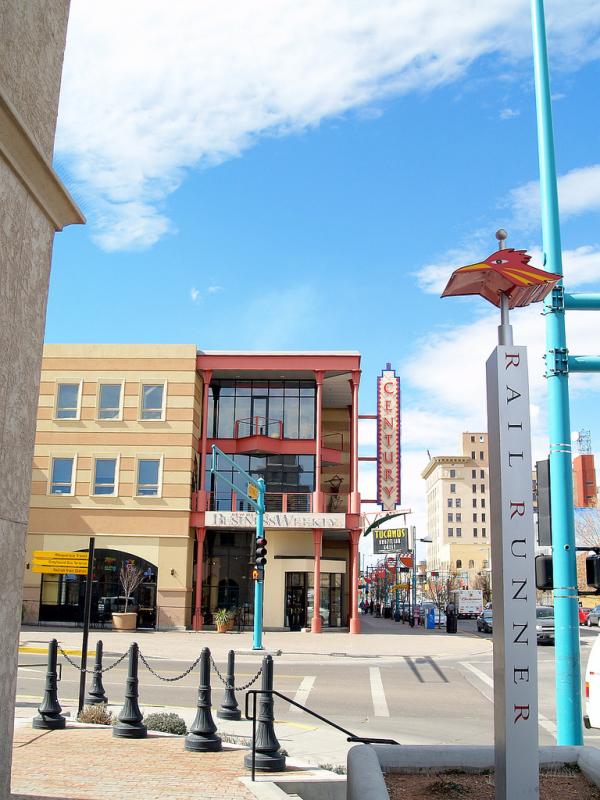 The Century Theatre development encompasses an entire city block and includes over 100,000 sf of retail, entertainment and office space for the 21st Century directly across the street from the new Alvarado Transportation Center, where partons can catch a train, hop on a bus, rent a car, grab a taxi or make an airport connection.
EDo (East Downtown)


EDo is a trendy area containing several loft apartment buildings and a number of small shops and restaurants on the eastside of the railroad tracks and the Alvarado Transportation Center. The focal point of EDo is the renovated Old Albuquerque High School campus, which is now a residential complex. The name "EDo" was coined in imitation of the LoDo area of Denver which in turn was an imitation of SoHo and TriBeCa in New York .
Santa Fe Railroad Shops Historic Site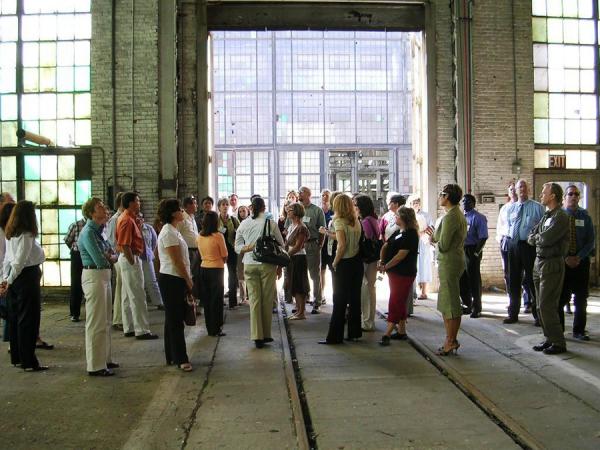 From the Roaring 20's through the end of World War II, the Santa Fe railyard just south of downtown served as a maintenance center for steam locomotives. It slid into decline toward the end of the Korean War, when railways began converting from steam to less labor-intensive diesel engines.

Today, the yard is vacant, but plans are underway to redevelop the 27 acre property as mixed use development incorporating residential and commercial uses, along with an innovative "Wheels Transportation Museum" using eighteen historic structures from the old locomotive shop complex.
Santa Fe Farmer's Market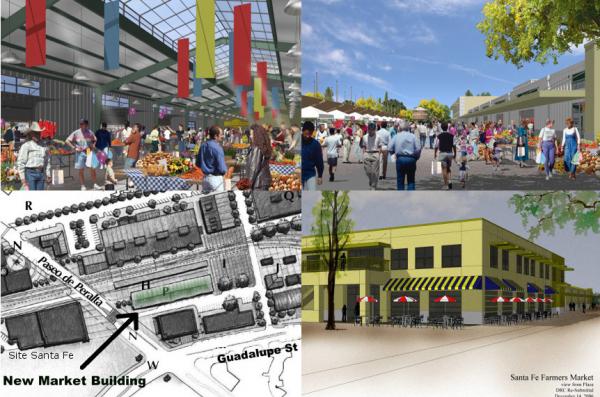 The Santa Fe Farmer's Market is scheduled to open its doors in Spring 2008.  The new permanent market will have both indoor and outdoor space for up to 150 vendors, a 5,847 square foot restaurant and 3,200 square of leasable office space at the end point of Rail Runner's Phase II line.


Railyard Park & Plaza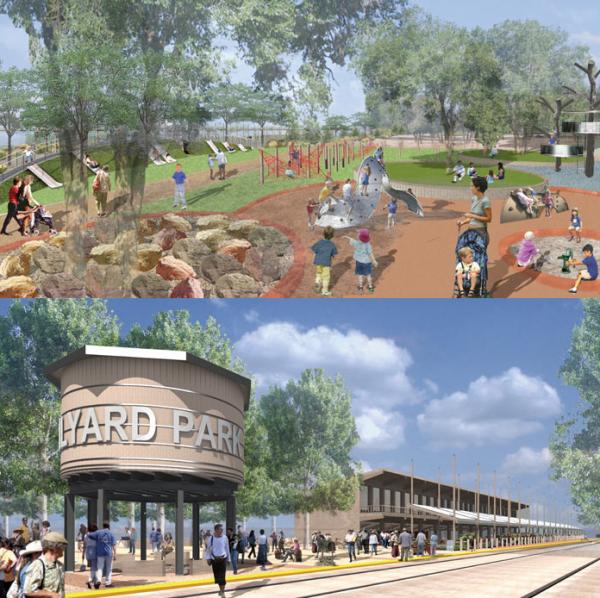 The 10-acre public space is being designed to unite disparate neighborhoods and a diverse residential and tourist based population with a special central gathering place next to the new rail runner station and proposed farmer's market (shown in background).  Old industrial buildings nearby are quickly being snapped up for live/work loft purposes.  Railyard Park is the perfect example of a stagnant and obsolete industrial area being bought back to life with the help of rail connectivity.

A map of the Railyard Park district.  The park site is on the left, the farmer's market and plaza will be located in the center and the rail depot, on the right.  The surrounding warehouses are being filled with a mix of uses, such as live/work lofts.
STREETCAR SYSTEM IN THE WORKS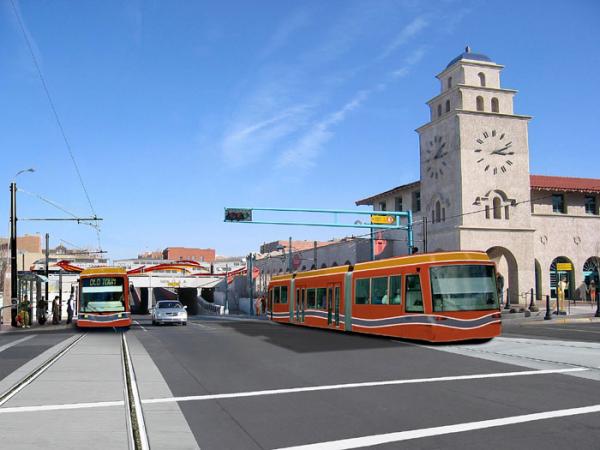 With the Rail Runner now operating for a full year, Albuquerque has turned its sights to constructing an electric light rail streetcar system.  Mayor Martin Chavez's streetcar plan is envisioned to cost $120 million, or roughly $30 million per mile, for a four mile line along Central Avenue, linking Old Town with Nob Hill.  Another $120 million spur would expand the line to the Albuquerque International Sunport.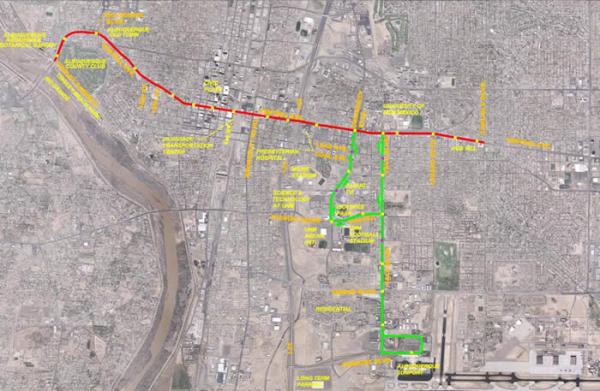 Albuquerque is well on its way to becoming the new model for the interconnectivity of public transit modes by mixing regional commuter rail, light rail, urban and suburban buses and Amtrak, re-establishing the mobility patterns for the entire metropolitan region.
For more information: www.nmrailrunner.com