Learning from Lakeland
November 28, 2007
6 comments
Print Article
Fifteen years ago, Downtown Lakeland resembled a dead ghost town. Since then, the decision to stick with a revitalization plan has this old urban district teeming with energy.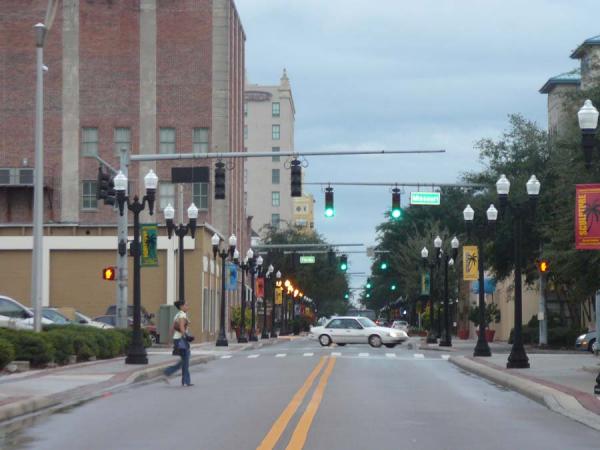 Statistics:
Lakeland Population 2006: 91,623 (City); 561,606 (Metro) - (incorporated in 1885)
Jacksonville Pop. 2006: 790,689 (City); 1,277,997 (Metro) - (incorporated in 1832)
City population 1950: Jacksonville (204,517); Lakeland (30,851)
Downtown Redevelopment Timeline:
Mid 1980s - The city hires Cy Paumier, a noted planner from Columbia, MD, to help develop a vision to restore its dying downtown.  Paumier's plan focuses on improving public infrastructure to attract private development.
1988 - The LDDA (Lakeland Downtown Development Authority) buys two full city blocks in an effort to build a downtown mall, linking downtown's last major department stores, Maas Brothers and JCPenney.
1989 - Maas Brothers (Burdines) and JCPenney close their downtown stores to relocate to a suburban mall, taking with them the workers who shopped and ate downtown.  Many of the mom-and-pop stores close.
1994 - Watkins, a local trucking company, buys and relocates its headquarters to the former Maas Brothers building, bringing 400 employees to downtown.
1995 - Publix agrees to lease the old JCPenney building from the Community Redevelopment Agency for $1 a year for 20 years.  This move brings 500 more workers into the downtown core.
1997 - The historic downtown core is designated as the Munn Park Historic District.  This move preserves the remaining historic building stock and enables local businesses to get tax credits for restoring buildings to their original architecture and design.
1998 - Lemon Street is closed and converted into a waterfront public space called the Lake Mirror Promenade.
1999 - After being vacant for 13 years, a local developer purchases the Terrace Hotel for $150,000 and spends $7 million to reopen it as a luxury boutique hotel.
Late 1990s/early 2000s - The entire one-way street grid is converted back into two way streets to slow traffic down and improve the pedestrian environment.
2002 - While a plan has been developed for Lake Mirror Park, the city does not have funding in place to carry out its development.  With this in mind, Mark (Vice Chairman of the Board for Publix) and Lynn Hollis donate $1.5 million for the construction of Hollis Gardens.  This 1.2 acre botanical garden anchors the southeast shore of Lake Mirror.  It is designed to represent the historical evolution of Florida from wilderness to agrarian society to modern urban development.
In the past few years, Lakeland has continued to invest in enhancing downtown's public infrastructure with additional streetscaping, lighting, and park improvements.  Throughout this time, as predicted, private investment has followed.

While the city's demographics have changed, the same master plan developed for downtown 20 years ago is still in place.  However, it is routinely updated to reflect new development.
Current Downtown Master Plan: View Here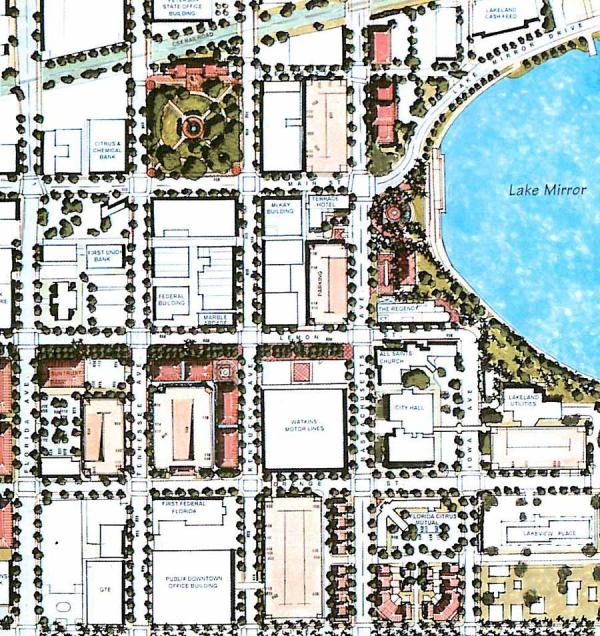 The downtown master plan does not encourage the demolition of existing structures or suggest specific uses for private development.  Instead, it focuses on improving streetscapes, public park space, and encouraging new development on surface parking lots.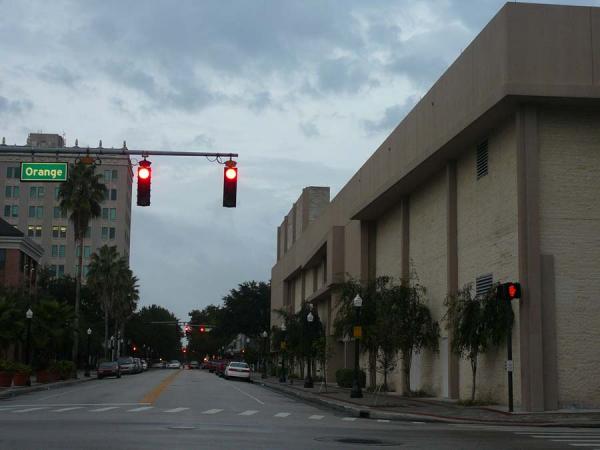 This former Maas Brothers building was converted into the headquarters for Watkins.  The surface parking lot across the street was purchased by the city and sold to private developers who constructed an office building called Heritage Plaza on the site.
Improving Public Infrastructure
Lemon Street Promenade
This project involved converting Lemon Street from a one way highway into a narrow two lane road.  The reduction of lanes resulted in the construction of a linear sculpture park called the Lemon Street Promenade.
The vision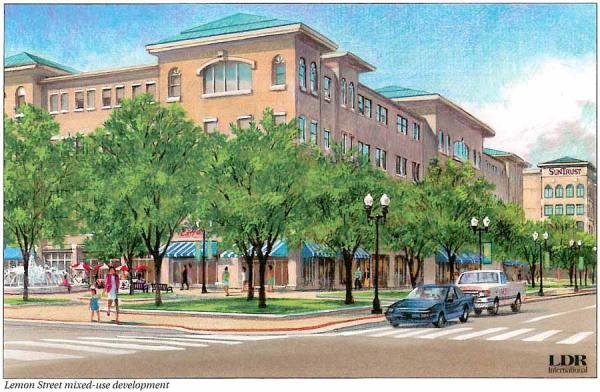 Reality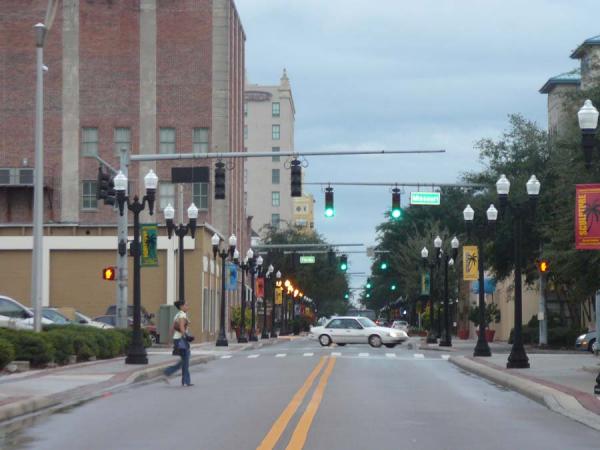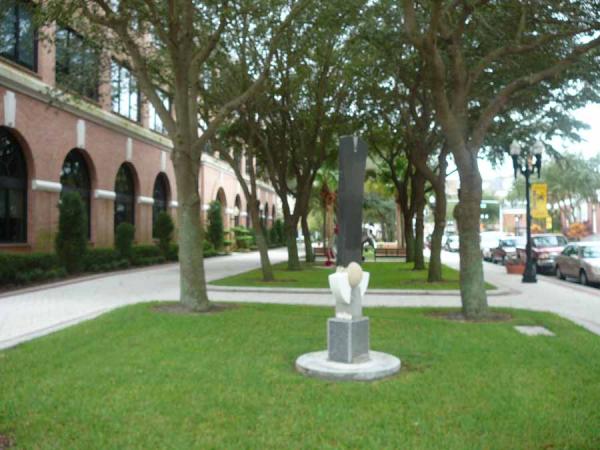 Lake Mirror Park 
The promenade is Florida's most significant example of the City Beautiful Movement during the roaring 1920s.  During the mid 20th century this public space was ruined by the construction of circular network of one way roads.  Today, the highways have been removed and it has been restored to its original condition.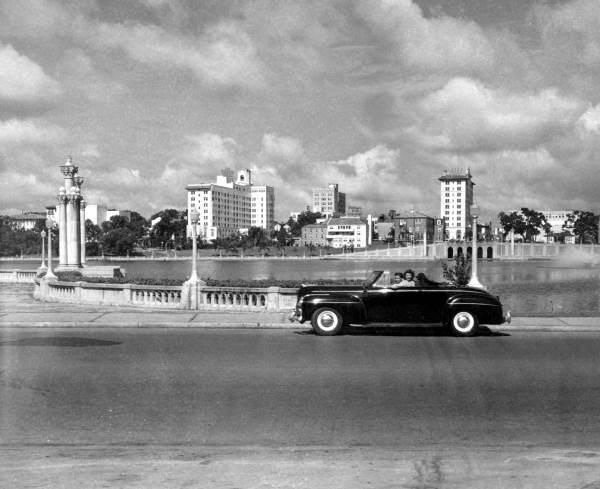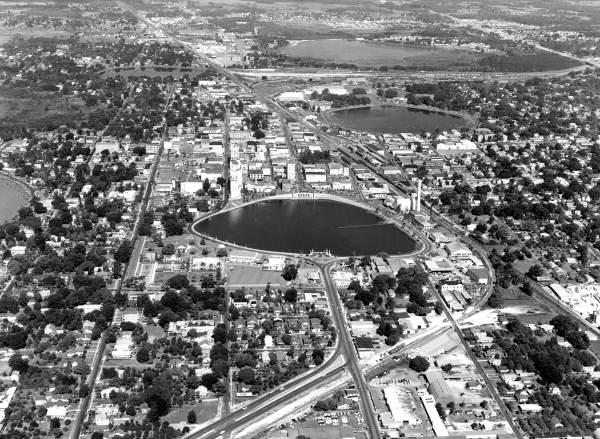 Lake Mirror in the 1950's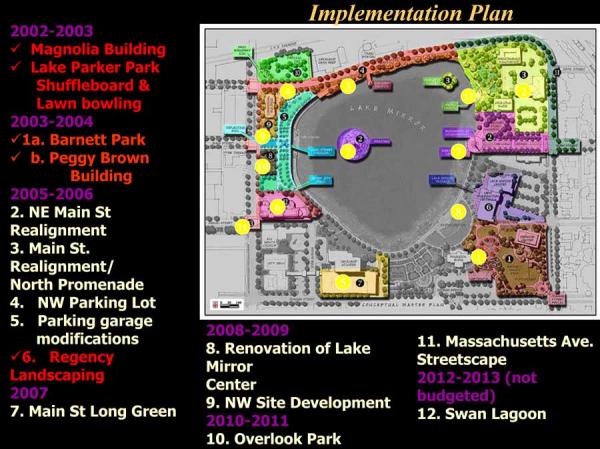 "One step at a time", the Lake Mirror Park master plan.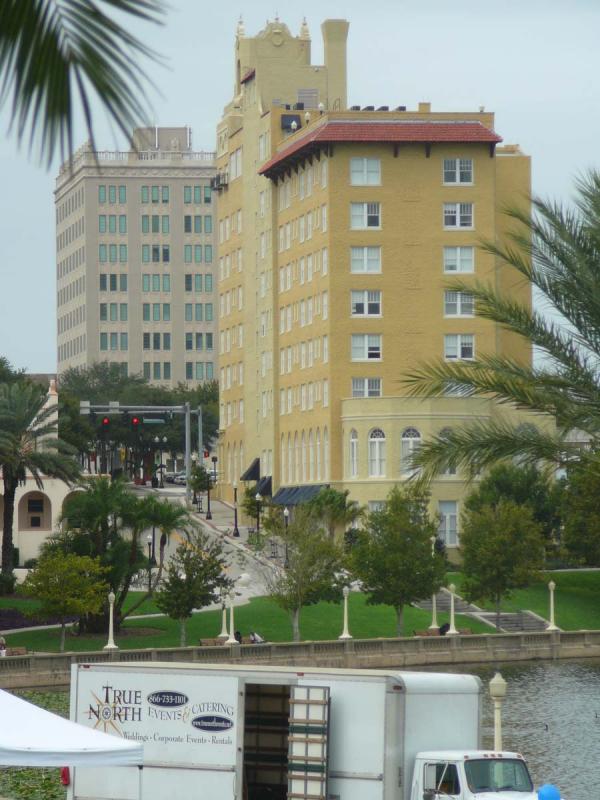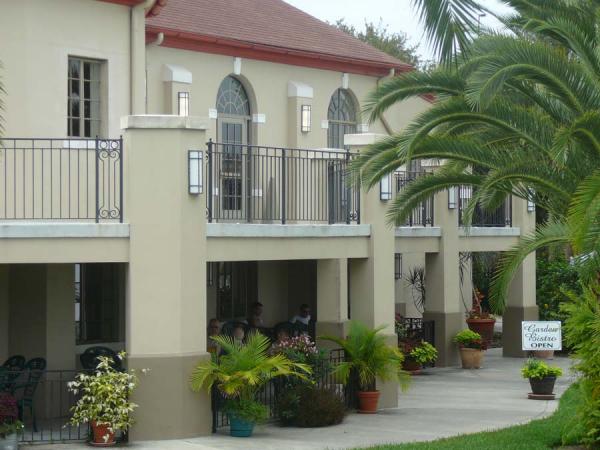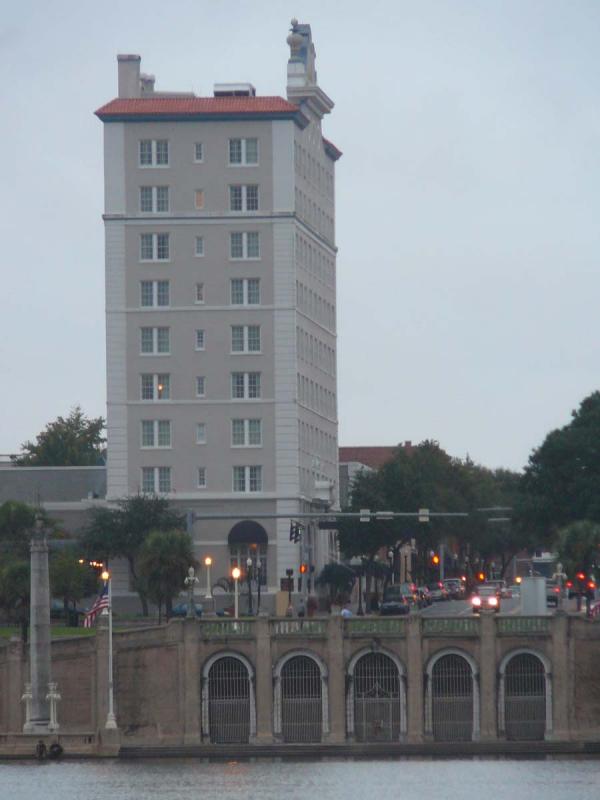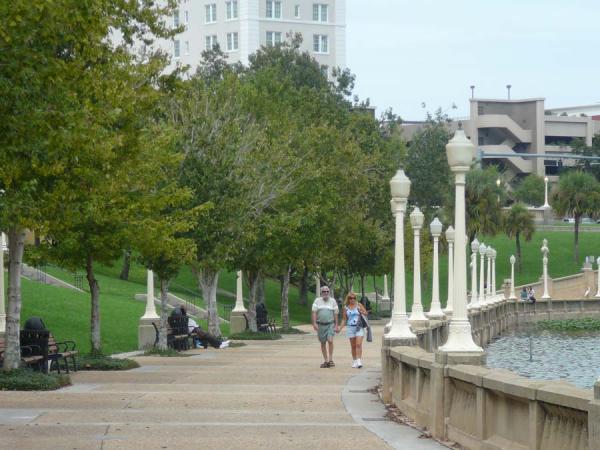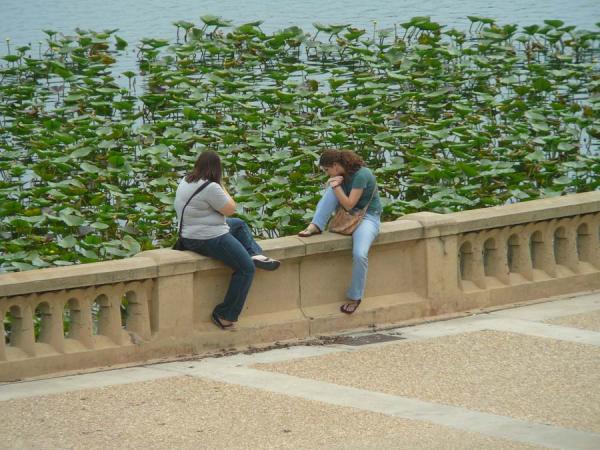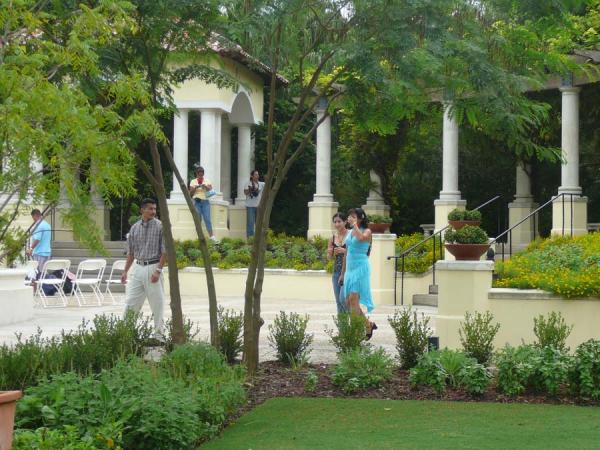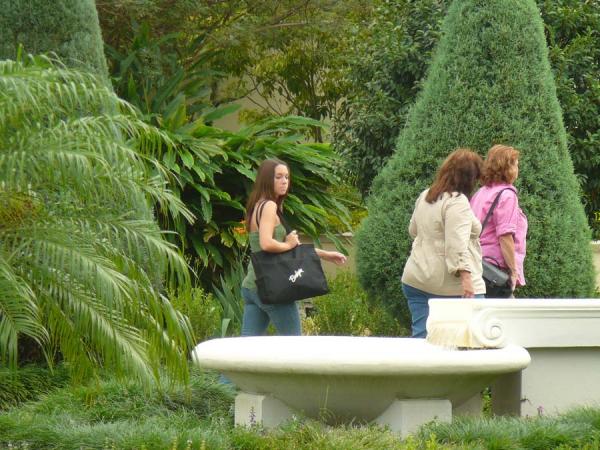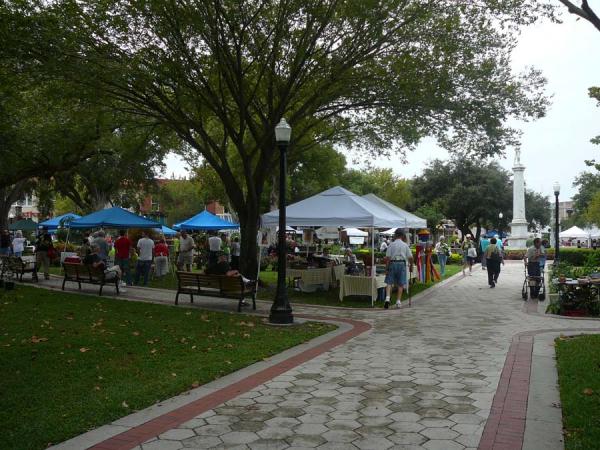 Munn Park is the historical center of Lakeland and the Munn Park Historic District.  Surrounded by historic building stock, it is a popular site for special events and street performers.
Private Investment Follows
In 1990, downtown was a ghost town.  Today, it is filled with specialty boutique shops and restaurants.  The majority of new development has been attracted to downtown because of the city's investment in upgrading public infrastructure.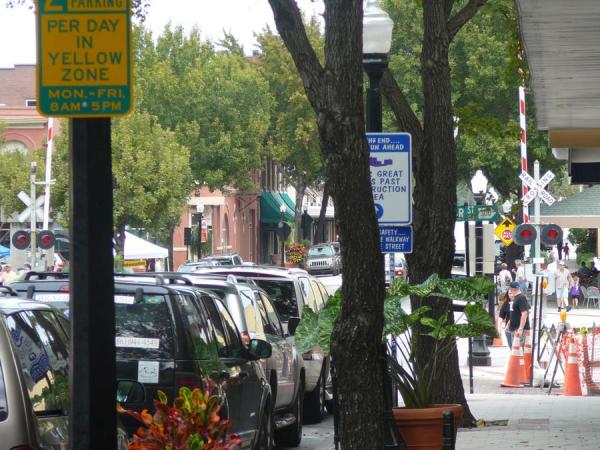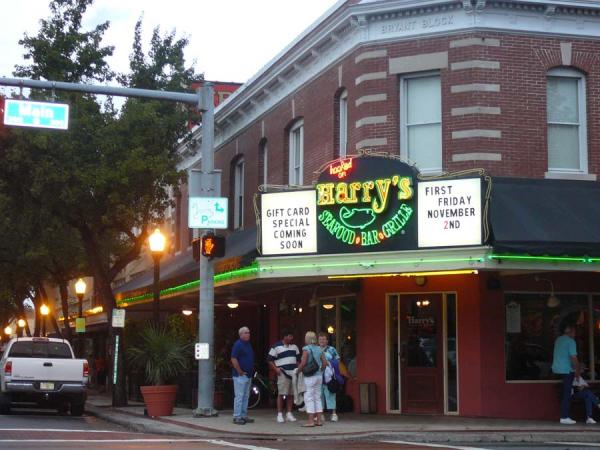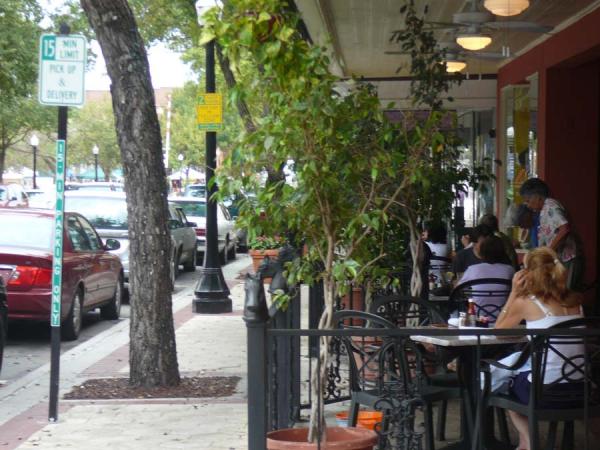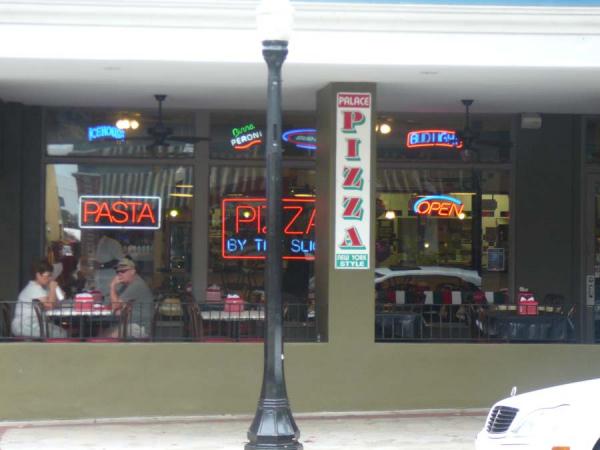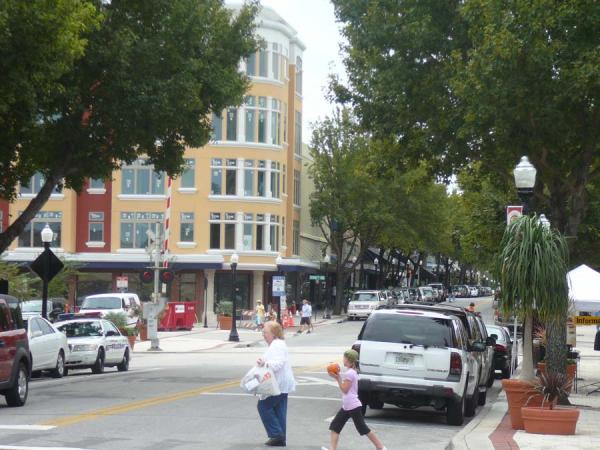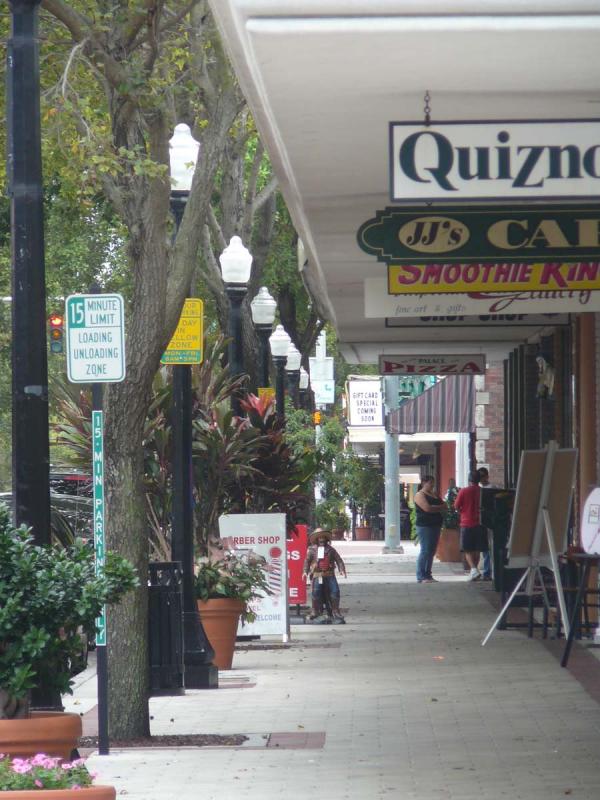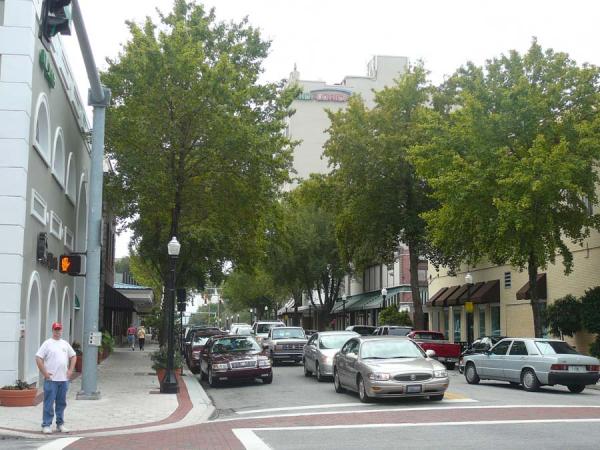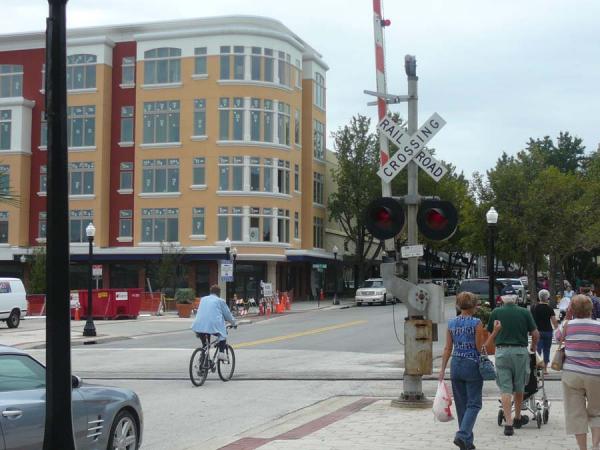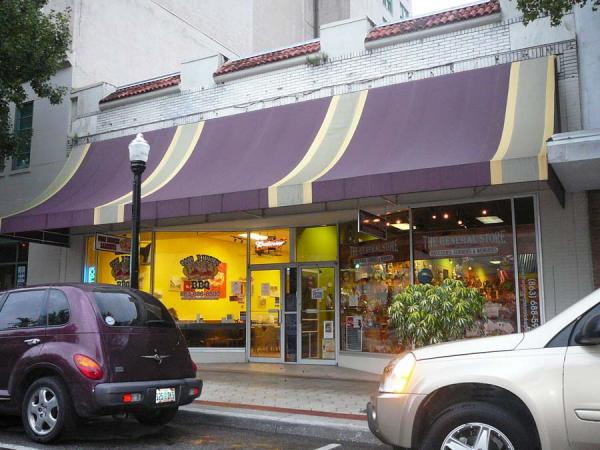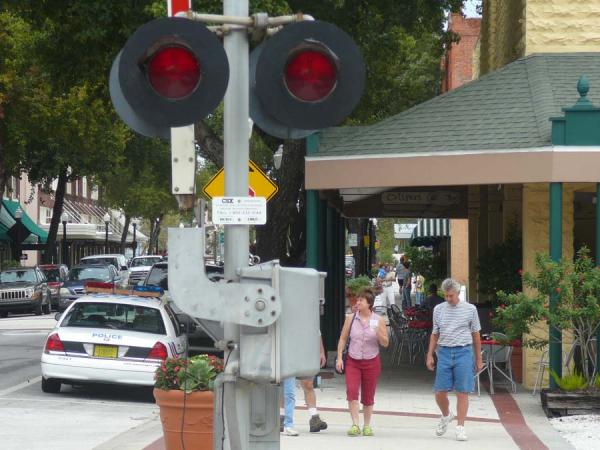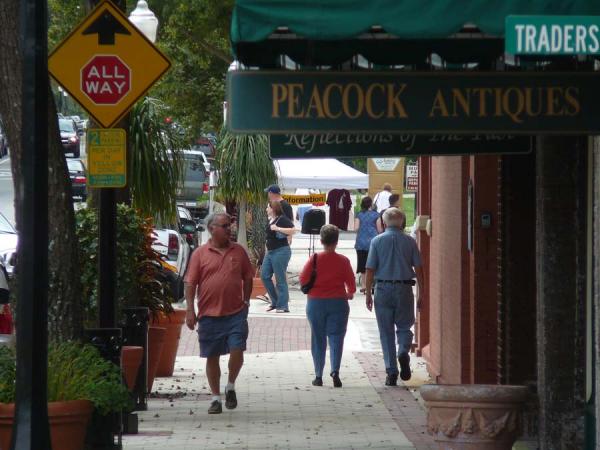 Main Street
Main Street was once a major one-way artery cutting downtown in half.  One of the first acts in Lakeland's revitalization was to convert Main into a two-way street.  Another major development by the city was to sell a vacant vagrant-filled 1920's era abandoned hotel to a local development group.  Today, the Terrace Hotel serves as a luxury anchor for the downtown core.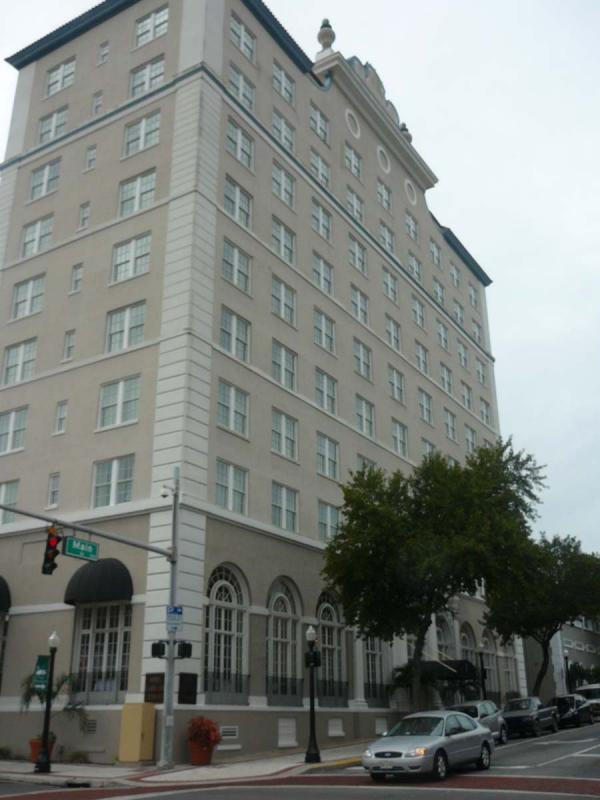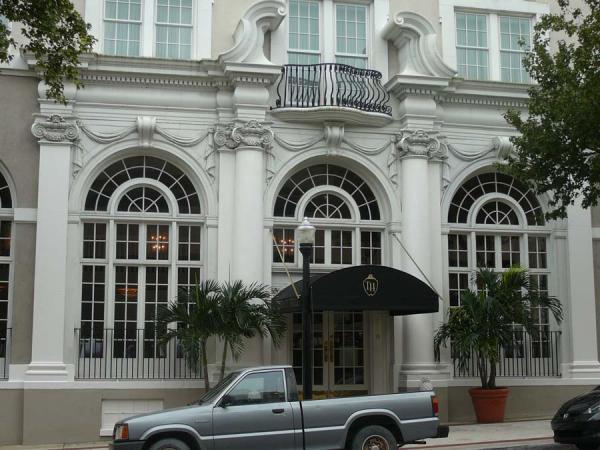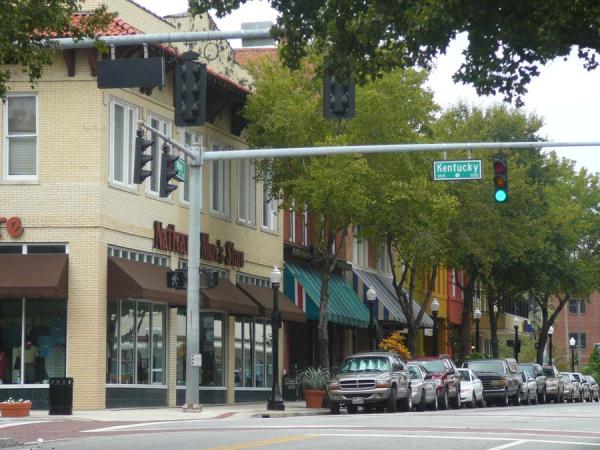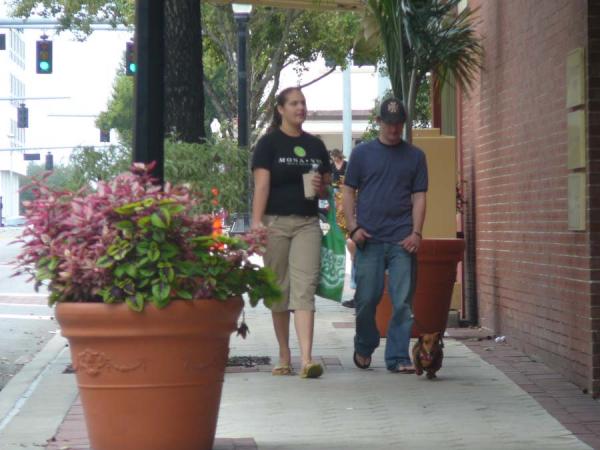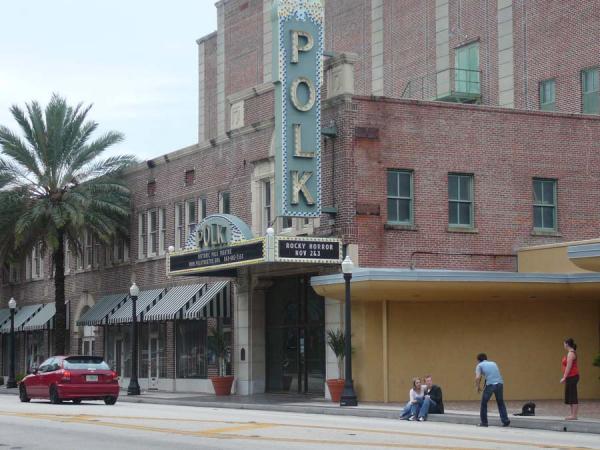 The historic Polk Theater and Office Building anchors the west end of the Munn Park District.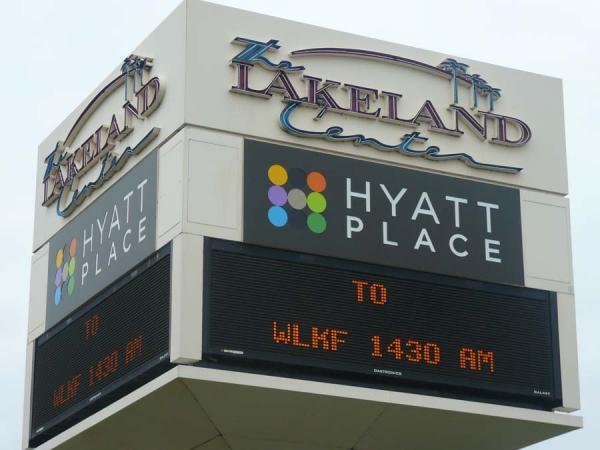 The Lakeland Center opened in 1974.  The convention complex includes the 10,000 seat Jenkins Arena, conference center, an exhibition hall, the 2,296 seat Youkey Theatre and a Hyatt Place Hotel.  There are plans to add an additional 50,000 square feet of exhibition space in the near future.
Farmer's Curb Market 
The Farmer's Curb Market is one of the latest additions to the downtown scene by the LDDA. The market is held every Saturday in the plaza of the Curtis Peterson Building, adjacent to Munn Park. It has quickly become a positive force in bringing people downtown to purchase fresh produce, plants, and local crafts, as well as visit nearby downtown businesses.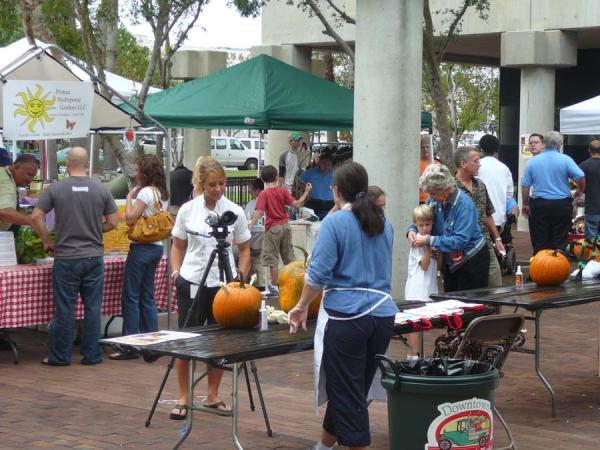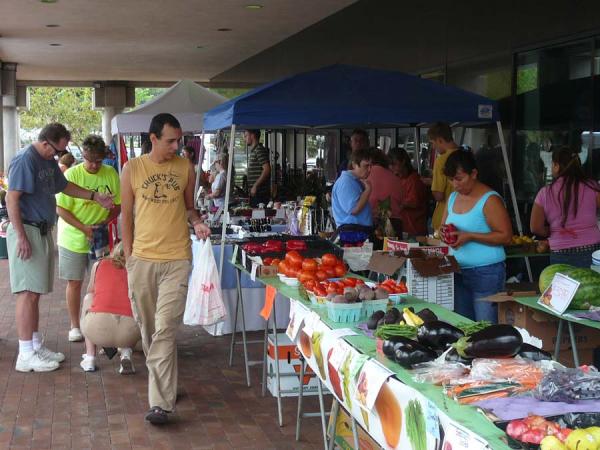 Florida Southern College
The 100 acre Florida Southern College (FSC) is a private college located about a mile south of downtown.  With 1,100 students, it is also the home of the world's largest single-site collection of Frank Llyod Wright architecture.  This collection of architecture draws about 30,000 tourist a year to Lakeland's urban core.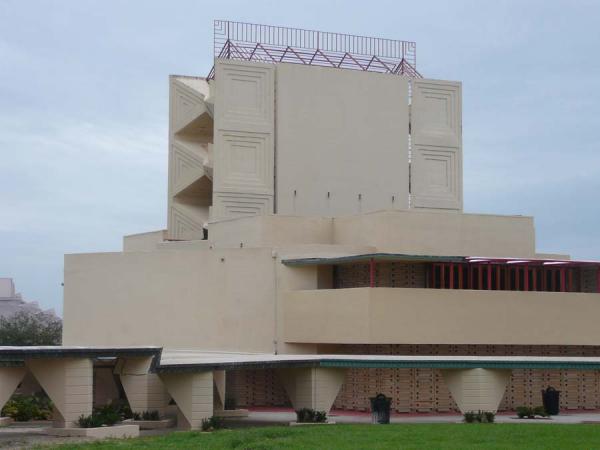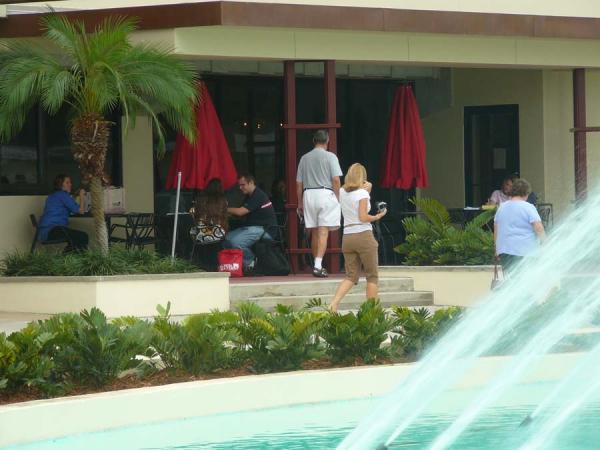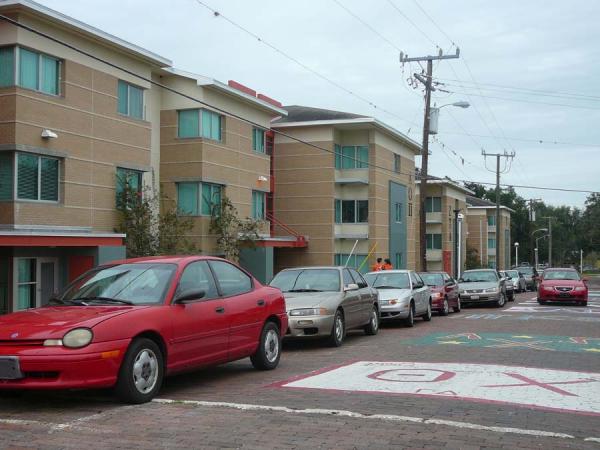 Headquartered in Lakeland, Publix is a huge benefactor of the school.  In 2005, Carol and Barney Barnett donated $10 million dollars to the school for the construction of a 100,000 square feet dormitory complex.  Carol Barnett is the president of Publix Super Market Charities and the daughter of the George Jenkins, Publix's founder.  Her husband is a graduate of the school and vice president of the company.
Publix Commons (shown here) was constructed in 1997, due to a $5 million dollar donation from the company.  The $4 million dollar Nina B. Hollis Wellness Center sits a short distance away.  It was funded through a donation from the William M. and Nina B. Hollis Foundation.  William Hollis was a Publix executive.
Conclusion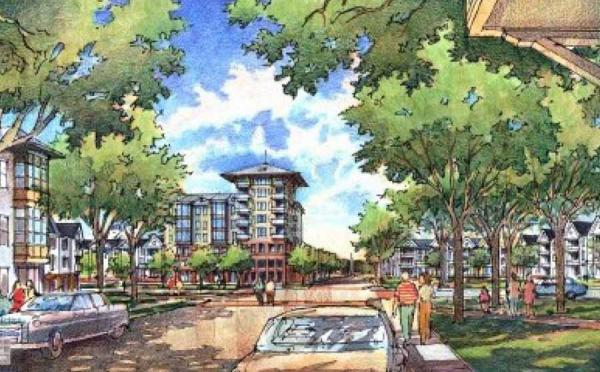 So far Lakeland's revitalization has been fueled by a willingness to stick with a long term vision and a benevolent business community.  Nevertheless, there are still issues on the horizon that the community will have to overcome. 
These include a conservative mindset that limits urban entertainment uses from locating adjacent to each other, hampering the ability to attract young professionals for the city's companies. The negative effects of the Orlando commuter rail deal, which Lakeland officials fear will sever the business district with heavy freight train traffic relocated from CSX's A-Line.  In addition, there still appears to be an untapped market by not working to better connect FSC's campus and students with the downtown core.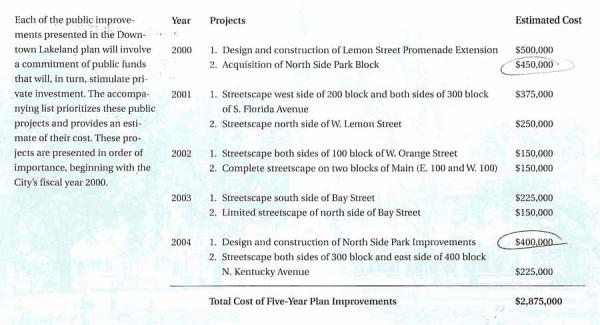 Nevertheless, there are things Jacksonville can learn from our small neighbor to the south.  A few that standout the most include having the courage to stick with a redevelopment plan long term, quickly selling off city owned downtown property for additional redevelopment, and properly maintain public infrastructure. This creates a safe environment for downtown residents, workers, and visitors.