Learning from Raleigh, NC: Fayetteville Street Renaissance
May 2, 2007
11 comments
Print Article
Like Downtown Jacksonville's Laura Street, Fayetteville Street in Downtown Raleigh, N.C. is poised to become the city's premiere street. The issues that held back Fayetteville Street were much more severe. In 1977 it had been converted into a failed pedestrian mall, removing all vehicular access and shutting down the businesses that once lined the street.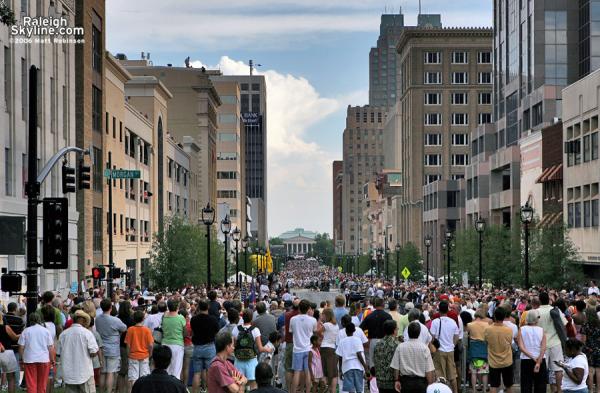 In May 2003, the Raleigh City Council adopted the community based plan that resulted from a downtown planning effort known as the Livable Streets Initiative. The plan created a shared vision for the revitalization of downtown Raleigh, including priorities to achieve that vision. Part of that vision was to complete a "Fayetteville Street Renaissance."
The Fayetteville Street Renaissance entails conversion of the pedestrian mall into a road with vehicle travel lanes, parking, and pedestrian friendly street amenities, as well as attention to the design and marketing of the surrounding built environment. The conversion of Fayetteville Street will result in the creation of well designed, accessible and user friendly public spaces and will encourage the continued economic development of Raleigh's downtown core.
In conjunction with the redesign of Fayetteville Street, an updated set of urban design guidelines for the surrounding area was drafted. The creation of these guidelines was a collaborative effort of city staff, a committee of the Downtown Raleigh Alliance, property owners, designers and citizens through a series of workshops and public forums.
On May 14, 2005, construction began on the $10 million plan to reverse a mistake made 3 decades earlier. Fayetteville Street would once again be open to vehicles.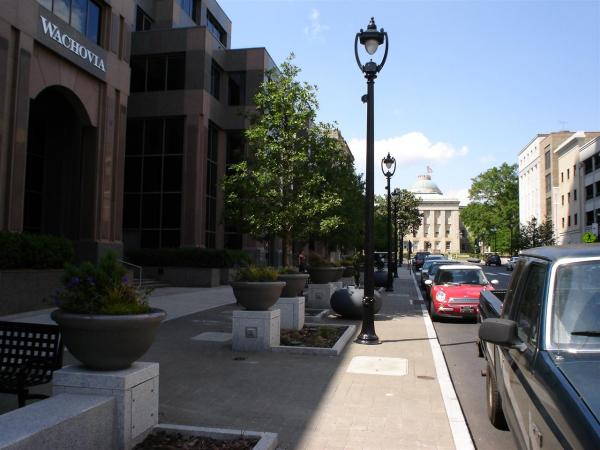 Wide sidewalks, extensive streetscaping, and additional lighting were added as part of the plan to reopen the failed pedestrian mall.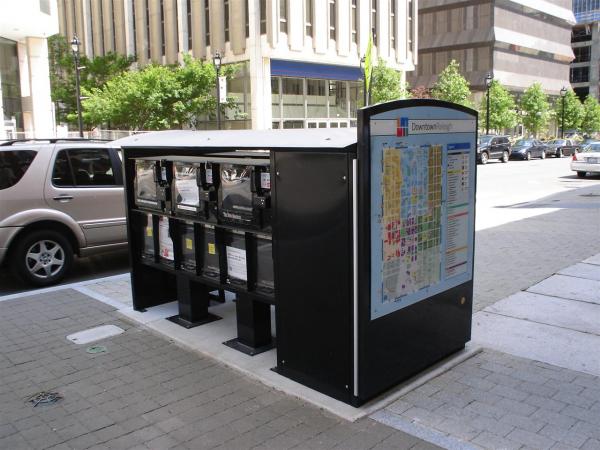 Uniform newsstands and wayfaring signage were added to the street.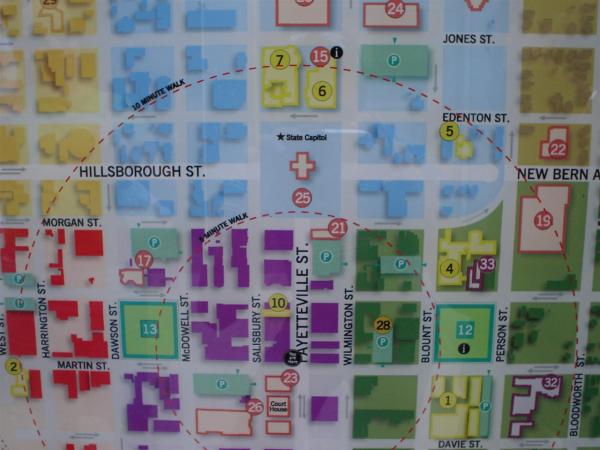 A closer look at the map of downtown and you will see where you are on the map, along with all of the attractions within a 5 and a 10 minute walk.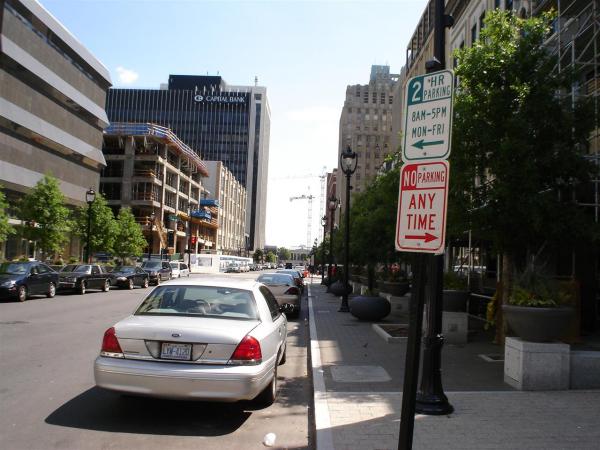 Parking along Fayetteville Street is free. There are no parking meters, only a two hour time limit from 8am to 5pm.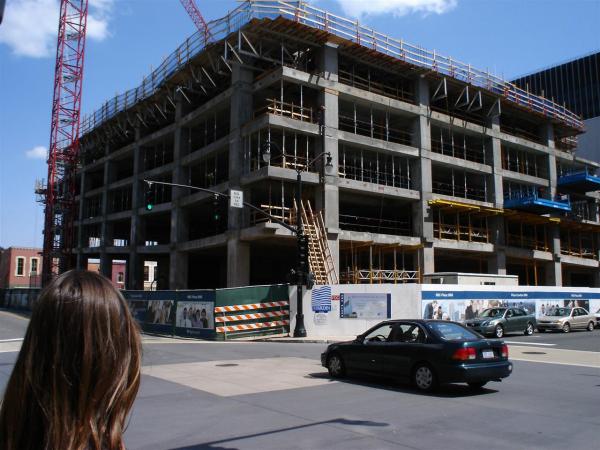 Several new projects have sprung up along the re-opened Fayetteville Street. This project, the 29 story RBC Plaza, will be a mixed-use office and condominium tower.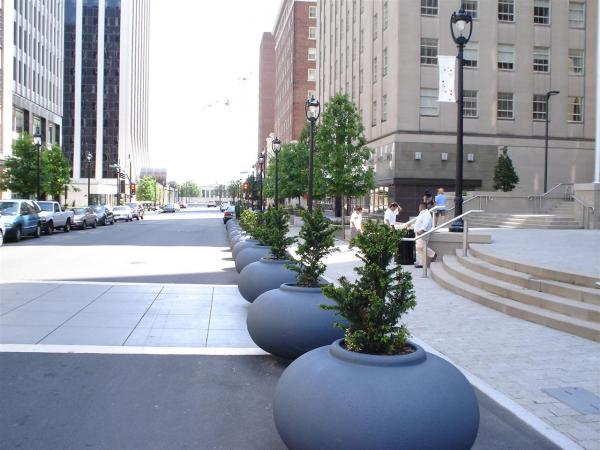 Parking is restricted in front of the courthouse, but instead of posting threatening signs and unsightly barricades, they simply placed large planters along the side of the street. This has proven to be a very effective way of restricting parking in areas that require it.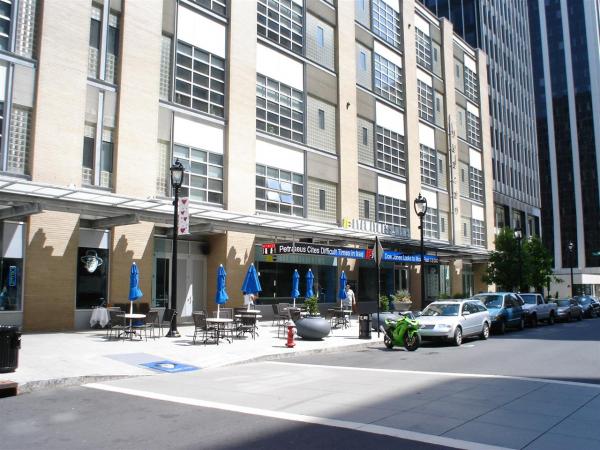 A local television news station has installed a scrolling marquee outside of their studios. Signage such as this is encouraged by the City of Raleigh's Urban Design Handbook.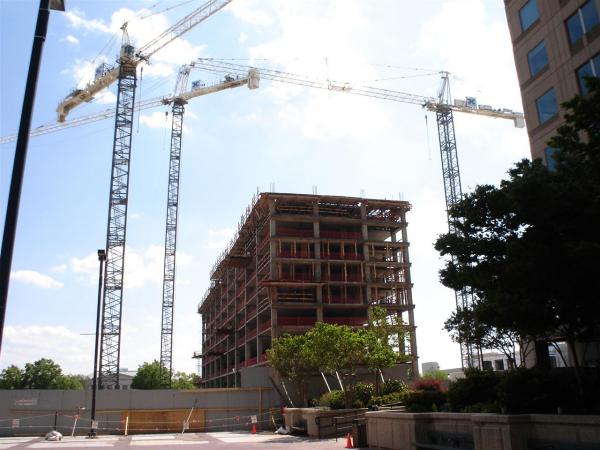 Towards the end of Fayetteville Street, a hotel and convention center are currently under construction next to an existing Sheraton Hotel.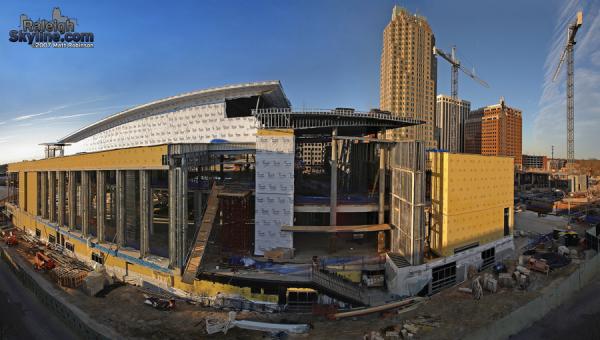 The new Raleigh Convention Center will anchor the south end of Fayetteville Street. 
When complete, the plaza at the south end of Fayetteville Street will be surrounded by several hotels, shops, and restaurants creating built in destinations.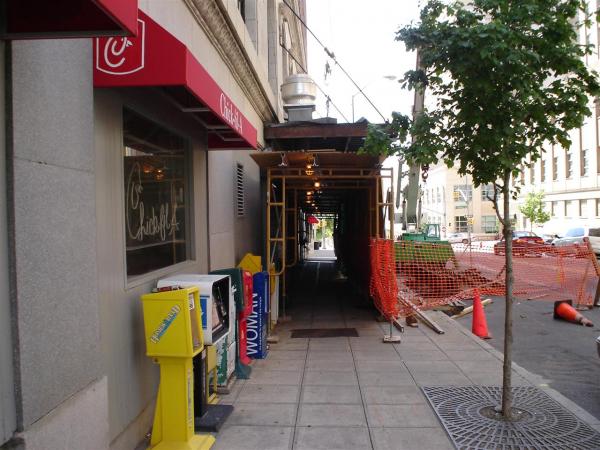 This sidewalk, just off Fayetteville Street, remained open with the use of a pedestrian passageway. Although Jacksonville ordinances requires that sidewalks remain open during construction projects, the city itself has been known to ignore the law and force pedestrians to walk in the street.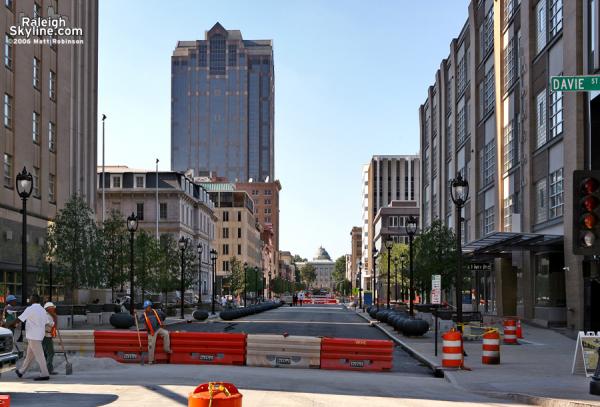 In the early summer of 2006, Fayetteville Street was being prepared for its grand re-opening.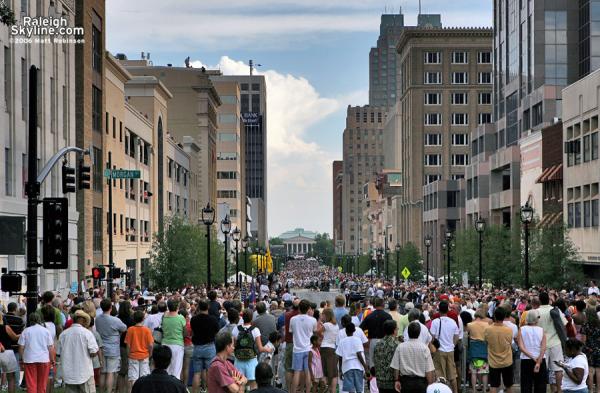 On July 29, 2006, thousands of Raleigh residents came out to celebrate the re-opening and re-birth of Downtown Raleigh's true "Main Street."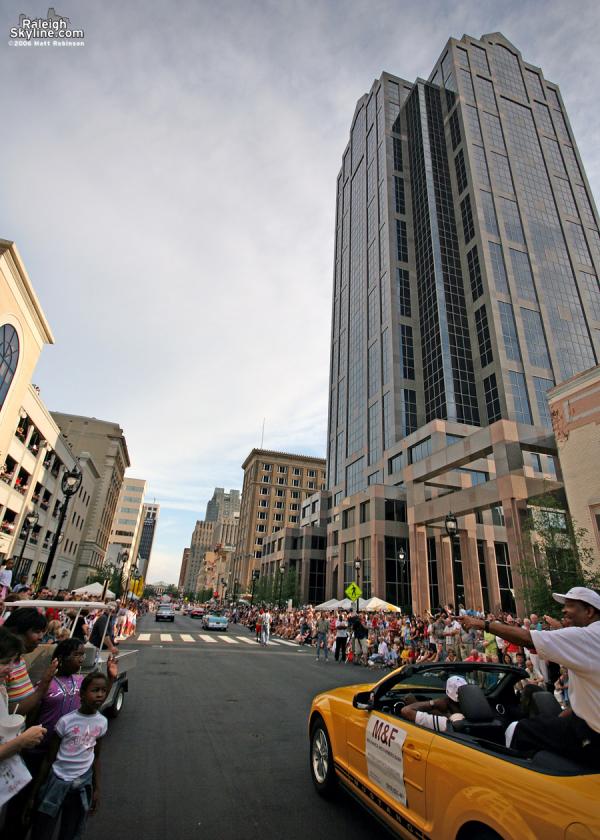 The first automobiles to drive down the street in 30 years.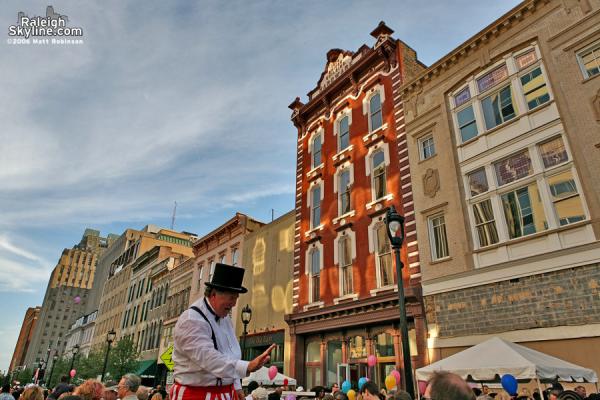 Re-opening Fayetteville Street to vehicles was not done to alleviate traffic. It was not done to generate parking revenue. It was not done to create an environment used only for special events. It was not done to move buses through the city.
The objectives of the project, as stated by the City of Raleigh, are as follows:
 1. Create a level of beauty, ambiance, and uniqueness appropriate to the importance of the street.
2. Establish a comfortable and safe environment.
3. Provide continuous visual interest at street level.
4. Blur the line between public and private realms.
5. Make the street feel populated.
6. Catalyze activity for at least 18 hours of every day.
7. Allow for the natural diversity of the private realm.
8. Create an environment in which high quality shops and restaurants can succeed.
9. Use the public realm to unify the overall composition of the street. 
10. Highlight public/civic buildings to punctuate the street and provide a sense of permanence.
11. Accommodate diversity and create a street for all citizens by incorporating universal design.
12. Stimulate economic development and revitalization of the parcels fronting Fayetteville Street. 
The City of Jacksonville does not need to spend $10 million on Laura Street for the same results. Simply taking some of the design concepts and revitalization strategies and applying them to Laura Street, as well as the rest of downtown, would be beneficial.
Raleigh is offering low interest loans to street level businesses, providing them with urban design guidelines, and making it clear which ordinances are pertinent and which permits are required, as well as who to contact to obtain them.
Showing an active interest in the success of downtown businesses, creating simple design guidelines that make sense for downtown, and removing the system of parking punishment applied to visitors and patrons goes a long way toward achieving a vibrant downtown.  
Thanks to Matt Robinson of RaleighSkyline.com for providing the Fayetteville Street grand opening photos.