Exploring Downtown's Cathedral District
May 16, 2007
8 comments
Print Article
The Cathedral District may be the urban core's most overlooked and forgotten pedestrian friendly neighborhood. Due to several years of neglect and the destruction of building fabric for surface parking lots, outside of parking for Jaguars games, there's not much reason to walk it on foot. Despite this, what remains are gridded streets, a centralized location, significant unique architecture and available land to convert this area into one of Jacksonville's premier urban addresses.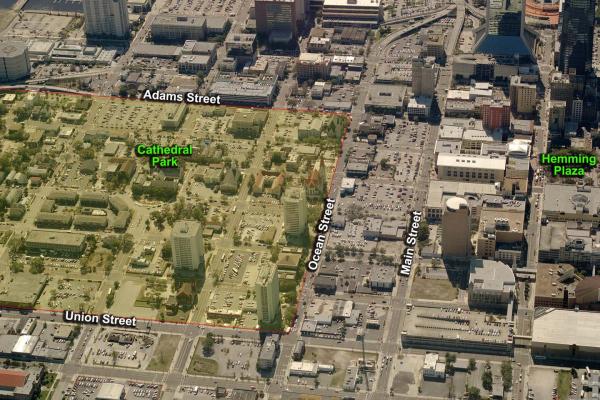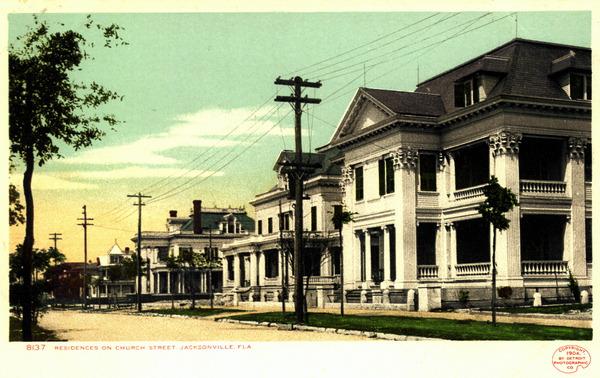 Cathedral District's Church Street in 1904.
CATHEDRAL DISTRICT: RESIDENTIAL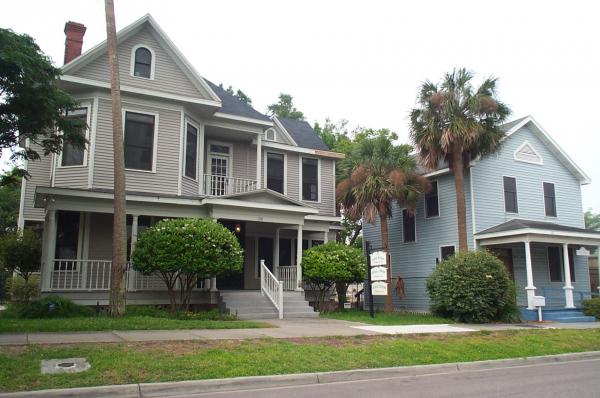 Two of the remaining preserved residential frame structures on Church Street.  A number of historic houses, scattered around the district, live on today in the form of Attorney's Offices.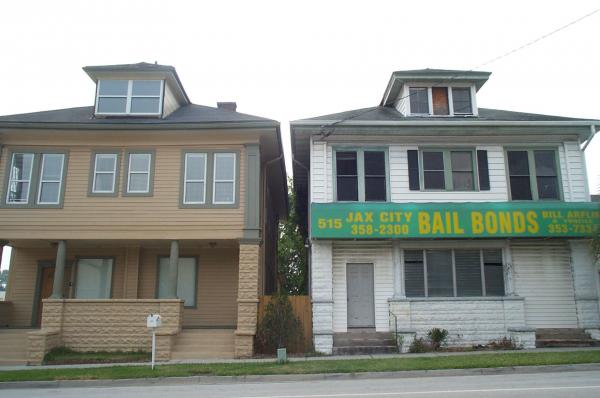 These two Liberty Street structures are a form of multi-family residential construction that heavily dominated the district during its heyday. As seen in the aerial above, the Cathedral District has been ripped to shreds by surface parking lots, similar to what has occurred throughout the rest of downtown.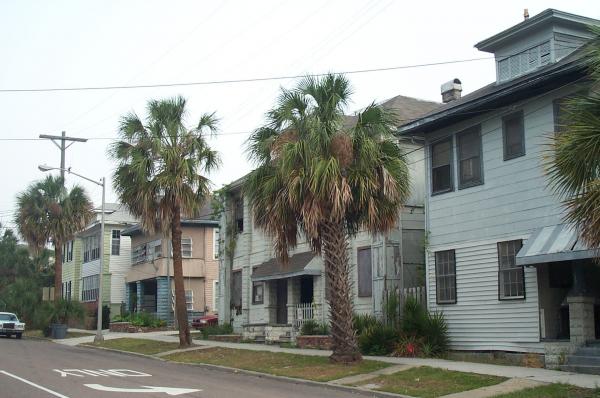 This one block stretch of East Church Street, between Liberty and Washington Streets, contains the largest remaining in tact collection of historic multi-family residential frame structures in the downtown area.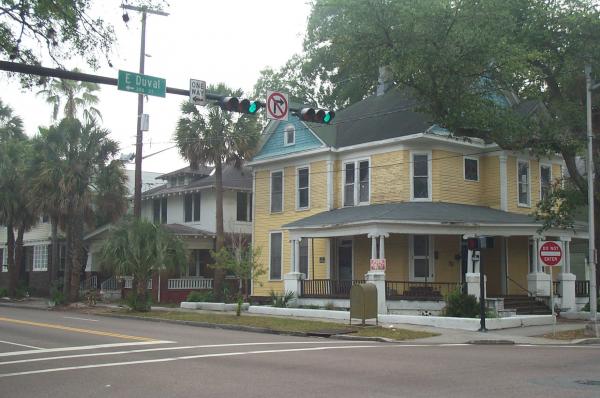 The view captures the NE corner of Liberty & Duval Streets.  From this point, it's only a four block walk, along Duval Street, to the new main public library and a six block walk to the Northbank Riverfront.  However, due to the large number of surface parking lots along the way, the trip on foot seems much longer.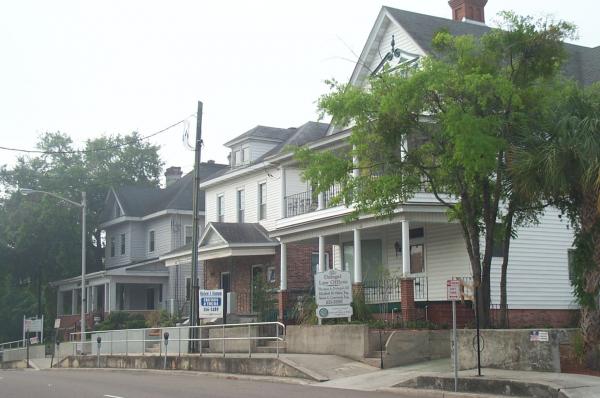 A row of large single family frame structures that have been renovated into Attorney's offices on East Monroe Street.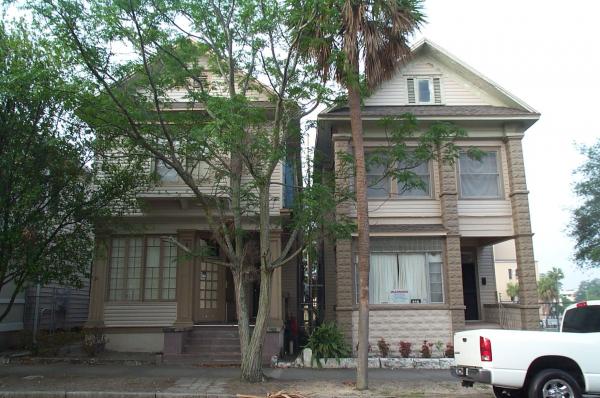 These three buildings show how close together many of the lost residential structures were built in the early years of downtown's growth.  If we ever want to see downtown return to the vibrant place it once was, it is going to take a solid effort by all to rebuilt downtown and its neighboring residential districts to contain high levels of population density.
Those who laid out the Cathedral District had it right. Maybe we should dust off a couple of their old theories and apply them, instead of investing public dollars on pocket parks and other gimmicks.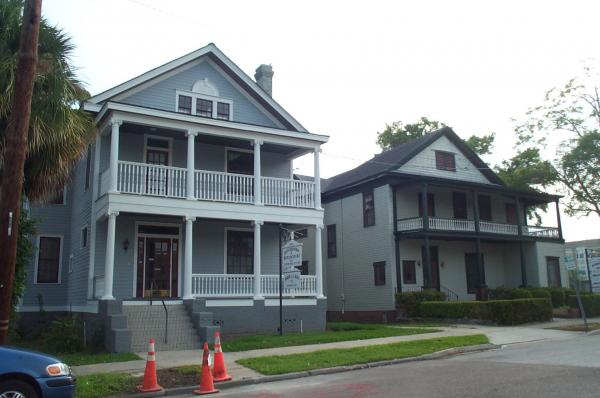 Two more preserved residential structures on East Church Street, near Cathedral Park.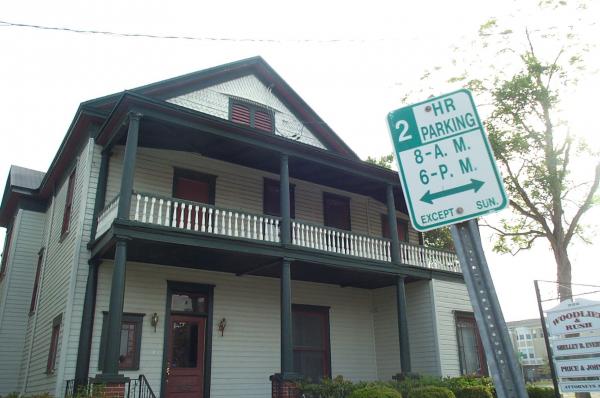 One interesting discovery on this particular area of downtown is the lack of parking meters.  This is a concept that should be spread to other parts of downtown to level the playing field with the free parking available in the suburban areas that dominate our city.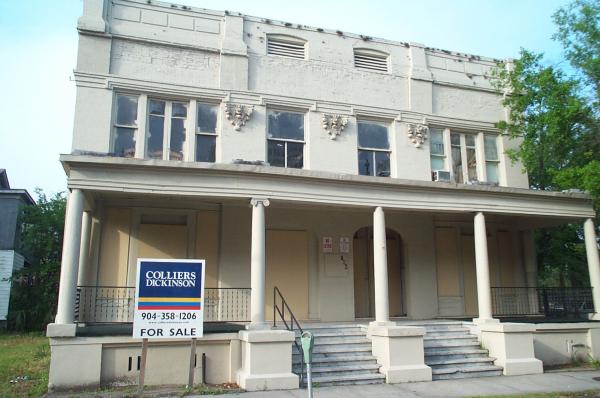 The Elena Flats (122 East Duval) is one of the last remaining examples of small rooming houses that dominated this section of downtown during the early 20th century.  Contrary to popular belief, what is left of the Cathedral District is living proof that the core of downtown Jacksonville originally had neighborhoods just as dense as those we've come to know in older Northern and Midwestern cities.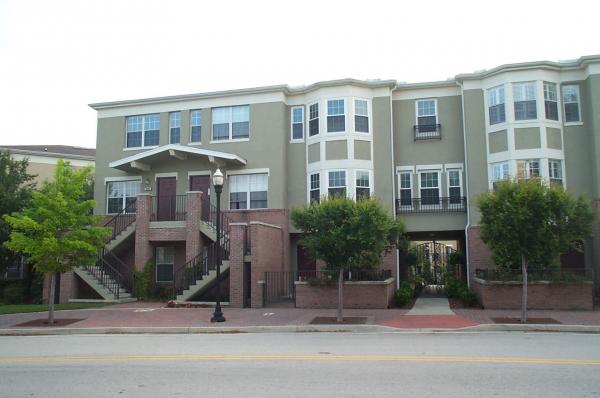 The Parks at Cathedral was one of downtown's first new construction multi-family developments built this decade. If we're lucky, we'll see more of these townhome/rowhome types of development around downtown in the near future.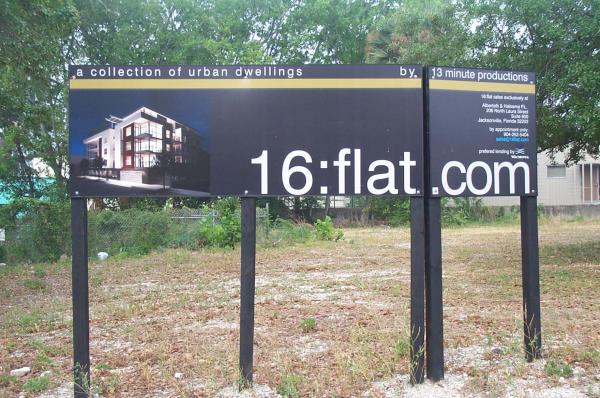 A local group of urban minded design oriented professionals, called 13 Minute Productions, is preparing to develop 16:Flat on the corner of Liberty & Duval Streets.  It's Metro Jacksonville's hope that new infill projects like 16:Flat and the Parks will encourage additional adaptive reuse of historic structures and new infill in the Cathedral District.  Like Springfield, Riverside, and San Marco, there is enough building fabric still remaining in this area to make it a unique part of Jacksonville's urban landscape.
CATHEDRAL DISTRICT: RELIGIOUS INSTITUTIONS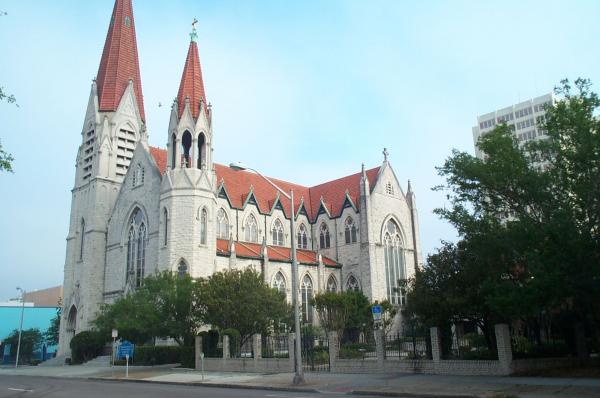 The Immaculate Conception Catholic Church is one of Florida's finest examples of Gothic Architecture.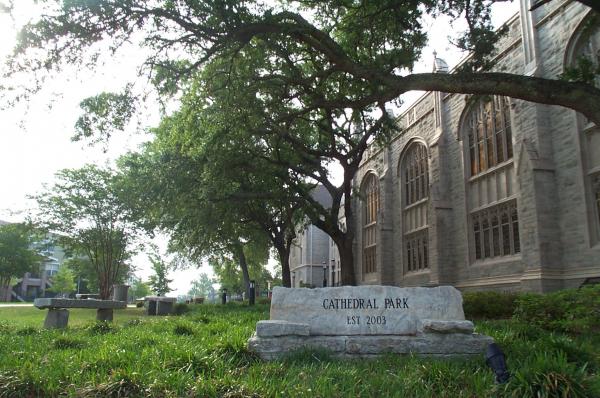 The St. John's Episcopal Cathedral and Cathedral Park sit in the heart of the Cathedral District.  Since the original church was located on the outskirts of town, as the city grew, it was allowed to remain in place, leaving a permanent quirk in the city's grid system.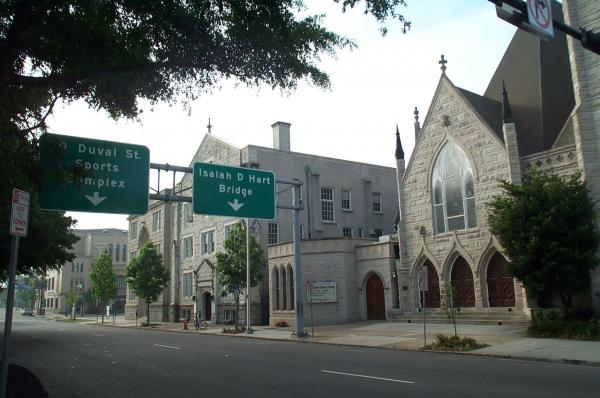 Located at 118 Adams, the First Presbyterian Church is another quality example of Gothic architecture in the Cathedral District.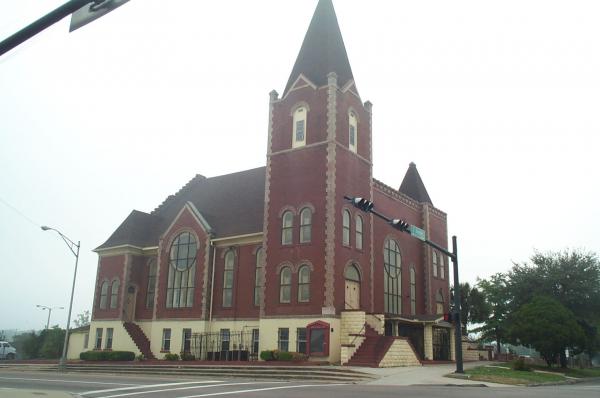 The Mount Zion A.M.E. Church has been a dominating fixture on the corner of Beaver and Newnan Streets since 1901.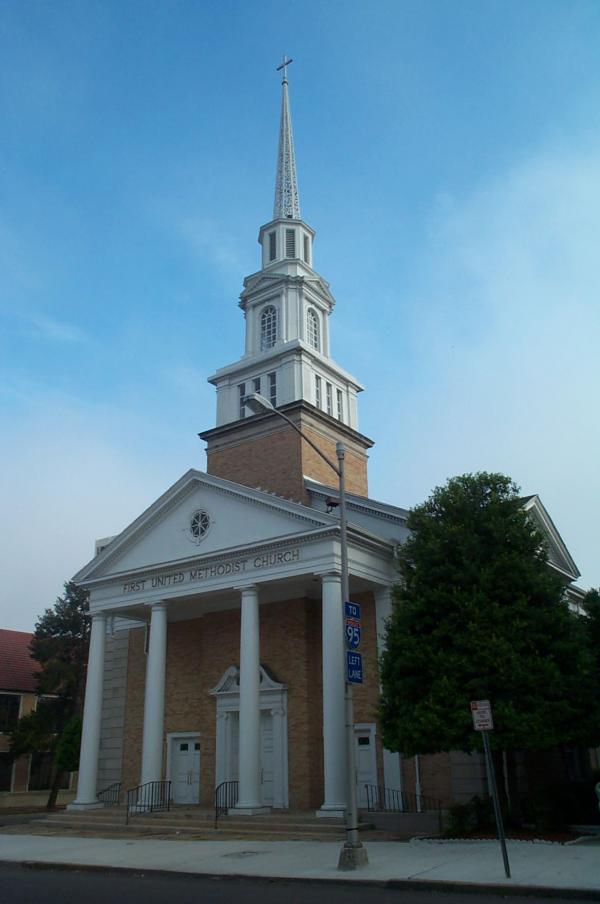 The First United Methodist Church is located at 225 East Duval Street.  Along with Immaculate Conception Catholic Church and The St. John's Episcopal Cathedral, they combine to form three continuous city blocks with religious institutions occupying them.  While some of our more liberal friends may see that as a negative, they're a major reason why the Cathedral District still has a heartbeat and a great chance for a new life.
CATHEDRAL DISTRICT: COMMERCIAL STRUCTURES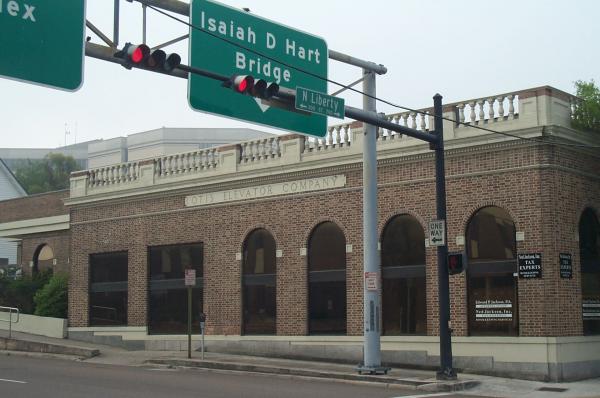 This former Otis Elevator building is one of few commercial office buildings from the 1920's that is only one-story tall.  This is the case because this area of town was heavily residential at the time.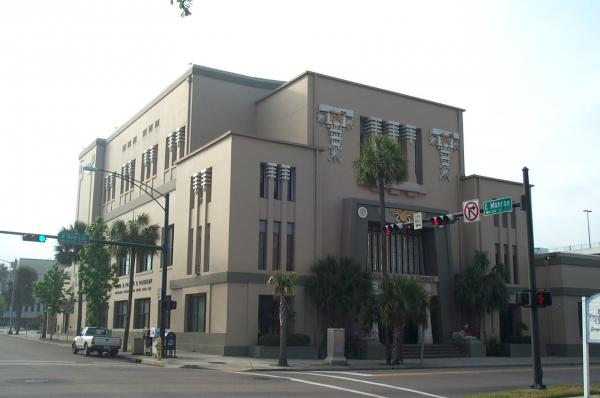 The Morocco Temple was designed by Henry Klutho in 1910.  The architectural style is a unique mix of the Prairie and Egyptian styles.  Its located on the SE corner of Newnan and Monroe Streets.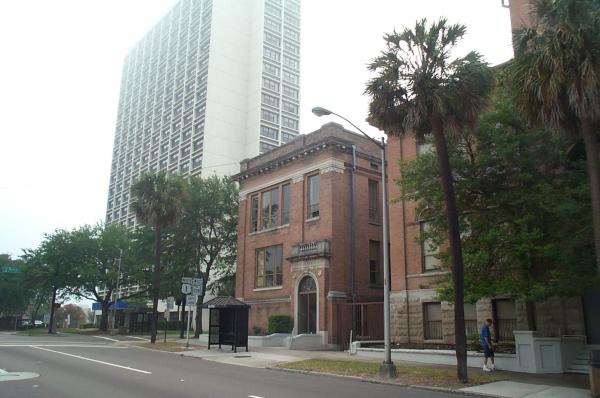 Serving as Duval High School, from 1907 to 1977, this building lives on as the Duval-Stevens Apartment building, at 605 Ocean Street.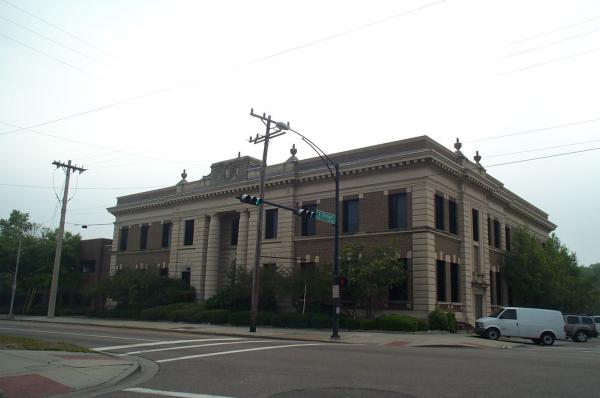 This building, located at 711 North Liberty Street, originally housed the Jacksonville Police Headquarters.  The Second Renaissance Revival style structure was designed by Marsh & Saxelbye in 1926.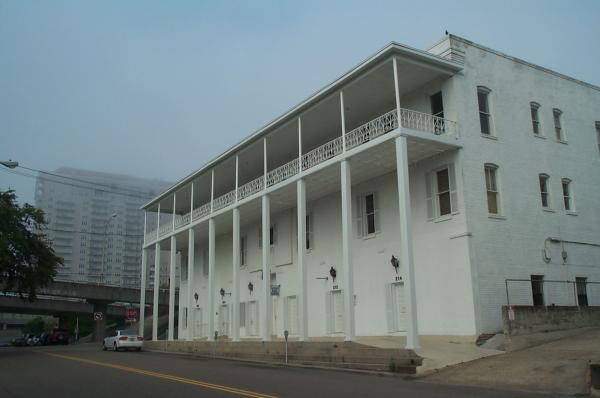 Hidden from the rest of the world by the Duval County Jail and the Hart Bridge Expressway ramps, this brick structure looks like it belongs in New Orleans or Mobile, as opposed to Jacksonville.  At one time, our fair city was dominated by mixed-use structures such as this. Residential above retail...what a concept!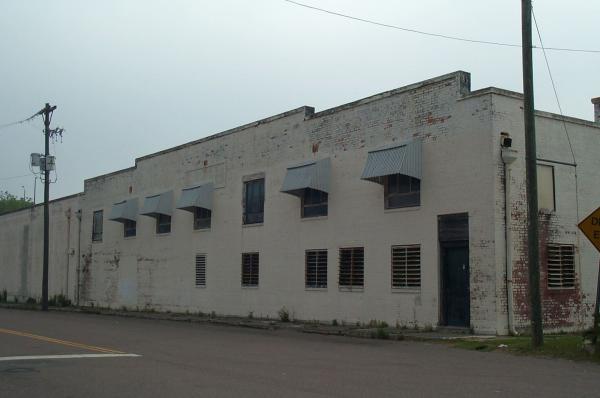 The east border of the district was originally an industrial district that lined the former St. Johns Terminal Railroad line that once served the Jacksonville Shipyards and Maxwell House.  This particular building, on Catherine Street, is owned by Miami-based Miller Machinery & Supply Co.  As downtown continues to redevelop, the possibility of loft oriented spaces increases as potential uses for these old warehouses, given that they conveniently sit between the Sports District and the Northbank core.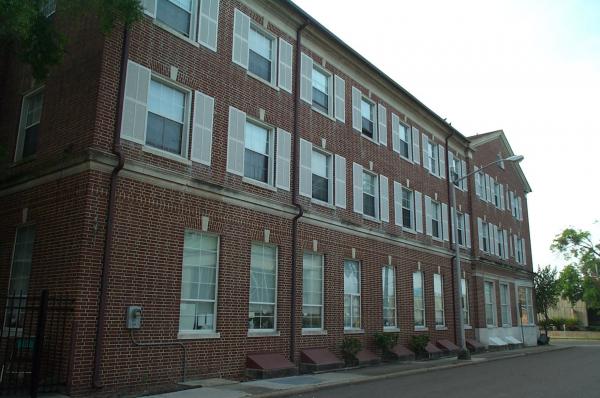 The Young Women's Christian Association building on East Duval Street.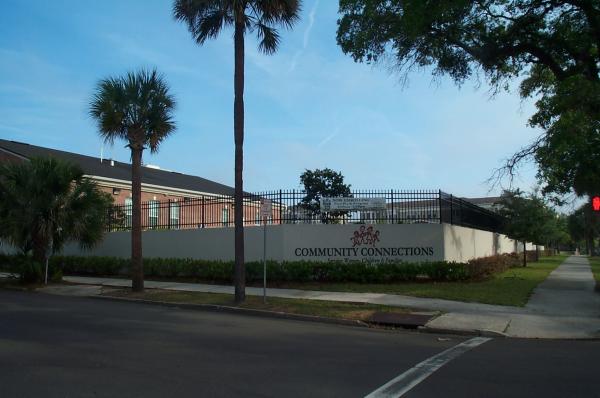 Accountability?  This picture illustrates a disturbing design trend still occurring and being approved within downtown's borders. After looking through this series of images, which one seems to be the most out of place?
New construction surface parking lots should be heavily discouraged in urban core areas, such as the Cathedral District.  This type of incompatible design is a blight on the formation of a walkable neighborhood, regardless of the quality of fencing and landscaping.  At the very least, Community Connections should have been told to incorporate their asphalt lot in the middle of the block and shift the new building to the outside of the lot, with its entrance embracing the corner.
Doing such costs the same, or even less, than the suburban oriented design that was approved a year or so ago.  To those representing us on the Design Review Committee, lets make sure this type of poor quality of design doesn't happen again with future proposals (hint. KBJ!).