Five Projects Changing the Urban Landscape
June 19, 2007
21 comments
Print Article
The following five projects have the potential to positively change the atmosphere of downtown in the near future.
Establishing a new trend locally
The five projects below are examples of local developments that have the potential to quickly stimulate the type of pedestrian friendly synergy that our core has lacked since the disco era.  Despite incorporating different uses, all increase density by maximizing their sites and by putting pedestrians before automobiles.
1. Brooklyn Park / 200 Riverside - Urban Density


On their own, each of these projects would be considered huge infill development for our fair city, but combined they become an urban powerhouse.  200 Riverside and Brooklyn Park will combine to completely change the face of one of the most underutilized areas in the urban core.
Developed by Atlanta-based Miles Development, Brooklyn Park will sit on a 12.5 acre site and house 1,075 mulit-family housing units, a 130 room hotel, a central public space and a long awaited 150,000 square feet of retail space.  Not to be out done, Hallmark Partner's 200 Riverside will rise next door with 250 multi-family units, 111,300 square feet of office and retail space on a two block site.
Even JTA gets kudos from Metro Jacksonville on this one for their plans to add a skyway stop at these developments, which increases their accessibility to and from the rest of the dowtnown core, making living in Jacksonville without a car a more realistic possibility. 
2. Everbank Plaza - Street level friendly highrise development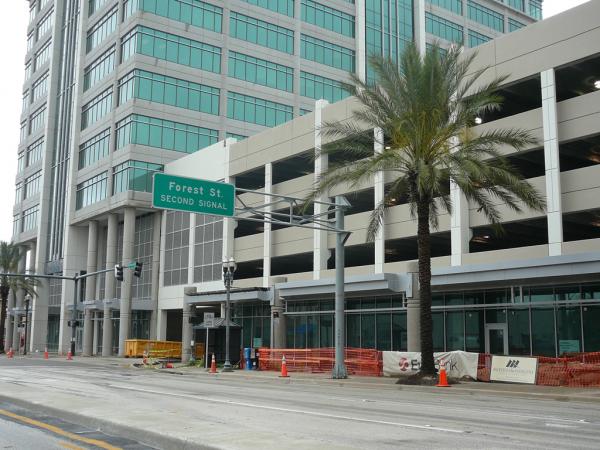 While we've publicly blasted KBJ for their desire to create more surface lots in the urban core, Rolland DelValle & Bradley Architects should be commended for the design of the new Everbank Plaza at 495 Riverside Avenue. 
At 13 stories, it's the first tower to be constructed in the heart of Jacksonville that truly embraces the concepts of pedestrian friendly urbanism.  As shown in the image above, the street is lined with retail, as envisioned in the downtown master plan.  An urban public space lined with retail and outdoor dining will also sit at the corner of Riverside Avenue and Forest Street. 
A restaurant called "Rosemary & Chives Urban Market and Restaurant" will be one of the first street level tenants to take advantage of this urban friendly layout.  Operated by the original owners of Cafe Nola, Rosemary & Chives will feature indoor and outdoor seating, as well as a market where specializing in gourmet items.  It will be open for breakfast, lunch and dinner.  Hopefully Everbank Plaza will establish a new standard for future highrise developments in Jacksonville to follow.
3. Hogan Street Park - Urban Connectivity


18 months ago, this site was the center of a heated debate between the Mayor's Office, AIA and Toney Sleiman.  Today, its being pushed as the perfect space for a park.  Looking at the graphic above, it's easy to see why.  This space is surrounded by the waterfront, the Times Union Performing Arts Center, The Landing, and eventually the proposed Riverwatch hotel tower. 
With proper design integration, this could easily become one of the top destinations in the Northbank.  Another positive is that it would be one of the first public spaces, in a long time, to be funded by the private sector, paving the way for a new method of creating public spaces in the core.
4. 122 Ocean - Adaptive Re-use and Retail Clustering
While it won't recieve as much press as the St. Johns Town Center, 122 Ocean is the largest mixed-use urban retail project to come to downtown Jacksonville since the Landing opened over 20 years ago.  It's also one of the first major downtown developments to take an existing structure and incorporate a new diverse set of uses on site, without demolition.
Unlike the local retail and office tower projects of yesteryear, 122 Ocean's tenants will face and embrace the sidewalks of three of downtown's major streets.  Proposed uses include restaurants, an urban grocery market, bars, offices and possibly a movie theater, all within a single block, instantly creating a central focal point of entertainment oriented uses off the riverfront. 
For more information visit: www.122ocean.com
5. 16:Flat - Pushing the Architectural Envelope
While small in stature, 16:Flat deserves a spot on this list for pushing the architectural envelope in a city known for its conservatism.  Also serving as a textbook example of how to maximize a development site, this 13 Minute Production project features integrated parking, a sustainable design, and an exclusive rooftop garden and terrace with a summer kitchen and urban cinema.  While traditional architecture has its place, its a breath of fresh air to witness our urban architectural landscape begin to diversify. 
For more information on 16:Flat visit: www.16:flat.com