Elements of Urbanism: Uptown Charlotte
July 9, 2007
3 comments
Print Article
Over the past few decades, Charlotte has become one of the most progressive and fastest growing cities in the Southeast. Let's take a look at how this city is shaping up from an urban perspective.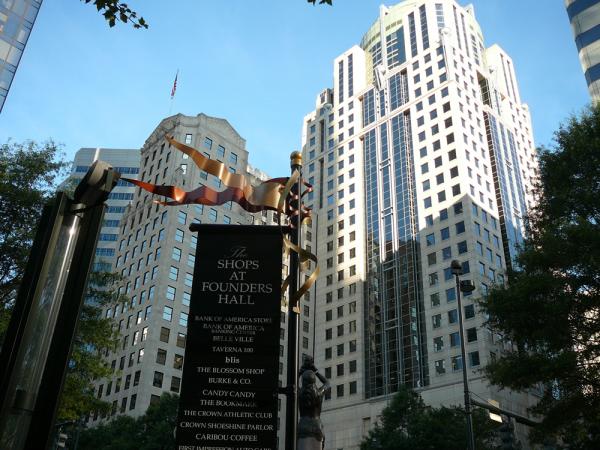 Charlotte is the poster child example of a sunbelt city that destroyed its historic building stock.  The 1930 aerial (left) shows a city with a compact central business district.  By 1975, most of downtown had been leveled and replaced with surface parking lots. 
STATISTICS:
Charlotte Population 2006: 630,478 (City); 1,583,016 (Metro) - (incorporated in 1768)
Jacksonville Pop. 2006: 790,689 (City); 1,277,997 (Metro) - (incorporated in 1832)
City population 1950: Jacksonville (204,517); Charlotte (134,042)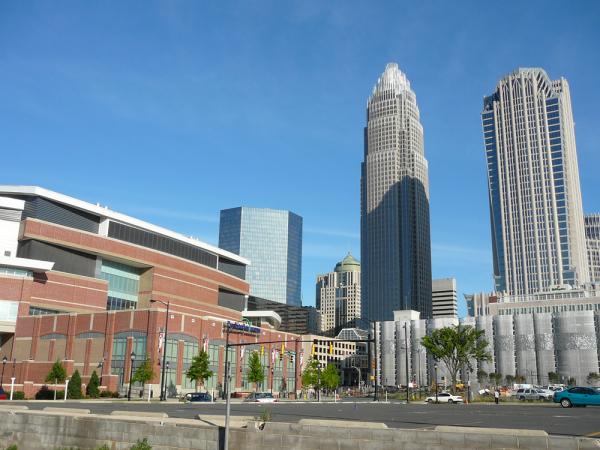 Although the city has grown to become very progressive minded, its mistakes from the past still hurt the urban vibe of its Center City today.  While Uptown Charlotte presents a decent pedestrian friendly atmosphere in its core, it's separated from many inner core neighborhoods by a loop expressway, suburban development, and surface parking lots.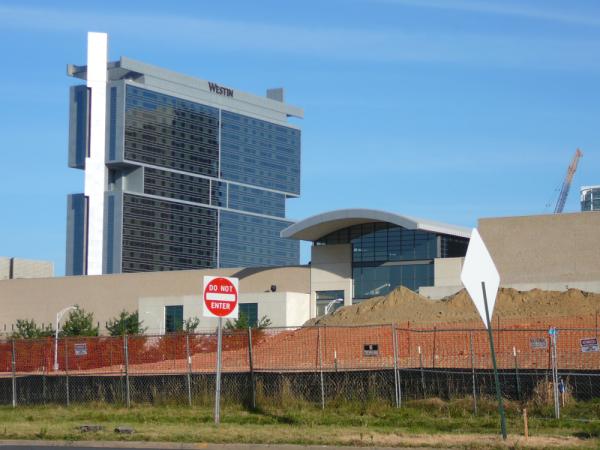 The Charlotte Convention Center is located one block south of downtown's main commercial street.  Opened in 1995, it contains 280,000 square feet of contiguous exhibit space.   The Westin Charlotte Hotel can be seen in the background.  According to the convention center's website, there are more than 4,100 hotel rooms within walking distance of the complex.
For more information: www.charlotteconventionctr.com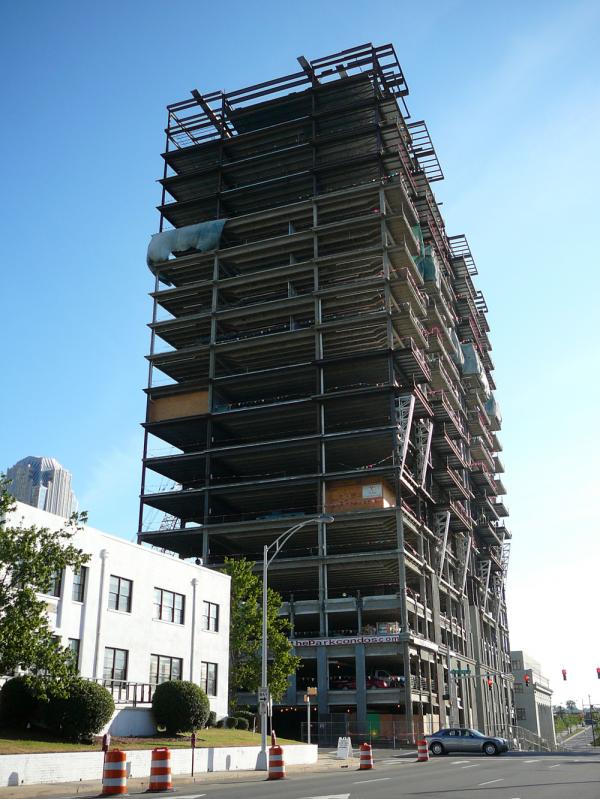 The Park Condos is one of several residential towers rising on former surface parking lots in Uptown Charlotte.   When complete, the building will rise 21 stories and be within two walking blocks of the NBA Charlotte arena, a future movie theater, and a future light rail station.
For more information: www.theparkcondos.net
1. Addressing the Street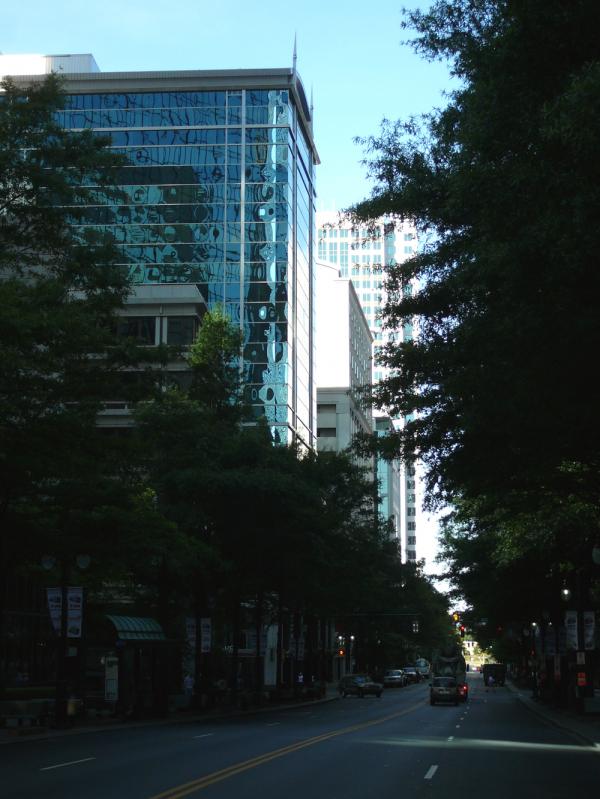 Tyron Street is the major throughfare through Uptown Charlotte.  Here, the city has made an agressive and highly successful effort at creating a pedestrian first environment at the base of buildings lining the corridor.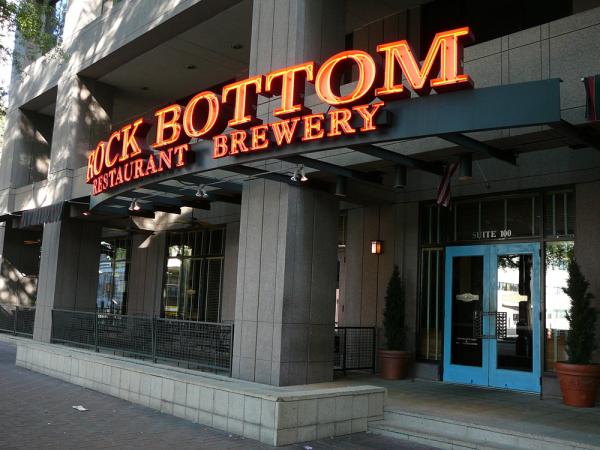 This office building features a Rock Bottom Brewery at street level.  Although the structure's spaces are enclosed, the design allows for the addition of grade separated outdoor dining.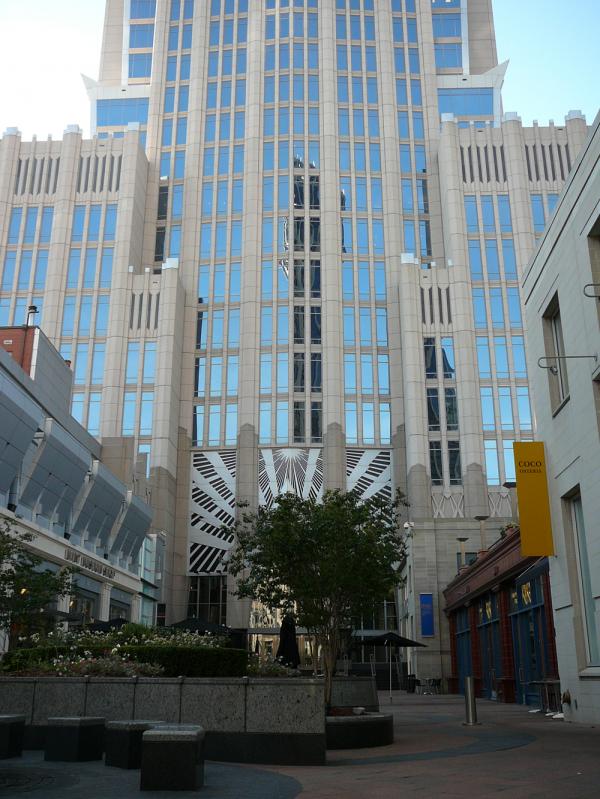 Many modern towers of glass and steel, like Independent Square, meet the street with retail space facing public  pocket parks and courtyards at their entrance.  This particular plaza is located at the base of the 46-story (659ft tall) Hearst Tower.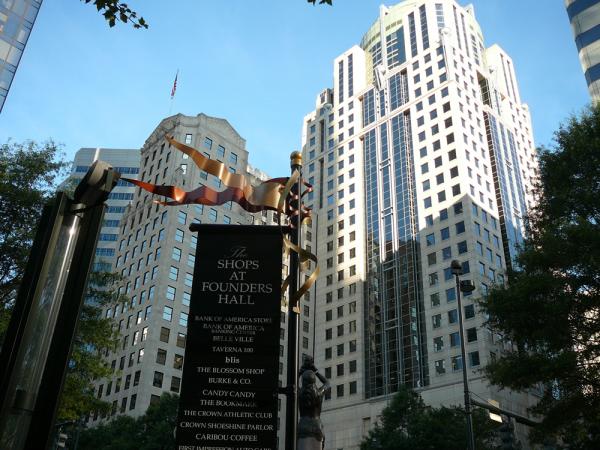 Uptown Charlotte is an end-user friendly environment.  Even retail shops housed in the bottom of office towers, with no visibility from the street, have various forms on signage on the sidewalks to attract pedestrian traffic.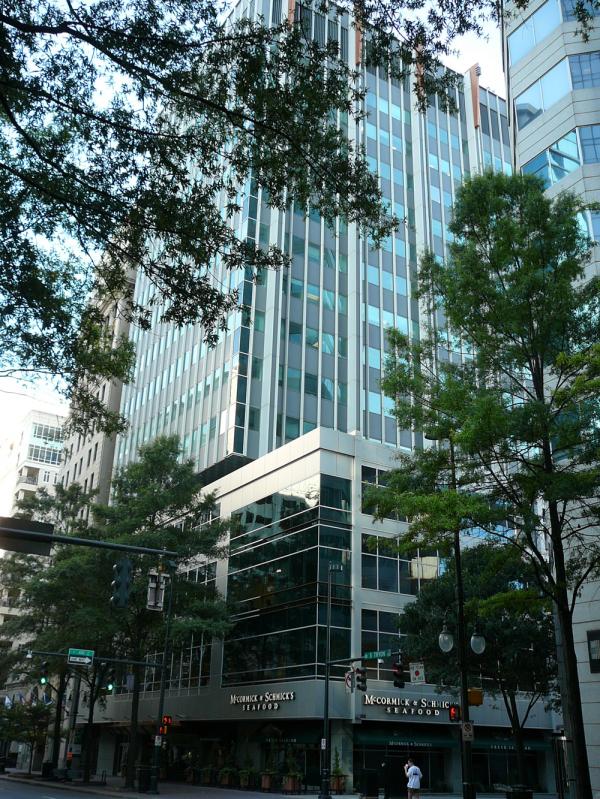 Older towers, such as Jacksonville's BB&T, have been retrofitted at street level to include a variety of uses that attract pedestrian traffic.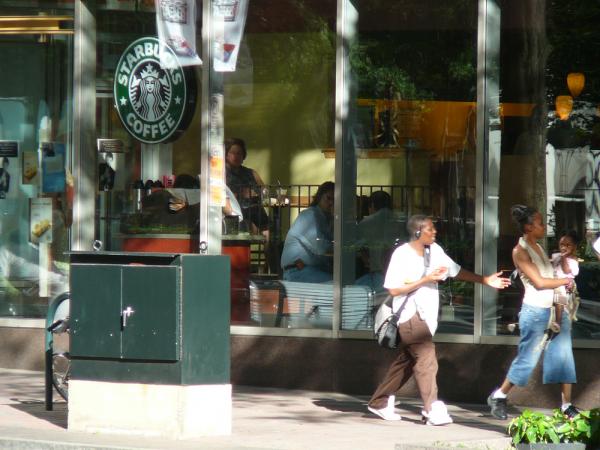 In this case, glass is used at the base of an older building, allowing the use's interior activities to be seen from the outside.  People attract people.  In a recent case study on urban development, people watching was one of the major elements in producing pedestrian friendly atmospheres.
For more information visit "Insights Into A Lively Downtown": www.metrojacksonville.com/content/view/486/115/
2. Historical Preservation & Integration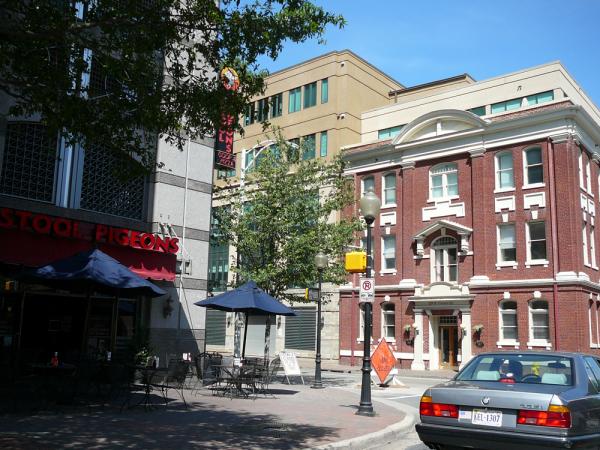 While Charlotte was one of the forerunners in leveling its core in the name of "ridding itself of blight", it appears that this city has learned its lesson and has now placed a high value on saving what little historical building fabric it has left. 
A trip to Uptown Charlotte today will reveal several isolated structures, such as the one shown above, where new development has been encouraged to integrate the facade of historic buildings into their structures.  Unfortunately, the city will never be able to reconstruct what it let go.  In Jacksonville's case, we still have a chance to save a decent amount of historic stock, preserving the Northbank's unique architectural atmosphere in the process.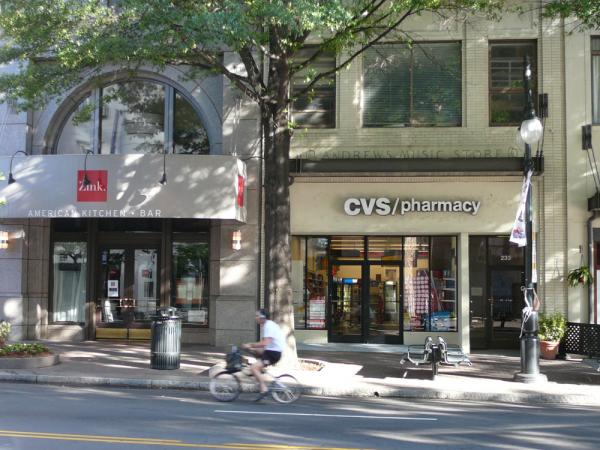 Here's an example of basic older building stock living on to serve new uses.  While CVS is certainly a major chain, the preservation of older building stock allows smaller local operations, such as the restaurant/bar next door, to open without paying St. Johns Town Center type lease rates.
3. Connectivity: Creating Critical Mass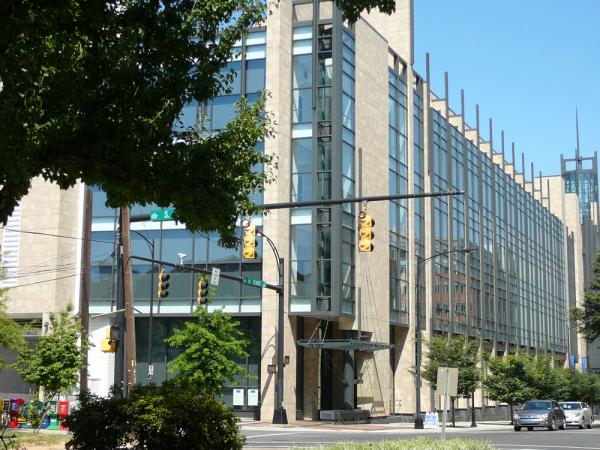 Johnson & Wales University is a private, nonprofit, co-educational career-oriented institution based out of Providence, RI.  In 2004, the city of Charlotte convinced the school to close two smaller campuses in Norfolk and Charleston, SC and open a full fledged campus in Uptown Charlotte. 
Today, 2,500 students are enrolled bringing the added dimension of college life to the downtown core.  This is a great example of taking advantage of a chance to enhance the core when the opportunity presents itself.  
Locally, we had a chance to make a similar move a few years ago when Florida Coastal School of Law was interested in relocating downtown.  Unfortunately, the opportunity passed and the campus relocated to an office park off Baymeadows Road and I-95.
For more information on Johnson & Wales University: www.jwu.edu/charlotte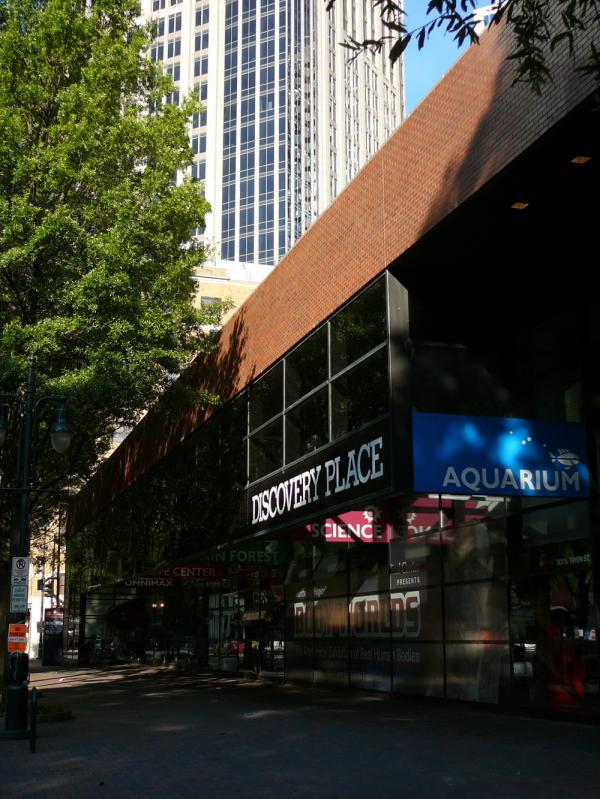 Discovery Place is Charlotte's version of MOSH in Jacksonville.  The major difference between the two being what immediately surrounds them and how they open onto the street.  Discovery Place is located in the middle of Uptown Charlotte, along Tyron Street, with restaurants, office buildings, and museums located around it, while MOSH's entrance to Riverplace Drive makes it an artificial island unto itself.
For more information: www.discoveryplace.org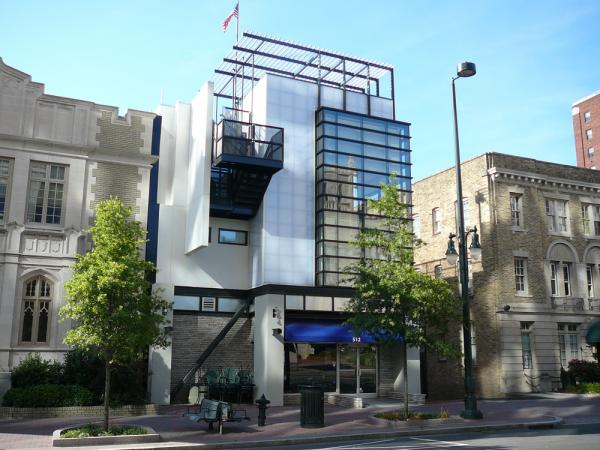 Here's a little contemporary project between two historical structures.  Regardless of what one's opinion on the architectural style may be, this project serves as a good example of the notion that you don't need much land to develop a worthwhile infill project in the urban core. 
To date, the specialty retail atmosphere in Uptown Charlotte is virtually non-existant outside of an indoor mall (Overstreet Mall) connecting the base of the core's major office towers. However, things may forever change when the "EpiCentre" (shown above) is completed in 2008.
When complete, the one square block EpicCentre will be connected to the Overstreet Mall and will add 250,000 square feet (100,000sf more than Miles' Brooklyn Park's project) and a 420 unit residential tower.  Tenants announced so far include: Fox Sports Grill, Lucky Strike Bowling, Comedy Zone, McFadden's Pub, a 16-plex movie theater and a 52 story residential tower.  It's also important to note that this retail/entertainment complex will include a light rail stop and is next door to the city's convention center.
For more information, renderings and aerials: www.theghazicompany.com/pdf/EpiCentre_lowres.pdf
4. Enhancing Mass Transit Options
Charlotte is known as a trendsetter in the development world.  Despite being a more sprawled out metropolis with a lower population density than Jacksonville, the city currently is constructing a light rail system to connect its downtown core with its booming suburbs.  While it won't be operational until 2008, it is already spurring millions of dollars in transit oriented development throughout the region, something JTA's bus rapid transit plans will never do.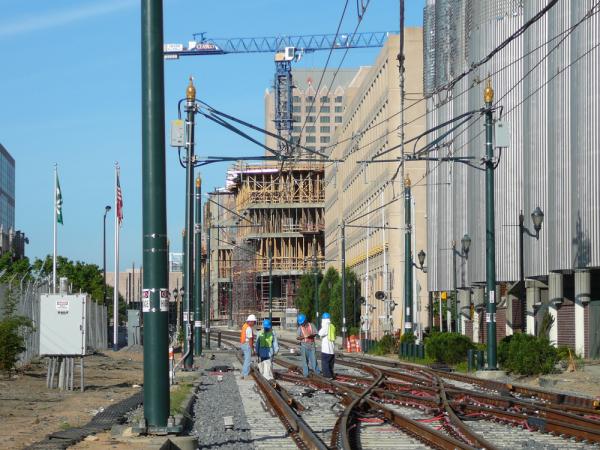 Charlotte's planning for light rail has been an ongoing process since the mid 1980's.  However, the cost isn't cheap.  At a total estimated cost of $462.7 million, this system will come out around $48.2 million/mile, making it comparable in costs to JTA's planned bus rapid transit system.  This image shows workers constructing the new LYNX light rail line. 
This starter 9.6 mile line will include 15 stations and connect Uptown to the city's South End.  Trains will run at 7.5 minutes headways during rush hour and at half hour headways during non-peak times between 5:00am and 1:00am.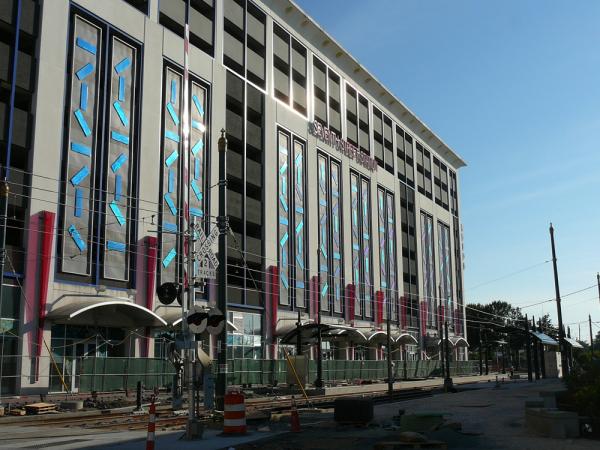 This garage recently opened at what will be a future light rail station in Uptown.  The first level will be lined with retail catering to transit riders and Uptown residents.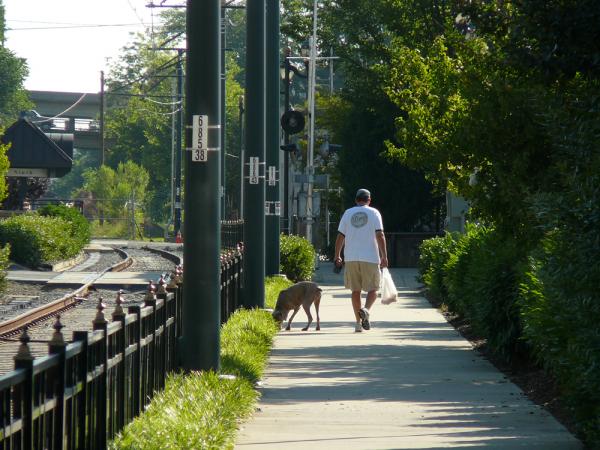 Over the last few months, there have been many MetroJacksonville articles advocating the use of Jacksonville's city owned S-Line as a potential mass transit route through the Northside, despite the city's intentions of converting it into a 4 mile jogging path.   Charlotte's light rail line is an example showing that the S-Line could be designed to accomodate both.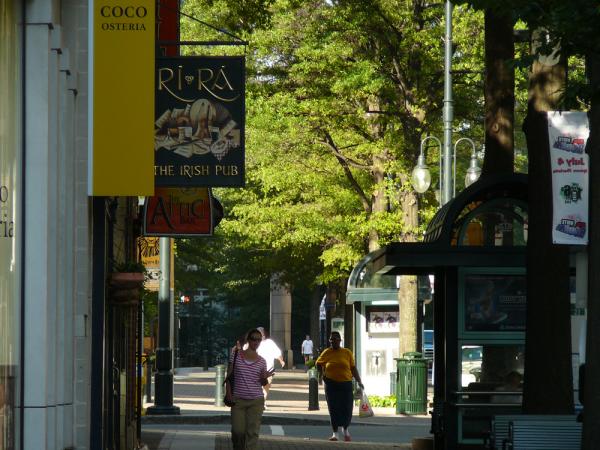 Visitors to Uptown will find that it is a pedestrian friendly place, at least on Tyron Street.  Here you'll find a creative assortment of business signage, bus shelters, and wayfaring signage.  While these little inexpensive features may not make the newspaper's headlines, they do combine to help give the urban core a unique sense of place that can't be created in the suburbs.
Conclusion:
This tour shows that there are a lot of things, both good and bad that we can take from Uptown Charlotte.  On one end, you can see the devastating effects of destroying urban building fabric, while on the other hand, you can see how being progressive minded can turn things around.  Best of all, if a city like Charlotte can find success in embracing urbanism, the sky is the limit for Jacksonville, given our natural assets and location. 
Next in Elements of Urbanism Series: Norfolk
This photo series was written by Ennis Davis, a local Graduate Architect and Land Planner.