JTA is about to Choke Art Walk to Death
September 5, 2007
12 comments
Print Article
Find out why JTA's plans for downtown could mean the end of Art Walk, as we know it today.
Potential Downtown Bus Rapid Transit plans include removing parallel parking spaces from Adams Street and replacing them with swift moving city buses.  Other streets up for consideration include Forsyth, Bay and Philip Randolph Blvd.
It's Metro Jacksonville's belief outdoor cafes and socialization go with buses like dogs with Michael Vick.
Don't believe the hype?  Look what's currently happening in Berkeley, CA.
New buses leave Berkeley vendors in dust

Rapid line goes too fast down Telegraph Avenue, critics say
By Doug Oakley, MEDIANEWS STAFF
Inside Bay Area

Article Last Updated:08/31/2007 11:02:29 AM PDT
BERKELEY — Philip Rowntree says every time AC Transit's new express bus speeds by his T-shirt stand on Telegraph Avenue, he gets covered with dust and filth kicked up by the vehicle's exhaust.

And, Rowntree also notes, he and other street vendors fear the new speeding buses are going to slam into someone on the crowded four-block stretch from Dwight Way to Bancroft Way.

AC Transit added an express 1R bus line that runs from San Leandro to University of California, Berkeley, and back. It has fewer stops and generally goes faster than the one line that runs the same route.

"It's disgusting," Rowntree said Wednesday. "Something happened about three or four months ago, and it's not the pollution they are kicking out but the air from the exhaust blows all this filth off the street onto me."

Russell Chatman, who sells jewelry next to Rowntree, said the buses dirty him too and go way too fast.

"I realize it's a rapid transit because the drivers have their deadlines to beat, but for them to come as fast as they do, it's only a matter of time before someone gets hurt," Chatman said.

Berkeley City Council member Kriss Worthington said he has received complaints from Telegraph Avenue merchants about the speeding and dust. He's contacted AC Transit, but hasn't heard back.

"I don't know how flexible they are going to be," Worthington said. "I talked to one of their staff people, and she said she would bring it up to the manager. If you're in an area where people are sitting all day and there are pedestrians, you want to minimize what's blowing on them."

Rowntree said he, too, contacted AC Transit, but got a rude response.

"I left messages and finally I got someone and they told me they needed 10 days to look into it," Rowntree said. "I waited about three weeks and called back and they put me on hold for 10 minutes and came back on the line and said my complaint was 'noted.' They don't have an answer."

Whatever complaints Worthington and Rowntree made apparently have not traveled far.

"This is the first I've heard of anything like this," AC Transit Deputy General Manager Jim Gleich said. "What he might also have a concern about is speeding. The 1R is rapid and the way it works, it is not driven like a regular bus service. Drivers are trained and encouraged to operate within the law as fast as they can, but they shouldn't be exceeding speed limits."

Gleich said he is aware the newer buses have exhaust that comes out the side, "so (Rowntree is) right about that. If they are saying the exhaust is blowing the dust, I find that hard to appreciate, I guess. It's just a tailpipe."

Gleich said the rapid bus has a system that allows it to communicate with traffic signals to keep lights green 10 seconds longer if the signal is about to change. A similar line added to San Pablo Avenue about four years ago is seeing a 17 percent ridership increase.

Anna Field, who has been selling jewelry on the street for 30 years, said she would like to see the buses re-routed because of the dirt they kick up and the danger they pose.

"There are crazy people who wander around in the street here," Field said. "And the buses just roar through here. We get the hot air, gas and everything else. It's kind of dangerous to have these buses tooling through here like this."

Doris Harrington, another vendor, agreed.

"As fast as these guys go, they're going to hit a student pretty soon," Harrington said.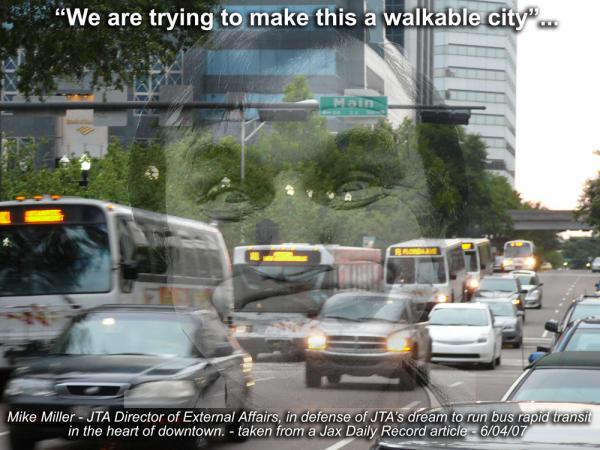 To learn the details of JTA's plans for downtown and the negative impacts in store for Adams, Bay and Forsyth Streets, visit the links below, and to voice your opinion to the JTA, click the link at the bottom:
DVI Opposes Downtown BRT Plan: http://www.metrojacksonville.com/content/view/498/116/
BRT: Killing Downtown, The Final Chapter: http://www.metrojacksonville.com/content/view/445/116/
Poltergeist IV: They're Back! JTA and BRT: http://www.metrojacksonville.com/content/view/413/116/
Downtown BRT: 10 Questions for JTA: http://www.metrojacksonville.com/content/view/405/116/
BRT & Transit Malls: Do they create vibrant cities? http://www.metrojacksonville.com/content/view/388/116/
Coming to a downtown street near you: BRT Photo Tour: http://www.metrojacksonville.com/content/view/349/116/
MetroJacksonville crashes Downtown BRT Party: http://www.metrojacksonville.com/content/view/346/116/
Bus Rapid Transit to Destroy Downtown: http://www.metrojacksonville.com/content/view/329/116/
Tell JTA What You Think : Contact JTA Here